Vietnam News Today (Feb. 13): Vietnam Develops AI Technology Industry
Vietnam News Today (Feb. 13): COVID-19 recognised as occupational disease from April 1; HCM City ranks among top markets for data centre development; Vietnam develops AI technology industry; Vietnam team in Turkey help rescue a 14-year-old trapped in collapsed building.
Vietnam News Today (Feb. 13) notable headlines
COVID-19 recognised as occupational disease from April 1
HCM City ranks among top markets for data centre development
Vietnam develops AI technology industry
Vietnam team in Turkey help rescue a 14-year-old trapped in collapsed building
PM Pham Minh Chinh's visit to Brunei spotlighted as testament to close bilateral ties
Vietnamese, British navies conduct joint exercise
Vietnam in Italian groups' strategic priority list
First batch of 'Dien' pomelos exported to UK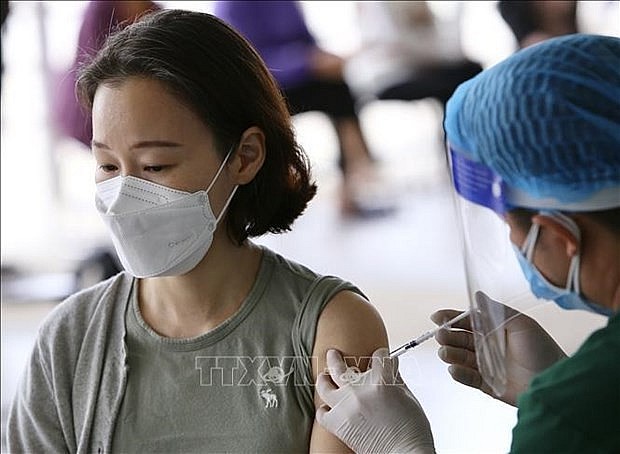 Illustrative image (Photo: VNA)
COVID-19 recognised as occupational disease from April 1
The Ministry of Health (MoH) has officially added COVID-19 to the list of occupational diseases, meaning that certain employees will be able to make social insurance payment claims if they contracted the coronavirus.
According to Circular 02/2023/TT-BYT amending Circular 15/2016/TT-BYT stipulating occupational diseases entitled to social insurance recently issued by the MoH, COVID-19 will become the 35th occupational disease, starting from April 1, 2023.
The document regulates that occupational COVID-19 is a disease arising in the working process because employees are exposed to SARS-CoV-2 at work, cited VNA.
According to the guidance on diagnosis and assessment of occupational COVID-19 disease, the occupations and sources of exposure to the SARS-CoV-2 virus include those who work in health establishments; those who work in laboratories taking, transporting, handling, preserving and destroying SARS-CoV-2 testing samples; those who work in concentrated quarantine facilities, medical isolation at home, medical isolation in pandemic areas, and support COVID-19 patients at home; those who work as transporters and caregivers for COVID-19 patients; those who engage in the transportation, preservation, cremation and burial of COVID-19 victims; and those who engage in the jobs relating to pandemic prevention include monitors, investigators, diplomats, customs officers, immigration officers, army and police officers, soldiers, civil servants, and others assigned to participate in the pandemic prevention work.
Just one time is the minimum exposure to cause occupational diseases. labourers can contract the disease for up to 28 days after being exposed.
According to the Circular, employees diagnosed with COVID-19 disease from February 1, 2020 to before April 1, 2023 are entitled to make occupational disease records, undergo assessment, and enjoy benefits as per the current regulations.
HCM City ranks among top markets for data centre development
Ho Chi Minh City is ranked among the top markets in the land price category for data centre development, experts said.
In an annual report by Cushman & Wakefield, the company said that with many of the largest markets in the APAC region boasting particularly high land costs, only HCM City ranks within the top 10 for the land price category.
The rest of the top ten markets in the category are: Columbus, Santiago, Johannesburg, Atlanta, Nashville, Phoenix, Austin, Denver, and Chicago.
The report ranks major data centre markets around the world according to 13 weighted categories, including market size, fiber connectivity, power cost and environmental risk, to determine the top overall markets as well as the top performing markets in each category.
A data centre. Thanks to low price, HCM City is ranked among top markets in the land price category for data centre development. (Photo Courtesy Cushman & Wakefield)
According to the company's latest forth quarter of 2022 HCM City marketbeat report, the average rental price reached US$159 per sq.m per lease cycle, up 3% quarter-on-quarter and 10% year-on-year.
Vietnam may be a frontier data centre market at this juncture but it has numerous fundamentals that would suggest great potential for development going forward. The country currently has 70% internet penetration, with an estimated 29 million people yet to get online.
Over 48% of Vietnam's capacity is located in the centre of HCM City. Currently, only a small number of multinationals require high-level capacity, according to VNS.
The common approach for international operators is to partner with local telecommunication operators. There is a sizable lack of existing infrastructure relative to the population of the market and demand for internet services. This represents a major opportunity at both the content provision and infrastructure establishment level.
According to Cush & Walkfield, south of HCM City is preferred as a hub for data centres, especially for cloud services platform providers, due to latency issues and the securing of manpower. CMC Telecom opened its Tan Thuan Data Centre in August last year. The facility was designed by B-Barcelona of Singapore. The facility has a total area of 13,133sq.m and was 30% pre-leased at launch according to CMC.
Australian edge data centres firm Edge Centres has expanded into Asia with the deployment of their first data centre, EC51, in Vietnam in HCM City in collaboration with the Vietnam National University. They also have plans for an additional edge site in HCM City.
GAW Capital acquired greenfield land in the Sai Gon Hi-Tech Park in the city. The data centre is expected to be over 18,000sq.m and support 20MW in capacity.
Viettel, a Vietnamese telecommunications company, announced plans to build a new data centre with US$260 million in investment. While specifics on the facility have yet to be announced, this would be Viettel's third project in the city.
Competition for sites between both data centre players and other asset classes has reached a fever pitch over the course of the past year. Fulfillment centres and large-scale single family rental developments have been evaluating similar sites as data centres.
According to the company, one notable advantage that data centres have in competition for these sites is the limited impact on surrounding traffic and parking availability, a key area of concern for a number of local communities. However, data centres do require a higher power draw, and there have seen greater local community concerns about the potential effect on electrical grids. The growth of edge data centres has continued, optimising workload for latency.
Vietnam develops AI technology industry
Vietnam climbed seven positions in the Government AI Readiness Index 2022, ranking 6th among ASEAN countries and 55th globally, as shown in the latest report issued by the UK's Oxford Insights.
With the Government AI Readiness Index, British consultancy company Oxford Insights aims to measure government preparedness to implement artificial intelligence (AI) in the delivery of public services to their citizens.
Vietnam earned an average score of 53.96 points in 2022, increasing from 51.82 points in 2021 and surpassing the global average of 44.61, according to Oxford Insights, which ranked 181 countries this year, up from 160 in last year's iteration.
This result not only reflects the development of AI technology but also shows the trend of forming the AI industry in Vietnam.
Under a national strategy on AI research, development, and application to 2030, approved by the Government on January 26, 2021, Vietnam aims to make AI a spearhead technology in the fourth Industrial Revolution.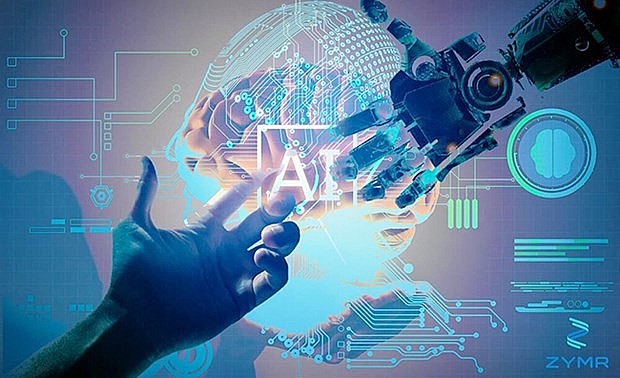 Illustrative image (Photo: VNA)
The country also strives to become a centre for innovation and development of AI solutions and applications in ASEAN and the world by 2030, VNA reported.
At present, many provinces and cities such as Ho Chi Minh City, Hanoi, Da Nang, and Thua Thien-Hue have applied AI in various fields such as health, education, and public administrative services.
Deputy Minister of Planning and Investment Nguyen Thi Bich Ngoc said that AI technology has become increasingly essential in all aspects of life in Vietnam, and has been applied broadly in smart city building, health, insurance, smart agriculture, and environmental technology.
From the economic perspective, Vietnam's AI research, development, and application in the future will contribute to solving problems in socio-economic development, and supporting domestic enterprises to improve their competitiveness.
Grasping the AI development trend, several large enterprises have built and developed AI research and development centres in Vietnam, which have attracted leading experts in this field from around the world.
Products applying artificial intelligence are the prerequisite to promote the strong development of this industry and are the lever to speed up digital transformation in Vietnam.
HCM City gets ready for new foreign investment wave
As an economic locomotive, Ho Chi Minh City has always led the country in terms of investment attraction, drawing the attention of foreign investors from around the world.
However, to be able to strongly attract foreign direct investment (FDI) and welcome new investment waves, the southern hub needs to solve bottlenecks and stagnation in investment procedures. HCM City also needs to work on promoting the development of new areas such as technology, finance, and urban infrastructure.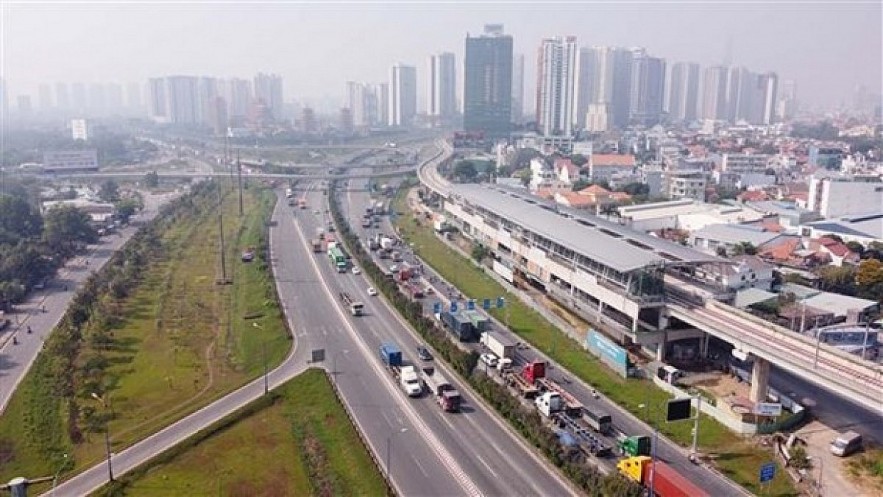 HCM City gets ready for new foreign investment wave
According to the municipal Department of Planning and Investment, the city topped the country in the total value of foreign investments in 2022, including new and additional investment capital and capital contribution, share purchase, and contributed capital purchase reached more than US$3.94 billion, up 5.4 % compared to 2021.
Among newly granted projects, there were 820 newly granted works in the form of 100% foreign capital investment, 71 joint ventures, and two projects in the form of business cooperation contracts, cited VOV.
The city has several advantages in economic development, particularly high-quality human resources, and relatively developed infrastructure to attract investment in high-tech service industries, according to economic experts.
It also has a favourable strategic location, and is the country's largest high-tech manufacturing and service centre as well as a multicultural city suitable for foreigners coming to work, live and travel.
The city will restructure its economic sectors to focus on attracting FDI in key industries. It will also promote investment attraction in industries with high added value on the basis of the high-tech industry and digital economy, automation, artificial intelligence, software, and microchips.
It has also focused on turning into the largest creative startup hub in the country to help improve the efficiency of the labour market. This will support the real estate market, science and technology, and the financial market according to the standards of the market economy and international economic integration.
Vietnam team in Turkey help rescue a 14-year-old trapped in collapsed building
The Ministry of Public Security's Rescue Team in Turkey helped rescue a 14-year-old from a collapsed building in Adiyaman, Turkey, on Saturday.
According to Colonel Nguyen Minh Khuong, leader of the rescue team, at 7.30am local time on Saturday, the team arrived at the scene of the collapsed building, inside which 10 people were believed to be trapped.
With specialised equipment from Turkey, the team cleared most of the area by 6.30pm local time.
The team located signs of life from two different sources with the help of technology.
After analysis, the team concluded that the only way to reach the victims was only wide enough for one rescuer.
They contacted Turkish authorities to coordinate with other teams. A nearby rescue squad from Pakistan arrived, who used ultrasonic technology to locate the victims.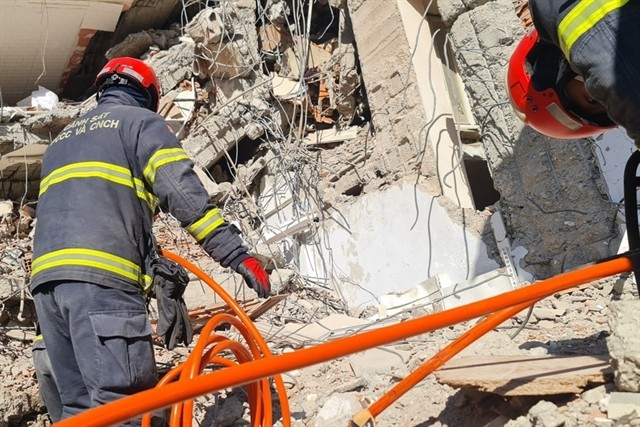 Việt Nam Police's Rescue Team at the scene of the operation. Photo courtesy of Nguyen Huyen
By 10.10pm, the Pakistani squad rescued the victim, a 14-year-old teenager from the rubble, VNS reported.
The Pakistan team thanked the Vietnamese forces for their successful collaboration in the rescue.
According to the Vietnamese team, the rescue mission was supposed to continue until 1am local time on Sunday but was disrupted by an aftershock.
On Saturday, representatives of the rescue team and the Vietnamese Embassy in Turkey met with the Government of Turkey to send aid and medicine.