Vietnam News Today (Jan. 12): WHO Hails Vietnam's Flexible Covid-19 Prevention Strategy
Vietnam News Today (Jan. 12): Vietnam records 16,019 new local Covid cases; Vietnam to resume regular flights to 7 countries, territories; WHO hails Vietnam's flexible Covid-19 prevention strategy; Adventure tours of Son Doong cave fully booked for 2022.
Vietnam News Today (Jan. 12) notable headlines
Vietnam records 16,019 new local Covid cases
Vietnam to resume regular flights to 7 countries, territories
WHO hails Vietnam's flexible Covid-19 prevention strategy
Adventure tours of Son Doong cave fully booked for 2022
Bustle returns to Bui Vien Street as bars, night clubs reopen
Central provinces change Covid-19 prevention measures ahead of Tet
Cold weather in northern Vietnam to last for 10 more days
Three Vietnamese cities receive ASEAN Clean Tourist Awards
Ho Chi Minh City in dire need of 45,000 workers in post-Tet period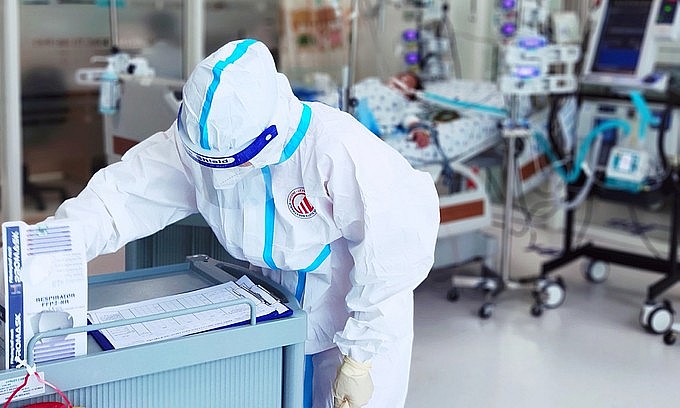 A medical worker checks the file of a Covid-19 patient at the HCMC Children's Hospital, September 2021. Photo: HCMC Children's Hospital
Vietnam records 16,019 new local Covid cases
The Health Ministry confirmed 16,019 domestic Covid-19 patients on Tuesday in all 63 cities and provinces, raising the tally in the fourth wave since last April to 1,914,089 cases.
The three localities with the highest numbers of cases are Hanoi with 2,884 cases, the central Khanh Hoa Province with 782 cases, and the Mekong Delta province of Ca Mau with 762 cases.
The ministry also confirmed 256 Covid-19 deaths on Tuesday, including 30 in Long An Province and 24 in Dong Nai Province. Both are neighbors of HCMC, which recorded 558 cases and 19 deaths.
The total number of coronavirus deaths so far is 34,787, or around 1.8 percent of all infections.
The country now has 288,400 active patients and 6,317 of them are severe, cited VnExpress.
Around 71.3 million people of the nation's 96-million population have received their second vaccine shots and 12.5 million have received their third shots, including those of the three-shot combo of Cuba's Abdala vaccine.
Vietnam to resume regular flights to 7 countries, territories
Seven countries and territories - the US, Japan, Singapore, Cambodia, Thailand, Taiwan (China) and the Republic of Korea (RoK) - have basically agreed with Vietnam's proposal on a plan to resume regular international routes, according to the Civil Aviation Authority of Vietnam (CAAV).
Statistics from the authority show that in the first seven days after re-operating regular international flights from January 1, there were a total of 64 flights carrying 7,847 passengers to Vietnam.
Of these, there are 18 commercial flights, 25 "combo" ones and 21 for experts and tourists.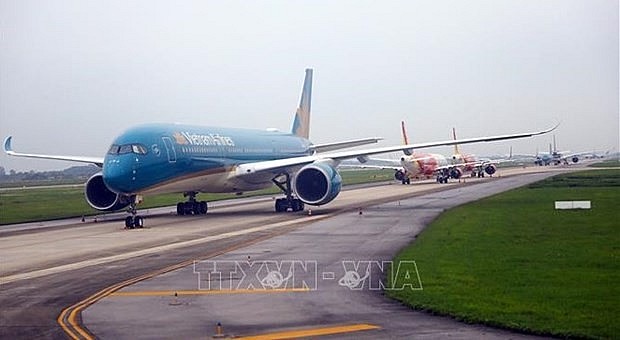 Photo: VNA
A representative of the national flag carrier Vietnam Airlines said it has reopened regular commercial flights to carry passengers to Vietnam from the US (4 flights/week), Japan (3), the RoK (2), Taiwan (1), Singapore (2), Thailand (2), and Cambodia (4).
Vietnam Airlines plans to resume flights to Australia, which is hoped to serve the increasing demand of Vietnamese expats in Australia who look to return home for the Lunar New Year (Tet) festival, and prevent the risk of market domination by international airlines operating through other gateways, according to VNA.
The Ministry of Transport has proposed the Government instruct relevant ministries and sectors to handle procedures relating to Covid-19 prevention and control works on international arrivals, including RT-PRC test, health declaration and vaccine passport.
The CAAV will continue to closely monitor the implementation of the pilot phase of the plan, and promote negotiations with aviation authorities of countries and territories that are deploying the plan in order to soon resume regular international flights with Vietnam, and increase the frequency of flights in suitable conditions.
Deputy Minister of Transport Le Anh Tuan asked the CAAV to urgently work with the aviation authority of Australia to be ready for restoring regular international flights between the two countries, and consider Vietnamese citizens' demand for returning home, thus proposing specific destinations and exploitation frequency.
WHO hails Vietnam's flexible Covid-19 prevention strategy
Takeshi Kasai, Regional Director for the Western Pacific of the World Health Organization (WHO) has voiced his organisation's strong support for the Vietnamese Government's strategy of living safely with Covid-19, giving top priority to protecting people's health.
Meeting with Prime Minister Pham Minh Chinh in Hanoi on January 11, Takeshi said Vietnam has made great strides in stepping up its vaccination campaign, protecting most vulnerable groups such as the elderly and frontline forces, and raising public awareness of measures to protect themselves, their families, the community as well.
Vietnam is on the right track as it is continuing to adjust its Omicron measures, such as offering home care and treatment services to mild or asymptomatic cases to avoid overloading the medical system, while promptly and actively treating severe cases at medical facilities, he said.
The WHO official also thanked Vietnam for supporting countries early in pandemic prevention and control and for making positive contributions to WHO as well as the COVAX mechanism.
For his part, PM Pham Minh Chinh shared Vietnam's experiences and lessons in pandemic prevention and control, and said despite difficulties, the Vietnamese Government will persist with its adopted strategy of living safely with Covid, striving to beat off the virus in 2022.
Vietnam considers Covid-19 to be a global challenge, and no country is safe if the virus is still spreading, he said, adding Vietnam has always strictly followed the WHO's recommendations in line with its actual situation.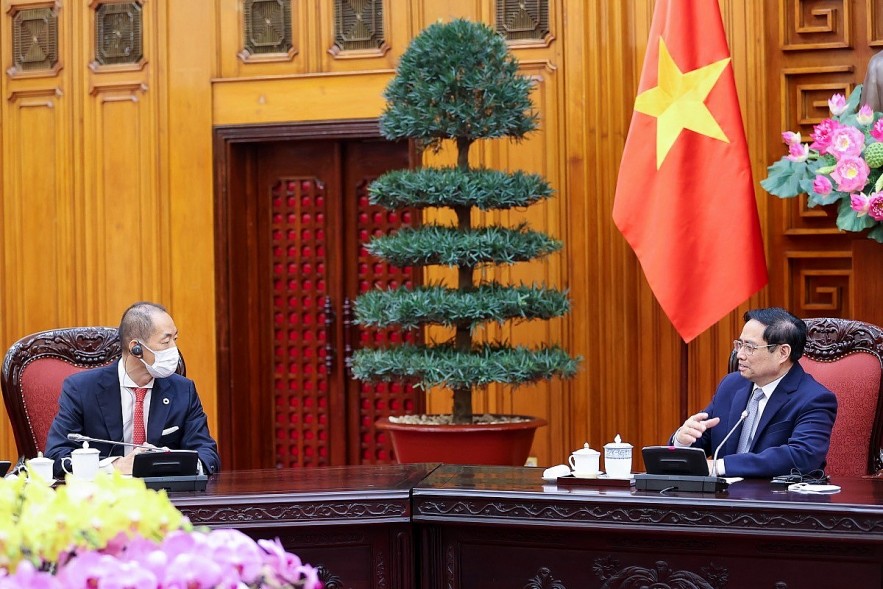 PM Pham Minh Chinh receives visiting Regional Director for the Western Pacific of the World Health Organization Takeshi Kasai in Hanoi on January 11. Photo: VGP
He suggested that the WHO and Takeshi personally continue to support Vietnam with vaccines and therapeutic drugs, especially in research, production and domestic vaccine recognition procedures so that it can soon become self-sufficient in supply.
He also asked the WHO to help Vietnam enhance the capacity building of its health system, to share information, timely assess the epidemic situation and make vaccination recommendations.
The PM expressed hope the WHO will provide consultations regarding vaccinations for children aged 5 to 11 so that the campaign will be soon deployed and schools will soon reopen the doors for the kids, reported VOV.
At the reception, Kidong Park, WHO Representative in Vietnam, hailed Vietnam's commitment to improve the capacity building of its grassroots-level medical station and preventive medicine systems to not only combat Covid-19 but also to cope with the aging of the population in the future.
He expressed his belief that Vietnam will continue to respond effectively, safely and flexibly to the pandemic, and in the long run will become an exemplary role model in the region and in the world in health care.
The WHO will actively accompany, support and share information and experiences with Vietnam in this process, he affirmed.
Adventure tours of Son Doong cave fully booked for 2022
All 1,000 exclusive adventure tours taking visitors into the world's largest cave of Son Doong in central Quang Binh province have been fully booked for the year ahead, according to Tourist Company Oxalis Adventure Tours.
Following a brief period of selling tours for 2023, roughly 100 visitors immediately registered to join them, said Nguyen Chau A, director of Tourist Company Oxalis Adventure Tours.
Tours of Son Doong cave are fully booked for 2022. Photo: Oxalis Adventure
A said that tours of the famous cave were discounted from 2020 to 2022, thereby stimulating greater tourism demand. Currently, each tour costs US$2,500 per person.
Though the price is set to rise to US$3,000 per tourist in 2023 as it was listed previously, there has been a large number of travelers registering for tours in advance.
Furthermore, trips to other tourist destinations in Quang Binh still typically attract a huge number of travelers.
Late January will see Quang Binh welcome a film crew from the BBC who will carry out a program with the aim of popularizing Phong Nha – Ke Bang National Park and Son Doong cave, cited VOV.
Son Doong is more than 5km long, 200m high, and 150m wide. The site first became known worldwide in 2009 when it was explored by members of the British Cave Research Association led by Howard Limbert and his wife Deb Limbert. The couple's trip was guided by local resident Ho Khanh, the man who initially discovered the cave back in 1991.
Previously, the Huffington Post of the United States had described Son Doong Cave as one of earth's standout destinations, while Dave, a television channel based in the UK, had listed the cave among the world's nine greatest adventures.
Bustle returns to Bui Vien Street as bars, night clubs reopen
Bars, discotheques and beer clubs reopened in Saigon on Monday after nearly eight months, and Bui Vien Street is again buzzing at night.
It's 8 p.m. on Monday and Nguyen Minh Hung, 28, a worker at a discotheque on Bui Vien Street in District 1, stands outside with sparkling lights and waves at customers.
Hung just left his hometown in the Mekong Delta province of Kien Giang to return to HCMC last week after nearly eight months without a job.
"I am very glad to return to work as there are only 20 more days left for Tet. I had no income for the whole of last year and am hoping to earn Tet bonuses to cover that.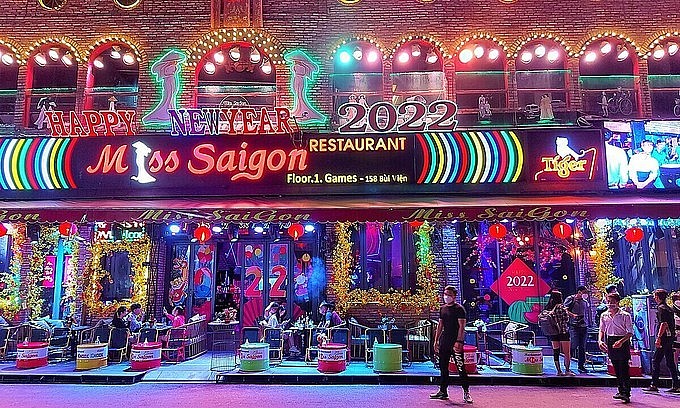 Staff of a bar on Bui Vien Street in HCMC wait for customers on the first reopening day after months of closure due to Covid, January 10, 2022. Photo: VnExpress
"I am fully vaccinated, but to ensure safety, after working from 5 p.m. to 4 a.m., I sleep at the discotheque to limit the risk of contracting or spreading Covid."
In contrast to the depressing sight of a dimly lit street and closed doors a few months ago, most bars and beer clubs in one of the city's busiest precincts are now lit up with Tet decorations and colorful lights and play loud music.
On the day of reopening things were a bit slow, and staff had to hit the streets to persuade guests to enter, reported VnExpress.
Some bars have reduced drinks' prices by 50 percent and have live music.
Tu Nhu, the manager of a bar, said she has not hired new staff considering business is only at 50-60 percent of pre-Covid levels.
"[But] it is a positive sign since we can at least keep the business going after two years of Covid and our staff can earn something before Tet.
"All my staff are fully vaccinated and we have a room for suspected Covid cases."
From around 8 p.m. young locals and some foreigners began to flock to the street looking for fun and games while police officers patrolled it to remind people to comply with safety measures.
Hoang Tung, 24, a freelance photographer, said: "When I heard that the city allowed bars and karaoke parlors to reopen, I immediately invited my close friends to Bui Vien on Monday night.
"Before the pandemic this was our group's favorite hangout on weekends. We cannot wait any more.
"To ensure safety we chose to sit in an outdoor area."