Vietnam News Today (Mar. 14): Vietnam Aims to Complete Booster Shots in Q1
Vietnam News Today (Mar. 14): Nearly 600 more Vietnamese fleeing Ukraine repatriated; Improving business environment, the key to economic growth; Vietnam aims to complete booster shots in Q1; Now is a golden opportunity to reopen tourism.
Vietnam News Today (Mar. 14) notable headlines
Nearly 600 more Vietnamese fleeing Ukraine repatriated
Improving business environment, the key to economic growth
Vietnam aims to complete booster shots in Q1
Now is a golden opportunity to reopen tourism
Shrimp exports set to hit over US$4 billion this year
Ha Long Bay, Cu Chi Tunnels among ten adventurous tourism places in Southeast Asia
Phu Quoc strives to boost post-pandemic recovery
Quang Nam works to promote image of safe, friendly tourist destination
DK platforms – sacred sovereignty marks at sea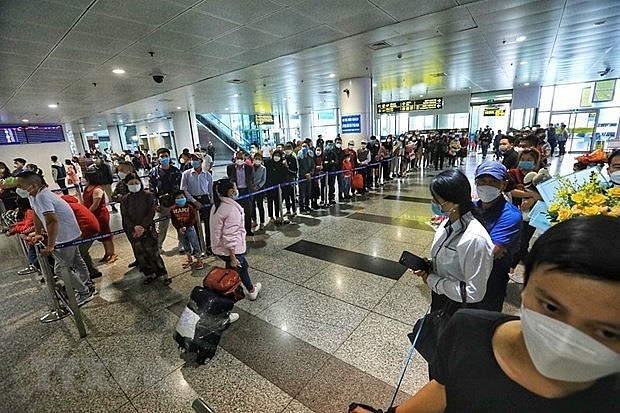 Vietnamese in Ukraine arrive in Hanoi after a long flight. Photo: VNA
Nearly 600 more Vietnamese fleeing Ukraine repatriated
Nearly 600 Vietnamese people fleeing from war-torn Ukraine to Poland and Romania were safely returned home by two Vietnam Airlines flights on March 13, bringing the total number of Vietnamese in Ukraine repatriated so far to over 1,100.
They are the first two repatriation flights operated under an agreement between national flag carrier Vietnam Airlines and Sun Group in which the later covers the entire cost for the arrangement of the flights.
The flight from Poland's Warsaw with 288 passengers on board arrived at Hanoi's Noi Bai International Airport at 9:30am. The other from Romania's Bucharest landed at the airport at 11:00am, carrying 291 people. Many of the passengers were children aged under 18, the elderly and pregnant women.
The Vietnamese embassies in Poland and Romania cooperated with Vietnamese associations in those countries to help the evacuees travel to the airports and complete pre-departure procedures.
The first two repatriated flights, funded by the State, brought back to Vietnam 287 people on March 8 and 300 others on March 10.
As of 4:00pm on March 12, more than 4,500 Vietnamese people had been evacuated from Ukraine to neighbouring countries. They included some 950 to Romania, 2,800 to Poland, 660 to Hungary, nearly 130 to Slovakia and over 40 to Russia.
The Vietnamese missions are busy cooperating with local authorities and multiple Vietnamese associations to arrange travel and temporary accommodations and provide food for the evacuees and help them resolve paper issues and fulfill required legal steps to prepare for the next flights home, according to VNA.
On March 12, another 23 Vietnamese expats leaving Ukraine were flown home from Russia. They were provided with support from the Embassy of Vietnam in Russia to flee to the Russian cities of Voronhez and Rostove on Don earlier this month.
At the direction of Vietnamese Ambassador to Ukraine Nguyen Hong Thach, the Vietnamese Honorary Consular Office in Odessa has worked with Ukraine authorities and got their permission to release two Vietnamese detained for illegal migration from a detention centre located in Nhikolaiev province near Kherson, where fierce fighting is taking place. The two were taken to Lang Sen, Odessa and will be arranged to travel to a third country before boarding a flight to Vietnam.
Improving business environment, the key to economic growth
Continuing to improve the country's business environment and viewing it as the "key" to economic recovery and growth in the new normal are strong messages given by organizations and the business community at the recent Vietnam Business Forum (VBF).
Acknowledging the nation's efforts in improving the local business environment in recent times, Amy Luinstra, acting country director of the International Finance Corporation (IFC), said that despite facing complicated developments relating to the Covid-19 pandemic, Vietnam still recorded remarkable achievements. These can be seen through its improvements of the business environment and the overall competitiveness of enterprises.
As of these efforts result, foreign investment attraction has sufficiently recovered, coupled with double-digit export growth and a stable macro-economy, cited VOV.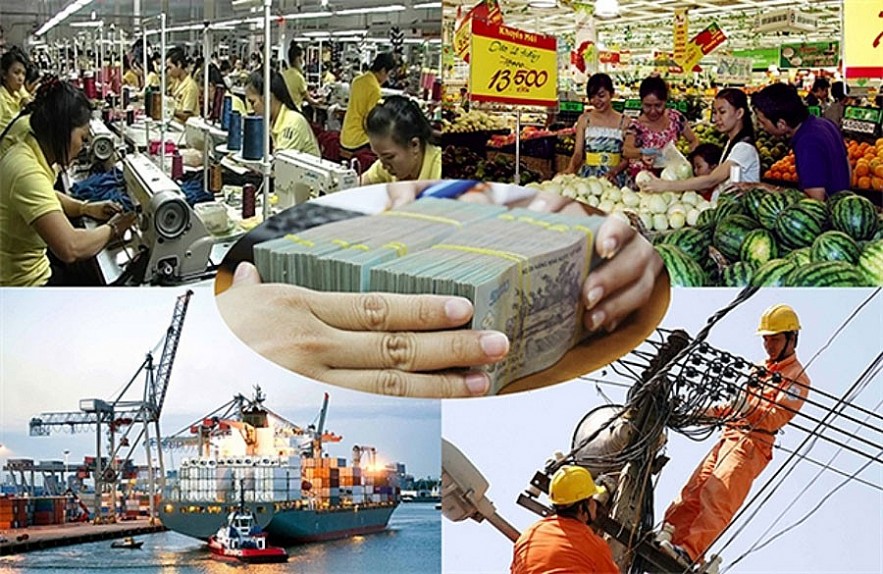 Photo: VOV
Alain Cany, chairman of the European Chamber of Commerce in Vietnam (EuroCham), emphasised that more than 1,200 EuroCham members all gave optimistic signals for the nation's "new normal", as shown through the business climate index of EuroCham (BCI) which increased from 42 points to 61 points in January.
With Covid-19 being gradually brought under control, the EU-Vietnam Free Trade Agreement (EVFTA) coming into effect and the EU-Vietnam Investment Protection Agreement (EVIPA) set to be implemented, the country will have the opportunity to attract new waves of foreign direct investment from European nations, Cany noted.
Despite this optimistic outlook, the local business environment continues to face plenty of risks and challenges which are reflected in the level of market decline, affected labour productivity, and the risk of possible disruption occurring in supply chains and increased borrowing.
This not only impacts the operation and competitiveness of the business sector, but also potentially run risks which could affect the speed of economic recovery.
In line with this assessment, many people believe that improving the investment and business environment should be further promoted, considering it to be a key task in order to achieve the goal of high growth and sustainable development.
John Rockhold, chairman of the American Chamber of Commerce in Vietnam (AmCham Vietnam), said the most important factor in creating a favourable business environment, as well as maintaining the supply chain is that the legal environment that must be fair, transparent, and requires innovation.
This will helps to both stimulate and maintain the growth of foreign investment inflows that existed before.
According to Pham Tan Cong, chairman of the Vietnam Chamber of Commerce and Industry (VCCI), as a means of contributing to realising the goals and effectively implementing the tasks and solutions set out by the Government, the VCCI has proposed that the Government facilitate enterprises' access to information, policies, and regulations. This can serve as a way of helping them to access capital in order to restore production and business activities.
Recognizing the importance of improving the business environment and sharpening the competitiveness, the socio-economic recovery and development programme worth VND350,000 billion, approximately 4% of GDP, was adopted by the National Assembly in January.
This is forecast to be an important premise for the Vietnamese economy to recover and make further breakthroughs moving forward.
Vietnam aims to complete booster shots in Q1
The Ministry of Health is urging local administrations to speed up the inoculation of third doses of Covid-19 vaccine for the population aged 18 and above to make sure all those eligible will receive the third dose within the first quarter of 2022.
As of March 12 afternoon, Vietnam had administered nearly 200 million doses of Covid-19 vaccine, with most of cities and provinces have substantially completed two primary doses for people aged 12 and above.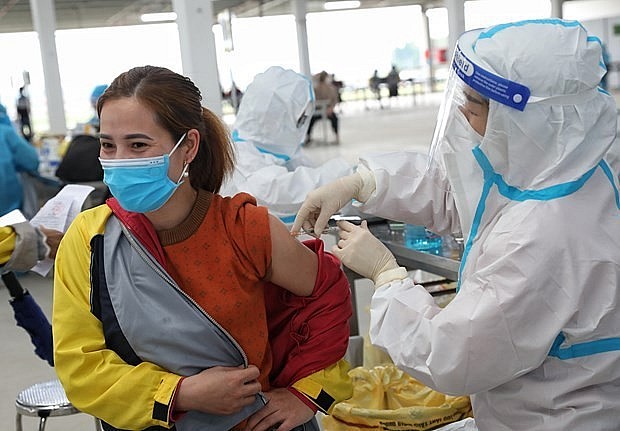 A female factory worker receives Covid-19 vaccine in Bac Giang. Photo: VNA
The Health Ministry has requested cities and provinces nationwide to continue screening people aged 12 and above to ensure no eligible people do not receive full vaccination, reported VNA.
As a result of Vietnam's relatively high vaccine coverage and improved care for high-risk people, the Covid-19 fatality rate has dropped significantly.
Now is a golden opportunity to reopen tourism
The successful vaccination campaign and the removal of restrictions on international flights has created a golden opportunity for Vietnam to reopen the tourism sector.
The successful vaccination campaign and the removal of restrictions on international flights has created a golden opportunity for Vietnam to reopen the tourism sector, which is expected to create a significant impetus to accelerate post-pandemic economic recovery, experts said.
General Director of the Vietnam National Administration of Tourism Nguyen Trung Khanh said at a forum on Friday that the tourism industry, which was badly hit by the Covid-19 pandemic, now has a great opportunity to quickly restart and recover in the new normal.
"Never in the last six decades has Vietnam's tourism industry suffered such heavy damage as the crisis caused by the Covid-19 pandemic," Khanh said, adding that it might take at least five years to recover.
After two years of fighting against the pandemic, many countries gradually adjusted their stance on fighting the virus, from zero cases to living alongside Covid-19 and bringing life back to normal, Khánh said.
Countries in the region, such as Singapore and Thailand, are receiving international tourists while the European Union is open for intra-regional travel and allows citizens from a third country to enter with conditions.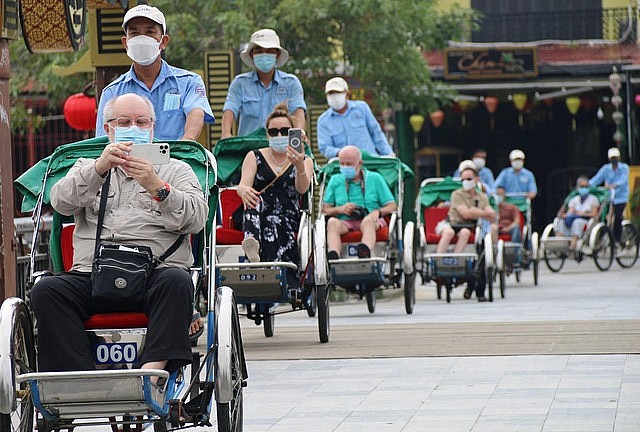 Tourists on a sightseeing tour. From tomorrow, international flights will resume fully, for the first time in two years. Photo baochinhphu.vn
"The successful national vaccination campaign together with the removal of restrictions on international flights from February 15 has provided favourable conditions to restart tourism and grab opportunities," he said.
The number of domestic tourists increased considerably in recent months. The number of domestic tourists in February totalled 9.6 million, up by 380 per cent against the same period last year. The tourism revenue in the month was estimated at VND41.38 trillion, up by 313 per cent.
Analytical data from the Google Destination Insights showed that the number of international searches for Việt Nam's aviation and tourism information skyrocketed from December 2021 and remained at a very high level. On January 21 searches were 425 per cent higher and on February 3 they were 374 per cent higher than the same time one year ago.
Khánh said that the increase in domestic tourist numbers shows that safe tourism is an appropriate direction and also reflected the readiness for the reopening of tourism.
The increase in international searches about travelling to Vietnam from the beginning of 2022 was a positive signal for the rapid and strong recovery of the tourism industry, creating favourable momentum for the plan of opening up international tourism, he added.
According to Tran Thi Lan Anh, General Secretary of the Vietnam Chamber of Commerce and Industry, tourism demand had been suppressed during the past two years as the world applied the most extreme isolation measures.
The world was gradually opening up and it's time for tourism to grab that opportunity, she said.
"The current situation requires tourism not only to be friendly but also to be safe for tourists and residents," Anh said.
Anh said how to open tourism safely, so as not to make tourists hesitate about procedures to ensure the health and safety of residents, was the biggest concern of enterprises, as the World Health Organization warned that the Covid-19 pandemic will not end this year, cited VNS.
Vietnam was getting ready for reopening tourism from tomorrow as approved by the Government, Khanh said, stressing that the decisive factors for the success were ensuring safety against the virus, the resumption of international and domestic flights, creating favourable conditions for international tourists to Vietnam and recognising vaccine passports.
Khanh said that the tourism ministry would cooperate with relevant ministries and organisations to negotiate with other countries about the recognition of Vietnam's vaccine passports.
The focus must also be placed on improving tourism products and services quality, which is the key to increasing the competitiveness of Vietnam's tourism industry, Khanh said.
He pointed out that after two years of being ravaged by Covid-19, most firms were falling into difficulty and human resources for tourism declined. He urged tourism enterprises to pay attention to developing new products, improving services quality and building human resources.
Promotion activities must also be enhanced to attract arrivals to Vietnam with the campaign "Live fully in Vietnam" which was launched late last year.
Support policies in terms of taxes and fees must be effective at least to the end of 2023 to really benefit firms, he said.
Shrimp exports set to hit over US$4 billion this year
Vietnamese shrimp exports are poised to rake in more than US$4 billion in 2022, representing an annual rise of 2.56%, according to reports discussed at a conference held on March 11.
The hybrid conference on the shrimp sector's development, co-organised by the Ministry of Agriculture and Rural Development (MARD) and the People's Committee of the Mekong Delta province of Soc Trang, featured the participation of 28 coastal cities and provinces nationwide.
As part of his address at the event, Deputy Minister of Agriculture and Rural Development Phung Duc Tien requested that relevant agencies and localities identify difficulties and challenges currently facing the sector so the MARD can take them into account during its works toward sustainable growth.
Minister Tien himself listed a number of obstacles and shortcomings, including difficulties caused by Covid-19, outdated farming and rural infrastructure, along with environmental pollution, VOV reported.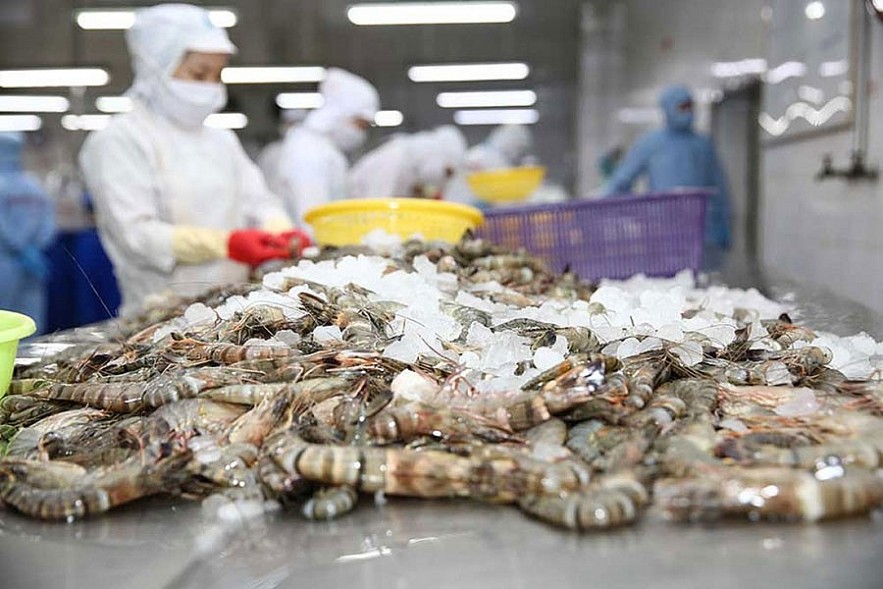 Photo: VOV
Participants put forward a series of solutions at the event, such as forming linkages among shrimp farming localities, developing a scenario for brackish water shrimp production in the context of the ongoing complicated nature of the pandemic, and increasing the application of technological advances.
According to a report issued by the Vietnam Directorate of Fisheries, despite issues relating to abnormal weather patterns and Covid-19, the sector produced 970,000 tonnes of shrimps last year, representing an annual rise of 4.3%.
Shrimp export turnover expanded by 5.4% on-year to roughly US$3.9 billion in 2021, with Soc Trang and Ca Mau contributing more than US$2 billion to the overall total.
As planned, this year will see the country's shrimp farming area reach 750,000 ha for a production of 980,000 tonnes.