Vietnam News Today (November 29): Vietnam Attends Opening of 143 IPU General Assembly
Vietnam News Today (November 29): Vietnam records 12,928 new local Covid cases; Vietnam attends opening of 143 IPU General Assembly; Vietnam mulls Covid-19 travel ban for southern Africa; Ambassador: Vietnam-Russia ties loyal, close.
Vietnam News Today (November 29) notable headlines
Vietnam records 12,928 new local Covid cases
Vietnam attends opening of 143 IPU General Assembly
Vietnam mulls Covid-19 travel ban for southern Africa
Ambassador: Vietnam-Russia ties loyal, close
Positive signs ahead for FDI attraction by year-end
Vietnam, Switzerland eye stronger educational cooperation
Vietnam willing to facilitate Swiss firms' cooperation with its partners
Vietnamese cultural heritage week tightens national unity
Handling of new cases key as HCMC prepares schools' reopening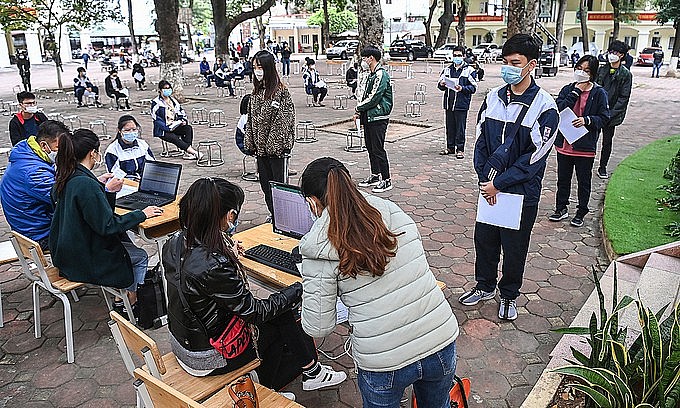 Students at the Quang Trung High School in Dong Da District, Hanoi, line up to be vaccinated against Covid-19 on Nov. 23, 2021. Photo: VnExpress
Vietnam records 12,928 new local Covid cases
The Health Ministry confirmed 12,928 new local Covid-19 cases Sunday, down 120 cases from the previous day, pushing the ongoing wave's tally to 1,204,215.
The three localities with the highest number of new cases were Ho Chi Minh City with 1,454 cases, Can Tho with 966 cases and Binh Duong with 705 cases.
Of the day's tally, 7,100 cases were detected in the community.
Health authorities also confirmed 1,712 recoveries on Sunday, bringing the total tally of recovered cases so far to 958,636.
The Covid-19 death toll in Vietnam rose to 24,882 with the confirmation of another 190 deaths, cited VnExpress.
The average daily number of new cases in the country for the past seven days has been 12,102, while the death rate has been 160 a day on average.
Over 69.7 million people have been vaccinated, with more than 49 million having received two doses.
Vietnam attends opening of 143 IPU General Assembly
A Vietnamese delegation led by Chairman of the National Assembly's Committee for External Relations Vu Hai Ha attended the opening of the 143rd General Assembly of the Inter-Parliamentary Union (IPU-143) hosted by the Parliament of Spain in Madrid on November 26 evening (local time).
Themed "Contemporary challenges to democracy: Overcoming division and building communities", the event drew nearly 1,500 delegates from 123 member parliaments, eight affiliate members and 20 observers, including 39 heads and 27 deputy heads of parliaments, according to VOV.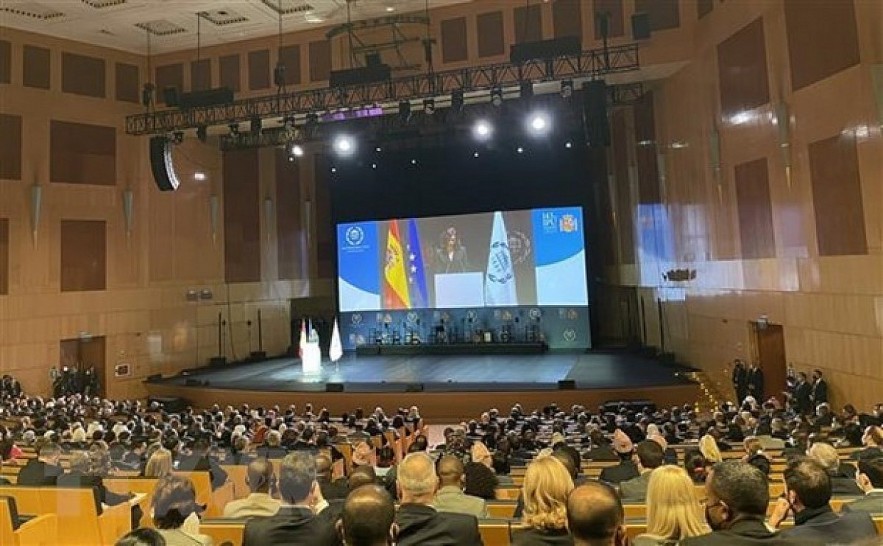 At the opening ceremony. Photo: VNA
In his opening remarks, King of Spain Felipe VI underscored the importance of parliaments, considering them a central institution of democracy.
President of the United Nations General Assembly Abdulla Shahid and UN Secretary General António Guterres also highlighted the significance of parliamentary diplomacy as well as parliaments' activities to realize the UN's agreements. They affirmed commitment to further strengthening strategic partnership between the UN and the IPU.
The same day, the Vietnamese delegation met Vietnam's Honorary Consul in Barcelona Pau Guardans Cambo to discuss bilateral cooperation opportunities, especially in economy, culture, sports and tourism and others fields of the two countries' strength.
They also visited headquarters of the Spanish company HIPRA and learned about its progress of studying and experimenting Covid-19 vaccine which is expected to be licensed and put into use in the first quarter next year.
From November 27-30, the Vietnamese delegation plans to continue joining the UN General Assembly's activities and hold several bilateral meetings on the sidelines of the events.
Vietnam mulls Covid-19 travel ban for southern Africa
The Ministry of Health proposed Sunday to suspend all flights to and from southern African countries in response to the new Covid-19 variant Omicron.
The ministry proposed that all air travel to and from South Africa, Botswana, Namibia, Zimbabwe, Eswatini, Lesotho and Mozambique be halted, and entry permits for passengers coming from these countries be suspended.
It announced the same day that Vietnam has not recorded any case of the Omicron variant so far.
Vietnam will step up surveillance to detect any sign of new variants early, it added.
The National Institute of Hygiene and Epidemiology in Hanoi and the Pasteur Institute in Ho Chi Minh City are conducting gene sequencing of suspected new mutant infections, especially cases with an epidemiological history from countries in southern Africa.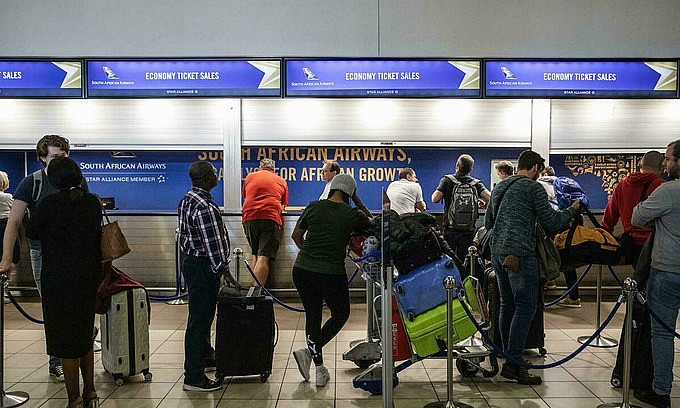 Travelers queue at South African Airways info counter at the O.R. Tambo International Airport in Johannesburg, South Africa, November 15, 2019. Photo: AFP
The World Health Organization (WHO) on Nov. 25 announced that it has recorded a new strain called Omicron (B.1.1.529) detected in a number of southern African countries.
According to scientists, the Omicron variant was first discovered in Botswana on Nov. 24, with up to 32 mutations in the spike protein. This is the most mutated variant of the novel coronavirus, which is predicted to spread faster with higher risk of reinfection than other strains.
The image of Omicron was published Saturday for the first time. Compared with the Delta strain, it shows a large amount of mutations. The mutation number in Omicron is 43, compared to 18 in the Delta variant. Omicron's contact area is also larger, indicating higher infectivity than Delta.
To mitigate threats from this new Covid variant, the U.S. and the European Union (EU) have banned flights from southern Africa and surrounding areas starting Monday, reported VnExpress.
Four Southeast Asian countries – Malaysia, Thailand, the Philippines and Singapore – have also tightened travel with southern African countries, requiring people arriving from these areas in the last few days to be quarantined.
The U.K. has also banned entry for people from South Africa and five neighboring countries. Similar moves have been made by Australia, Japan, India, Iran, Brazil and Canada.
Israel is expected to ban all foreigners from entering the country from Sunday night, becoming the first country in the world to completely close its borders to prevent the risk posed by Omicron mutation.
The health ministry said it will continue to coordinate closely with the WHO and counterpart agencies to implement international health regulations, promptly disseminate information about the variant and take appropriate pandemic prevention measures.
Ambassador: Vietnam-Russia ties loyal, close
Vietnamese Ambassador to Russia Dang Minh Khoi has highlighted Vietnam – Russia ties as well as the significance of the upcoming Russia visit by President Nguyen Xuan Phuc from November 29 – December 2.
Khoi said Vietnam – Russia ties are close-knit, loyal and rare in the world.
He said said the visit will further deepen and lift bilateral comprehensive strategic partnership to a greater height in all areas in the new situation.
It manifests that Vietnam is pursuing the foreign policy of independence, self-reliance, multi-lateralization and diversification of ties for national benefits, as well as for the world peace and stability.
The visit also shows that Vietnam attaches importance to ties with Russia, considering the country a priority in its foreign policy and a key partner while sincerely and consistently supporting Russia in an ever-changing world.
Third, it affirms the strengthening of joint work against Covid-19 pandemic, especially in the research and production of vaccines and medicines, cited VNA.
Vietnamese Ambassador to Russia Dang Minh Khoi. Photo: VNA
More importantly, it will also boost links in all areas, especially in politics, economy, national defense-security, energy - oil and gas, education-training and people-to-people exchange, he said.
Looking back on the two decades of bilateral strategic partnership towards the 10th anniversary of bilateral comprehensive strategic partnership next year, Khoi said mutual political trust and understanding have increasingly been consolidated via regular visits and exchanges at all levels.
He also underscored achievements in bilateral cooperation in defense-security, energy – oil and gas, economy, trade and investment, and education and training.
Asked about which fields could be strengthened to boost ties, Khoi said both sides agreed to further share experience in fighting epidemics, and jointly study and produce vaccines and medicines. Vietnam could become a Sputnik V vaccine production hub of Russia in Southeast Asia.
He suggested cultivating collaboration in economy-trade, national defense-security, the use of nuclear energy for peace purpose, education-training and people-to-people exchange.
The diplomat also highlighted the Vietnamese Embassy in Russia's contributions to the fight against Covid-19 pandemic at home, including establishing a working group on vaccines, seeking the transfer of Spunik V vaccine production technology as well as Sputnik V supply to Vietnam.
Vietnam's vaccine diplomatic policy has been a success in the world, including in Russia, he stated.
Positive signs ahead for FDI attraction by year-end
Foreign direct investment (FDI) inflows into Vietnam as of November 20 surged by 0.1% to US$26.46 billion against the same period from last year, according to statistics released by the Ministry of Planning and Investment.
During the 11-month period, up to 1,577 new foreign-invested projects were granted licenses with a total registered capital of roughly US$14.1 billion, a drop of 32.8% in terms of the number of projects, but up 3.76% compared to last year's corresponding period.
The major bright spot in the 11-month FDI picture is a sharp increase recorded in registered capital. Most notably, 877 operating projects were given permission to raise capital, representing a year-on-year decline of 16.6% in quantity but a rise of 26.7% in the total additional registered capital.
Furthermore, capital contribution and share purchases made by foreign investors stood at nearly US$4.4 billion, down 33% compared to the same period from last year.
Photo: VOV
The General Statistics Office (GSO) attributes the plunge in capital contribution and share purchases to the adverse impacts of the COVID-19 pandemic, which has also caused the 11-month FDI inflows into the Vietnamese market to increase by just 0.1%.
Singapore takes the lead among a total of 100 countries and territories investing in the nation throughout the reviewed period with over US$7.6 billion, thereby accounting for 28.7% of total investment capital in the country.
The Republic of Korea (RoK) ranked second with US$4.36 billion, accounting for 16.5% of total investment capital, an increase of 17.6%, followed by Japan with US$3.7 billion, a rise of 54%.
According to experts, FDI inflows into the nation both this year and next year are likely to reach a higher level thanks to investment promotion activities taking place overseas, VOV reported.
Bui Hoang Mai, head of the Industrial Parks Management Board of Bac Ninh province, revealed that the locality is expected to attract further FDI projects with a total capital investment of up to US$1.6 billion this December, duly bringing total FDI inflows into the province to approximately US$3 billion.
Economists pointed out that in order to attract high-quality FDI projects from transnational corporations, especially from developed markets such as the United States and the EU, Vietnam needs to pay attention to the local business climate, transparency, and stability, while simultaneously fine-tuning the legal system and simplifying administrative procedures.