Vietnam outperforms Asian neighbors in Internet accessibility ranking
In a global ranking of Internet accessibility, Vietnam is the 56th most connected country, well ahead of many of its neighbors.
Vietnamese students from overseas study online at a Covid-19 quarantine facility in HCMC, April 2020. Photo: VNE
Vietnam is the world's 56th most connected country in a global ranking of Internet accessibility, well ahead of many of its neighbors.
Vietnam internet accessibility ranks 56th out of 169 countries
With an overall score of 81.57 points out of 100, the country ranked above South Korea (66th), Malaysia (76th), the Philippines (83rd), and China (114th), according to a report released by British broadband, TV, and mobile comparison service provider Broadbandchoices, according to VNE.
But Indonesia (40th) and Thailand (55th) were ahead of it.
With most of the world under lockdown, the Covid-19 pandemic has brought down the number of customers visiting stores. Although Vietnam is no longer under lockdown, local consumers are still reluctant to venture out of their homes, leading to much slower recovery of store traffic.
Even before the pandemic, the internet economies were on the rise with Vietnamese consumers, especially the young generation, moving to online services in hopes of a hassle-free and convenient lifestyle, said Saigon Times.
Similarly, education and money management also saw a steady increase in search interest: 1 in 3 Gen Zs turned to the internet in the last month alone to learn and develop their knowledge base.
In addition, local consumers are increasingly shifting from physical branches to the online medium for their financial needs, which has resulted in a 33% surge in the download of finance apps and an increase in search interest for "online lending apps" by 300% in the past year.
Denmark is the most connected nation, Burundi the least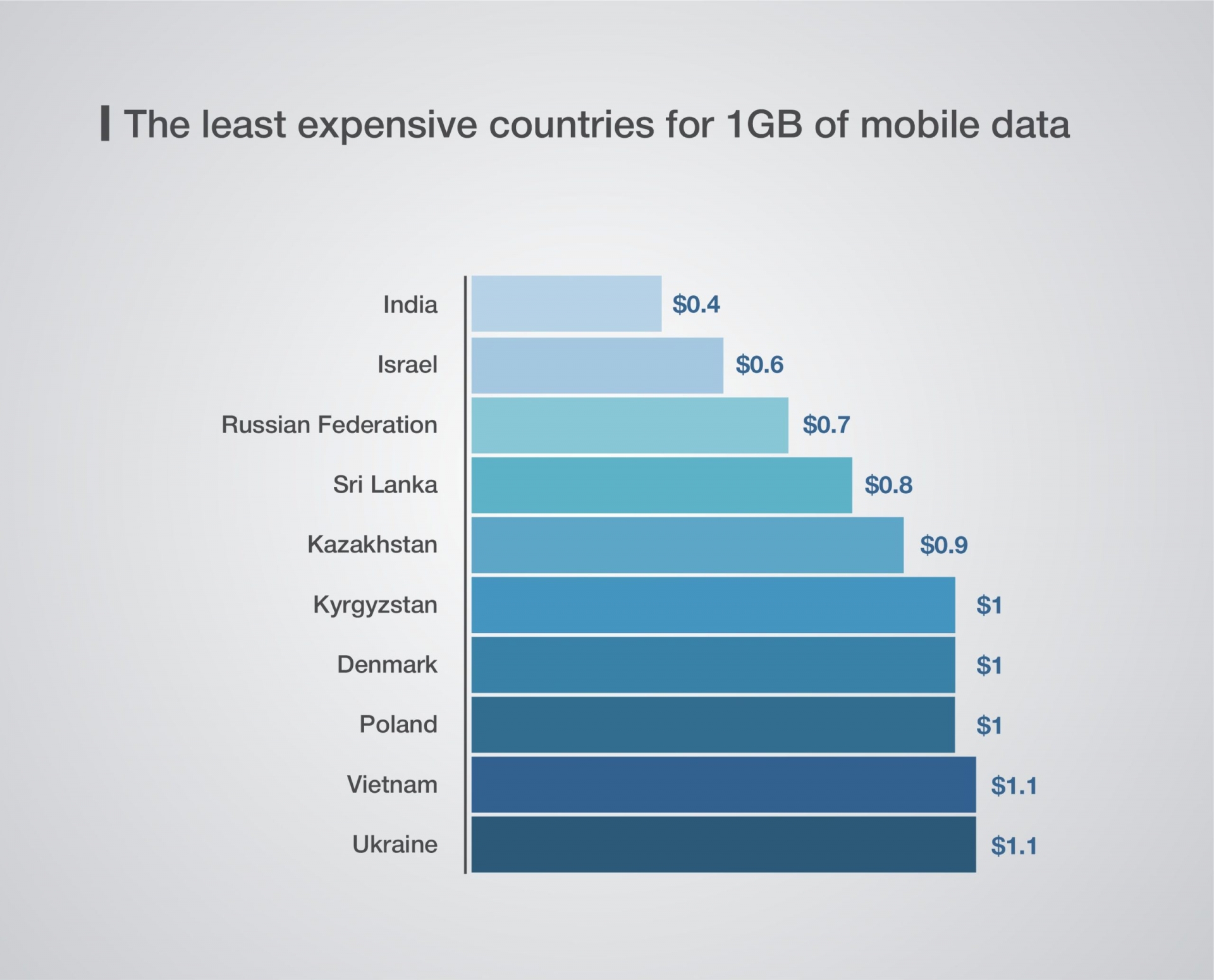 Global Ranking in Top 10 For Least Expensive Internet. Photo: The Astana Times
The index looks at a range of factors to determine a nation's connectivity ranking including download/upload speeds, internet access percentage, affordability, mobile coverage, free WiFi hotspots, and more, Telecoms reported.
| | |
| --- | --- |
| Overall top 10 | Overall bottom 10 |
| Denmark | 160. Afghanistan |
| Liechtenstein | 161. Turkmenistan |
| United States | 162. Equatorial Guinea |
| Hong Kong | 163. São Tomé & Príncipe |
| Sweden | 164. Comoros |
| United Kingdom | 165. Tanzania |
| Australia | 166. Mozambique |
| Luxembourg | 167. Niger |
| Switzerland | 168. Mauritania |
| Andorra | 169. Burundi |
European countries dominate the top 10 fastest average internet download speeds:
Liechtenstein – 187.35 Mbit/s
Denmark – 99.08 Mbit/s
Switzerland – 95.26 Mbit/s
Hong Kong – 81.63 Mbit/s
Sweden – 71.56 Mbit/s
Andorra – 67.78 Mbit/s
Bermuda – 65.01 Mbit/s
Luxembourg – 56.67 Mbit/s
Netherlands – 54.56 Mbit/s
Finland – 54.06 Mbit/s
Disappointingly, the US and UK fell down the rankings at 13th and 28th place respectively. The US' average speed is 34.13 Mbit/s while the UK's is just 20.06 Mbit/s.
Prior to the pandemic, one of British PM Boris Johnson's key pledges was to provide the whole UK with full-fiber broadband by 2025. The current average speeds show both the slow progress in the rollout while also highlighting the need for faster infrastructure.
Vietnam ranked ninth in terms of the cheapest Internet.
Here are the 10 countries with the cheapest internet ($ per month):
Ukraine – $7.2
Russian Federation – $8.2
Romania – $10.3
Bhutan – $10.5
Belarus – $11.0
Iran – $11.0
Kazakhstan – $11.5
Moldova – $11.8
Vietnam – $12.4
Mongolia – $13.0
The average monthly cost of broadband Internet in Vietnam was $12.4, much cheaper than in Thailand ($25.9), Indonesia ($32.5), Malaysia ($34.9), and the Philippines ($51.1).
Vietnam was one of the world's least expensive countries to buy mobile data with 1GB of mobile data costing $1.1.
Smart shoppers
The shopping journey has evolved significantly due to increased access to the internet and the health crisis, with 83% of Vietnamese now spending more time researching products online before making a purchase. Online decision-making and offline purchasing is the dominant behavior across key categories.
In addition, local consumers are asking more personalized queries, with 75% of purchases being done offline, yet 62% of the research for these purchases being done online.