Vietnam Promote Victim Assistance for UXO Survivors and Persons with Disabilities
Vietnam prioritises protecting rights of bomb and mine victims, said a Vietnamese official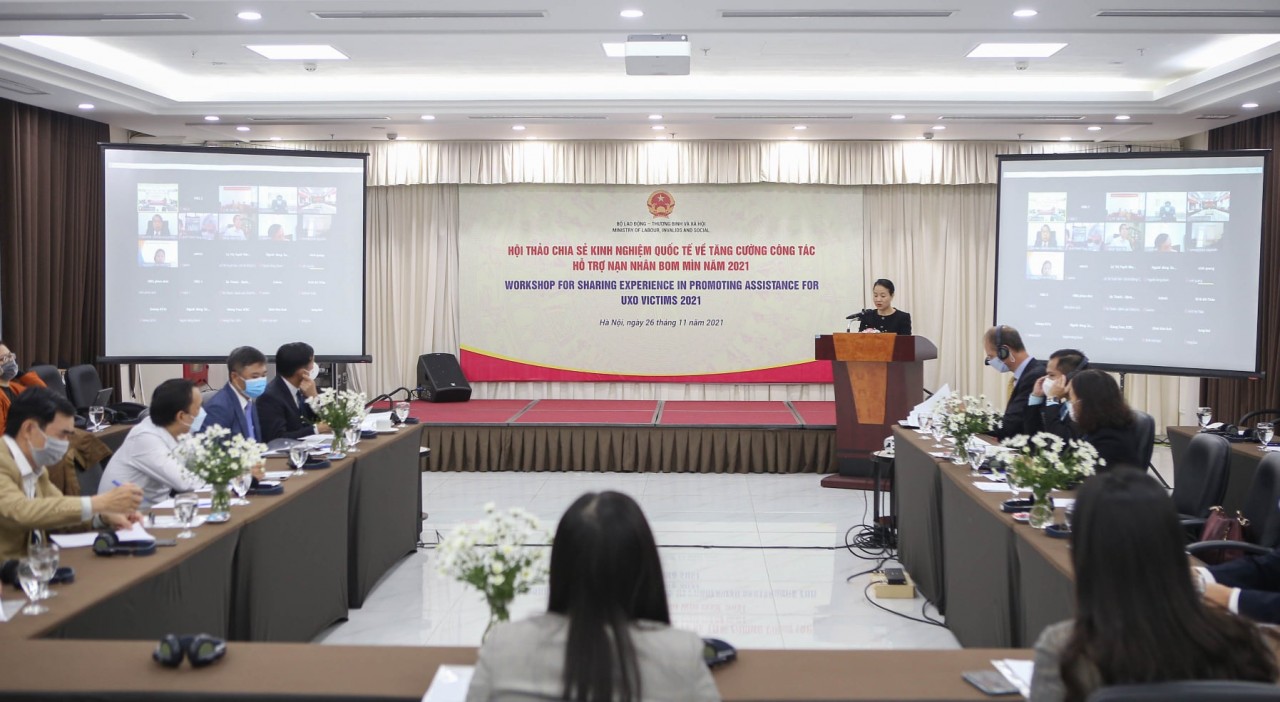 At the workshop. Source: UNDP in Vietnam
Under the Action Plan for 2018 – 2021 of the National Steering Committee on the Settlement of Post-War Unexploded Ordnance and Toxic Chemical Consequences in Vietnam, the Ministry of Labour, Invalids and Social Affairs (MOLISA) organized a workshop for sharing experience in promoting assistance for unexploded ordnance (UXO) victims 2021 in Hanoi.
The workshop was participated by the representatives of MOLISA, Ministry of Labor and Social Welfares of Lao PDR, development agencies and national and international NGOs.
It aimed to heighten the knowledge on policies and national actions regarding UXO victim assistance; new initiatives, projects and models to support UXO victims and persons with disabilities; and plans, priorities and challenges in the work of victim assistance.
The wars in Vietnam have ended for a long time, but the amount of post-war UXO has been extremely large, contaminating about 6.13 million hectares of land, accounting for 18.71% of national land area, posing a threat to local people's life, and directly impacting social security and the country's development. From 1975 to date, more than 40,000 people have died and 60,000 people have been injured due to the detonation of these explosive devices.
Ensuring the rights of people with disabilities, particularly victims of wartime bombs and chemical toxics, is among top priorities of Vietnam, stated MOLISA Deputy Minister Nguyen Ba Hoan.
According to Hoan, in 2020, the State budget spent VND 374 billion (USD 16.46 million) on implementing a policy on education for disabled people, including the bomb and mine victims.
The deputy minister said in 2021 – 2025, his department is set to focus on assisting people with disabilities in doing business, and seeking vocational training and employment. In hotspots of bomb and mine pollution, the group will be supported via livelihoods models.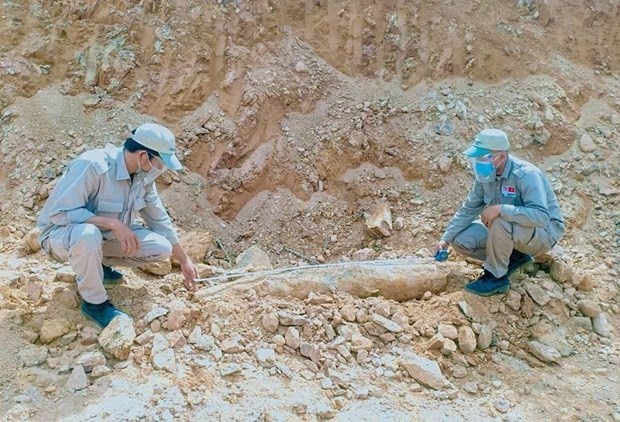 The Mobile Mine Clearance Team of PeaceTrees Vietnam handles and transports a MK82 bomb weighing 227kg left from the war in the central province of Quang Tri. Source: PeaceTrees
In 2019, the Government promulgated Decree 18/2019/ND-CP on the management and implementation of post-war remedial activities regarding mines and explosives. Per the document, victims of unexploded ordnance are provided with the State support concerning initial medical treatment, health insurance purchase, health care, rehabilitation, cultural education, vocational training, employment and social protection.
The Decree also encourages and creates favourable conditions for domestic and foreign agencies, organisations, enterprises and individuals to participate in assisting the victims.
During the workshop, Patrick Haverman, deputy resident representative and Nils Christensen, chief technical advisor of UNDP Vietnam presented international framework and best practices for supporting UXO survivors. In Vietnam, UNDP has been implementing the Korea-Vietnam Mine Action Project (KVMAP) in collaboration with Korea International Cooperation Agency (KOICA). Interventions include survey and clearance, information management, mine risk education and victim assistance. The project is about to complete its four-year period and second phase of the project is expected to begin.