Vietnam stock market ranked among the world's best performers
According to StockQ, Vietnam stock market remained as one of the world's best performers in the first five months of 2021, with the benchmark Vn-Index rose to 1,283.93 points at the close on May 21.
Vietnam's stock market remained among the world's best performers in the first five months as the benchmark Vn-Index rose by 16.31% against early 2021 to 1,283.93 points at the close on May 21, according to StockQ.
In addition to the index's strong growth, market liquidity has been improved in the past months with an average transaction value of over VND20 trillion (US$865 million) per session, according to Hanoimoi.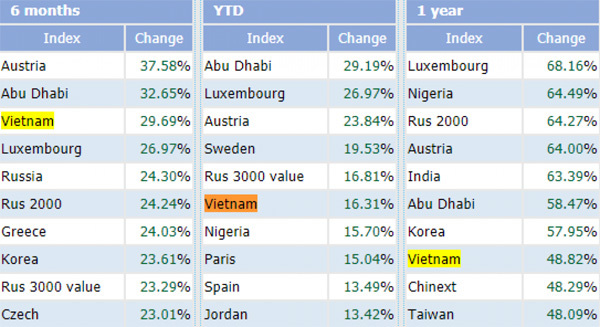 Vn-Index expanded by 16.31% year-to-date. Source: StockQ
Chairman of the SSI Securities Corporation (SSI) Nguyen Duy Hung at a recent annual shareholder meeting expected 2021 "to be a good year for the local stock market" and predicted the Vn-Index to hover around 1,300-1,400 this year.
"The first reason would be the stable macro-economic conditions with no sign showing a financial crisis being on the horizon. Secondly, people are still moving their money from saving accounts to the stock market," Hung explained, saying such a large amount led to many securities firms using up all of their margins but more is still coming in.
Hung also highlighted a positive note that the contribution of foreign capital to the Vn-Index is on the decline, as domestic investors are emerging as growth drivers.
Data from the Viet Securities Depository (VSD) showed local investors opened nearly 367,000 new securities accounts in just a four-month period, equivalent to 93% of the number of new accounts for the whole of 2020.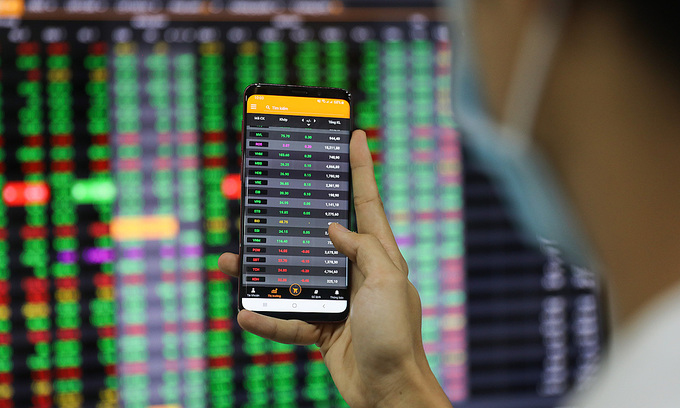 An investor looks at stock prices on a smartphone at a brokerage in HCMC's District 1, January 2020. Photo by VnExpress/Quynh Tran
While foreign investors have been keeping their net-selling position, Hung said the trend is a normal market practice, and moreover, the market still grows strong with high liquidity.
"Foreign investors are in the market for the profit and would pull out when meeting their expectations. But new foreign investment funds would emerge and pump money into the market," he said.
In addition to strong domestic capital inflows, Bao Viet Securities Company (BVSC) suggested the cheap price to earnings (P/E) of the Vn-Index, currently at 17.5 as provided by Bloomberg data, is much lower than other benchmarks in the regions.
This, coupled with the earning per share (EPS) of enterprises at over 20%, higher than regional markets, is turning the Vietnamese stock market into a more attractive destination, it noted.
Stock market expected to maintain growth path in 2021
Vietnam's stock market is expected to maintain its growth momentum of last year at 15-20 per cent based on positive supporting factors, experts have said.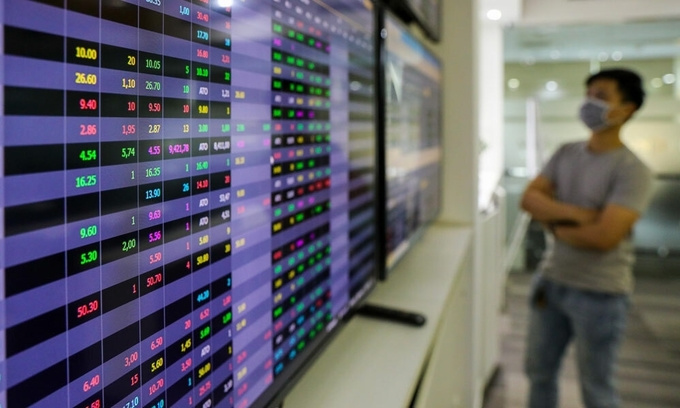 Photo: Vietnam News Channel
Speaking at a seminar on opportunities and challenges for the stock market in 2021 held in HCM City on Saturday, Can Van Luc, chief economist of the Bank for Investment and Development of Vietnam, said: "Vietnam has successfully implemented the dual goal of containing the Covid-19 pandemic and reviving the economy.
"With its economic recovery momentum, most organisations forecast that Vietnam's economic growth is likely to surge to 6.5‐7 per cent in 2021. And at the same time, we can control inflation well at below 4 per cent."
In this context, domestic and foreign investment flows to the country will be stronger than those of last year, he said.
The number of new trading accounts opened more than doubled last year, driven by the desire of local investors to achieve higher returns as the interest rates paid on their bank deposit accounts plunged. And the momentum will continue this year, he added.
Vo Tri Thanh, director of the Central Institute for Economic Management, said that production and trading activities have been maintained and export growth has recovered quickly, while the new generation of free trade agreements will also increase export and investment cooperation.
This will help promote the stock market in 2021 and the years to come, he said.
Nguyen Son, chairman of the State Securities Commission's Vietnam Security Depository, said that: "Having vaccines to prevent Covid-19 and the trend of shifting international capital flows from the banking sector (which yields low interest rates) to other investment channels such as stock and valuable assets such as gold and real estate will help the global stock market in general and Vietnam's stock market, in 2021.
"Vietnam continues to be evaluated as a bright spot for regional investment by international organisations as it is one of the few countries that has effectively controlled Covid-19 and achieved positive growth in 2020," he said.
Vietnam's stock market was a top five global performer with a single session loss and four consecutive gaining sessions in February.
With a 6.65 percent increase to reach 1126.91 points, the VN-Index ranked fourth among the most active markets in the past week, according to StockQ.org.
The top three on the list were India, Russia and Italy with respective increases of 9.91 percent, 7.13 percent and 6.73 percent. Vietnam was followed by Spain, with its stock market gaining 6.17 percent.
An overall gain of 34.51 percent has allowed the VN-Index to get back to the group of 10 markets with the most impressive growth last year.