Vietnam strives for imported Covid-19 vaccines
Vietnam will pull out all the stops to have Covid-19 vaccines available as soon as possible, Health Ministry's spokesperson said Wednesday morning.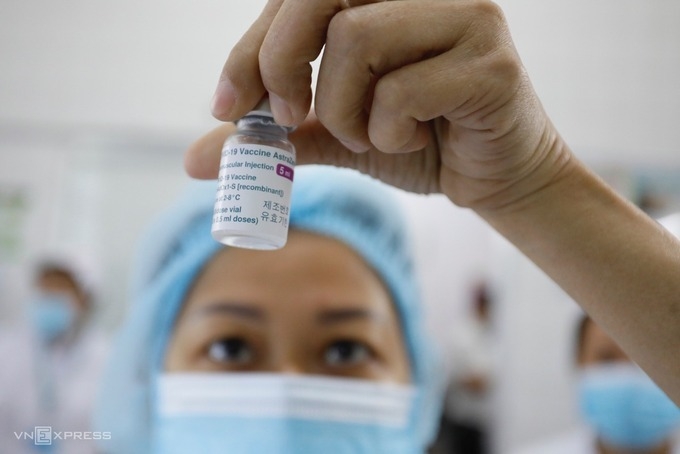 (Photo: VNE)
Speaking at the meeting of the National Steering Committee for Covid-19 Prevention and Control on April 14 morning, the spokesperson said the world was running short on Covid-19 vaccine supplies, and countries were in a "fierce vaccine fight". Therefore, Vietnam must do its utmost to have Covid-19 vaccines in the soonest time.
Meanwhile, Health Minister Nguyen Thanh Long said Vietnam was facing certain difficulties in accessing, negotiating for Covid-19 vaccines from foreign manufacturers and "|might have to accept risks to reach vaccine sources".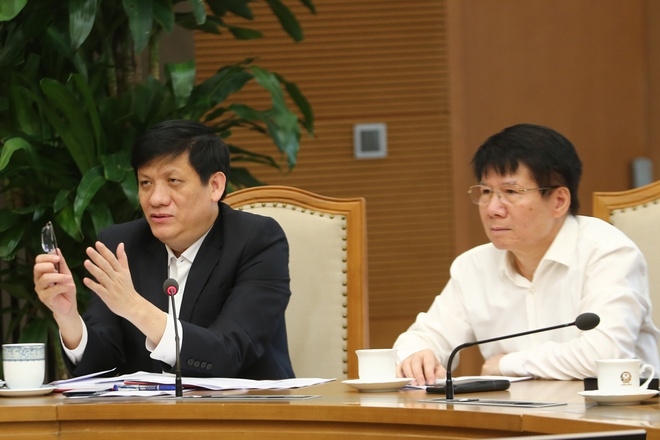 Health Minister Nguyen Thanh Long said Vietnam was facing certain difficulties in accessing, negotiating for Covid-19 vaccines from foreign manufacturers (Photo: Zing)
For his part, Deputy Prime Minister Vu Duc Dam asked the Health Ministry to urgently "submit specific and clear imported vaccine negotiation plans".
As for domestic sources, Vietnam is having four potential candidates on hand. According to Lieutenant General, Professor Do Quyet, Director of the Military Medical Academy, Nanocovax's second human trial phase has gone half of its process. Military Medical Academy is scheduled to report trial results to the National Ethics Council for evaluation before moving onto the last phase.
The Steering Committee believed with a population of roughly 100 million, authorities should continue speeding up and facilitating clinical trials of homegrown Covid-19 vaccines, prepare investment and production plans to get ready once vaccines are licensed.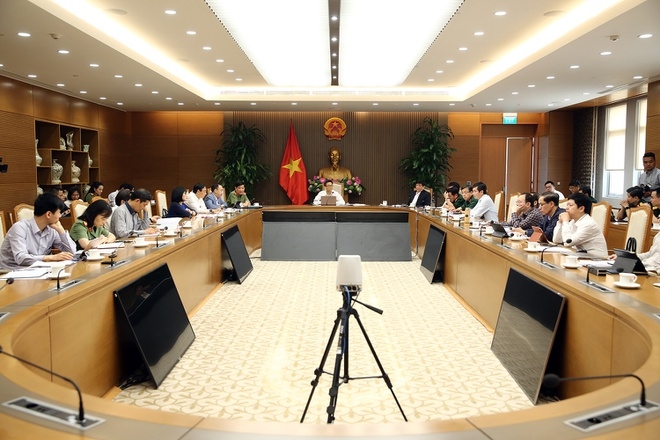 At the meeting (Photo: Zing)
Earlier on April 13, experts warned that Vietnam was facing an imminent threat of getting imported Covid-19 cases from Cambodia unless anti-pandemic and trespassing regulations at the long shared borders were tightly controlled.
"Vietnam shares a long land border with Cambodia. Besides, there are also air routes and sea routes. Controlling trespassing through sea routes is especially challenging", epidemiologist Tran Dac Phu, senior advisor to Vietnam Public Health Event Emergency Response Center, told VNE.
The epidemiologist stressed that there are a lot of Vietnamese people who live in Cambodia, or do trade, travel to and from Cambodia. The number of entrants, either legal or illegal, is also high. In particular, two new Covid-19 patients recently reported in Ho Chi Minh city and Hai Phong both illegally entered Vietnam on a fishing boat from Cambodia.
"The infection rate is high. It's necessary that authorities strictly control border gates, trails, and rigorously implement quarantine orders. We must make sure leaving no trespassing undetected, or else the outbreak would recur", Phu emphasized. He also urged people to report all suspected or those trespassing to local authorities immediately upon detection.
The recommendation was made while the Covid-19 situation in Cambodia is growing more complicated. Cambodian authorities are urgently implementing vaccination campaign and deploying tough measures to prevent the spread of the novel virus.
Its tally has reached 4,874 cases as of April 14, with 35 deaths reported. Roughly 1,000 new cases are confirmed in the last 2 days, mostly are garment workers and retailers.
The World Health Organization warned Cambodia was on the verge of a "national tragedy" because of Covid-19.
Vietnam recorded no community infections in the last 30 days, even though imported cases, including returnees from Cambodia, still add to the national tally every day. The so-called third Covid-19 wave in the country has been basically contained. The country is also urgently deploying the national vaccination campaign. To date, over 60,000 people across 19 provinces and cities have been given the imported AstraZeneca vaccine.
Among the first vaccinated people are healthcare workers, and members of anti-coronavirus community groups, and the steering committees on COVID-19 prevention and control in 19 cities and provinces, VOV reported.
Vietnam reported 16 imported cases of COVID-19 in the past 12 hours to 6 pm on April 14. The new cases include one Indian expert, one American expert, and 14 Vietnamese citizens who were sent to quarantine right upon their arrival.
On the morning of April 15, the Ministry of Health recorded 4 cases of nCoV, who entered isolation right after entry in Kien Giang and Khanh Hoa.