Hanoi plans to vaccinate 350,000 people in 2021
Hanoi is planning to give the Covid-19 jabs to 350,000 individuals in 2021, Hanoi Department of Health announced Tuesday.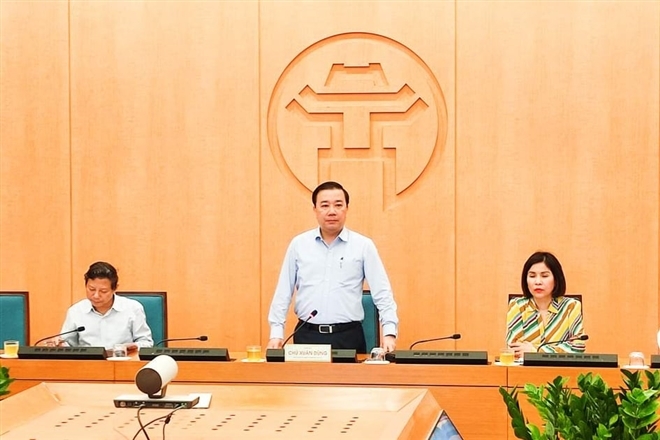 Chu Xuan Dung, Vice Chairman of Hanoi People's Committee, speaking at the meeting (Photo: VTC News)
"Hanoi attains the highest inoculation rate nationwide in the first vaccination campaign. In 2021, the city plans to have 350,000 people vaccinated", Tran Thi Nhi Ha, Director of Hanoi Department of Health said at the Covid-19 Prevention and Control meeting between Hanoi People's Committee and other localities.
To date, the capital has given the imported AstraZeneca vaccine for 8,047 people. All are in stable health condition after the injection, reports from the Department say.
In the second municipal Covid-19 vaccination campaign, Hanoi will prioritize over 26,000 medical staff and over 70,000 members of the Covid-19 inspection crew.
Speaking at the meeting, Chu Xuan Dung, Vice Chairman of Hanoi People's Committee emphasized that Covid-19 prevention and control is the first priority of the city to seek for socio-economic development in the new normal conditions.
For this reason, the municipal People's Committee tasked its Health Department to continue to keep a close eye on epidemic situations at border gates, health departments, strictly deploy anti-pandemic regulations at all quarantine areas and localities.
Regarding plans for the second vaccination campaign, Dung asked the Health Department to orderly implement all steps, from communicating, training, to screening, vaccinating and monitoring recipients' health post-injection, thereby minimizing possible unwanted situations.
"The list of residents eligible for the second vaccination period must be compiled thoroughly. No mistakes are allowed lest authorities would lose people's confidence", Dung was quoted by VTC News.
As of April 14, as many as 60,139 Vietnamese people have been given an AstraZeneca coronavirus vaccine shot since the national COVID-19 vaccination campaign was launched on March 8.
Among the first vaccinated people are healthcare workers, and members of anti-coronavirus community groups, and the steering committees on COVID-19 prevention and control in 19 cities and provinces, VOV reported.
The MoH has received more than 800,000 doses of the AstraZeneca vaccine sponsored by the COVAX Facility after purchasing 117,600 doses of the same vaccine in February 2021.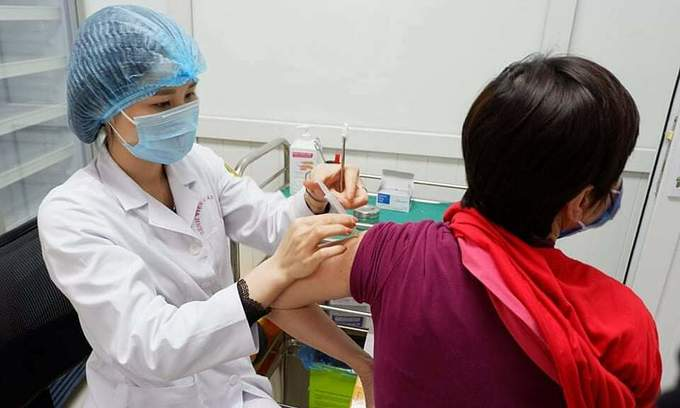 A woman gets a shot of Nanocovax as part of the second phase of its human trials in Hanoi at the Vietnam Military Medical University, March 25, 2021. (Photo: VNE)
In the latest Covid-19 distribution plan of the Ministry of Health, Ho Chi Minh City and Hanoi are allocated the largest number of Covax's AstraZeneca vaccine.
Of the 811,200 doses of AstraZeneca vaccine that arrived in Vietnam on April 1 via the global Covax program, Ho Chi Minh City will get over 56,000 jabs while Hanoi will get 53,000 jabs, according to the Ministry of Health.
Meanwhile, other pandemic-hit localities lately will also get the allocation. Hai Duong – the biggest epicenter in the so-called "third wave" in Vietnam is set to receive 43,000 doses, populous provinces like Thanh Hoa, Nghe An receives 18,000 – 20,000 doses each. Provinces bordering Cambodia are granted a larger proportion than the remaining localities in the prioritized list.
This marks the second Covid-19 vaccine distribution in Vietnam. The country kicked off its nationwide vaccination program on March 8, prioritizing frontline forces, border guards, high-achieving athletes, etc. To date, over 54,000 people have been vaccinated, no serious reactions post-injection are reported.
The list of prioritized groups in the second vaccination scheme will be expanded to essential workforces, including teachers, aviation staff, administrative staff, etc.
The country is also eyeing mass production of its homegrown Covid-19 vaccine Nanocovax in August if the three-phase human trial is completed in May.
Three months from then, which is August, Vietnam could start the mass production of this vaccine to inoculate its citizens, Major General Nguyen Xuan Kien, head of the ministry's Military Medical Department said a press conference on Friday.
A total of 560 people were involved in the second phase of the Nanocovax human trials that started in February, following the end of the first phase, which commenced last December with 60 volunteers.
The third phase, slated for May, will inject a pool of 10,000-15,000 volunteers, according to Vnexpress.