Vietnam to officially host ASEAN Para Games 11 in December
Vietnam will officially host the 11th Southeast Asian Para Games (ASEAN Para Games 11) in December with 11 sports.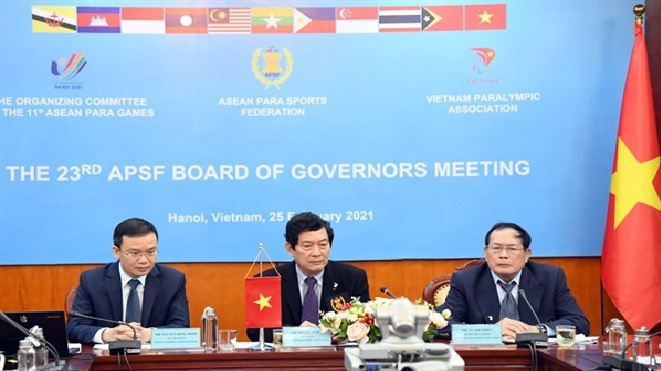 Vietnamese delegates attend 23rd APSF Board of Governors Meeting. Photo: VNA
The ASEAN Para Sports Federation (APSF) announced the cancellation of the ASEAN Para Games 10 in the Philippines and empowered the organization of the ASEAN Para Games 11 to Vietnam at its 23rd Board of Governors Meeting held via video conference on February 25, according to Vietnamplus.
Head of the Vietnam Paralympic Association Huynh Vinh Ai stressed the importance of controlling the COVID-19 pandemic to ensure safety for athletes.
The host Vietnam briefed member states on preparation works for the tournament, as well as plans to organize 11 main sports, namely athletics, swimming, weightlifting, badminton, table tennis, chess, archery, goalball, wheelchair tennis, Boccia, and Judo.
Ai stressed that as the host country, Vietnam is actively preparing for the Games. However, everything still depends on the developments of the pandemic. The organizing board will follow all regulations of the World Health Organization and the Vietnamese Government.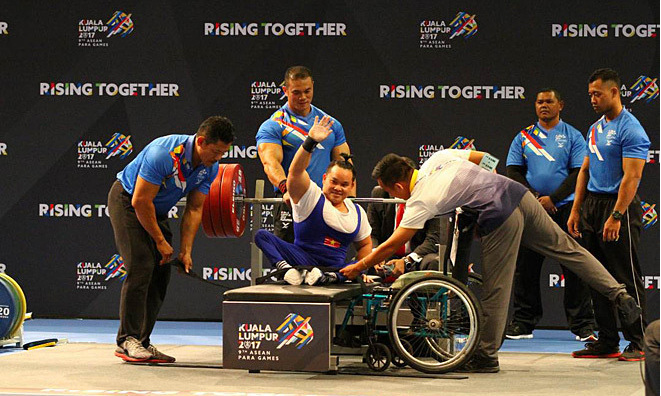 Vietnamese weightlifter Nguyen Binh An wins gold medal in ASEAN Para Games 9 in Malaysia on September 18, 2017. Photo by VnExpress/Duc Dong.
Deputy Director in charge of the General Department Tran Duc Phan earlier said his department, as a standing agency of ASEAN Para Games 11 Organizing Committee, has implemented many works, including the establishment of eight out of 10 Sub-committees on technical support, security, transport, health and doping testing, finance, infrastructure, logistics, and public services, information - communications, and operation center, Nhan Dan Newspaper reported.
The General Department has also instructed the Sub-committees to build detailed operating regulations and work plans; urged the development of preliminary plans on accommodation, transport, information technology, medical and doping testing, volunteer recruitment and training, security, and reception work.
It will be the second time that Vietnam hosts Para Games after first doing so in 2003.
The Asian Para Games are a biennial multi-sport event organized by the ASEAN Para Sports Federation (APSF) for athletes with an impairment. The 8th edition of the Games was held in Singapore in December 2015. Thailand finished on top of the medal table with 250 medals, 95 of which were Gold.
Indonesia, who showed their prowess in track and field yet again, finished second in the table, with 81 Gold medals and 218 overall. Malaysia was third with 52 Golds and 147 overall medals while Vietnam had 48 Golds and 156 total medals and Singapore was next with 24 Golds.