Vietnam to receive 60 million Covid-19 vaccine doses in 2021
Vietnam is expected to receive 60 million Covid-19 vaccine doses this year as the COVID-19 Vaccines Global Access (COVAX) initiative and AstraZeneca have committed 30 million doses each to the country, Minister of Health Nguyen Thanh Long said on February 19.
Up to 150 million doses are needed to ensure vaccination for all Vietnamese people, he stated during a virtual meeting with localities on February 19 to discuss COVID-19 prevention and control measures in the coming time, Nhan Dan Newspaper reported.
Negotiations are underway with global multilateral units such as COVAX or AstraZeneca to ship the COVID-19 vaccine home as fast as possible, the minister affirmed.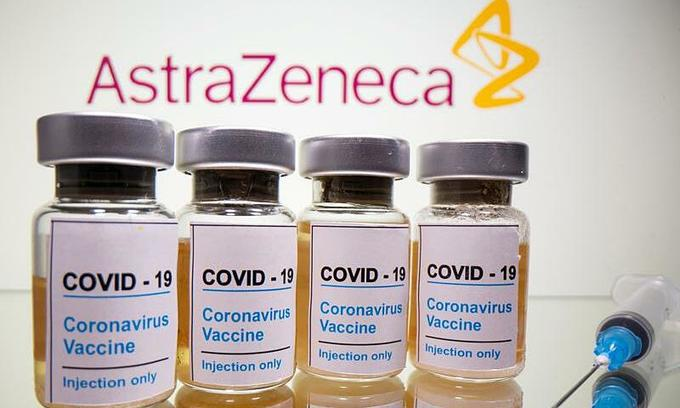 Vials are seen in front of a displayed AstraZeneca logo in an illustration photo taken October 31, 2020. Photo by Reuters/Dado Ruvi.
The Ministry of Health (MoH) has promptly worked with organizations and vaccine developers in an endeavor to purchase vaccines in the shortest time possible.
Procedures for vaccine procurement, import and utilization will be carried out in an urgent manner in line with the regulations and recommendations of the World Health Organisation and manufacturers.
He also called on businesses with access to vaccine supply sources to closely work with the MoH in vaccine imports, towards the goal of providing vaccines for all Vietnamese people this year so as to facilitate economic recovery.
Relevant agencies have been ordered to ensure the efficient purchase and use of the COVID-19 vaccine and at the same time accelerate research and manufacturing of domestic vaccines that meet international standards and work against emerging variants of the coronavirus SARS-CoV-2, he noted.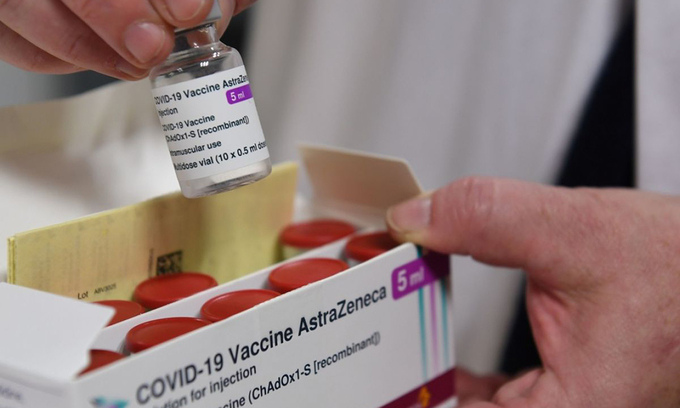 A health worker opens a box containing the Oxford/AstraZeneca Covid-19 vaccine in France. Photo by AFP
The first batch of 204,000 vaccine doses is scheduled to arrive in the country on Feb. 28.
Earlier, the health ministry stated doctors and other staff in frequent contact with Covid-19 patients or those suspected of being infected will be among the first to be vaccinated.
Others on the priority list will be the elderly and those with chronic diseases that make them more vulnerable if infected, and diplomatic personnel, according to Vnexpress.
In another move, the Civil Aviation Authority of Vietnam (CAAV) under the Ministry of Transport has proposed aviation industry employees be listed among the first people to be vaccinated.
Those who are passenger check-in officers, cargo handling staff, flight attendants, pilots, and air traffic controllers should be subject to the shots due to the high risk of Covid-19 infection, it said.
CAAV also proposed domestic airlines for the transportation of vaccines to Vietnam.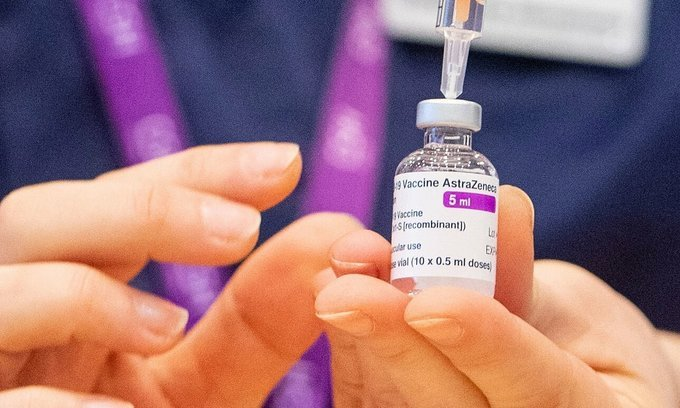 A nurse prepares a dose of the Oxford/AstraZeneca Covid-19 vaccine at a mass vaccination center in Surrey, Britain, Jan. 11, 2021. Photo by AFP.
Prime Minister Nguyen Xuan Phuc said importing Covid-19 vaccines should be a foremost government priority while calling for quick research progress on domestic Covid-19 vaccines as well.
Vietnam has four domestic Covid-19 vaccines under development and trial by Nanogen Pharmaceutical Biotechnology JSC, the Institute of Vaccines and Medical Biologicals, the Vaccine and Biological Production Company No. 1 and the Center for Research and Production of Vaccines and Biologicals.
Nanocovax, produced by Nanogen Pharmaceutical Biotechnology JSC, has completed its first phase of human trials and is expected to begin the second this month. Covivac of the Institute of Vaccines and Medical Biologicals is expected to commence human trials this month too.
On the global scale, there are currently 11 COVID-19 vaccine candidates under the third phase of human trials. Pfizer/BioNTech's vaccine (the US) is the first vaccine to complete the trials with 9

5 percent effectiveness and granted emergency use authorization from the UK and Bahrain.

Meanwhile, Moderna's vaccine is in its final clinical trial phase, with an effective rate reaches 94.5 percent. Oxford/ AstraZeneca is 70-90 percent effective, depending on the injection dose. Russia's Sputnik V (95 percent effective) is scheduled to begin mass vaccination next week.

Moderna's vaccine is priced at 37 USD per dose, meanwhile, Pfizer's vaccine and Oxford's vaccine are more reasonably priced at 19 USD and 3 UDD per dose, respectively.
The Health Ministry confirmed 15 new Covid-19 cases Friday evening, all of them in Hai Duong, whose tally in the latest outbreak rises to 590.
Of patients 2348 to 2362, 13 were already quarantined. One was detected in the lockdown area and another during a medical check at the local hospital.
From January 28 to February 19, Vietnam has recorded 770 community transmissions in 13 localities. Hai Duong is followed by Quang Ninh with 60 and Ho Chi Minh City with 36 cases.
The national tally has gone up to 2,362 with 1,627 recoveries and 35 deaths. Twenty-two recoveries were announced Friday. All the active cases are in stable health, with 163 have tested negative at least once for the novel coronavirus.
More than 140,000 people are quarantined in centralized centers, hospitals, at home and other designated accommodations.