Vietnam to roll out nasal spray and eye-drop COVID-19 vaccine
Along with injections, Vietnam's COVID-19 Nanocovax vaccine will also be developed in the form of eye-drop and nasal spray for special subjects.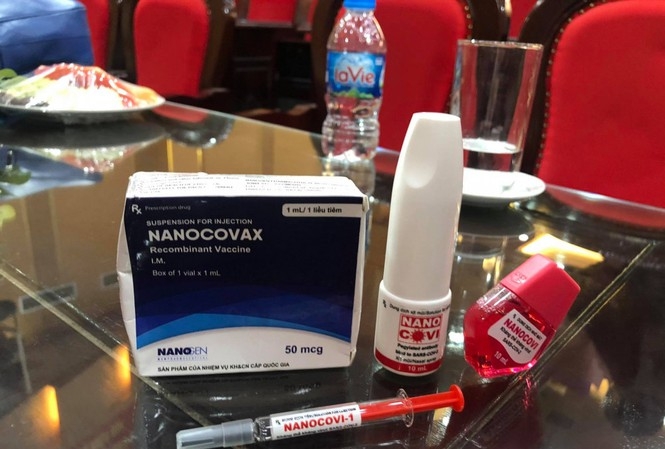 Nanocovax is priced at only $10.3 per dose
The nasal spray and eye-drop version of Nanocovax will be dedicated to children under 12 years of age and those with underlying diseases, according to Ho Nhan, chairman of the Board of Directors from Nanogen Biopharmaceutical.
"Nanocovax is way more effective and generates faster immunity than other made-in-Vietnam candidates currently developed", Nhan was quoted by Tien Phong as saying. "However, there are still people unqualified for normal injection. Thus, we have come up with the nasal spray and eye-drop vaccination plan to make sure 100 percent of Vietnamese are vaccinated against the deadly coronavirus".
According to the chairman, Nanogen's research team has up to 500 people, including about 300 people directly involved in the process round the clock. Common nCoV strains are selected by Nanogen as the virus is continuously mutated.
"By this way, people will still be vaccinated and generate enough antigens against the virus", Nhan said, adding that individuals will get repeated vaccination every year to maximize the preventive effect.
Nanocovax is the first made-in-Vietnam COVID-19 vaccine to enter human trials. Nanogen company is running the first phase of human trials on 60 volunteers starting December 10 before moving to the second phase with some 400 volunteers. The third stage of the clinical trials is yet to be decided.
If everything goes well with the clinical trials, Nanocovax, which developed under recombinant protein technology, is expected to enter mass vaccination in May, 2021.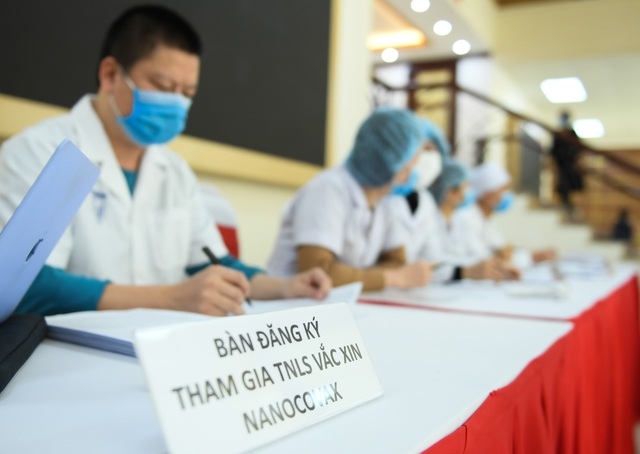 Registration desk (Photo: Dan Tri)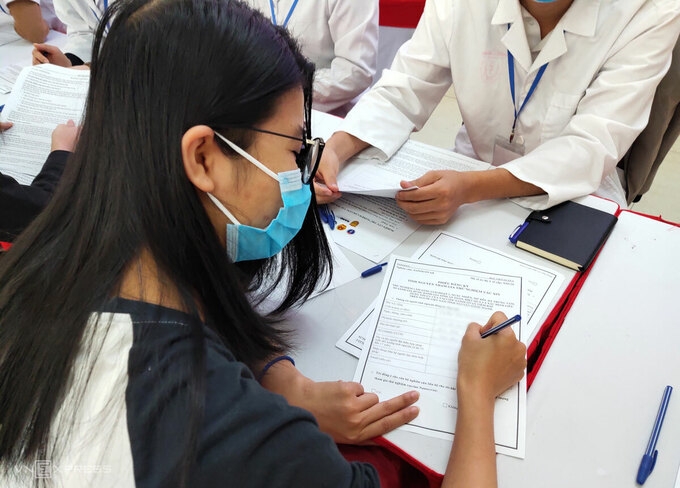 First Vietnamese girl signing for voluntary form for the phase one of Nanocovax's human trials (Photo: Dan Tri)
On December 10, Do Minh Si, Nanogen's research and development director said each Nanocovax injection is priced at around VND 120,000 (US $5.18). The vaccination of Nanocovax has two injections, thus it will cost each individual a sum of VND 240,000 (US $10.3).
Nanogen's current production capacity is around 10-20 million doses per year. The company is planning to upgrade its factory to increase the production scale to 50-70 million doses per year.
"We will prioritize domestic distribution before any plan to export the vaccine", Si emphasized.
Nanogen's COVID-19 vaccine is evaluated as safe. Side effects on mice and monkeys are "negligible", only cause mild irritation and itching which last for only 30 minutes. Anatomy of vaccinated mice found no internal organ damages.
The health ministry earlier has assessed Nanogen's Covid-19 vaccine candidate among the most promising, having been successfully produced on a laboratory scale and provoked immunogenicity during animal testing.
Nanocovax (Photo: VNE)
Vietnam has four Covid-19 vaccines produced by Nanogen, Vabiotech, Polyvac and the Institute of Vaccines and Medical Biologicals (IVAC) currently under research.
Vabiotech, Polyvac are currently evaluating their vaccines on animals, having completed the laboratory-scale production process.
Meanwhile, IVAC will continue to cooperate with Russia and "actively contact with China to have access to China's vaccine".
On global scale, there are currently 11 COVID-19 vaccine candidates under the third phase of human trials. Pfizer/BioNTech's vaccine (the US) is the first vaccine to complete the trials with 95 percent effectiveness and granted the emergency use authorization from the UK and Bahrain.
Meanwhile, Moderna's vaccine is on its final clinical trial phase, with effective rate reaches 94.5 percent. Oxford/ AstraZeneca is 70-90 percent effective, depending on the injection dose. Russia's Sputnik V (95 percent effective) is scheduled to begin mass vaccination next week.
Moderna's vaccine is priced at 37 USD per dose, meanwhile, Pfizer's vaccine and Oxford's vaccine are more reasonably priced at 19 USD and 3 UDD per dose, respectively.