Vietnam to start human trials of another homegrown COVID-19 vaccine this quarter
A COVID-19 vaccine developed by Vaccine and Biological Production No. 1 (VABIOTECH) is scheduled to be tested on humans at the end of March, the Ministry of Health said on January 19.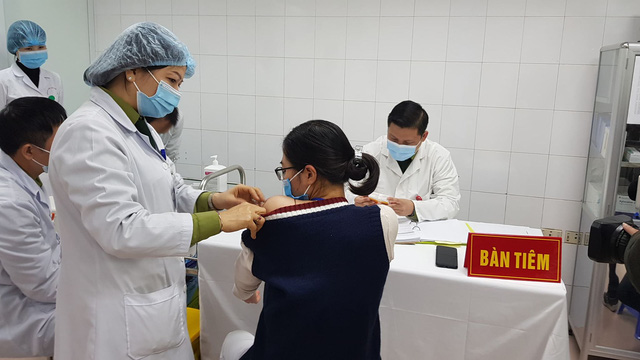 The highest dose, 75mcg, of Nanocovax was given to three volunteers in Hanoi on January 12. Photo: MoH
VABIOTECH is one of the four companies that are developing COVID-19 vaccines in Vietnam, along with the Institute of Vaccines and Medical Biologicals (IVAC), the Centre for Research and Production of Vaccines and Biologicals (POLYVAC), and Nanogen Pharmaceutical Biotechnology (NANOGEN).
Nanocovax by NANOGEN is Vietnam's first candidate vaccine against the novel coronavirus SARS-CoV-2 to reach the human trial stage, the Vietnam News Agency (VNA) said.
The highest dose, 75mcg, of Nanocovax was given to three volunteers in Hanoi on January 12.
The Nha Trang-based IVAC has also been authorised to carry out human clinical tests for its Covivac.
Dr. Duong Huu Thai, director of IVAC, told local media that Covivac has so far been tested on animals, including mice and rabbits, with the results showing that the vaccine has successfully created a high level of immunity among animals, VOV reported.
According to Associate Professor Dr Chu Van Men, Director of the Military Medical University's Centre for Clinical Trials and Bioequivalence, Vietnam expects to collect all necessary data on clinical testing by the end of 2021 before it can consider mass vaccination.
On January 20, twenty volunteers received the second shots of Nanocovax at the Military Medical University on January 20.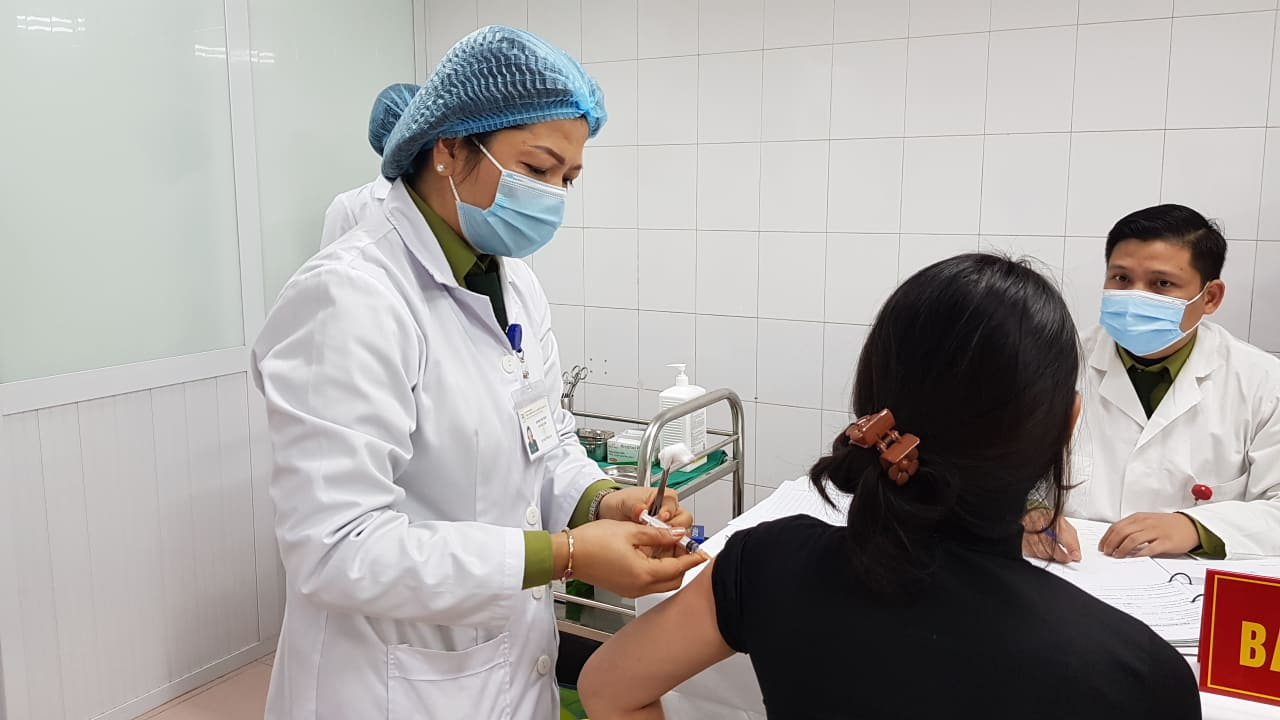 A volunteer receiving the second shot of Nanocovax. Photo: MoH
Among them, three people, who had been injected a dose on December 26, 2020, were given a dose of 50mcg and the remainders got a dose of 25 mcg. All of the volunteers are now in stable conditions, VNA said.
Vietnam has so far gone through more than half of the first stage of clinical vaccine trials.
Associate Prof. Ho Anh Son, Deputy Director of the Military Medical University's Institute of Biomedicine and Pharmacy, said the test results 7,14 and 28 days after the injection showed that the vaccine is capable of producing immunity and ensuring safety.
Out of over 500 applicants for the vaccine trial, more than 200 underwent health check-ups, of whom 51 people are eligible for the first stage.
Nanocovax is Vietnam's first candidate vaccine against the novel coronavirus to reach the human trial stage. Photo: Lao dong (Labour) newspaper
The second stage, starting from February, is expected to conduct trials on 400-600 people aged between 12-17.
The Ho Chi Minh City Pasteur Institute and the National Institute of Hygiene and Epidemiology will also join in the vaccine research.
The third stage, scheduled for August, will see trials on 10,000 - 30,000.
If successful, Vietnam will begin mass production of the COVID-19 vaccine in early 2022.
Vietnam is one of 40 countries globally that have conducted clinical human trials on a COVID-19 vaccine, VOV said./.
Vietnam recorded four new imported cases of COVID-19 during the past 24 hours to 6pm on January 20, all of them are Vietnamese citizens returning from abroad and being quarantined upon their arrival, according to the National Steering Committee for COVID-19 Prevention and Control.
The new cases brought the national tally to 1,544.
The number of recovered patients reached 1,406 after four were given the all-clear on January 20, while fatalities remain at 35.
Among patients under treatment, 14 have tested negative for SARS-CoV-2 once, 10 twice and eight thrice.
A total of 18,168 people who had close contact with COVID-19 patients or arrived from pandemic-affected regions are staying in quarantine nationwide./.