Vietnamese choosing forest camping to escape Covid-19
Families and young people are increasingly opting for camping as a form of entertainment to avoid the damgers posed by coronavirus
Every other week, Nhung's family of three (Hanoi) go camping together. She says that since tourism is limited due to Covid-19, camping allows and her 4-year-old son to still go out and have fun while releasing energy.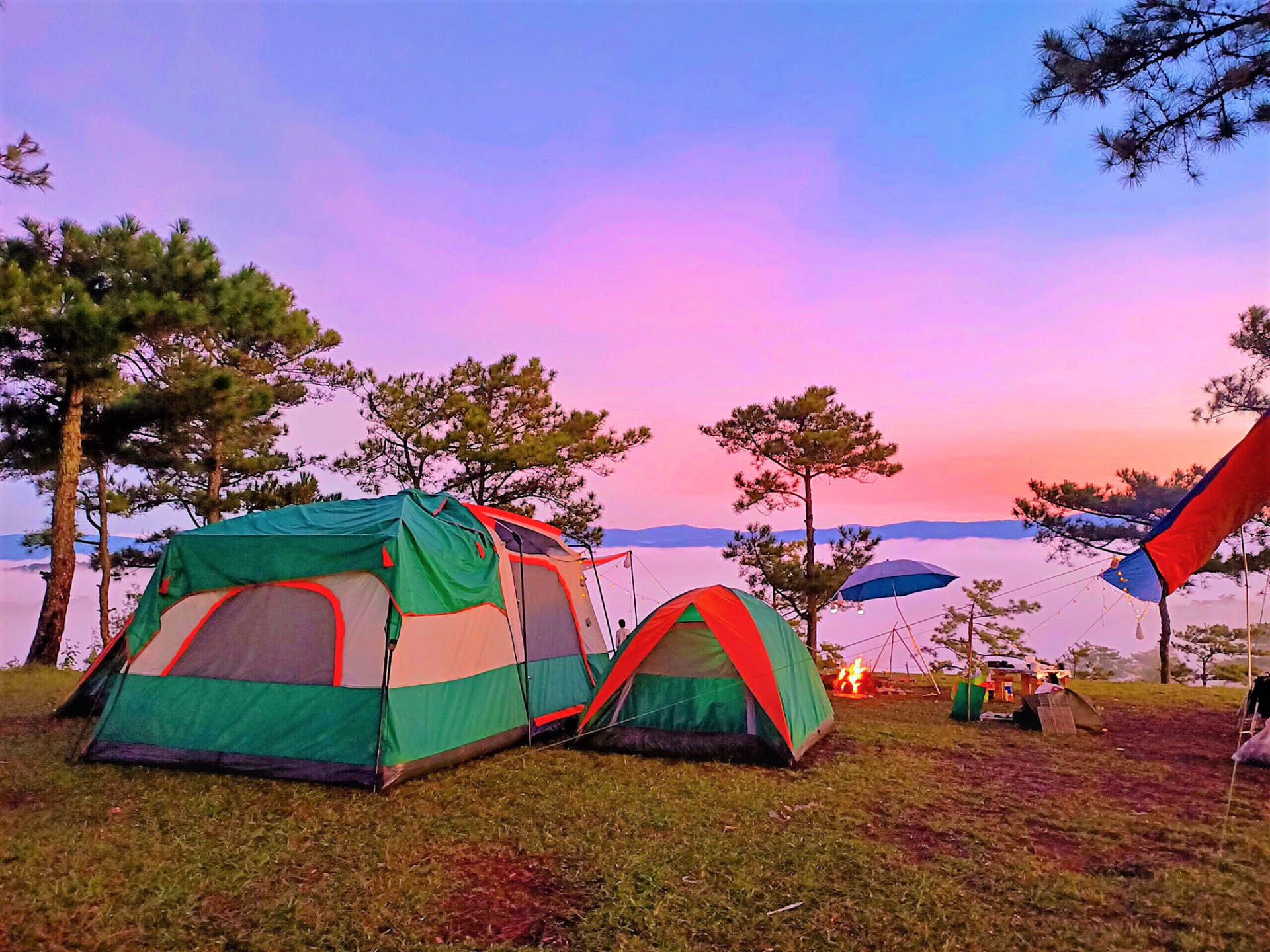 A c amping site in the Da Phu Hills near Da Lat. Photograph: Phan Van Cuong
Nhung's choice of destination is not too far from Hanoi and has unspoiled natural scenery and few people. Other safe camping spots include Xuan Son National Park in Phu Tho and the Dong Lam steppe in Lang Son. During the trip, the family prepares tents, tables, chairs, kitchen utensils and food, all at a cost about 1 to 1.5 million VND. They use a private car, so the family does not have to come into contact with strangers.
Nhung finds these camping occasions meaningful as they allows the family to bond, and the family does everything together such as setting up a tent, cooking and chatting. Her child also gets to learn many life skills, knowledge of nature, and to pick up garbage after camping. She loves relaxing and enjoying nature, especially as Covid-19 spreads in many provinces and cities, limiting weekend activities.
Due to the temporary suspension of work because of the virus, Thai Hoang from Ho Chi Minh City also goes camping every week, both to relax and to research his job as a trekking tour guide. He often goes camping with his girlfriend, or friends with similar interests. He chooses destinations that are empty of people, near nature and not far from Ho Chi Minh, so he can go by motorbike.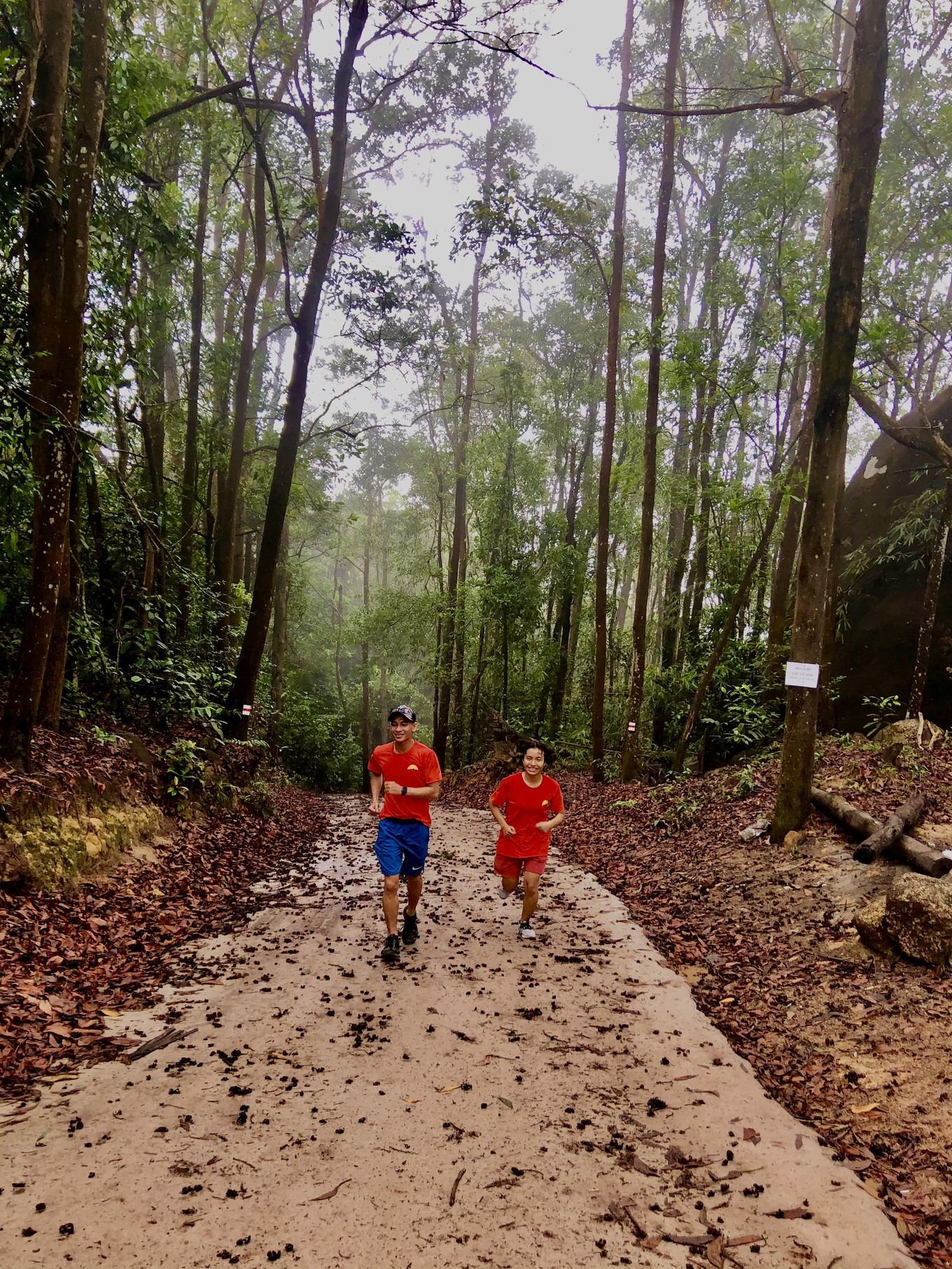 People jogging in the forest of Dinh moutain. Photograph: NVCC
Recently, Hoang camped for two days and one night at Dinh mountain in Ba Ria - Vung Tau), where there are mountains, forests and streams. The mountain here is about 500 m above sea level. From the top of the mountain, visitors can enjoy a panoramic view. He brought tents, tables, chairs, cooking utensils and food with him. Costs ranged out at around 1-2 million VND.
Hoang says that during Covid-19, camping is a fairly safe form of leisure. It is private and campers usually do not have to come into contact with anyone. However, camping groups should only be of around 2-3 people and avoid large gatherings.
"While many people are gathering at cafes and restaurants, it is safer to go camping in a place close to nature," Hoang said.
Similarly, Le Vinh De of Hoai Nhon in Binh Dinh province has also temporarily stop working because of the virus. Since there are no Covid-19 cases in Binh Dinh, on weekends, he and his family choose destinations near the province such as Lai Giang River, Mat Troi (Sun) Hill in An Lao district. Other than the necessary equipment, he usually brings an extra jacket or fog-proof tent, depending on the weather.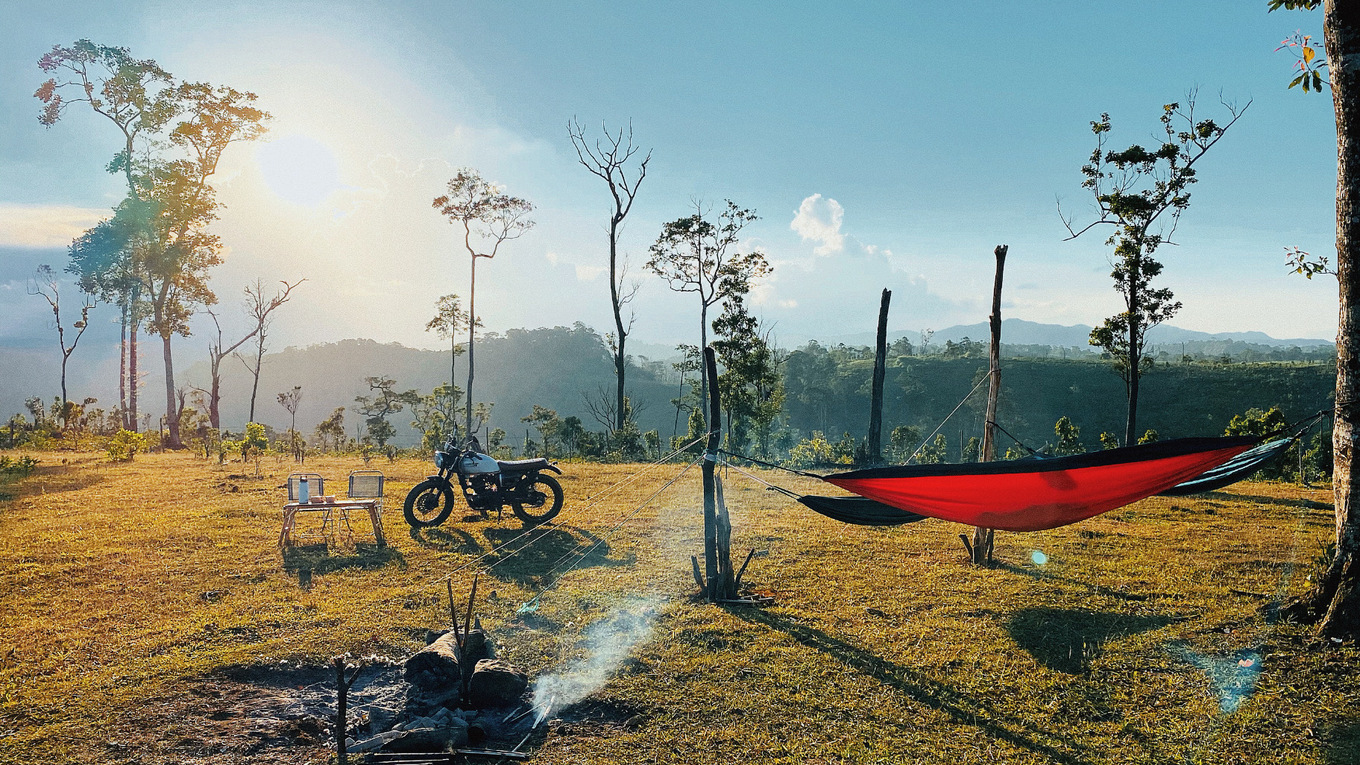 A camping site in Mat Troi (Sun) Hill. Photograph: NVCC
Normally, he will arrive at the campsite at 2 p.m. on Saturday, and set up a tent, tables and chairs before going to watch the sunset before returning for dinner. Early in the morning, he wakes up to catch the sunrise, admiring the natural scenery and enjoying the fresh air. He then has breakfast, picks up garbage and furniture, and returns.
De says that Covid-19 broke out again, camping allowed him to spend time with his loved ones to admire the beautiful scenery of his hometown and relax in a deserted place. Camping costs here are less expensive, around 500,000 VND per person.
De notes that it is important that campers comply with the travel restrictions of the locality where they live and are going. Camping equipment should be prepared in advance to limit exposure as much as possible on the road. Additionally, in places with many people, campers should wear masks and keep a safe distance.
Most attractive egg stone beaches in Vietnam

Possessing magnificent scenes with hundreds of multi-shaped and multi-colored stones, the following egg stone beaches capture the hearts of any visitors stepping on them for ...