Vietnamese Farmer Creates Amphibious Bicycle for New Tourism Experience
The amphibious vehicle can offer visitors a great experience at water destinations.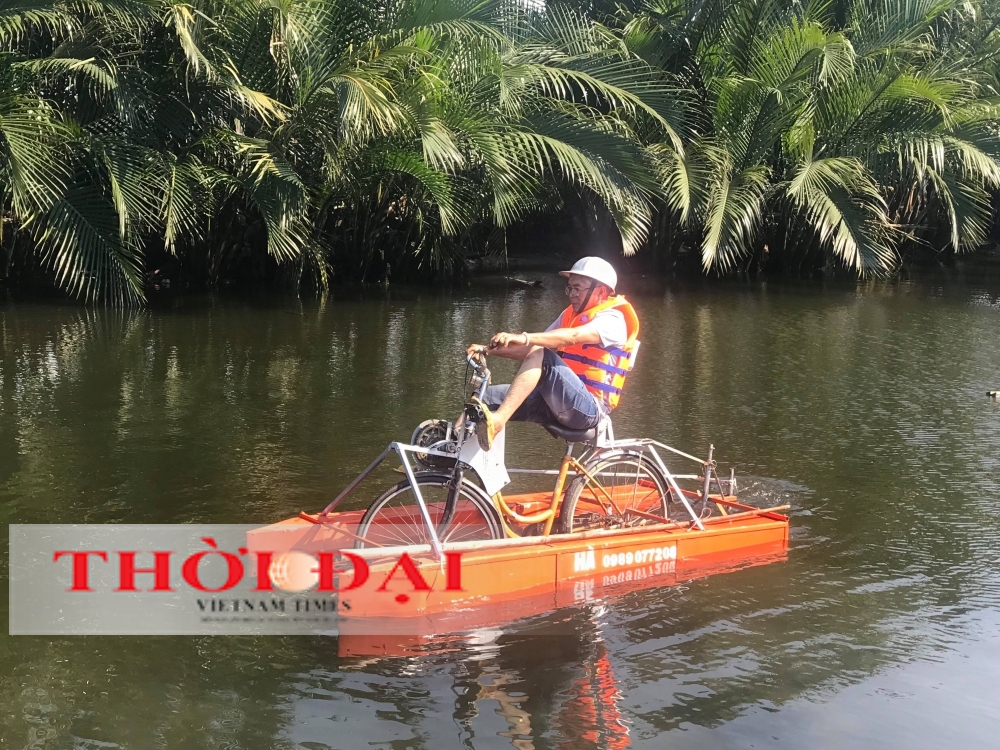 The bicycle can ride both on land and on water. Photo: Vietnam Times
Nguyen Ha, aged 58, has invented and improved dozens of agricultural machines, raising productivity even though he's no expert or graduated from technical training courses. His latest invention, the bicycle that can ride both on land and water, is drawing large attention.
Ha turned his old bicycle into an amphibious one, which he said can help riders exercise and entertain. Several parts, including the bell, are made from used materials. The amphibious vehicle can be mass-produced for tourism needs, giving visitors a new riding experience at water destinations.
"Those on holiday can ride the bicycle while admiring the surrounding scenes," Ha said, adding that many visitors showed excitement to his bicycle.
Ha had trialed the vehicle on Cam Thanh's water area several times and received positive comments from passers-by and visitors.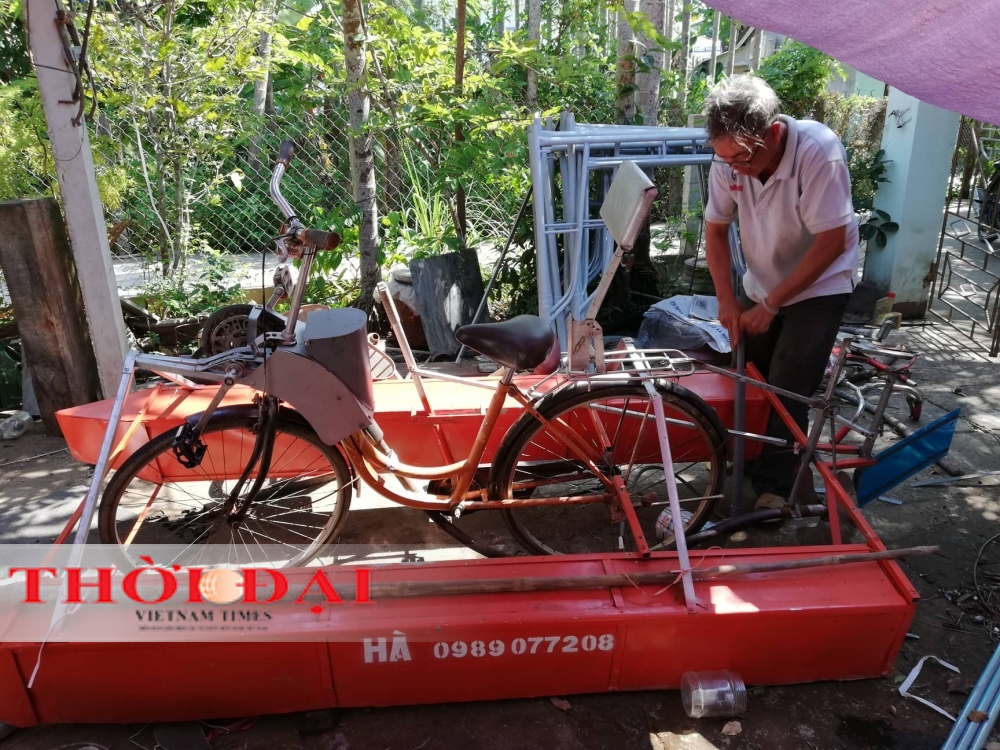 The amphibious bicycle can well-serve tourism needs. Photo: Vietnam Times
Locals in Cam Thanh, the central city of Hoi An, call Ha a "barefoot engineer," or "multitalented worker". They love his creations, saying they are useful and practical. Being a construction worker, but Ha is passionate about creating construction and agricultural tools and machines. The difficult life has shaped his diligence and determination to overcome hurdles.
"Farming works are daunting. I've been thinking of a way to integrate machines to help farmers improve productivity. Manual works don't look promising in the future," he said.
Other machines in his collection include water pumps, sand sieving machine, compactor, corn separating machine, peanut thresher, rice peanut thresher. He also made his own musical instruments, including erhu, lute.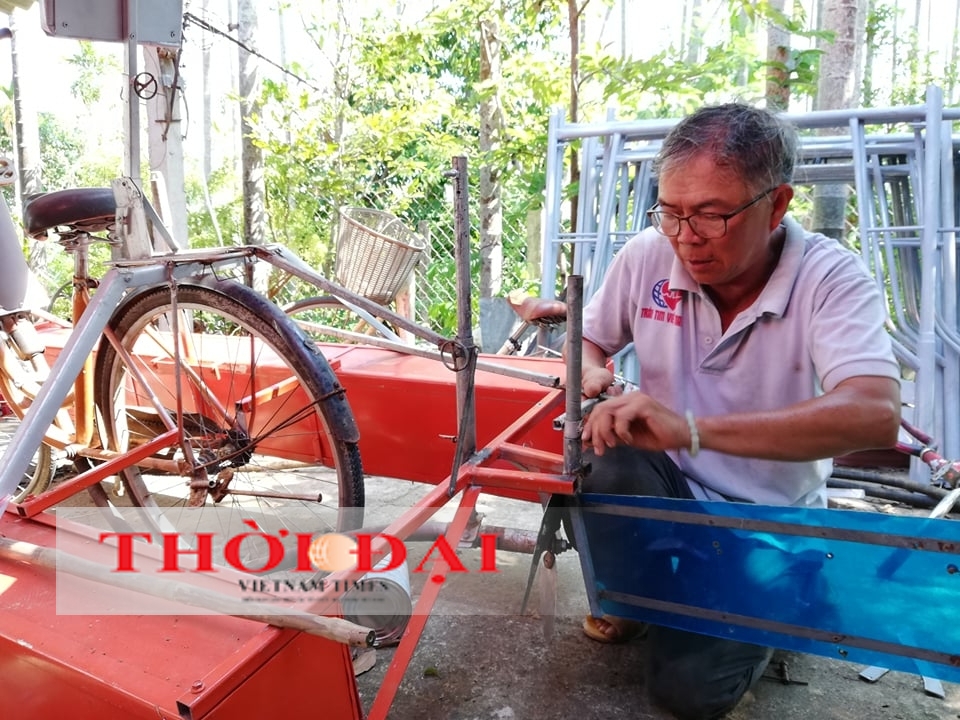 Ha hasn't graduated from any technical training course, but he has invented a handful of machines. Photo: Vietnam Times
Photo: Vietnam Times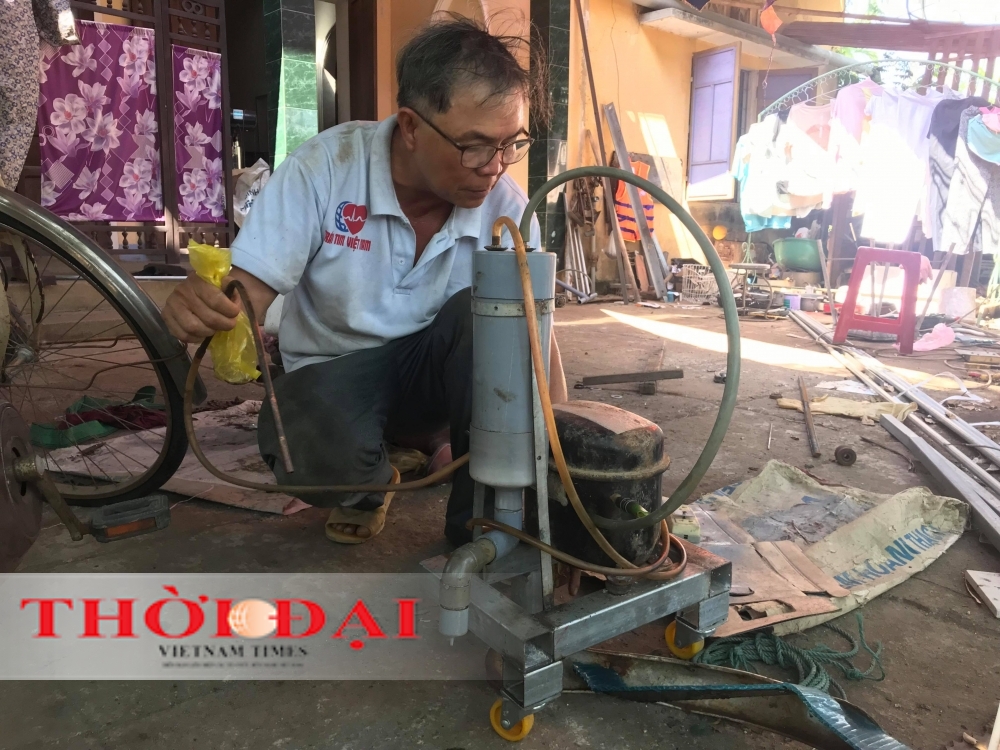 Photo: Vietnam Times
"The peanut thresher is my first creation. I wanted to do something to help farmers save time and effort," he said. "Because I didn't graduate from any academic courses, I just visualized the machine's parts in my head and drew them roughly on papers. I also consulted technical books during the making."
After many times of trials and adjustments, Ha finally succeeded. Local farmers showed great interest in it and even placed orders. The peanut thresher is among his most proud products, Ha said.
"The passion for creating new tools and machines has made my life more interesting and meaningful," he told Vietnam Times.
The rice thresher machine. Photo: Vietnam Times