Vietnamese, Indonesian Defense Ministries Agree to Intensify Relations
Indonesian Defense Minister Prabowo Subianto is paying an official visit to Vietnam from May 12 to 14 at the invitation of Vietnamese Defense Minister General Phan Van Giang.
An official welcome ceremony for his Indonesian counterpart Prabowo Subianto on May 13 was held at the headquarters of the Ministry of National Defense under the chair of Defense Minister Phan Van Giang.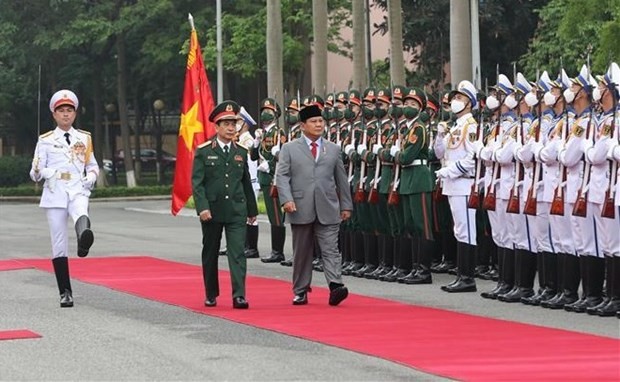 Defence Ministers Phan Van Giang (left) and Prabowo Subianto review the guard of honour at the official welcome ceremony for the Indonesian official in Hanoi on May 13. Photo: VNA
Giang and his visiting Indonesian counterpart Subianto agreed to intensify bilateral defence relations in the time ahead in their talks.
Subianto said his country always attaches importance to the relations with Vietnam.
The two sides shared the view that defence cooperation between Vietnam and Indonesia has been promoted and recorded encouraging outcomes as seen in their effective dialogues, consultations, delegation exchanges, training, and collaboration between naval and coast guard forces, and research institutes, among others.
These activities have been conducted on the basis of the Memorandum of Understanding on fostering cooperation between defense officials signed in 2010 by the two governments and the Joint Vision Statement on defense cooperation for the 2017-2022 period.
In particular, despite the Covid-19 pandemic's impacts since late 2019, bilateral defence ties have still been enhanced and obtained certain practical outcomes, especially dialogue and cooperation mechanisms maintained via videoconference, along with cooperation deals signed between the countries' naval and coast guard forces.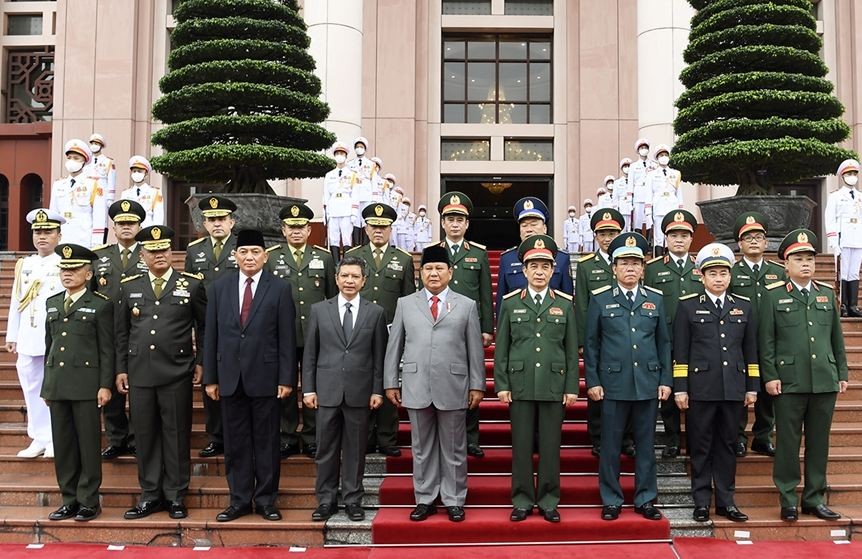 Two sides pose for photo. Source: PANO
They agreed that in the time ahead, Vietnam and Indonesia will press on with effectively implementing the defence cooperation agreements inked between their Governments and defence ministries, bring into play dialogue mechanisms, step up mutual visits at all levels, reinforce relations between their naval and coast guard forces, and boost collaboration in training and the defence industry.
The ministers affirmed the necessity to maintain peace, stability, security, and safety of navigation and overflight in the East Sea, comply with international law, including the 1982 UN Convention on the Law of the Sea (UNCLOS), effectively carry out the Declaration on the Conduct of Parties in the East Sea (DOC), and soon finalise a substantive and effective code of conduct (COC) in the waters that is in line with international law.
At the talks, Giang asked the two countries' maritime law enforcement agencies to increase coordination to share information and deal with issues emerging at sea in conformity with the Vietnam - Indonesia strategic partnership and the humanitarian spirit towards fishermen.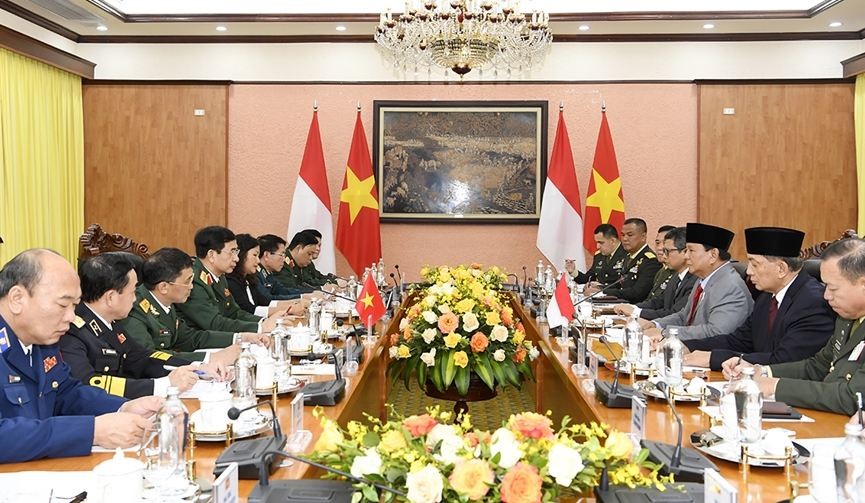 The talks between Ministers Phan Van Giang and Prabowo Subianto in Hanoi on March 13. Photo: PANO
General Phan Van Giang cordially invited leaders of the Indonesian Ministry of National Defense to attend the first International Defense Exhibition in Vietnam, scheduled to be held in December 2022 and send defense enterprises to introduce their products at the exhibition.
Vietnam Defence 2022 is an international exhibition and conference on defence field in Vietnam, hosted by the Ministry of National Defence with the aim of supporting Defence units and armed forces to deploy the assurance of weapons and technical equipment to protect country as well as widen opportunities for manufactories, OEM assembly and supplier in the world to introduce equipment, weapons, high-end technologies right in Vietnam.
Vietnam Defence 2022 will showcase and display fighting vehicles, high-end equipment and systems technologies served for Air forces, Navy, grand forces, communication, biochemistry such as fighter aircraft system, helicopter, missile systems, submarine, warships, torpedoes, weapons systems, military vehicles, radar systems, reconnaissance robots, logistics facilities, etc and all the fields related to leaders, senior officials and soldiers belonging to defense, security, police and armed forces.
It expected that the exhibition will be the place for the best suppliers in terms of equipment and services in the world in order to meet, exchange and evaluate products, technologies and giving new Defense and security solutions for Vietnam and regional countries as well.