Vietnamese Infinity Pool Named Among World's Most Unique
Agoda, one of the world's fastest growing online travel booking platforms, has named Topas Ecolodge Pool in Sapa among the most unique pools of hotels in the world.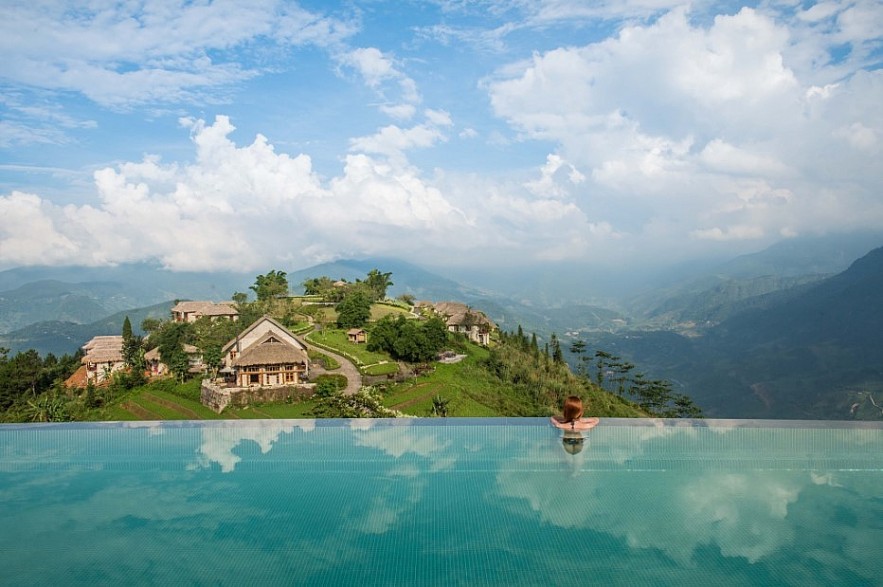 Photo: vnexpress.
Topas Ecolodge Sapa, Vietnam
Opened in 2005 on a mountaintop far from the emerging tourist hub of Sa Pa Town, Topas Ecolodge offers its guests a rare experience of culture, as there are five different native tribes in the region with distinctive languages and lifestyles. Surrounded by mountains and green rice paddies, as reported by vnexpress, the hilltop resort is the first in Vietnam and the 5th in Asia to make the National Geographic list.
Reserve a day pass and take advantage of the massive infinity pool at Topas Ecolodge. Situated in the northern mountains of Sapa, the heated, eco-friendly pool features endless glimpses of peaks and valleys amidst local rice terraces. With a dedicated section for children and a massaging jet spa for adults, families can count on a smooth-sailing holiday.
Built in 2017, Topas Ecolodge Pool provides a view to hills, valleys and terraced fields. Among fog, it provides the feeling of being in the middle of the cloud.
The US Forbes page called it a pool in the cloud, with really impressive scenery. At the same time, the page also introduced the resort, with wooden houses reaching out to the hillsides, with a fresh and environment friendly approach.
Relaxing things to do in Sapa
-Cat Cat Village: Visit an authentic Vietnamese village loved for its local customs and ethnic foods.
-Fansipan (Phan Xi Pang): Ride the Fansipan Legend cable car up the mountainside for gorgeous views of nature, including native monkeys, wandering antelope and rare species of birds. The ride also offers a stunning view of Sa Pa Lake.
-Love Waterfall: Spend a relaxing afternoon splashing in cool streams at the base of Fansipan.
-Sa Pa Lake: Pack a picnic lunch and enjoy a tranquil respite in the Community Garden along the banks of Sa Pa Lake.
-Muong Hoa Valley: Stroll through breathtaking rice terraces and discover the backbone of the Sapa Hilltribe economy.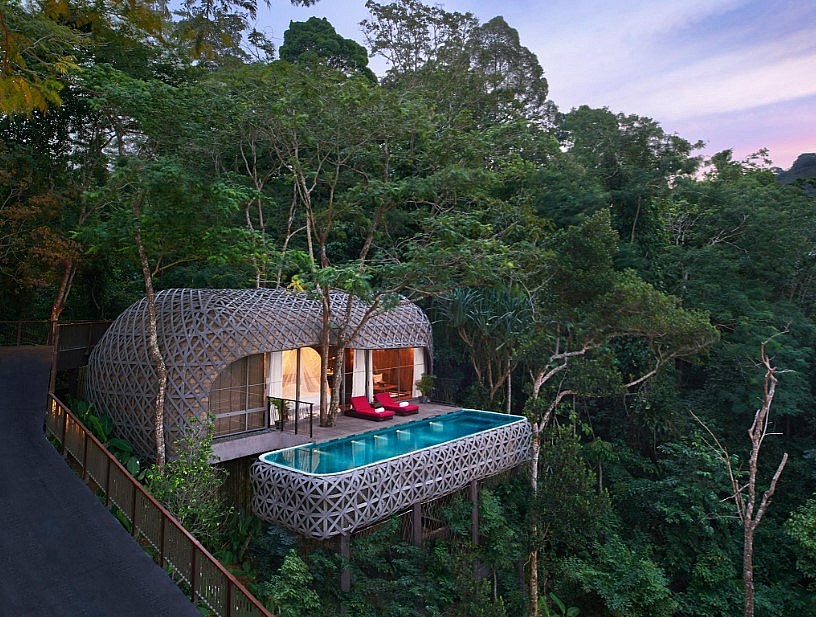 Photo: vnexpress.
Keemala Resort & Spa, Phuket, Thailand
Nestled away in the middle of a rainforest in the northern part of Phuket (just 45 minutes or so from Phuket International Airport), the design for Keemala was completed by Space Architects with Pisud Design Company charged with the interiors. To make Keemala as sustainable as possible, it has been designed around the existing landscape, with mature trees, streams and waterfalls incorporated into the hotel.
According to thehoteljournal, what makes these villas extra lovely is that when it rains, you get that romantic sound of the water drops landing on a canopy, without the unglamourous feeling of sleeping on the ground, we also love the complimentary coconut water refills and the handmade treats that were left on our pillow every night. Other options for your stay include the Clay Pool Cottages that reflect the Pa-Ta-Pea Clan; the Tree Pool Houses inspired by the We-ha tribe, and the Bird's Nest Pool Villas of the Rung-Nok people.
For anybody looking for complete pampering, Mala Spa won't disappoint. Book in for the Voya Seaweed Hot Stone Massage and feel rejuvenated or try the Luk Pra Kob, a traditional Thai herbal compress massage that was so heavenly I may have had to extend my treatment from 90-120 minutes. Facials offer a range of benefits from anti-aging to environmental defense, while body wraps, hand treatments and organic baths are also available.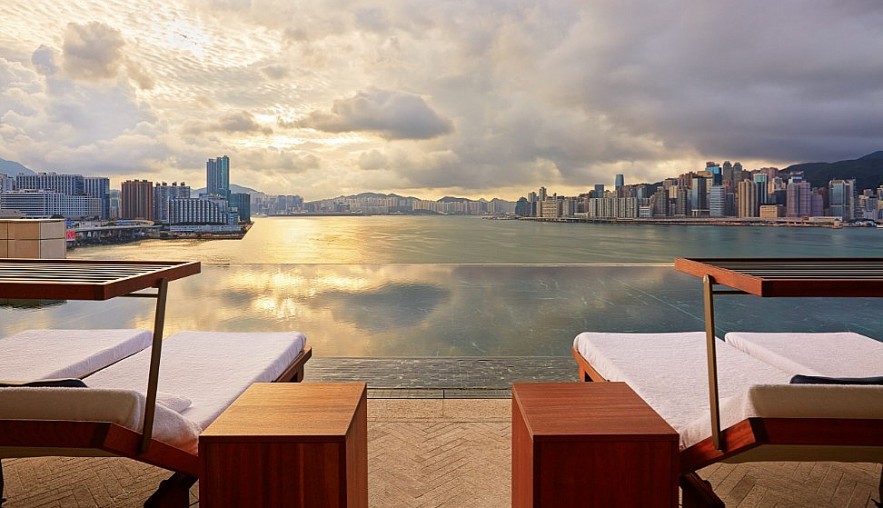 Photo: vnexpress.
Rosewood Hong Kong, Hong Kong
Soaring over Victoria Harbour, Rosewood Hong Kong is a new centre of gravity on the Kowloon waterfront; the crown jewel of the Victoria Dockside arts and design district. On passing the gate and traversing the cobblestoned drive, the urban din falls away, revealing lush topiary and a serene forecourt that commands the harbour. A warm welcome heralds a stay of unparalleled comfort and distinctive hospitality.
The 413-room vertical estate offers eight restaurants and lounges complemented by recreational facilities including Asaya, a fitness centre and swimming pool and standout meetings and event space.
Begin your day with a few vigorous laps or enjoy the morning sunrise at our 25-metre-long outdoor infinity pool. Set on the sixth floor, the spacious, landscaped deck promises glittering, serene views of Victoria Harbour, where you can relax and enjoy some delicious refreshments from Asaya Kitchen.
Pool access is available on a first come first served basis and restricted to maximum 30 guests due to the government's social distancing restrictions.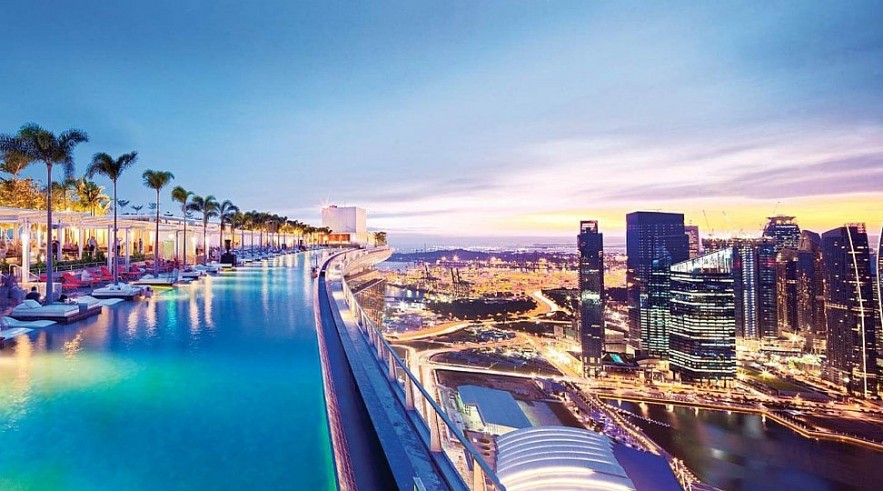 Photo: vnexpress.
Marina Bay Sands, Singapore
Since its opening in 2010, Marina Bay Sands has widely been regarded as having one of the best swimming pools in the world. Not only is it currently the world's largest rooftop infinity pool, but the actual design of the building is beyond your wildest imagination.
Cut into three different sections, the swimming pool is spread across the top of three buildings in the shape of boat. From the highest floor of the building you'll have a view of the entire city as you float atop this unreal resort. As impressive as the 150 meter long Marina Bay Sands infinity pool is, there's much more on the roof to enjoy!
If you walk back behind the other side of the pool you'll see three jacuzzi's sitting side by side. The cool thing about these hot tubs are that they're facing the opposite direction towards the port side of the city. That means you can lounge in the bubbly water, and watch as thousands of boats pull into Singapore.
As reported by nothing familiar, it's easy to see that the Marina Bay Sands infinity pool is the showstopper, and main draw to this luxury hotel. Try and put swimming aside for a second… The view alone from up here is breathtaking! Unfortunately, the only way to swim in the Marina Bay Sands pool in Singapore is to be a hotel guest. Still, you can buy a ticket to the SkyPark observation deck and grab a drink at the bar as another option.
Another fun part about the Marina Bay Sands pool in Singapore is experiencing it at different parts of the day. During the daytime is the most crowded to take a swim in the Marina Bay Sands pool. The sun will be cranking down on you most days so make sure to wear plenty of sunscreen.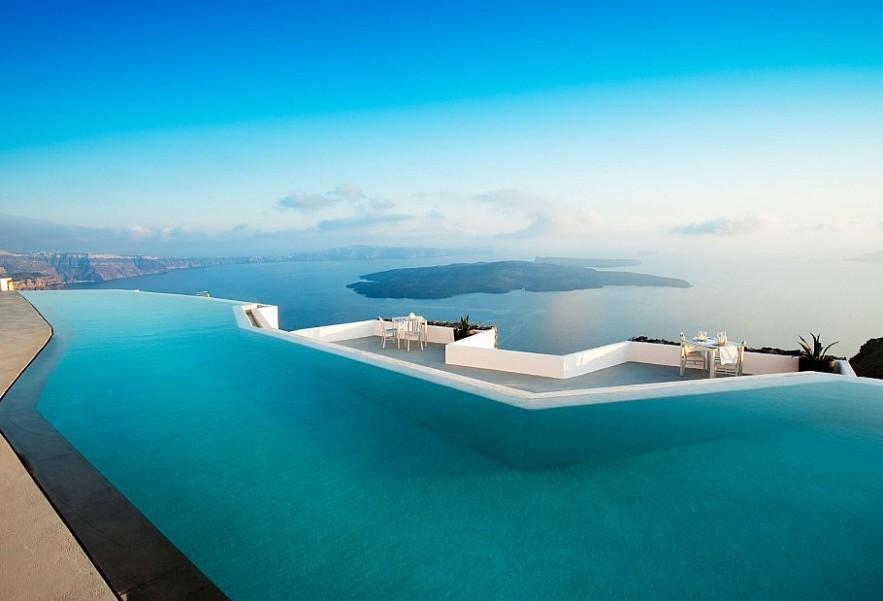 Photo: vnexpress.
Grace Santorini Hotel, Santorini, Greece
Located 2 km from Fira, the award-winning Grace Hotel Santorini is an exclusive boutique hotel offering luxurious accommodation with panoramic sea views and free WiFi. It features an infinity pool and provides in-room spa treatments.
The modernly decorated rooms and suites feature design items and include a satellite TV, DVD player and a balcony. Some units also have a separate seating room and a plunge pool overlooking the sea.
Grace Hotel guests can benefit from a variety of services that they can request prior to arrival, such as bathroom amenities, Apivita cosmetics, in-room fitness kit or seven-choice pillow menu. They can also choose among a wide variety of in-room drinks or special romance packages.
The sea-view restaurant serves Mediterranean fusion cuisine in its elegant interior or at the terrace. A 5-course champagne breakfast is served daily, while guests can also enjoy cocktails, refreshments and light meals at the hotel's pool bar.
Grace Hotel Santorini can arrange boat trips to nearby islands and private daily cruises. A complimentary use of laptop and iPod is possible at the reception.
Situated in Imerovigli village, the hotel is 8 km away from Santorini Airport and 10 km away from Athinios Port.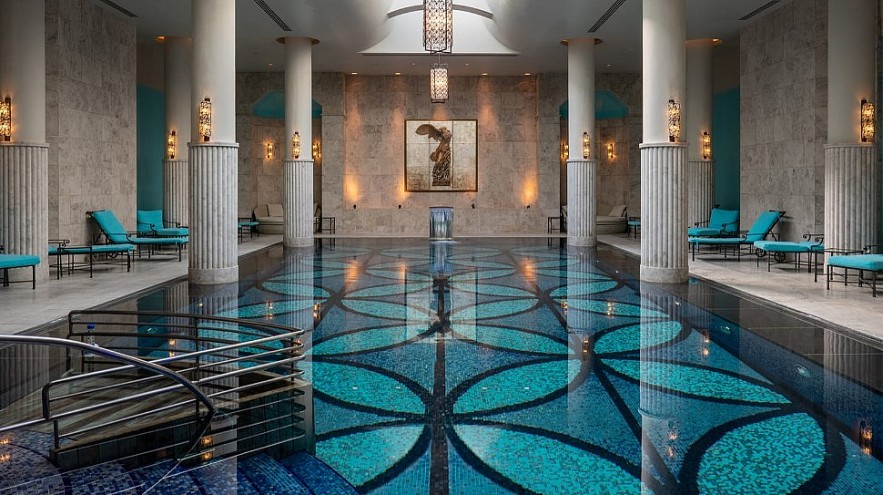 Photo: vnexpress.
Four Seasons Hotel Istanbul At the Bosphorus, Istanbul, Turkey
Situated along the Bosphorus, this renovated 19th century Ottoman palace features a historic architecture in harmony with luxurious details. An indoor pool and a heated outdoor pool with free parasols and sun loungers are available. The seafront property also has a garden and a spacious terrace with panoramic views of the Bosphorus. Free WiFi and private parking are available on site.
Tastefully decorated with fine furnishings, each air-conditioned room offers an iPod docking station and a flat-screen TV with satellite channels. A minibar, safety deposit box and a desk are also provided.
Aqua Restaurant, with its terrace overlooking the Bosphorus, serves Mediterranean cuisine, with Italian and Turkish specialties. Guests can enjoy the breakfast with international flavours in buffet style.
Pool grill is an ideal choice for fresh salads, crispy grilled kebabs and tender fresh fish. The Lobby Bar and Lounge is a cozy place for socialization.
You can work out in the fitness centre and then relax in the sauna. Guests of this luxurious hotel can also benefit from the exotic atmosphere of the Turkish bath afterwards. Spa therapy and body treatments are also possible. The reception is at your service 7/24, and provides room service.
Four Seasons Hotel Istanbul at the Bosphorus is only a 4-minute walk from one of Istanbul's lively scenes, Besiktas Square. Ataturk Airport is 25 km from the property while Istanbul Airport is 50 km away.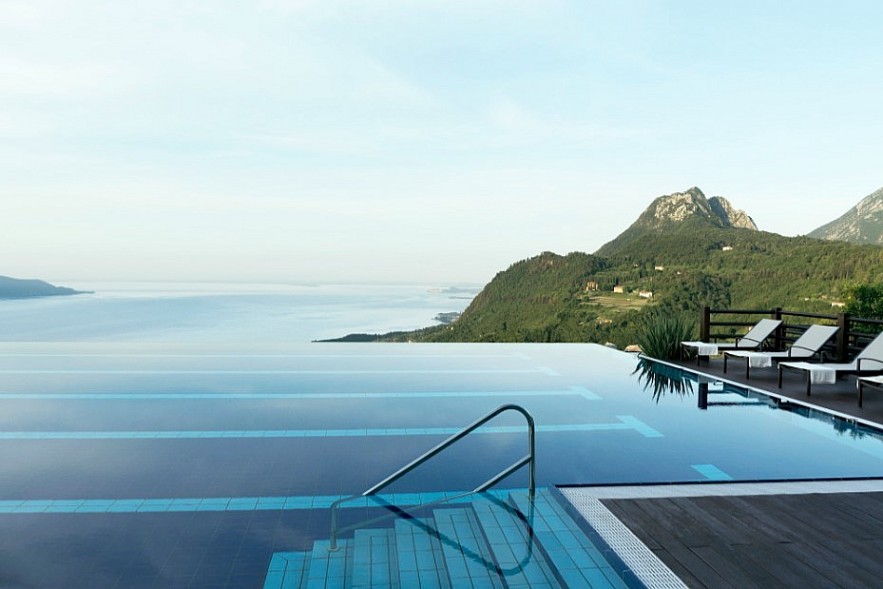 Photo: vnexpress.
Lefay Resort & Spa Lago Di Garda, Gargnano, Italy
A tranquil oasis overlooking Lake Garda, Lefay Resort stands by a philosophy of eco-sustainability. Surrounded by natural terraces, woods and olive groves, this is a magical place with a superb spa at its very heart, together with delicious cuisine and comfortable, bright and spacious suites.
Designed to blend in with the surrounding countryside, the 93 suites in Lefay Resort are a tasteful mix of warm olive wood, stylish oak furniture and bathrooms in Italian marble. Each one offers an amazing view towards the lake.
The hotel's design has been integrated into the landscape, inspired by lemon groves and traditional local buildings. The property has been built into the terraced hillside, allowing reduced energy and heat dispersion while its south-facing orientation and windows made of a thermic glass achieve thermal insulation. The interiors use natural materials from the local area.
The hotel's infinity pool by Lake Garda is surrounded by trees and green olives. Blending with the Italian countryside, the hotel features 93 spacious suites, all of which overlook the vast Lake Garda.
Don't miss the chance to take a boat ride along the picturesque port of Gargnano, or visit the local markets and hike in Upper Garda Park to discover more about local life.
Top 6 Best Activities to Enjoy in Sapa

Sapa has been a famous destination in Vietnam for many years for its natural and pristine beauty, and tranquility. Here is some best activities and ...
A Quiet Sapa in Ripening Rice Season

The terraced rice fields in Muong Hoa, northern province of Sapa, turn yellow in mid-August. However, the scenic place is left deserted this year given ...