Vietnamese security expert continues to detect Microsoft security faults
Security expert Le Huu Quang Linh, 24,continues to be mentioned on the Microsoft Security Response Center website for finding Microsoft holes.
Le Huu Quang Linh (Photo: Quan Tri Mang)
A young Vietnamese man has repeatedly spotted holes in Microsoft security, it has been reported.
A representative of Vietnam's National Cyber ​​Security Center under the Department of Information Security (Ministry of Information and Communications) said that expert Le Huu Quang Linh, born in 1996, has continued to be mentioned on the Microsoft Security Response Center website.
The center has recognized Le Huu Quang Linh as the expert who discovered the highly dangerous CVE-2021-31180 vulnerability, which allows attackers to execute code remotely.
Le Huu Quang Linh has also been repeatedly honored by Microsoft. He is named in the list of 100 security researchers with the greatest influence on the world's cybersecurity environment in 2020.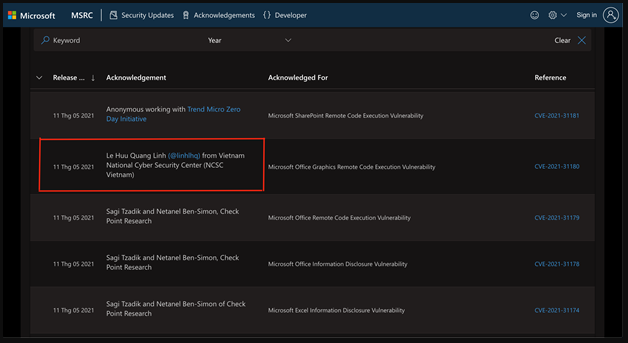 Le Huu Quang Linh named on MSRC website. (Photo: MSRC)
In April, June, and September 2020, Le Huu Quang Linh was also honored by Microsoft when he discovered dangerous vulnerabilities in its products that allow attackers to create accounts with full administration rights, the CVE-2020-1319 error which was recognized by Microsoft as "critical" could have affected millions of users worldwide, allowing attackers to take control of the system, install programs, deletes user data or create new accounts with full user rights.
National Cyber ​​Security Center staff consists of up to 85% young professionals, many of them holding positions as heads of the department, with all having extensive experience in the field of information security. Since the beginning of the year, the center's experts have discovered more than 30 0-Day Zero-Day vulnerabilities and CVEs on several different major platforms.