Vietnamese tea heads to sustainable and safe models
Vietnamese tea now has been produced and processed under safe and sustainable models, which contributes to increase in tea output and the local's incomes.
According to the Ministry of Agriculture and Rural Development, localities across the country have a total of 123,000 ha for growing tea. Although the cultivation areas are tending to decrease, the cultivation areas for business purposes have been kept stable at about 115,000 ha with increasing productivity, reported by Nhandan.
Tea is the main force of most northern countries, including Thai Nguyen, Tuyen Quang, Nghe An, Ha Tinh and Phu Tho. By the end of 2019, the tea area of Tuyen Quang province was nearly 8.5 thousand hectares, of which about 91% was productive.
Tea harvest in Tan Cuong speciality tea area, Thai Nguyen Province. Photo: Nhandan
The achievements were due to the expansion of production areas towards promoting value chains in boosting consumption of tea products and increasing income for farmers.
In recent years, the local agricultural promotion systems and research institutes have implemented many projects in major tea-producing provinces, bringing about positive results. One of the prominent projects is the building of safe tea production models on a scale of 200ha per year over the 2017-2019 period (600ha per three years) in the six provinces of Thai Nguyen, Tuyen Quang, Yen Bai, Phu Tho, Lao Cai and Ha Tinh.
The project has built six intensive farming models in six provinces with the participation of 537 local households. The annual output of tea harvested under the project is higher than before the implementation of the project, with an average increase from 0.9 - 5.1 tonnes per ha.
According to statistics, Ha Tinh Province posted the highest increase in tea productivity after the three-year implementation of the project with an increase of 8.27 tonnes per ha, while Tuyen Quang Province reported an expansion of 6 tonnes per ha, Lao Cai Province saw a rise of 5.3 tonnes per ha, and Yen Bai and Thai Nguyen posted growth from 2.4 - 2.8 tonnes per ha.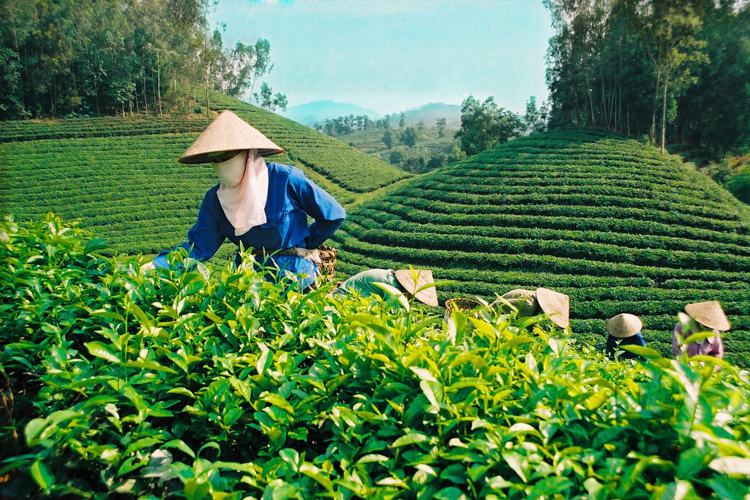 Producing tea is very popular in many areas of Tuyen Quang (photo:baocongthuong)
Sustainable models
Tea products produced at the model farming areas all meet food safety and quality standards, helping to raise product value. Under the project, six models were built to connect production and processing with consumption of tea products and 21 production affiliated groups were established and are operating efficiently, helping to ensure a stable consumption for fresh tea bud products.
Thanks to the project, tea materials meet VietGAP standards and revenue from tea products has increased by VND26 to VND80 million per ha. The implementation of the project also helps to create jobs for local people, increase people's income, and change the way of production.
The Centre for Agricultural Promotion of Tuyen Quang Province has carried out a safe tea production model in Kim Quan Commune, Yen Son District, on a farming area of 8 ha with the participation of 15 households in the 2019 – 2020 period.
The average yield of tea reached 13 tonnes per ha, an increase of 5 tonnes per ha compared to the ​​mass production of tea. As a result of the production under VietGAP standards, the quality of fresh tea buds has improved and is trusted by consumers.
The Centre for Agricultural Promotion and Services in Lao Cai Province has also conducted an organic tea intensive cultivation model in the two communes of Ban Lien and Ta Cu Ty in Bac Ha District on a total area of 20 ha in the 2020-2022 period.
It is expected that after three years the productivity of fresh tea buds will reach 3.5 tonnes per ha per year with a 20% increase in value.
The National Agricultural Promotion Centre said that the centre will continue to propose agricultural promotion projects on organic tea production for the Ministry of Agriculture and Rural Development to implement in order to produce safe products with electronic traceability and to improve the competitiveness in both domestic and export markets.
In addition, new varieties of tea with advantages and strong potential should be put into production to build high-quality tea material farming areas while more training on organic tea production and advanced farming technology should be provided for farmers.