Vietnam's Deputy Foreign Minister Attends EU Indo-Pacific Ministerial Forum
Vietnam attends EU Indo-Pacific Ministerial Forum in Stockholm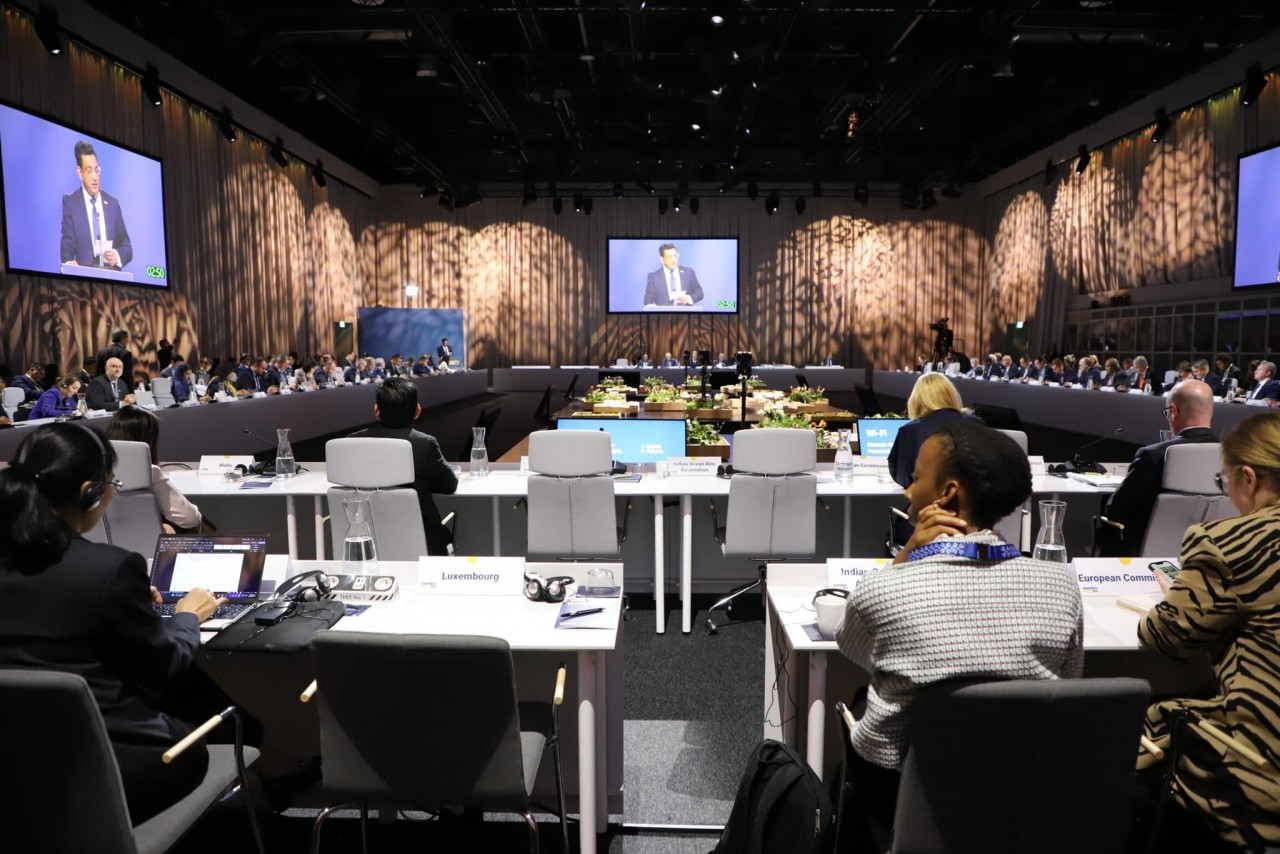 At the event. Source: Ministry of Foreign Affairs and Cooperation of Timor-Leste
Deputy Minister of Foreign Affairs Le Thi Thu Hang attended the second EU Indo-Pacific Ministerial Forum in Stockholm on May 13, VNA reported Monday.
Sweden, as EU-president, hosted the 2023 EU-Indo-Pacific Ministerial Forum, co-chaired by Tobias Billström, Minister for Foreign Affairs of Sweden, and Josep Borrell, EU's High Representative for Foreign Affairs and Security Policy
The forum brought together the Foreign Ministers from the EU and the Indo-Pacific region, representatives of EU institutions and representatives of a number of regional organisations and other partners.
The forum aims to build more sustainable and inclusive prosperity together, pursue green opportunities and overcoming global challenges in cooperation and facing jointly the evolving security landscape in the Indo-Pacific.
Speaking at the event, Hang said that the global economy is at a crucial turning point, from quantity-based to quality-based growth, and from a resources-based to a knowledge-based economy.
In the process of cooperation in transition and dealing with global challenges, with the three keywords of "cooperation, coordination and connectivity", countries need to have a suitable approach so as to overcome differences, meet the needs of the parties, and create a favourable environment for businesses and people, stressed Hang.
From Vietnam's experience in economic development and international integration, she highlighted three "balance" factors that need to be ensured, namely between obligations and capabilities; between self-reliance, and openness, economic integration and linkages; and between transformation and stability, she said, adding that the process of green and digital transformation must ensure financial sustainability and social stability, energy security and food security.
Deputy Minister of Foreign Affairs Le Thi Thu Hang (white dress) attends EU Indo-Pacific Ministerial Forum. Source: Ministry of Foreign Affairs and Cooperation of Timor-Leste
The official affirmed that Vietnam appreciates European partners' financial commitments on climate change and hopes for their continued support to achieve the net zero emission target.
She also reaffirmed Vietnam's commitments to the Asia-Europe Partnership, and called on countries to coordinate in resuming activities of the Asia-Europe Meeting (ASEM) for peace, cooperation and development.
The ministerial forum, co-chaired by Swedish Foreign Minister Tobias Billstrom and High Representative of the European Union for Foreign Affairs and Security Policy Josep Borrell Fontelles, offered a chance for foreign ministers of European countries and those in the Asia-Pacific region to share opinions on and assess opportunities, challenges and prospects for cooperation, and propose initiatives and solutions to enhance connectivity and promote coordination in addressing common issues.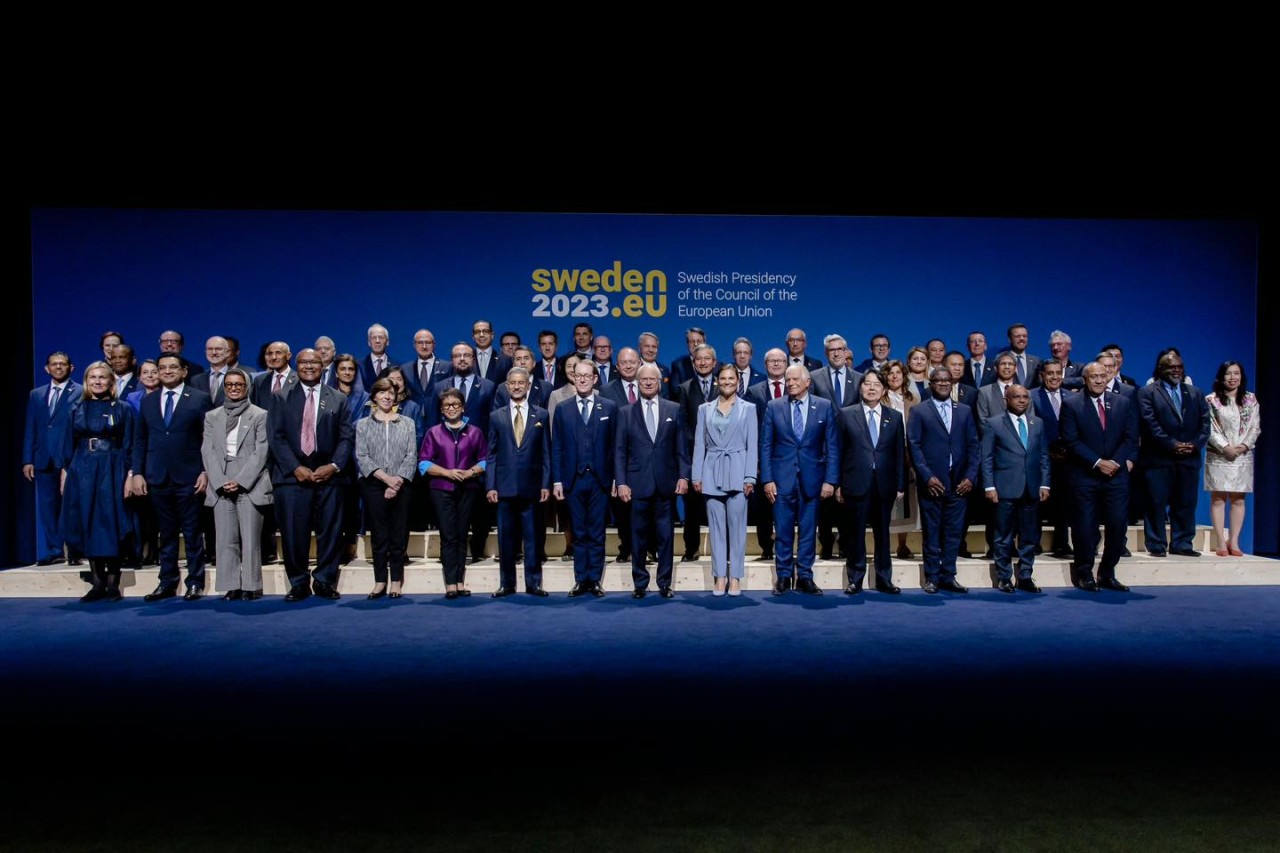 At the 2nd Indo-Pacific Ministerial Forum in Stockholm, 13 May 2023. Photo: Magnus Liljegren/Government Offices of Sweden
Josep Borrell expressed his hope that the forum will become a regular channel of dialogue connecting European and Indo-Pacific countries.
Delegates shared concerns over complex and multi-dimensional security challenges affecting the two regions, affirmed commitments to international order based on international law, and agreed to strengthen cooperation in response to common challenges to ensure regional security and facilitate development.
They highlighted the importance of maritime security cooperation, and ensuring freedom of navigation and aviation in accordance with the 1982 United Nations Convention on the Law of the Sea (UNCLOS) in the waters of the Indian Ocean and Pacific Ocean, including the East China Sea and the East Sea.
In a related news, on May 15, a seminar on Vietnam's diplomatic policy on the Indo-Pacific region and Vietnam-France relations was held at the Vietnamese Embassy in Paris.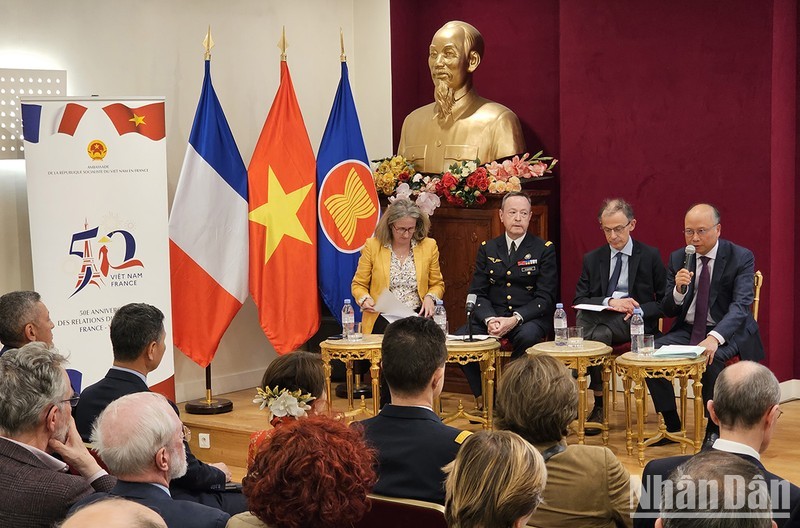 An overview of the seminar. Photo: NDO
The event was jointly organised by the Department of International Relations of the French Institute for Advanced National Defense Studies and the institute's Alumni Association.
It aims to provide an overview of Vietnam's foreign policy on the region from academic and practical perspectives as well as Vietnam-France relations within the framework of the 50th anniversary of their diplomatic ties.
A lot of questions reflecting common concerns about Vietnam's views on the Indo-Pacific strategy of France and Europe as well as solutions to implement the strategy effectively were raised by participants at the event. The strengthening of bilateral relations with Vietnam and ASEAN as well as each member country was also touched upon.
Participants spoke highly of Vietnam's comprehensive and inclusive approach to the Indo-Pacific region, especially in terms of security, economy and sustainable development to contribute to peace, prosperity and long-term cooperation in the area.
They expressed their belief that the cooperation between Vietnam and France will contribute to maintaining stability in the regional and international environment as well as fostering the outcomes from the rich and diverse relationship between the two countries over the past 50 years.