Vietnam's Tourism Industry Slowly Bouncing Back from Pandemic Setbacks
Several localities back in the game as Covid-19 pandemic eases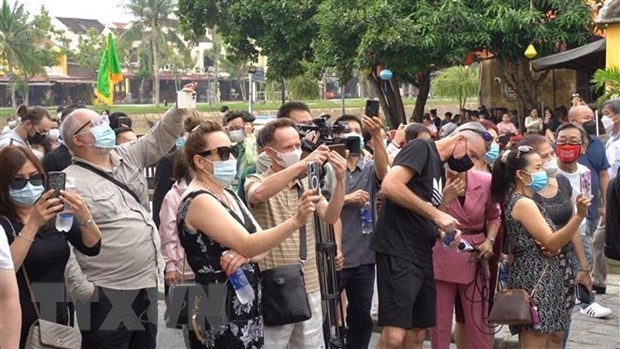 Foreign tourists visit Hoi An Acient Town, Quang Nam province, under a programme that welcomes international travellers back on a trial basis, Photo: VNA
Vietnam on Jan. 1 allowed regular return flights to the US and eight Asian destinations to resume in the first phase of a program to revive international travelers. The country aims to serve 65 million tourists this year, including 5 million foreigners, earning VND 400 trillion (USD 17.6 billion).
The Ministry of Culture, Sports and Tourism recently proposed resumption of inbound and outbound tourism starting March 31 to the Prime Minister.
By that time, Vietnam will have completed the vaccination of the third shot of Covid-19 vaccine. The prompt announcement of border reopening for international travel will help attract tourists from regional countries whose vaccination rates are high.
Da Nang City
Authorities in Da Nang City, a popular tourism hub in central Vietnam, plan to resume all flight routes and tourism activities next month to boost economic recovery, VnExpress reported Tuesday.
The city's Chairman Le Trung Chinh told a meeting Tuesday the number of tourists to Da Nang during the Tet holiday break increased by 17% year-on-year, a positive sign.
Despite severe pandemic impacts, major travel firms like Nui Than Tai Hot Springs Park and Sun World Ba Na Hills have invested in new tourism products to serve visitors, he said.
Currently, Da Nang is not connected to the US and has not yet resumed commercial flights to the Asian destinations.
Da Nang is one of seven localities that fully vaccinated foreign tourists are allowed to visit under the vaccine passport trial program, the others being Binh Dinh, Khanh Hoa, Kien Giang, Quang Nam, and Quang Ninh provinces and Ho Chi Minh City.
The government also plans to fully reopen the borders to foreign tourists in late March.
Da Nang received 1.17 million domestic tourists last year, down 55.8% from 2019.
Quang Ninh Province
The northern province of Quang Ninh welcomed over 300,000 visitors to its tourist sites in the six-day Lunar New Year (Tet) holiday from Jan. 31 to Feb. 5, earning around VND 400 billion (USD 17.6 million), according to VNA.
This is good news, marking the recovery of the "non-smoke" industry after a "frozen" period due to the pandemic.
Local religious establishments such as Yen Tu relic site, Ba Vang, Ngoa Van and Cai Bau pagodas, and Cua Ong temple, together with Ha Long Bay – a UNESCO-recognised World Heritage Site, were the most attractive to tourists during the holiday.
The provincial Department of Tourism has set a target of serving over 9.5 million visitors, including over 1.4 million foreigners, and earning about VND 19 trillion (USD 836 million) from tourism services in 2022.
In the first half of this year, Quang Ninh will reduce 50% of entrance fees to its famous local destinations such as Ha Long Bay, Yen Tu relic site, and Quang Ninh Museum.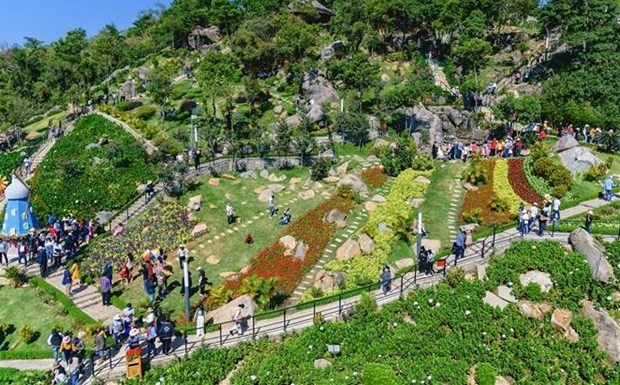 Visitors at Ba Den Mountain, a part of Nui Ba Historical and Cultural Complex in Tay Ninh province. Photo: VNA
Ninh Binh Province
The Trang An eco-tourism site, part of the Trang An Landscape Complex in northern Ninh Binh province, attracted a large number of visitors when officially reopened on Feb. 2 after a long hiatus caused by Covid-19.
The site management board said before reopening, the safety of all boats, as well as health of all staff members and sailors, had been examined. Police and security guards have also been arranged across the site to ensure security, order, and traffic safety.
It added that visitors have regularly been reminded of complying with anti-pandemic rules, especially the 5K principle (wearing face masks, disinfection, keeping distance, making health declarations, and no gatherings), via megaphones, leaflets, and posters.
The Trang An Landscape Complex was recognized as a world cultural and natural heritage site by UNESCO in June 2014.
Khanh Hoa Province
This year, Khanh Hoa aims to receive over 1.2 million visitors, doubling that in 2021, including 40,000 foreigners, and revenue of VND 4 trillion (USD 176.6 million), up 80% over the previous year.
Defining the domestic market as the main market of Khanh Hoa tourism in 2022, the province will conduct numerous activities to lure visitors, including tourism roadshows in domestic localities such as Hanoi, Hai Phong, HCM City, and Can Tho, as well as foreign countries including Russia, the Republic of Korea and China.
Khanh Hoa, home to famous beach towns Nha Trang and Cam Ranh, on Nov. 25, 2021 welcomed the first international tourists with vaccine passports after a long hiatus due to Covid.
It is among the localities selected to roll out the pilot "vaccine passport" program, which is divided into three phases, starting last November.
In the first phase that starts this month, designated places and tourism facilities in the selected localities could receive foreign tourists within package tourism programs arriving via either charter flights or international commercial flights.
In the second phase that takes effect from January 2022, the scale of the pilot plan will be expanded by connecting destinations through regular charter and international commercial flights.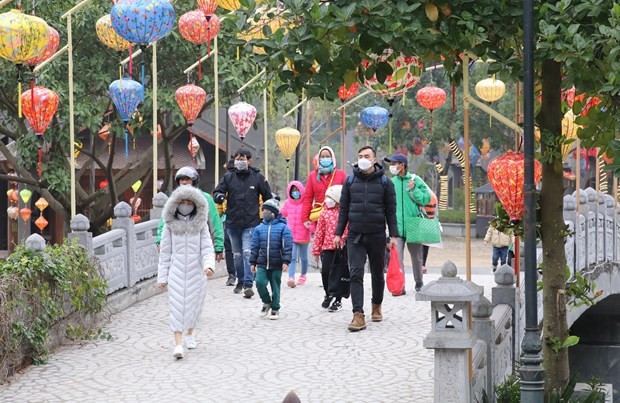 Trang An eco-tourism site officially reopens. Photo: VNA
Vietnam's tourism market will fully open to international tourists in the last phase, the starting time of which will be based on the contemporary pandemic situation on the evaluation of the two previous phases.
People coming to Vietnam must be either fully vaccinated or recovered from Covid-19, have a negative PCR test within the last 72 hours, and have medical insurance that covers Covid-19 treatment with at least USD 50,000, the Ministry of Culture, Sports and Tourism said. Children and unvaccinated individuals would have their own policies, which would be announced later.
The number of domestic tourists reached 5.5 million during the Tet (Lunar New Year) holiday this year that lasted from Jan. 29 to Feb. 6, the Ministry of Culture, Sports and Tourism said on Feb. 8.
There were 467 foreign visitors from Russia holding 'vaccine passports'.
Also seeing a positive signal, the Central Highlands province of Dak Lak served over 143,000 visitors, including 260 foreigners, and earned VND 8.46 billion (USD 372.359) during Tet, respective year-on-year rises of 51.5% and 43.6%.