Visit The Unique Bamboo Garden Of 87 Year Old Vietnamese Farmer
The 30 – year – old bamboo garden one-hectare length of Tu Sang's family, who live in Hau Giang province, has recently been a tourist attraction for its beautiful green space.
Tu Sang bamboo garden is located in Phu Xuan hamlet, Thanh Hoa commune, Phung Hiep district, Hau Giang. The owner of this beautiful garden is 87 – year – old farmer Dang Van Sang, also known as "Tu Sang," and is also a bamboo lover.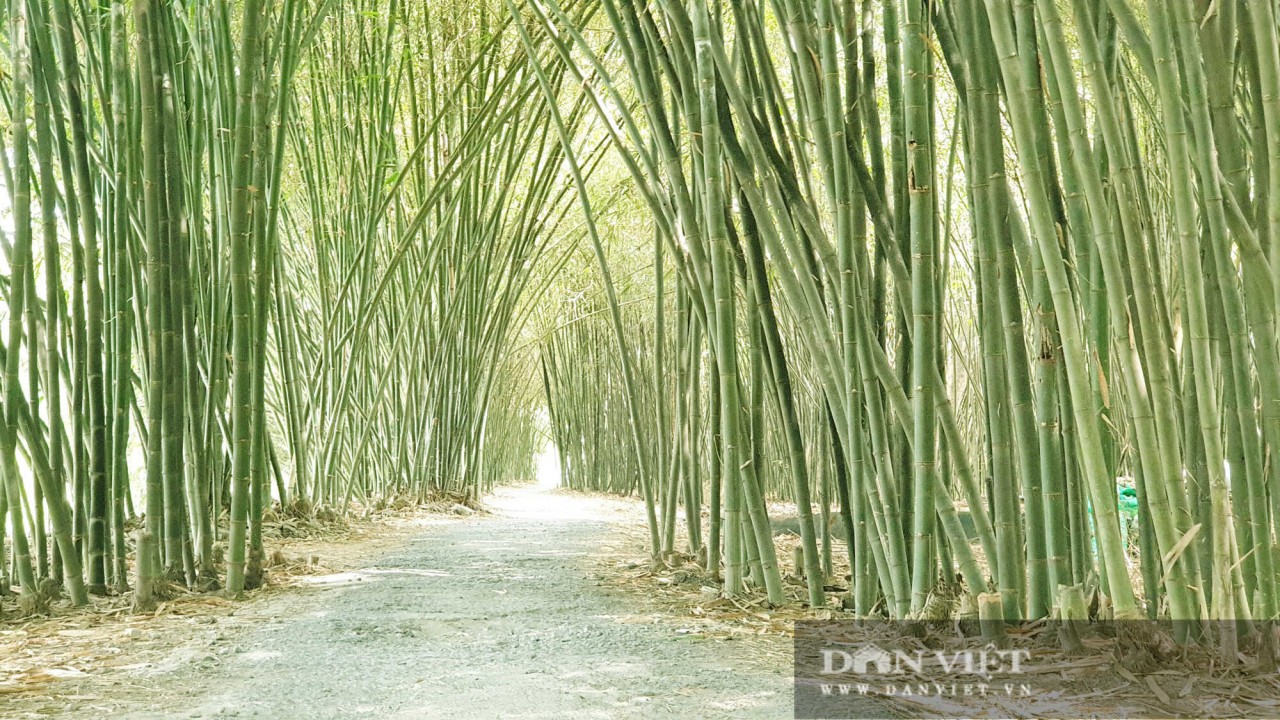 The bamboo garden was planted 30 years ago by Dang Van Sang in Phu Xuan hamlet, Thanh Hoa commune, Phung Hiep district, Hau Giang province. Photo: Dan Viet
According to Tu Sang, his family grew this garden many years ago to sell bamboo trees and provide materials for the villagers to build their houses, shops, and other things.
The bamboo road is nearly 1 km long, and more than 1 hectare wide with many types of bamboo in Vietnam. When you enter his garden, you will immediately be amazed by the mesmerizing and peaceful scenery of thousand of bamboo trees standing tall on two sides, along with the bird chirping in the cool breezes.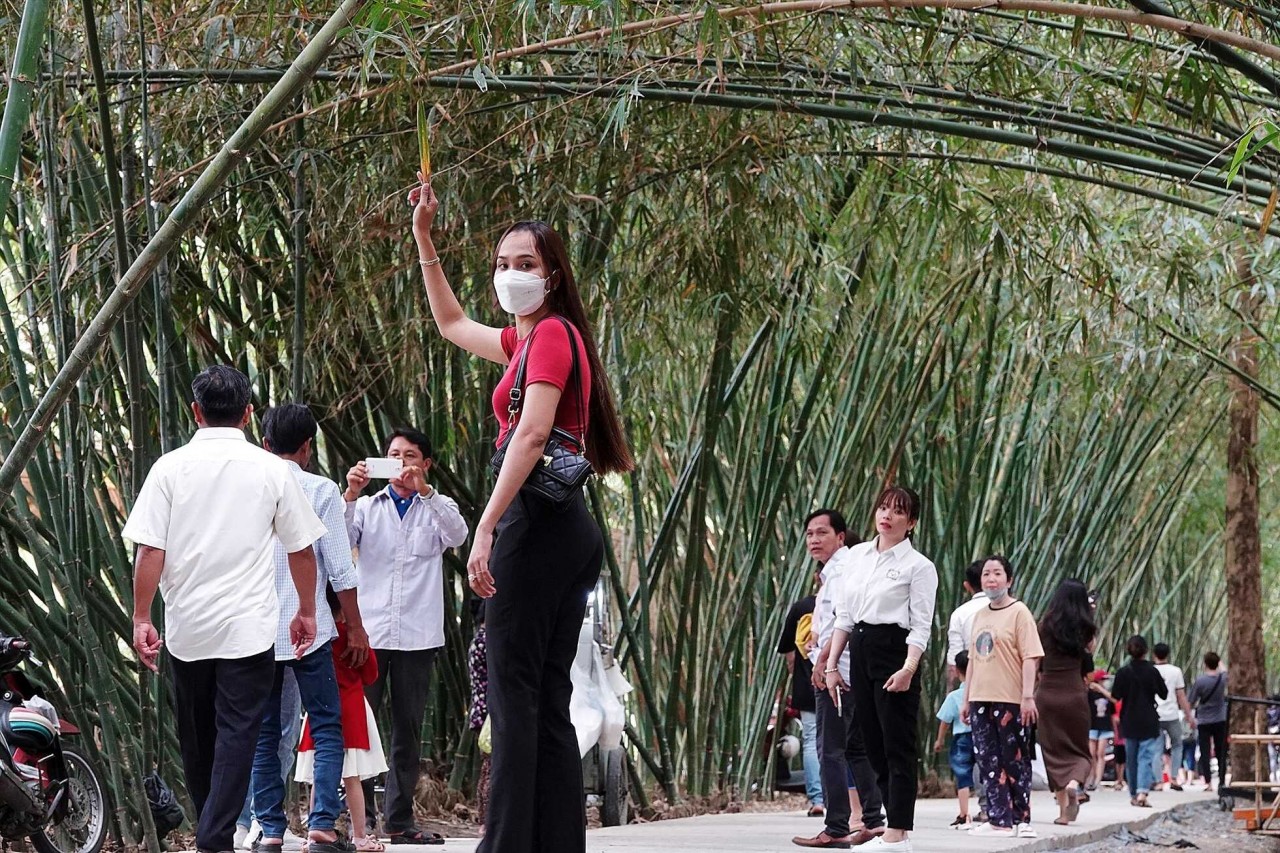 Photo: Lao Dong
"When our bamboo trees grew, I took care of them very carefully. This is my pride and joy, and is also our family's fortune," he said.
Mr. Tu Sang does not harvest bamboo gardens at the same time but often sells them by thinning the trees. This is also the reason why his bamboo garden has been well maintained for over 30 years, creating a green and fresh space for tourists to visit every year. Below the bamboo garden is a canal, which boats and canoes often travel through.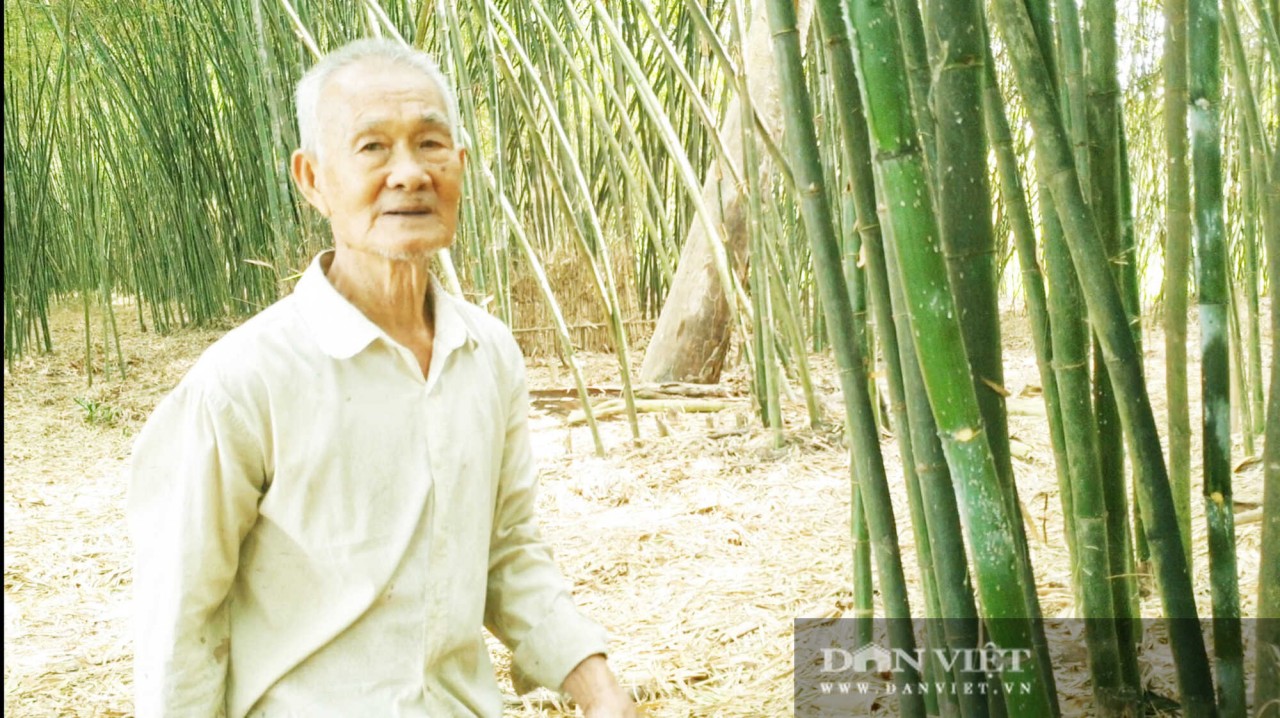 Dang Van Sang, the owner of the bamboo garden. Photo: Dan Viet
Thanks to the natural beauty combined with excellent designs that are in harmony with nature, Tu Sang bamboo garden has become the most attractive picnic destination in Hau Giang province during the Lunar New Year.
Tu Sang said he always enjoyed riding his bicycle through the bamboo forests, under the cool shades of the trees, and he wanted to share this experience with everyone coming to the garden.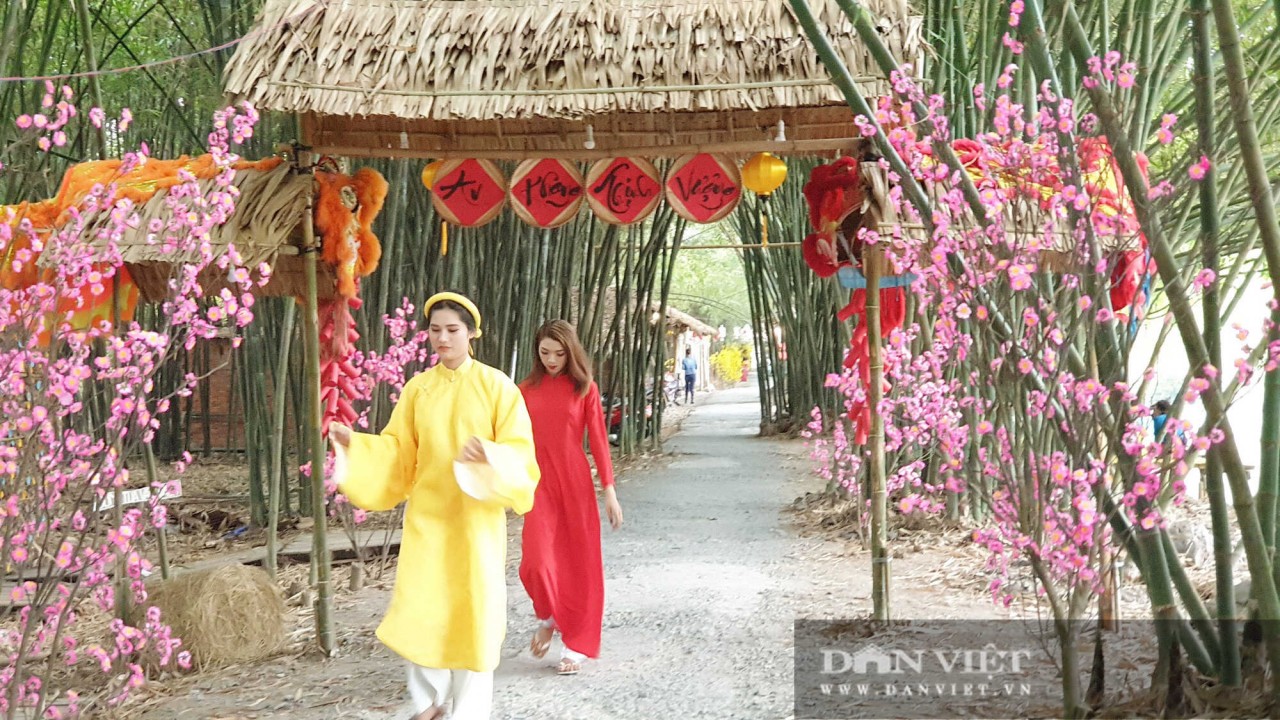 Photo: Dan Viet
Nguyen Trinh, a tourist from Soc Trang, is a big fan of the lush views and relaxing atmosphere.
"What I love most is this lovely bamboo tree is near the small river. Then above, the whole country road between the rows of bamboo, the bamboo huts seem to bring me to a peaceful corner of the countryside that I will never see at any other places."
Nguyen Hai Dang, who is a tourist and lives in Can Tho, drove more than 30 km to visit the bamboo garden with his friends.
"Coming here, my favorite thing is to take a leisurely walk among the green bamboo trees. After walking and taking pictures, everyone went to the tum outside the river to enjoy the delicious country dishes."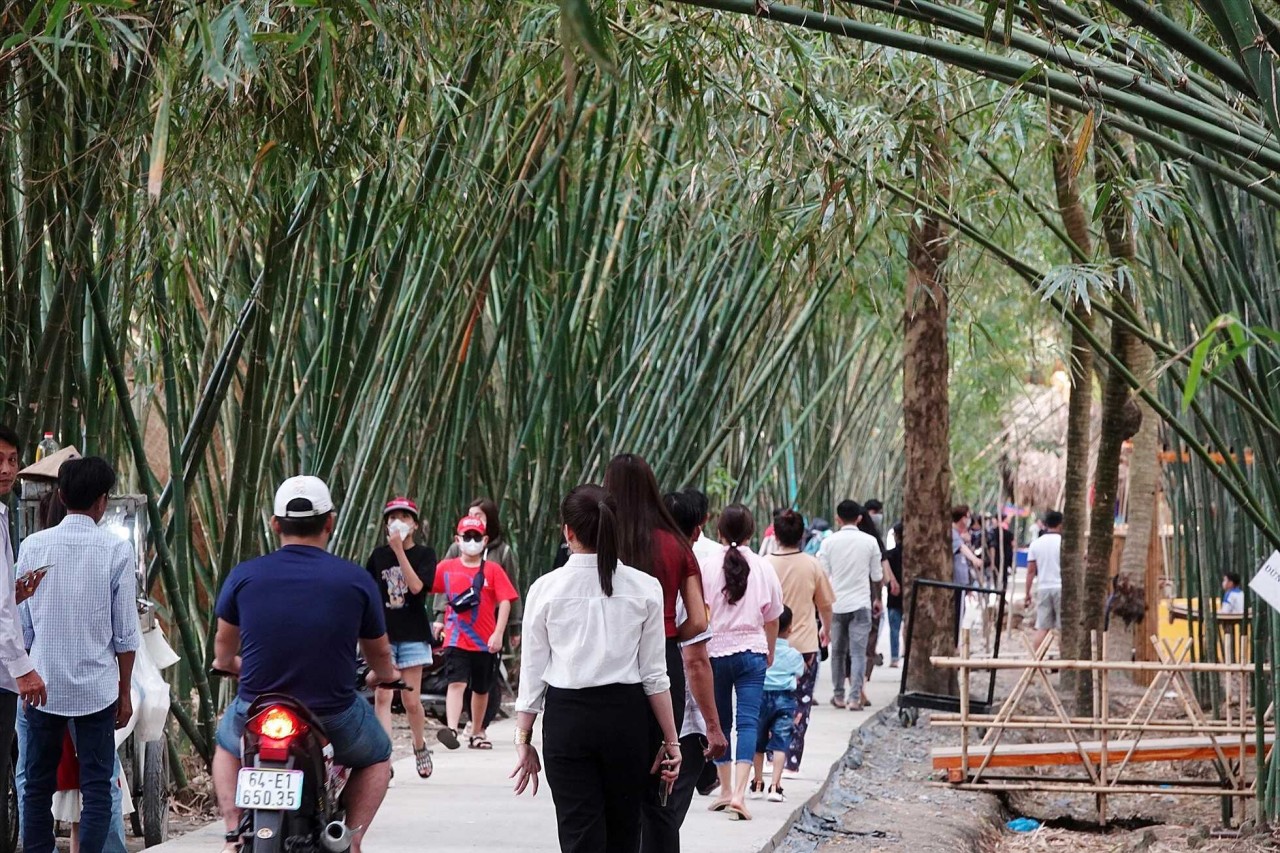 This has become one of the most famous tourist destinations in Hau Giang Province. Photo: Lao Dong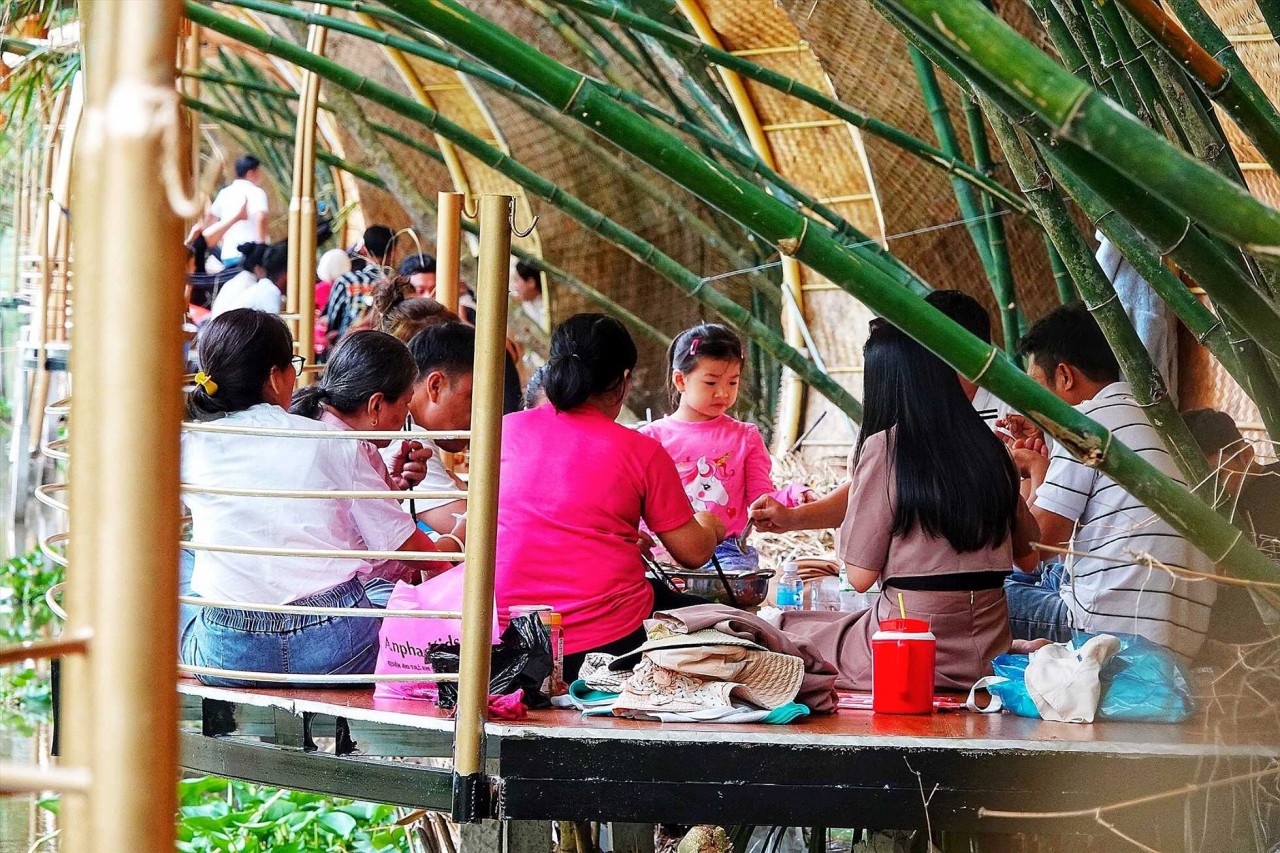 Photo: Lao Dong