WHO Recommends for Vietnam to Prepare for Omicron
WHO pledges support for Vietnam's safe living with COVID-19
The World Health Organization (WHO) is committed to maintaining close co-ordination with the Vietnamese Government in all aspects during the transition from Covid-19 control to "safe coexistence" with the virus as the pandemic turns into an endemic, Dr. Kidong Park, WHO Representative in Vietnam has affirmed.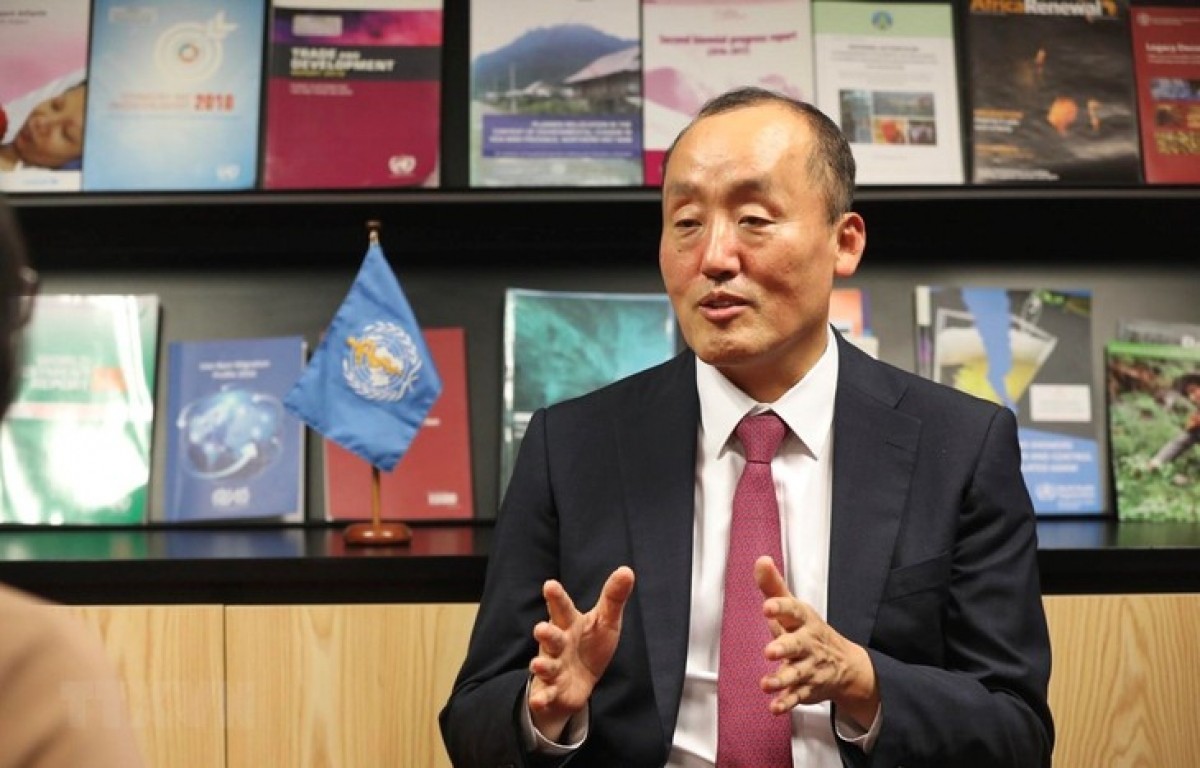 Dr. Kidong Park, WHO Representative in Vietnam. Source: VOV
Talking to VOV recently, Dr Park said that the most important priority in this transition period includes strengthening the protection of vulnerable groups and taking necessary measures so that the health system does not become overwhelmed.
According to Dr Park it will be impossible to totally eliminate the virus overnight and will also be difficult to predict the emergence of new strains in the future. The important thing is about how to limit the number of deaths and minimise the negative impact of the pandemic on socio-economic development, he emphasized.
"Although we may not eradicate the virus and it would be difficult to predict future scenarios of virus mutation, we now know how to save lives and the adverse social and economic impacts," he said.
"As we transition safe and flexible adaptation to Covid-19, it is critical that we continue our strong public health response through vaccination together with calibrated public health and social measures," the WHO Representative went on.
He stated that the WHO hailed the Vietnamese Government for its hard work and tireless efforts to suppress outbreaks with the whole-of-society approach.
He highlighted that the Vietnamese pandemic response strategy is linked to a very strong political commitment from the highest level of the Government. It has a robust surveillance and public health emergency response system in place, along with dedicated and highly-skilled health care workers both at prevention and clinical management side. In addition, the Vietnamese people have co-operated with the implementation of all public and social measures.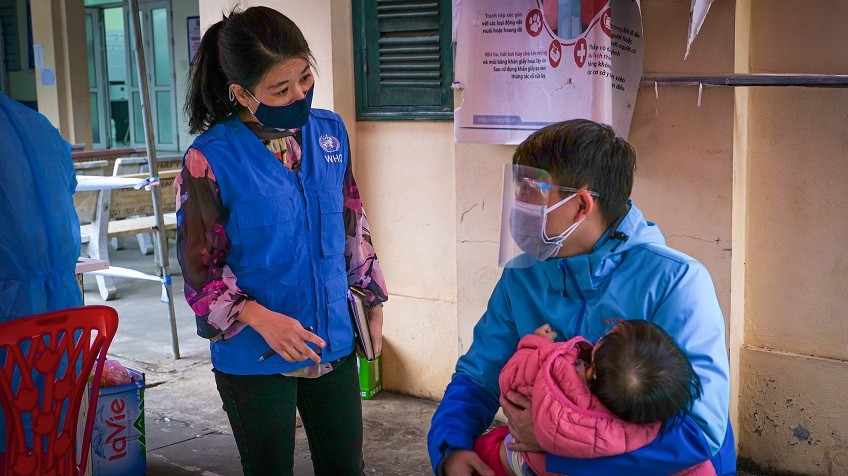 The World Health Organization (WHO), in collaboration with the National Institute of Hygiene and Epidemiology (NIHE), conducted an intra-action review for Covid-19 response in Bac Ninh Province on Dec. 9-10, 2021. Source: WHO Vietnam
The WHO also expresses its admiration for the persistent commitment from localities for the excellent work of community Covid-19 teams and for Vietnamese people who have been doing their share in combating the virus. This has largely seen citizens follow personal protection rules through the consistent practice of the 5K message and getting themselves vaccinated when it was their turn.
Dr Park said the organisation has been working hand in hand with the Vietnamese Government since the start of the pandemic as a means of preparing for any public health emergency.
The WHO has therefore been providing technical, operational, and logistical support to aid the country's response.
"We will continue to do so and keep providing the most updated scientific evidence to support the Government in their response decision-making processes," he pledged.
The group's support primarily focuses on strengthening capacity across technical areas such as surveillance, risk assessment, outbreak investigation and response, communication, laboratory, including the provision of test kits and supplies.
Moving forward, the WHO will continue to support the Vietnamese Health Ministry to review and update technical guidelines based on the latest evidence, such as diagnosis and treatment for Covid-19. Other guidance relating to infection prevention and control, how to ensure the safety of health workers, and ICU care of Covid-19 will also be provided.
"We have also deployed medical equipment and supplies, especially for hotspot provinces," he said.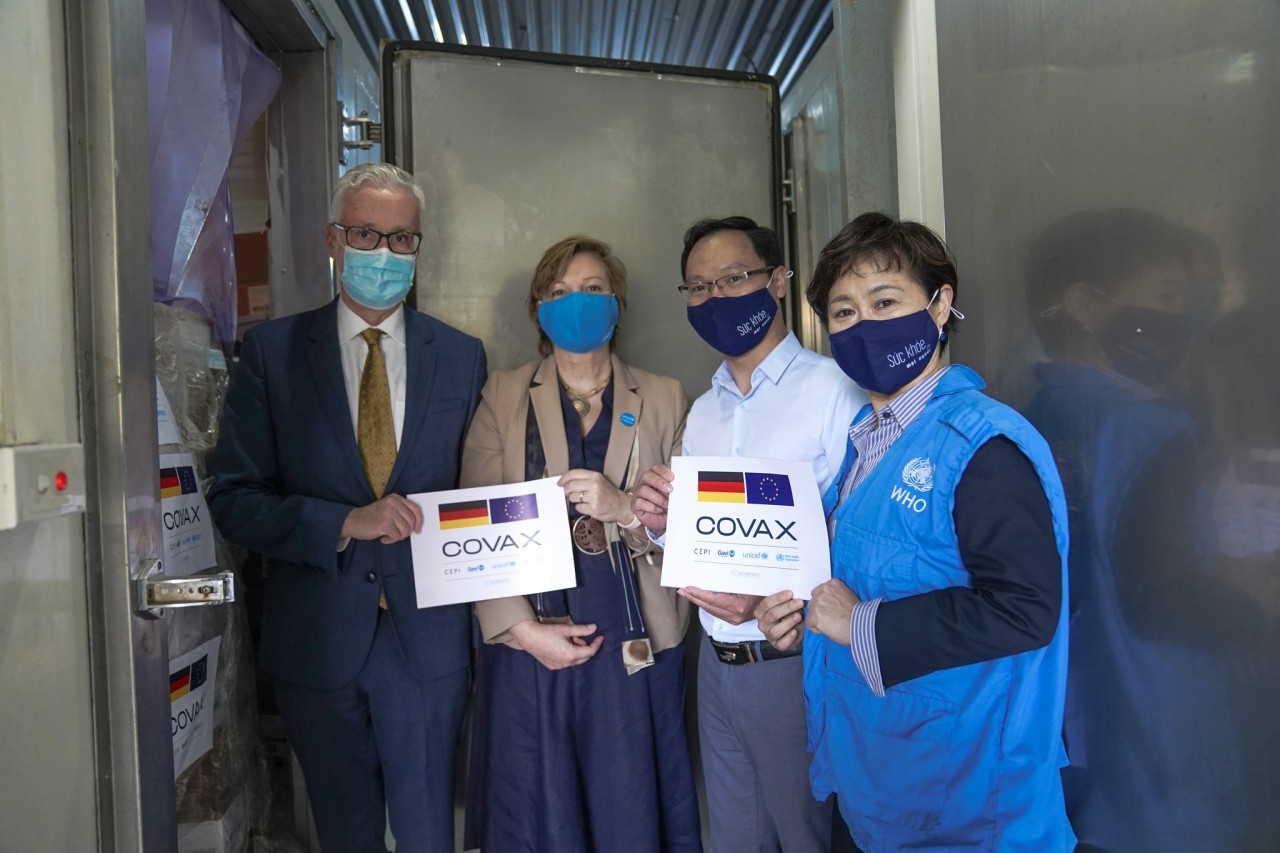 German Ambassador to Vietnam, Dr Guido Hildner, was joined by Rana Flowers, UN Resident Coordinator ad interim and UNICEF Representative and Dr Satoko Otsu, WHO Team Coordinator for Health Emergencies and Incident Manager for Covid-19 Response during the handover ceremony of 2.558 million doses of Covid-19 vaccines from Germany.
As a co-lead of the COVAX Facility, at a global level the WHO provides technical recommendations on vaccination by convening the Strategic Advisory Group of Expert on Immunization; assesses efficacy, safety, and quality of vaccine products through WHO Emergency Use Listing procedure. It also advocates for equitable access to vaccine based on science-based prioritization.
The WHO therefore recommends the country prepare for the Omicron variant, Dr Park said, while suggesting the nation greater efforts should be made to intensify surveillance, continue to increase public health, and boost medical capacities with a well-coordinated patient referral system in place.
This should be linked from primary care to intensive care services in order to manage an increase in cases, and achieve high Covid-19 vaccination coverage across all eligible populations in combination with 5K measures.
It is therefore imperative to step up communication on pandemic prevention and control measures and widely publicise the results of the genetic sequencing of Covid-19 cases so that scientists are able to get greater research information regarding new viral mutations, he stressed.
Since the fourth pandemic wave hit Vietnam on April 27, as many as 1,615,292 cases have been discovered, of them 1,212,444 recovered.
30,883 cases were given the all-clear from the virus and 235 others were confirmed dead from the disease on Dec.24. Among 7,767 cases under treatment, 890 are given ventilators and 19 on life support.
The number of fatalities has so far reached 30,766, or 1.9% of the total infections. On Dec. 23, as many as 1,219,867 vaccine shots were given, taking the total to 143,520,464.
Expats Keep Guard Up Against Covid-19

Foreigners living in Vietnam, though glad that authorities and most people act carefully, remain very watchful against Covid-19 and admittedly a bit worried