10 Vietnamese Enterprises Open Pavilions at India Intl Trade Fair
The event is an opportunity for Vietnamese firms to promote their products, learn from others' experience and look for local partners.
More than 10 Vietnamese enterprises are showcasing their products at the 41st India International Trade Fair (IITF), the biggest of its kind in South Asia, which began in New Delhi on November 14.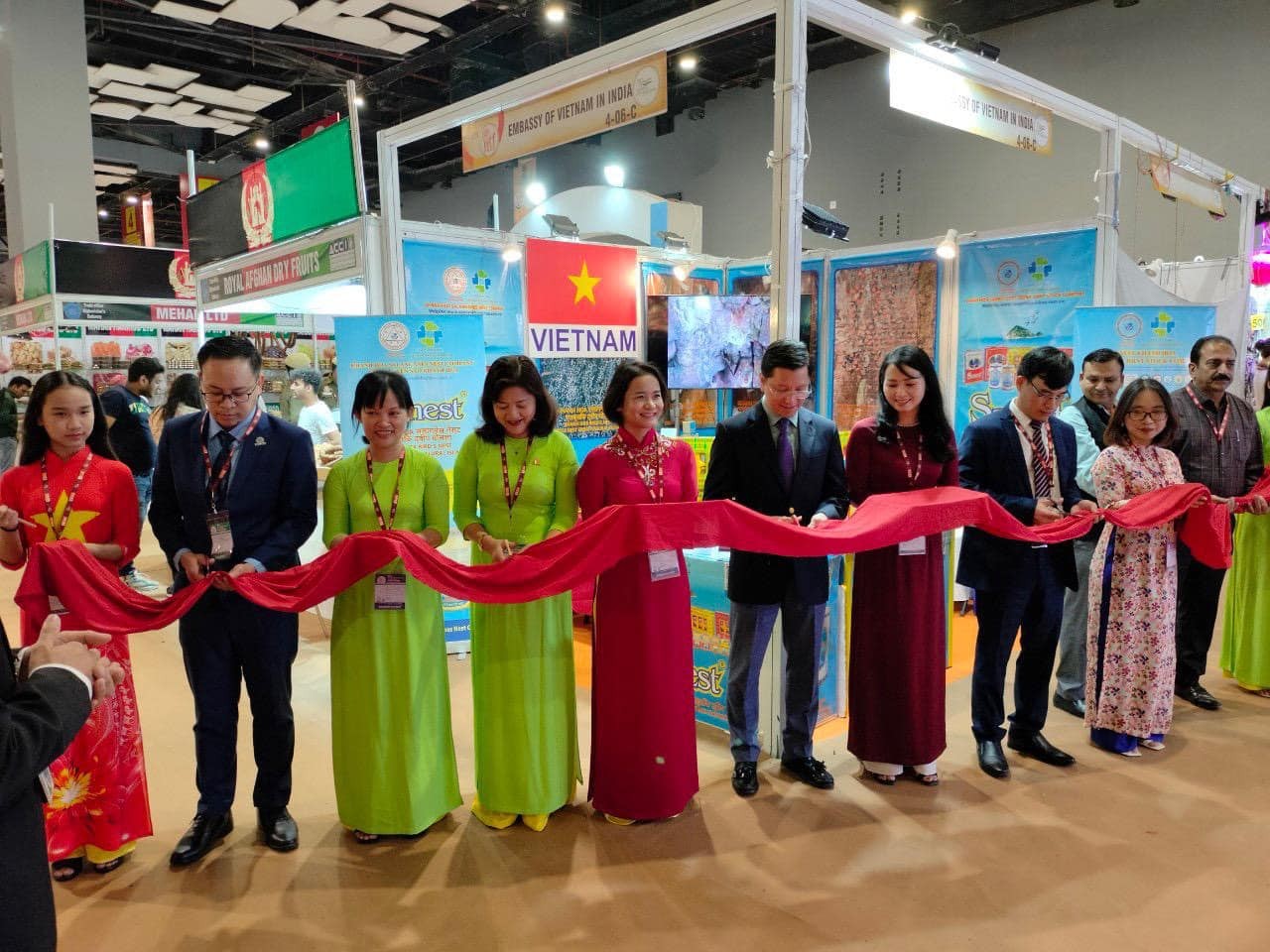 Delegates cut ribbon opening of the Vietnamese booths.
The India International Trade Fair has evolved as a major event for the business community. It is a premier event being organized by the India Trade Promotion Organisation (ITPO).
The firms joined about 2,500 participants from India, Afghanistan, Bangladesh, Bahrain, Belarus, Iran, Nepal, Thailand, Turkey, UAE, and Britain, among others. It is being held over a total area of 73,000 sq.mtr.
In addition, dozens of businesses from Vietnam have registered to visit and study the market at the event.
The IITF is set to last until November 27, with various B2B and B2C activities across all fields to be held.
Attending the opening ceremony of the Vietnamese booths were Ambassador of Vietnam in India Nguyen Thanh Hai; and Bui Trung Thuong - Commercial Counselor, representative of the organizing committee and business associations in India.
On the side of Vietnamese business representatives, there was Le Thi Hong Van, General Director of Khanh Hoa Sanest Beverage Joint Stock Company.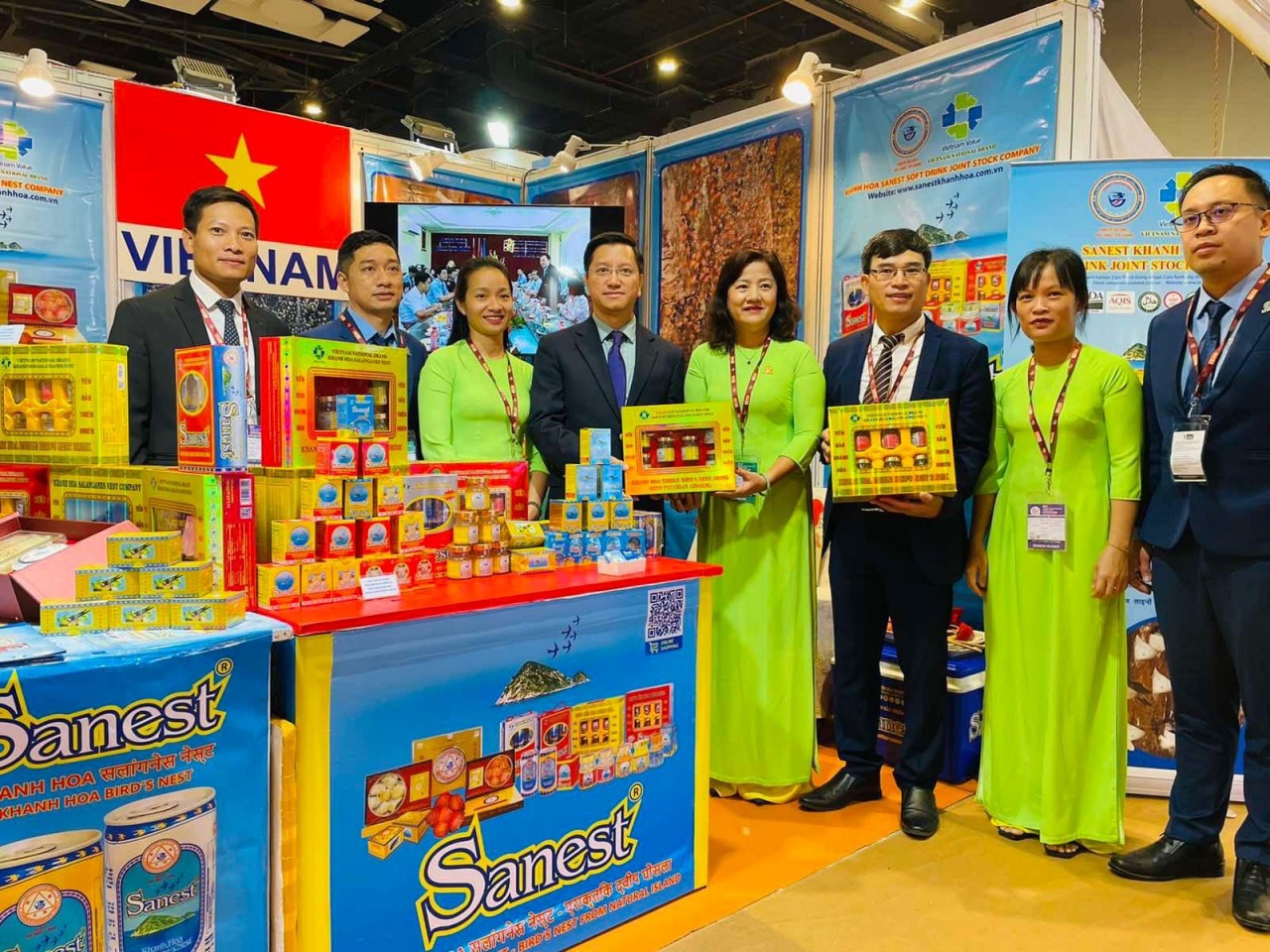 Khanh Hoa Sanest Salanganes'Nest at the fair.
Speaking at the opening of the booth, Ambassador Nguyen Thanh Hai appreciated the Trade Office for organizing and supporting Vietnamese enterprises to promote goods at this fair.
The ambassador congratulated Vietnamese businesses, including NGK Sanest Khanh Hoa Joint Stock Company, for participating in the fair.
Ambassador Nguyen Thanh Hai stated the embassy always supports and accompanies Vietnamese enterprises to study the Indian market and expand their operation there.
"India has a large market capacity and is expected to become the world's third largest economy in the near future. Therefore, this is a good opportunity for businesses to expand the market, in the context of rising inflation and the demand of large and traditional markets is shrinking," emphasized Hai.
Union Minister of Commerce and Industry, Piyush Goyal said that the theme for this year is 'Vocal for Local, Local to Global' proposed by the Prime Minister of India to achieve the goal of self-reliant India.
He underlined the importance of local industries in the development of economic activities. India also pays special attention to the "One Local, One Product" initiative to promote micro, small and medium enterprises as well as artisans and craftspeople from rural and semi-agricultural areas. That will be a great encouragement for local products go global, he said.
According to Bui Trung Thuong, besides Khanh Hoa Sanest Salanganes'Nest, nearly 20 other Vietnamese enterprises have registered to display their products at the Trade Office - Embassy's booth. Many provinces and cities have asked the Trade Office to support the promotion of local investment, trade and tourism potentials through this fair.
Data from the General Department of Vietnam Customs shows that two-way trade between Vietnam and India surged to over USD 13 billion in 2021 from about USD 200 million in 2000. This has been a significant outcome, especially given major disruptions to supply chains during the Covid-19 pandemic.
Based on the growth of bilateral trade, which surpassed USD 13 billion last year, Vietnam and India are striving to hit USD 15 billion this year.