350-kg wartime bomb found near North-South rail line in Quang Binh
The huge M117 bomb found near the rail line was removed on June 5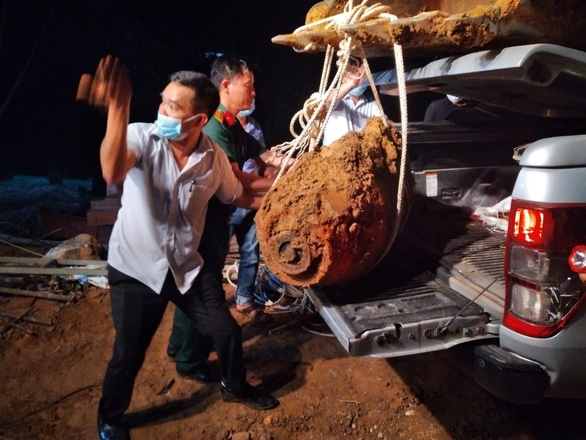 The 750-pound M117 bomb found near the rail line was removed on Saturday, 5 June. Photo by Vietnam Railway Corporation.
Vietnam Railway Cooperation said it had lifted the blockage of North-South rail line through Quang Binh province following the removal of the unexploded bomb by the provincial military forces on June 5 afternoon, VNA reported.
All the trains that had had to temporarily pause for nearly 12 hours were allowed to continue their journey.
Senior Lieutenant Tran Van Doan, commander-in-chief of Tuyen Hoa District Military Headquarters, confirmed that the bomb was identified as a 750-pound general-purpose M117 bomb used by the U.S. army during the war.
It had been removed and safely destroyed by provincial military engineers.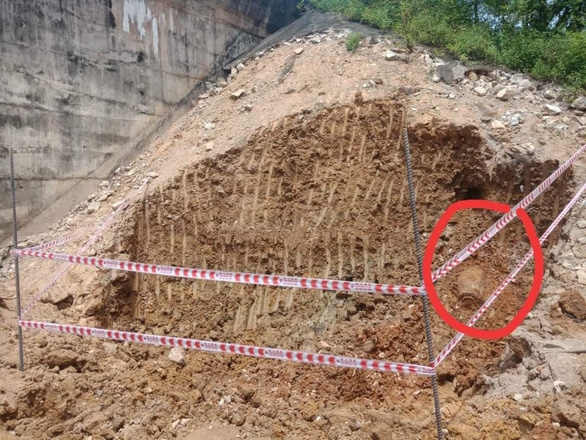 The bomb was found adjacent to the rail line on June 4. Photo by Vietnam Railway Corporation.
Earlier, on June 4, a construction unit unexpectedly uncovered the unexploded aerial bomb while they were working to improve the rail near Khe Be Bridge, Kim Hoa commune, Tuyen Hoa district, Quang Binh province. The air-dropped bomb was adjacent to the rail bridge.
Construction was immediately halted. The construction unit sent an emergency notice to the railway authorities to suspend coming trains. They also reported their discovery to local agencies for dealing with the bomb so that the railway could be reopened.
The discovery resulted in two passenger trains, one from Ho Chi Minh City to Hanoi with 107 passengers on board and the other from Hanoi to HCM City carrying 124 passengers, having to stop at Dong Le and Kim Lu respectively.
Six freight trains also stopped at various stations in Ha Tinh and Quang Binh provinces awaiting the bomb to be dealt with.
According to the Technology Center for Bomb and Mine Disposal, all 159 of Quang Binh province's communes, wards and towns are contaminated by unexploded ordnance (UXO), which is spread over an area of over 200,000 hectares (494,000 acres) or 28.2% of the province's total area.
Since 1975 UXO-related accidents in the province have killed over 2,930 people and injured another 3,820.