Foreign-funded projects help Vietnam deal with unexploded ordnance
The cleanup of wartime debris will likely continue for years.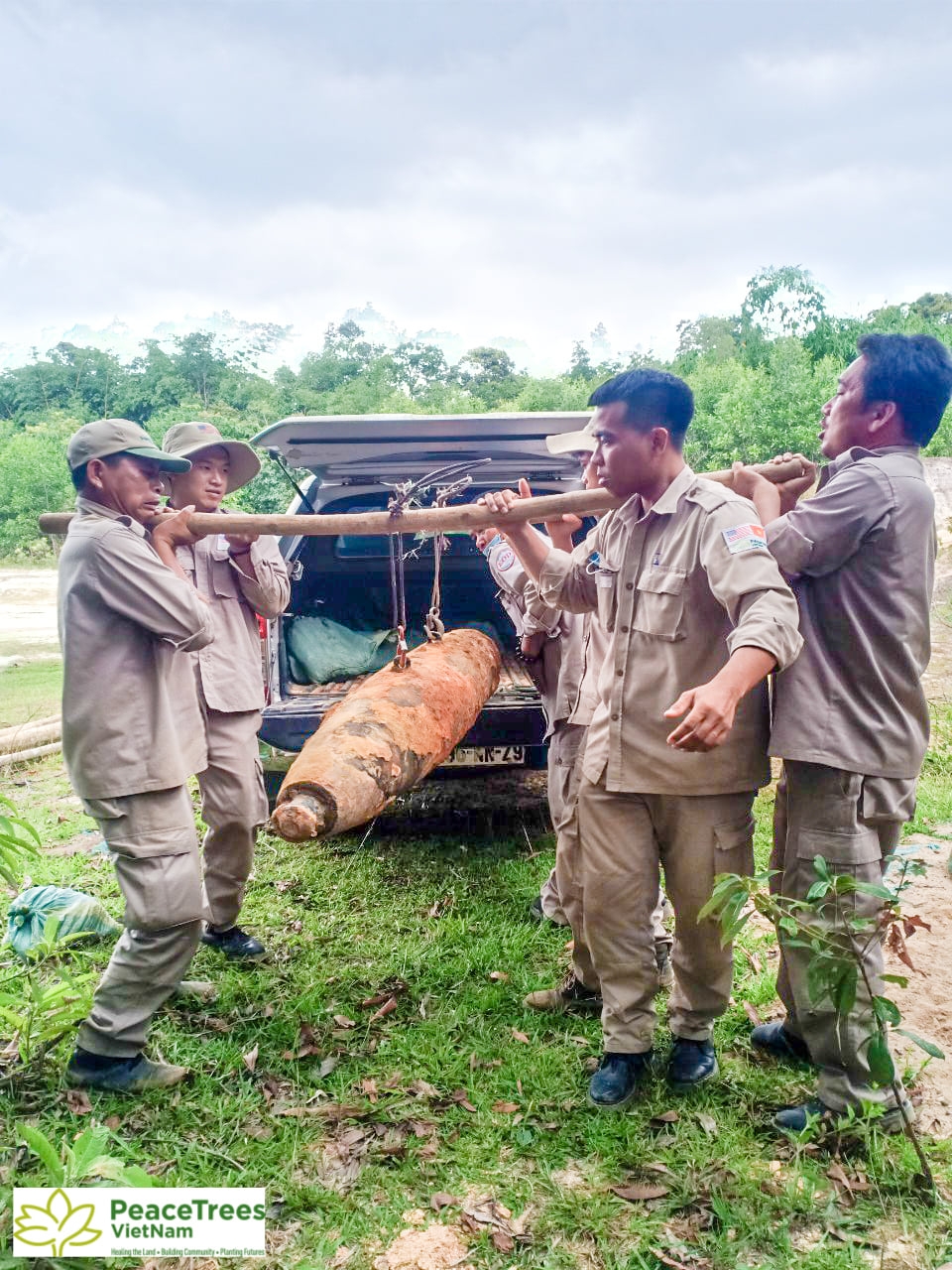 Mobile bomb and mine clearance team from PeaceTrees Vietnam safely handles the UXOs left over from the war. Source: PeaceTrees Vietnam
Vietnam is one of the countries suffering from heavy consequences of post-war bombs, mines and unexploded ordnances (UXO). The country has implemented measures to clear bombs, mines and explosives. International donors and non-governmental organizations (NGOs) have supported Vietnam in UXO clearance and assisted bomb and mine victims.
Quang Tri has, starting from 1995, had success in the mobilization of aid from international and NGOs to deal with the deadly legacy of war, reported VNA.
It is the most polluted locality in terms of UXOs which are scattered over 81% of its land area, and have killed over 3,430 people and injured 5,100 so far during peace-time.
Demining projects in Quang Tri have been funded by many foreign agencies, including the foreign ministries of Germany, the US and Norway, the Federal Ministry of Economic Cooperation and Development of Germany, the UK's Department for International Development, Ireland's development assistance fund, UNICEF and PeaceTrees Vietnam.
The US's Peace Trees Vietnam is the first foreign NGOs licensed by the Vietnamese Government to operate in UXO search and clearance. In which, it receives fund/grant from the US Department of State, Office of Weapon Removal and Abatement (WRA) for its operations in Quang Tri province since 2005, operate in Huong Hoa and Dakrong districts, focus on EOD and clearance; and integrate explosive ordnance risk education into its operation.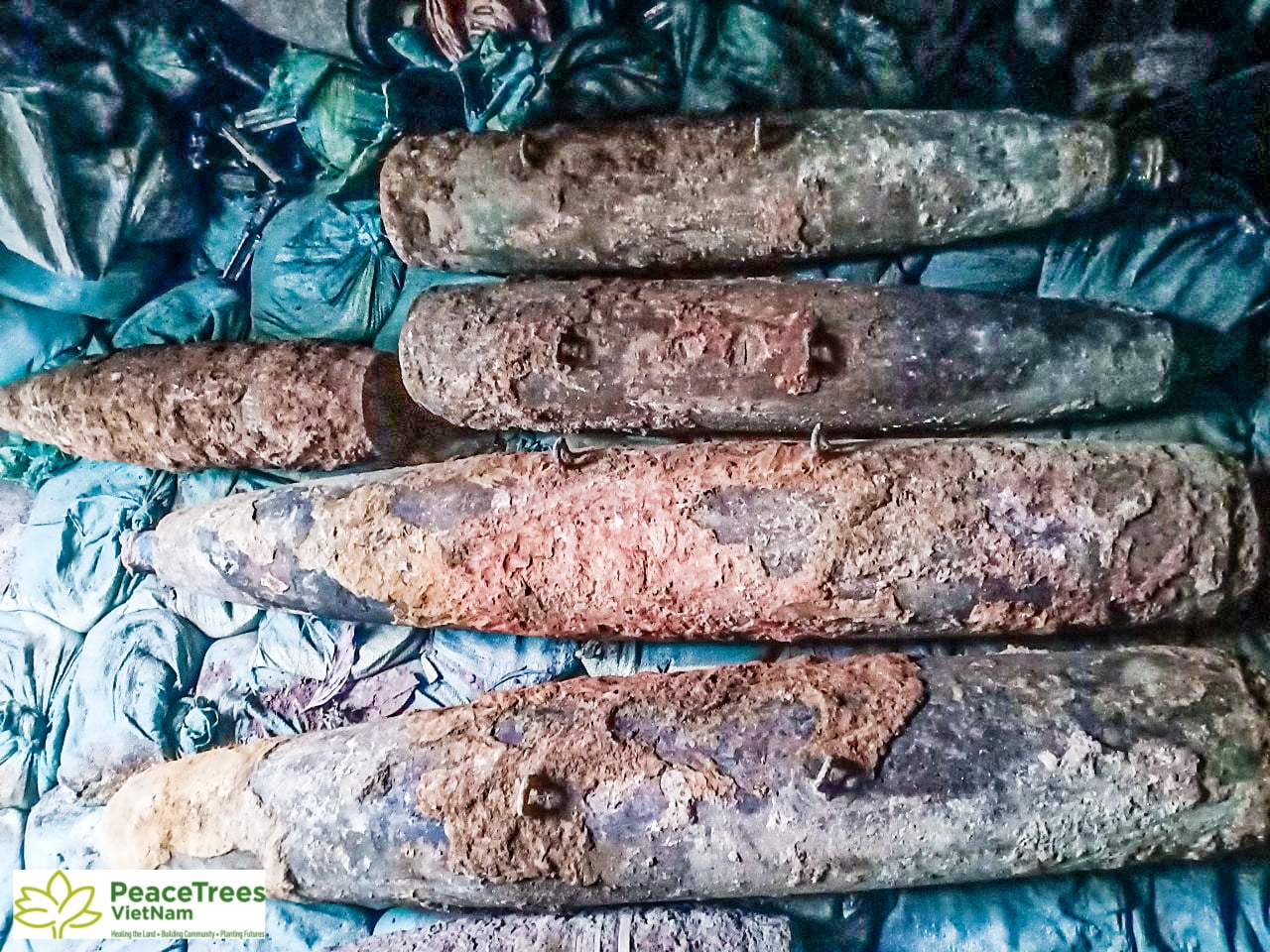 The team found 2 MK-81 bombs, 2 MK-82 bombs, and an 8-inch artillery projectile. Source: PeaceTrees Vietnam
Receiving information from Quang Tri Mine Action Center on Explosive ordnances items on May 25 found on Ta Nuc village, Huc commune, Huong Hoa district, the Explosive Ordnance Disposal team (EOD 1) of PeaceTrees Vietnam immediately moved to the site to deploy an EOD spot task.
Here, while constructing a road for a wind power plant project, workers found five ordnances. EOD1 team determined they were two MK-81 bombs weighing more than 110 kg, two MK-82 bombs weighing more than 220 kg, and an 8-inch artillery projectile with a diameter of 203mm.
After checking and evaluating these explosive ordnances were "safe-to-move", the team safely transported these bombs to a storage location for detonation. This successful task helped local people get rid of the threat of UXO accidents.
Elsewhere, Quang Binh is a region which was heavily bombed during the war in Vietnam — and is still known to be among the most contaminated provinces.
According to statistics released in 2009 by the Defence Ministry's Technology Centre for Bomb and Mine Disposal and the Vietnam Veterans of America Foundation, nearly 225,000ha of land across all communes, wards and townships in Quang Binh was contaminated with UXO, accounting for 27.9% of the province's area.
In particular, UXO polluted 96.9% of residential land, 95% of agricultural land, and 84.3% of land under perennial trees.
Phong Nha-Ke Bang National Park, one of the largest protected areas in Vietnam, is home to the natural species of Bo Chinh Ginseng. This precious herbal has become more and more popular in Vietnam. However, overexploitation and non-regeneration are increasing the risk of exhaustion of this species in general in this National Park.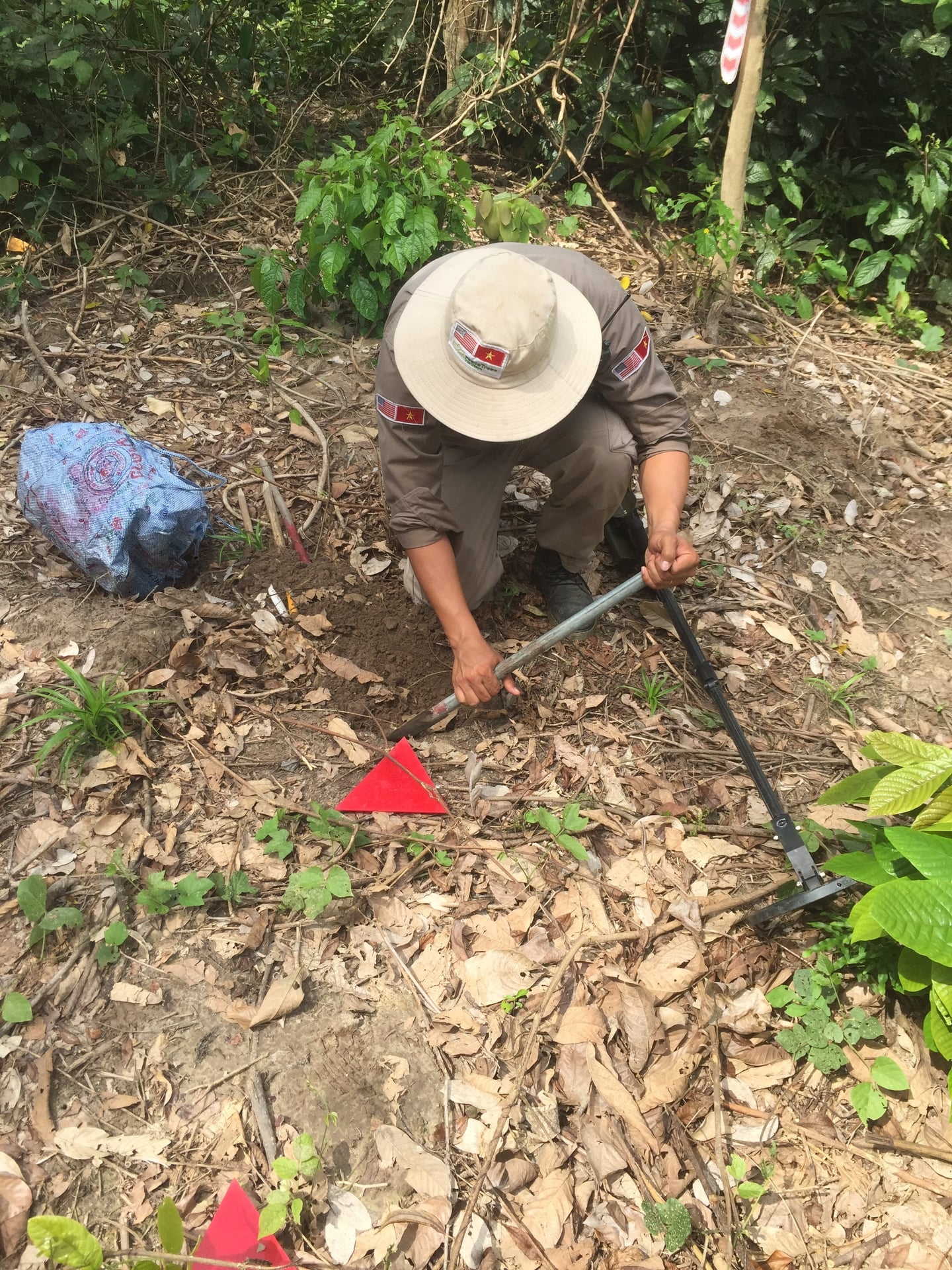 Clearance operation in the proposed one-hectare area in the ecological rehabilitation zone of Phong Nha-Ke Bang National Park. Source: PeaceTrees Vietnam
Faced with that situation, the National Park Management Board has developed a pilot model of planting Bo Chinh Ginseng under the canopy of natural forests in the park's boundaries. That aims to replicate the model to encourage people in the buffer zone to plant this species and combine conservation and forestry production with livelihood development.
To support the management board in implementing the above plan, the multitask teams of PeaceTrees Vietnam Quang Binh Project conducted clearance operation in the proposed one-hectare area in the ecological rehabilitation zone of the park from April 12 to May 12. As a result of clearance operations, a total of 30 explosive ordnances, including 29 sub-munitions (BLU 26 & BLU 63) and one projectile 37 mm, were detected and safely handled at the site by the teams.
It is the sixth locally requested site having been cleared by PeaceTree Vietnam in Quang Binh from the beginning of this year. While working at the site, the teams also removed immediate threats of 15 explosive remnants of war, including two BLU 63 and 13 projectiles 37 mm, which were a few kilometers away from the site.
The Quang Binh project, funded by the US Department of State, is implemented under the Consortium formed by PeaceTrees Vietnam (PTVN), Mines Advisory Group (MAG), and Norwegian People's Aid Vietnam (NPA), the joined effort to addressing the issue of UXO contamination in Quang Binh province./.