3D Printing the Human Body: A Medical Marvel Made Possible by Overseas Vietnamese
Vietnamese scientists at the University of New South Wales (UNSW), Australia, and their colleagues introduced a prototype device that can print 3D living cells directly onto internal organs. It has the potential to be used as an integrated laparoscopic surgical tool.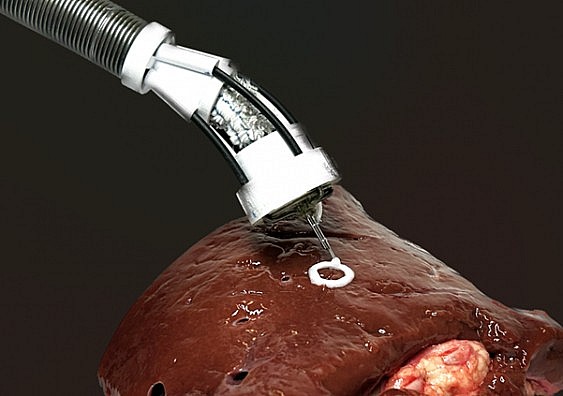 Flexible 3D bioprinter developed at UNSW Sydney. Photo: Prof. Do Thanh Nho
Device for 3D printing in the human body
Scientists from UNSW Sydney have developed a flexible and miniaturized soft robotic arm that can be used to print 3D directly onto organs inside the human body.
3D bioprinting is a process in which biomedical components are fabricated from bioink to create structures that resemble natural tissues.
Bioprinting is mainly used for research purposes such as tissue engineering and the development of new drugs. It often requires the use of large 3D printers to create cellular structures outside of a living organism.
New research from UNSW's Medical Robotics Lab, led by Dr. Do Thanh Nho and PhD student Mai Thanh Thai, in collaboration with other researchers from UNSW is presented in an article published in the journal Advanced Science in March.
The team's work creates a microscopic flexible 3D bioprinter that can be inserted into the body like an endoscope and deliver multi-layered biomaterials directly to the surface of internal organs and tissues.
The device, called the F3DB, with a highly maneuverable rotating head for "printing" bioink, is attached to the end of a long, snake-like robotic arm. The entire system can be controlled from the outside.
The team said that with further development, potentially within the next five to seven years, the technology could be used by medical professionals to access hard-to-reach areas of the body through small incisions in the skin or natural openings.
According to the article on the UNSW website, Dr. Do Thanh Nho and his colleagues tested the F3DB device in the artificial large intestine, as well as 3D printed a variety of materials with different shapes on the surface of the pig's kidney.
"Current 3D bioprinting techniques require the biomaterial to be created outside the body, and implantation into the human body often requires extensive open surgery, which increases the risk of infection. With our 3D bioprinter, biomaterials can be delivered directly into the target tissue or organ using a minimally invasive method. This system offers the ability to accurately reproduce three-dimensional wounds inside the body, such as wounds in the stomach wall or lesions and diseases in the colon," said Dr. Do Thanh Nho.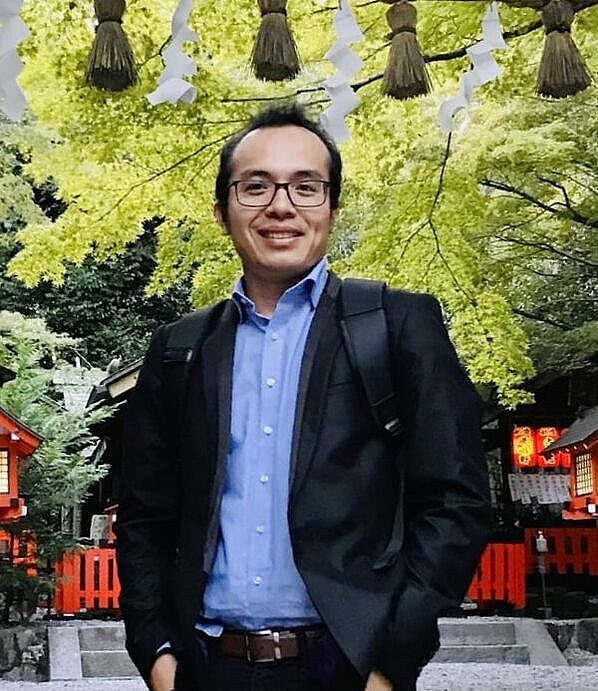 Dr. Do Thanh Nho. Photo: medicalrobotics-lab.weebly.com
"Our prototype can 3D print multi-layer biomaterials of different sizes and shapes through hard-to-reach areas, thanks to the device's flexible body. Our approach also addresses significant limitations in existing 3D bioprinters, such as surface incompatibility between the 3D printed biomaterial and the target tissue/organ as well as structural damage during transfer and manual handling," said Dr. Do Thanh Nho.
The smallest F3DB prototype created by Dr. Do Thanh Nho and colleagues has a diameter similar to that of a therapeutic endoscope (about 11-13 mm). It is small enough to be inserted into the human gastrointestinal tract.
However, the researchers say, the device could be more easily miniaturized for future medical use.
"Compared with existing laparoscopic surgical tools, the F3DB is designed as an integrated laparoscopic instrument, avoiding the use of instruments that have a longer procedure time and risk of infection," PhD student Mai Thanh Thai said.
The system of Dr. Do Thanh Nho and colleagues has been provisionally patented. The next stage of the system's development is testing on live animals to demonstrate real-world usability.
They also plan to implement additional features, such as a built-in camera and a real-time scanning system that reconstructs 3D tomographic images of tissue moving inside the body.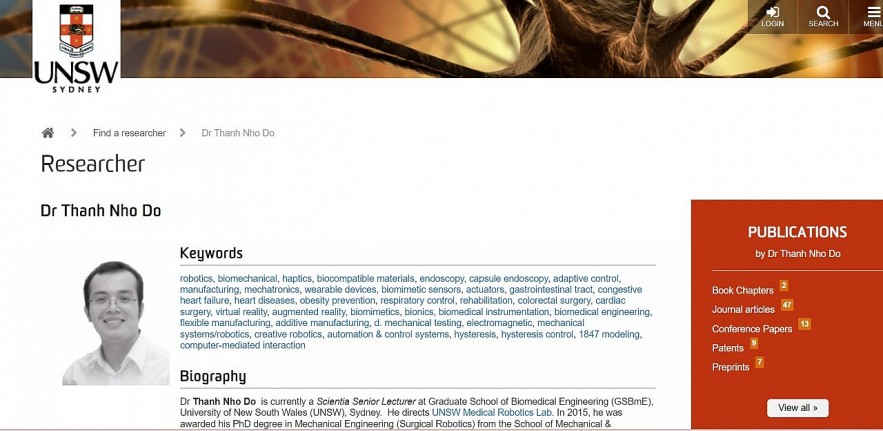 Photo: Screenshot on UNSW Sydney
Dr Do Thanh Nho is currently a Scientia Senior Lecturer at Graduate School of Biomedical Engineering (GSBmE), University of New South Wales (UNSW), Sydney. He directs UNSW Medical Robotics Lab. In 2015, he was awarded his PhD degree in Mechanical Engineering (Surgical Robotics) from the School of Mechanical & Aerospace Engineering (MAE), Nanyang Technological University (NTU), Singapore. He also received his B. Eng. degree in Manufacturing Engineering with Honor Program from the Faculty of Mechanical Engineering, Ho Chi Minh City University of Technology, Vietnam. He was a Postdoctoral Scholar at California NanoSystems Institute (CNSI), UC Santa Barbara (UCSB), USA. He also worked as a Research Fellow and a Group Leader at Robotic Research Center, School of Mechanical & Aerospace Engineering (MAE), Nanyang Technological University (NTU), Singapore, cited UNSW Sydney.