After making friends with an online foreigner, Vietnamese girls scammed hundreds millions dong
Many Vietnamese girls recently fall into the trap of social network accounts that claim to be "foreign guys" looking for Vietnamese friends or girlfriends.
Photo: Thanh Nien
On May 19, Thanh Khe District police (Da Nang City) announced that it was holding an investigation into an investment fraud caused by foreigners.
In early May, the fraud's victim named H.T.Q. (born in 1991, living in Thanh Khe District, Da Nang City) met a foreign man named Eric through Facebook. Eric told her that he was an overseas securities investor, owning a powerful trading floor that could help her earn money easily.
After chatting back and forth for days, Q. believed that she could trust Eric to invest in securities. She sent her "foreign boyfriend" VND 116 million (more than 5,000 U.S dollars) to invest in foreign securities. She was told to transfer the money into a Vietnamese bank account named Nguyen Tran Bao Phuong.
Sometime later, Q. asked for the investment results. She asked Eric to withdraw the money, but her Facebook boyfriend told her to send another 10 million dongs (435 U.S. dollars) to carry out the procedures to withdraw money. Q. did what he said and continued to be asked for an additional 23 million dongs (1,000 U.S. dollars) to a Vietnamese bank account named Nguyen Thi Ngoc Thu. Only until she could not contact Eric anymore, did Q. realize that she had been scammed for a total of 149 million dongs (6,478 U.S. dollars). She immediately went to Thanh Khe District Police to report the fraud.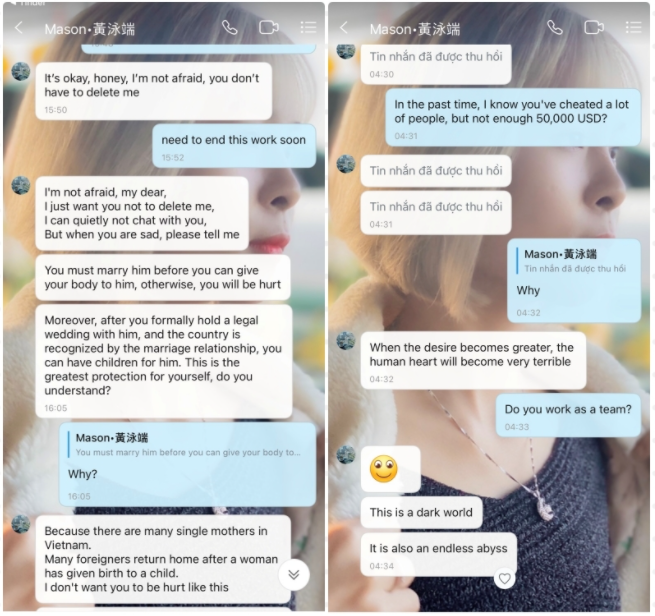 Message sent from a Tinder account named Mason, who admitted that he used Tinder for fraud. (Photo: Vietnamnet)
Recently, Vietnamnet runs a series of articles about Vietnamese women getting tricked by Tinder accounts who claimed to be foreign men looking for Vietnamese girlfriends.
T.N.P.N. (27 years old, District 1, HCMC) was tricked by a Tinder account named YiLi to join Forex Investment - a form of investment where users can buy a large amount of foreign currency to earn interests. N. only realized that she was tricked into a fraud after loosing over 10 million VND.
"Guys like him work for an organization," said N. "Their organization usually has many members, each is assigned with a different task. Usually, some of them run a website, and the rest trick victims to invest money in that website. The rest will create accounts, mostly Tinder to look for victims", she added. According to the girl, guys who in charged of creating Tinder accounts are young, and handsome, pretending to be successful businessmen. They even prepare texting scripts and have a certain understanding of their role.
"They all speak English fluently. When asked about their profession, they can answer with precise details, even in-depth questions. YiLi introduced himself as a pilot, so I asked him a lot of questions about planes. All his replies were correct."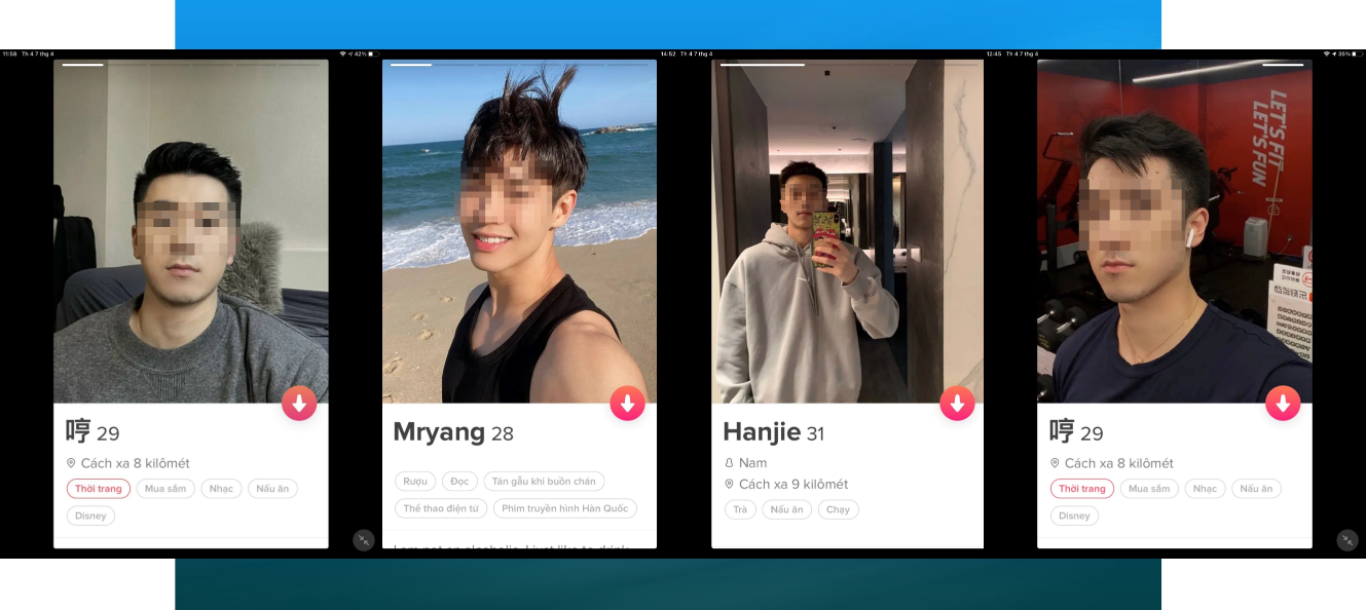 Tinder accounts claimed to fraud by many women. (Photo: Vietnamnet)
Meanwhile, N.M.Y. (24 years old, Tien Giang province) was lured by an account named Li Rui to invest in the Jian Hong Era website and was cheated with 46,000 U.S.dollars. When realizing that she was scammed, Y questioned Li Rui, who then frankly admitted his crime, even confessed that he only came to Y for defrauding money.
"Li Rui said, he used to work for the company that he told me when he first knew me on Tinder. But then, his company went bankrupt and was bought by another corporation. The new owner requested and forced Li Rui to work hard to repay the debt before leaving the company. For quick money, he approached girls for defrauding money". According to the girl, Li Rui also said that if he could not earn enough money, the company would starve him or even beat him.
The accuracy of Li Rui's story is currently unconfirmed. Vietnamese police are working on those cases. According to Lieutenant Colonel Le Quoc Hoi (Hau Giang Police), scammers' tricks are getting much more sophisticated, in addition to posting recruitment advertisements, they also set up a fake website with attractive investment chances. Therefore, when receiving messages from strangers, citizens must be highly vigilant to avoid traps.