Algeria - Promising Market for Vietnam
Vietnam introduced potential for trade and investment to Algeria's localities
Vietnamese Trade Counselor in Algeria Hoang Duc Nhuan recently has attended the Annaba Economic Forum in Annaba city to introduce Vietnam's potential and strengths as well as seek ways to expand cooperation between Vietnamese enterprises and Algerian localities, reported VNA.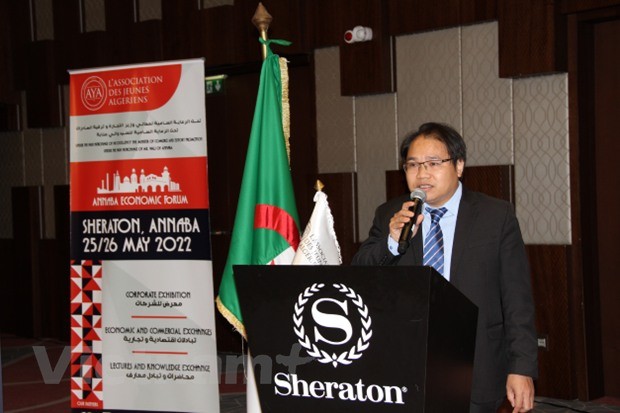 Vietnamese Trade Counselor in Algeria Hoang Duc Nhuan speaks at the event. Photo: VNA
The forum drew the participation of hundreds of Algerian economists, businessmen and investors as well as representatives of economic organisations and embassies of African and European countries.
Addressing the event, he said the forum is a good opportunity for Vietnam to explore the trade and investment potential of Annaba province and strengthen economic cooperation between Algeria and Vietnam in general.
The official emphasised the potential and strengths of Vietnam with a vast market of nearly 100 million people and an open economy. Despite the negative impacts of the Covid-19 pandemic, the country recorded economic growth of 2.58%, which is expected to reach 6.5% this year.
Vietnam is benefiting from free trade agreements, including the Comprehensive and Progressive Agreement for Trans-Pacific Partnership (CPTPP) and the EU-Vietnam Free Trade Agreement (EVFTA).
Besides, Vietnamese firms can also take advantage of the African Continental Free Trade Area which took effect from January 1, 2021, to increase investment in gateway markets in Africa to enjoy benefit from origin incentives, workforce, and on-site materials.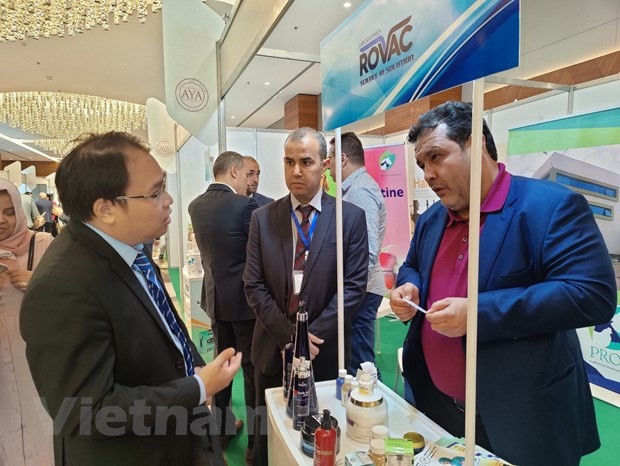 Vietnamese Trade Counselor in Algeria Hoang Duc Nhuan at the event. Photo: VNA
The African Continental Free Trade Agreement opens up an opportunity for Vietnamese companies to collaborate with Algerian operators and access this huge market of 1.3 billion people.
At the end of the first quarter of 2022, Vietnam shipped USD 30.95 million worth of goods to Algeria, mostly coffee, pepper, aquatic products, metal and chemicals.
Algeria has great demand for coffee, green tea, rice, footwear, iron and steel products, packaging materials, wood and wooden furniture, automobile accessories and spare parts, and household appliances.
Regarding investment cooperation, the Bir Seba joint venture between PetroVietnam Exploration Production Corporation (PVEP), Thailand's PTT Exploration and Production Public Company and Sonatrach Group is a symbol of the successful cooperation between Vietnam and Algeria.
The joint venture has exploited about 18,000 barrels of crude oil daily since it was launched in 2003.
Initiated by the Algerian Youth Association in 2021, the forum aims to become an international event held in different provinces and cities to exchange knowledge and promote the development of the local economy and the recovery of the Algerian economy.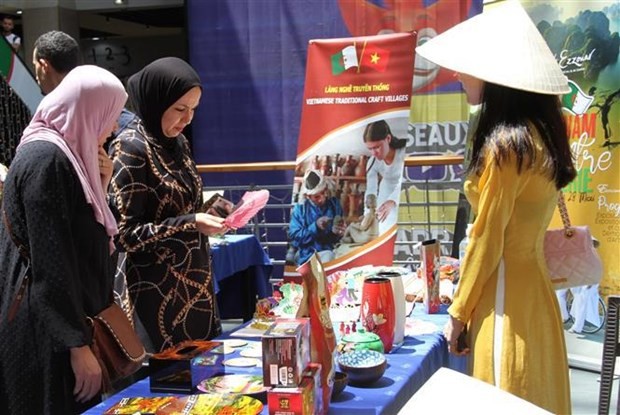 Visitors looks at products at Vietnam's exhibition area. Photo: VNA
A photo exhibition is underway in Algiers until May 28, aiming to promote Vietnamese products to Algerian friends.
The three-day event, hosted by the Embassy of Vietnam in the African nation, is part of the activities marking the 60th founding anniversary of the Vietnam-Algeria diplomatic ties.
The exhibition offered a range of precious historical moments in the bilateral relations as well as beauty of the countries.
Also on showcase are Vietnamese traditional and craft products, together with performances of martial arts like vovinam and qwankido.
Vietnamese dishes are also served at the event, which aims to bolster exchanges and understanding on Vietnamese culture and the Vietnam-Algeria friendship among Algerian and international friends.