Amazing and Unique Mid-Autumn Festival in Tuyen Quang
After 2 year interruption caused by the Covid-19 pandemic, the Mid-Autumn Festival taking place in Tuyen Quang in 2022 will be held again with many special activities throughout September 2022, becoming a highlight attracting thousands of domestic and international tourists.
In the northern mountainous provinces, Tuyen Quang has a very unique identity. This identity is formed from historical, natural and human factors. Historically, archaeologists have identified Tuyen Quang as one of the cradles of the ancient Vietnamese. In the process of formation and development, Tuyen Quang was once also "the hedge of the nation". During the national revolution against the French colonialists, Tuyen Quang became the Capital of the Liberation Zone - called as the Resistance Capital of the whole country.
Mid-Autumn Festival is a special occasion for everyone, especially children. Each place across the country has a different way of celebrating the Mid-Autumn Festival, and Mid Autum in Tuyen Quang is really amazing and attracted. Let's explore this unique festival through the article below!
What's attractive Tuyen Quang Mid-Autumn Festival?
Go to Tuyen City to enjoy the Mid-Autumn Festival
1. Origin of Tuyen Quang Mid-Autumn Festival
Tuyen Quang Mid-Autumn Festival is considered the largest one in the country, the festival was formed and organized by both local authorities and people.
Mid-Autumn Festival is the one that takes place at the beginning of the 8th lunar month every year, which is the most beautiful and to celebrate the full moon day. Mid-Autumn Festival also appears in many other Asian countries such as China, Korea, Taiwan, Japan, Singapore etc. In Vietnam, this festival is considered as Children's Festival. Children play with toys such as star lanterns, masks, water guns. Besides, people and families also gather together to enjoy delicious moon cakes.
Initially, only a few villages and hamlets made lanterns hanging all over the alley, then spread to the whole city and neighboring districts, and now it becomes an unique culture in Tuyen Quang.
Tuyen Quang Mid-Autumn Festival is held annually to promote the image and people of Tuyen Quang to the domestic and foreign communities. Since the beginning of the month, Tuyen Quang has been preparing to welcome the Mid-Autumn Festival. The cultural identity of Tuyen Quang as well as Vietnam is shown through the colorful giant lanterns that look extremely eye-catching.
2. How to get to Tuyen Quang in the Mid-Autumn Festival
Tuyen Quang city is 165km from Hanoi, so travellers can move to Tuyen Quang by one of two means: motorbikes and cars/buses.
Motorbikes/Cars: From Hanoi, tourists can follow Pham Van Dong - Thang Long Bridge - Phuc Yen - Viet Tri - Doan Hung - Tuyen Quang. Remember to drive carefully and follow the traffic rules to avoid to be fined by the traffic police.
Buses: About 165km from Hanoi and connected to the place by Highway 2, and moving to Tuyen Quang is increasingly easy. You can go to My Dinh bus station to catch buses to Tuyen Quang, in addition you can go to Tuyen Quang by buses to Ha Giang. Ticket price is about VND 80,000 - 120,000 (USD 4-6).
3. What's special of Tuyen Quang Mid-Autumn Festival 2022?
Tuyen Quang Mid-Autumn Festival is held for 15 days from September 01 to 14 (ie, the 14th, 15th and 16th of the Lunar August). This is the 7th time Tuyen Quang city organizes Thanh Tuyen festival together with the Mid-Autumn Festival, so there are many special activities.
Thousands of tourists flock to celebrate the Mid-Autumn Festival
In the evening of the Mid-Autumn Festival, people will walk to the streets to admire the parade with a series of giant lanterns on Nguyen Tat Thanh Street. At this time, the atmosphere in Tuyen Quang city becomes more bustling and crowded than ever. The lanterns here are all huge in size and colorfully decorated, each with a message and story about the history of the land and its people.
Besides the festival, there are also activities such as lantern making contest, music show with artists from Laos, Korea and China.
Coming to the festival, visitors will be immersed in the bustling atmosphere of trumpets, drums, music along with traditional folk dances of Tuyen Quang people. This occasion is suitable for families to bring their children to play Mid-Autumn Festival.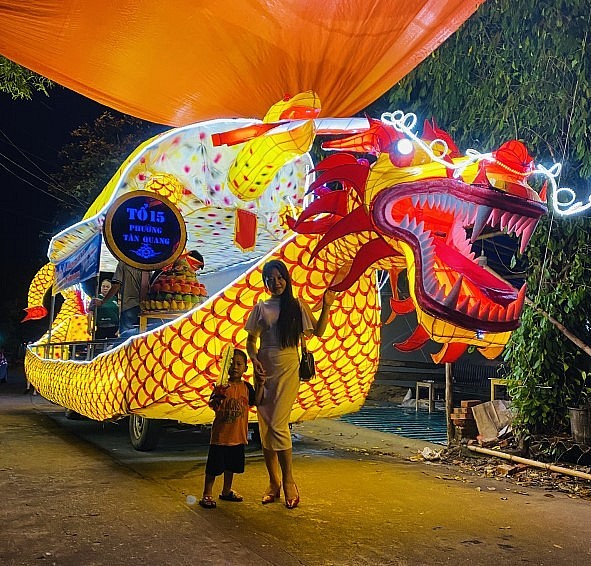 Hang and her family from Hanoi chose Tuyen Quang for their holiday of Independent Day to enjoy special festival and atmosphere in Tuyen Quang
Tuyen Quang Tourism will definitely bring you the most meaningful Mid-Autumn Festival experiences ever in this beautiful city.