American Man Removes Tattoos To Marry His Vietnamese Girlfriend
An American man has removed tattoos on his body so that his Vietnamese girlfriend doesn't feel shy when being with him.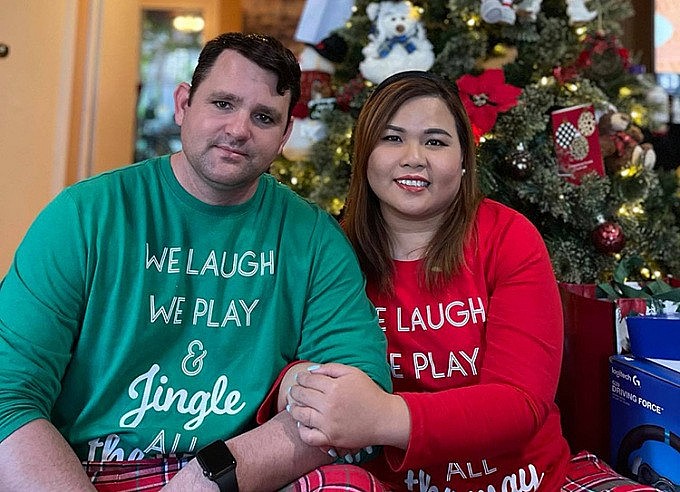 Joseph and Thao at their house in California at Christmas 2020. Photo courtesy of the couple
Joseph's girlfriend wants him to remove big tattoos on his chest and arms because she was worried that her parents did not accept him when seeing the tattoos.
He has had the tattoos since he worked as a doctor in the US military based overseas.
After leaving military, he returned to the US and entered California University in 2009 where he met his girlfriend now - Nguyen Hong Phuong Thao, a Vietnamese woman.
Thao said at the first time they were on a dating, Joseph held her hands tightly.
"His hands are big. He held me so tightly that my hands turned red for a few days later," Thao said.
Soon after, Joseph knew he loved her and made sure she knew that. To prove his love, Joseph decided to remove his tattoos.
"I don't want to hear objections when Thao is with me," he said.
Before having the tattoos removed, Joseph understood that tattoo removal can easily leave scars, pigment disorders or allergies, and even cause infections.
"But I am always ready to remove them, because of Thao," Joseph said.
In two consecutive years, Thao and Joseph together visited a laser removal center near their house once every eight weeks.
Seeing Joseph suffer from bleeding pain on his chest and arms, Thao could not bear.
"From that moment, I realized that this is the man of my life," Thao said.
The tattoo removal story of Thao and Joseph has attracted attention of Vietnamese audience after they shared on a TV show some days ago.
Surprising Proposal
When they started to date, they were still students and at the same time took part-time jobs.
The time they spent for each other was only at late night. Every day Joseph always remembered to pass by Thao's home to give her a kiss before sleep.
After two years of dating, Thao proposed they move to live together.
"But following Vietnamese custom, only after marriage can the couple live together," Thao told Joseph and he agreed to have a wedding immediately.
In 2011, they planned to go to Vietnam for a wedding photo album.
Thao thought about many possible romantic proposal plans but she did not think that a muddy area on a rainy day where they took wedding photos was the place she received the proposal.
When the car which took the couple to the wedding photo venue in Vung Tau parked in front of a resort, the ground was muddy and slippery. Joseph surprisingly knelt in front of Thao and asked: "Will you marry me?"

Joseph proposed Thao in Vietnam in 2011. Photo Vietnamnet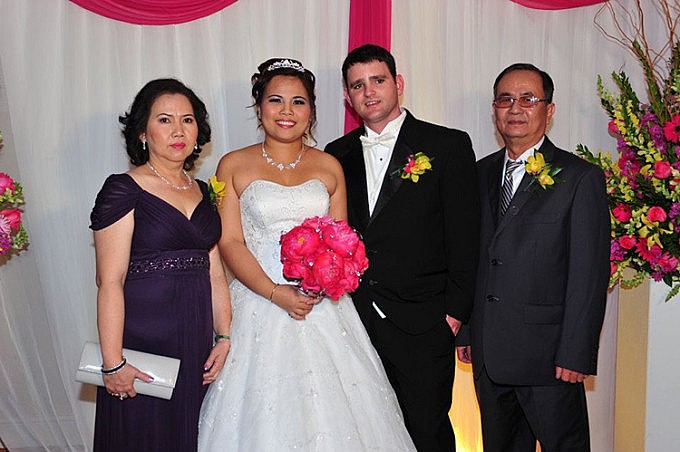 They got married in the US in November 2011, half a year after the proposal. Photo courtesy of the couple
Their marriage life is normal like many other couples. On weekends, Joseph often takes his wife to travel to the places Thao likes.
Joseph also loves cooking for his wife. He is knowledgeable about American cuisine and loves Vietnamese pho. He tried to cook pho for several times but failed.
Nguyen Thi Cam Hong, Thao's mother, said "On Thanksgiving or New Year holidays, when the family reunites, Joseph shows off his cooking skills. He doesn't mind doing anything."
Not only life partners, Thao and Joseph are classmates which help each other at master's class.
Both graduated with a master's degree last year and now have stable jobs.
The couple hopes to get a doctorate. Together, they will support each other.
Thao once said it was Joseph's constant learning spirit that motivated her to pursue her education, although before meeting him, she had not clearly defined her future.
Having lived in Spain for two years, Joseph wants to be back there once he retired.
The American man often tells his wife about his expected future life with children and a small house.
"It doesn't matter where you are, as long as you and me are together," Thao told her husband.