An Bang and My Khe named among TripAdvisor's best beaches in Asia
An Bang was in 24th position on the list of 25 best beaches in Asia while My Khe in the tourist city of Da Nang finished off the list.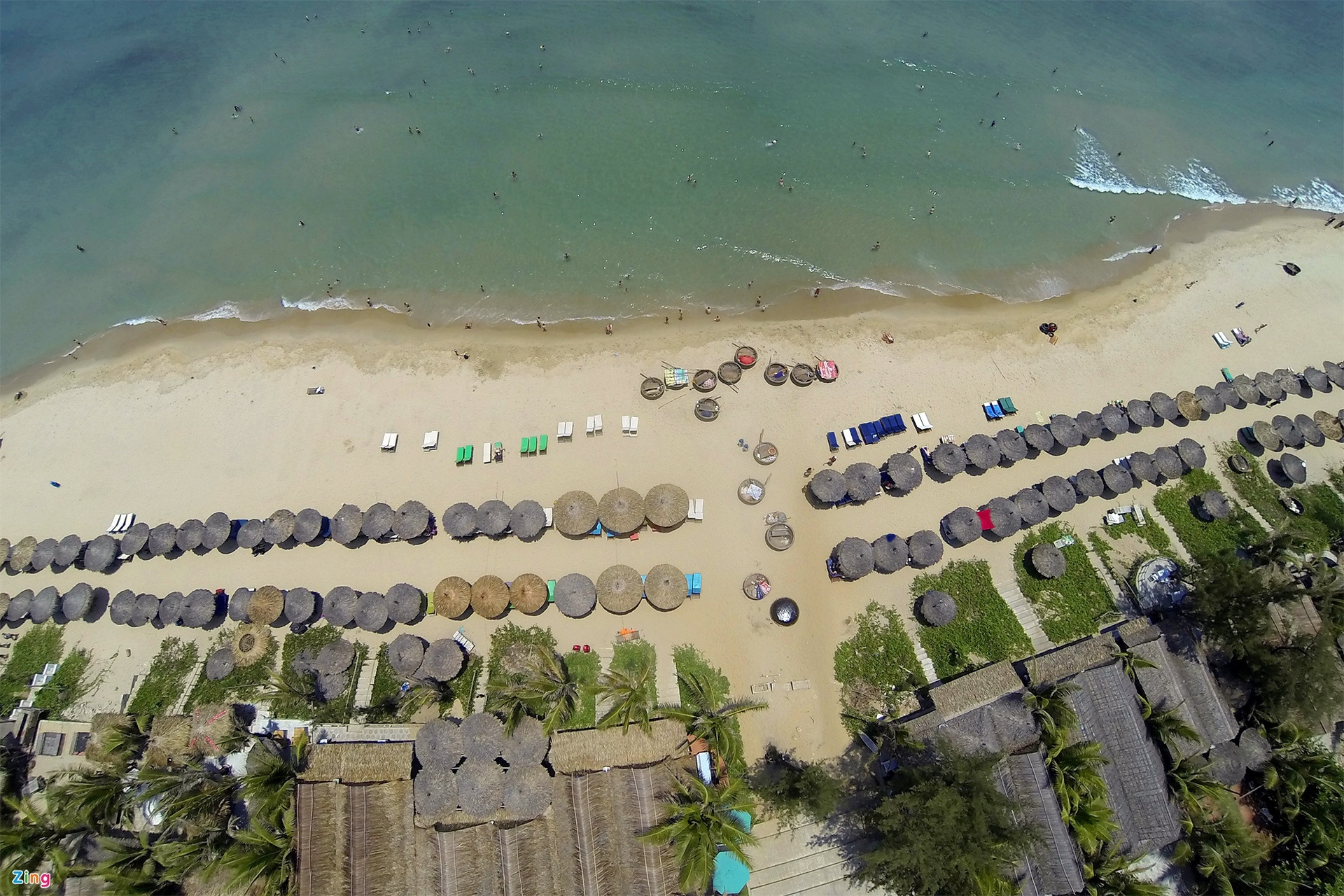 Chairs and umbrellas laid out across the beach impress tourists to An Bang. Photo Zing News
An Bang and My Khe in central Vietnam have been voted among the most beautiful beaches in Asia by TripAdvisor readers.
Around three kilometers from ancient town Hoi An, An Bang is one of the few white-sand beaches left in Vietnam that has yet to be spoiled by the boom in beach tourism that has resulted in overcrowding, coral damage and environmental pollution.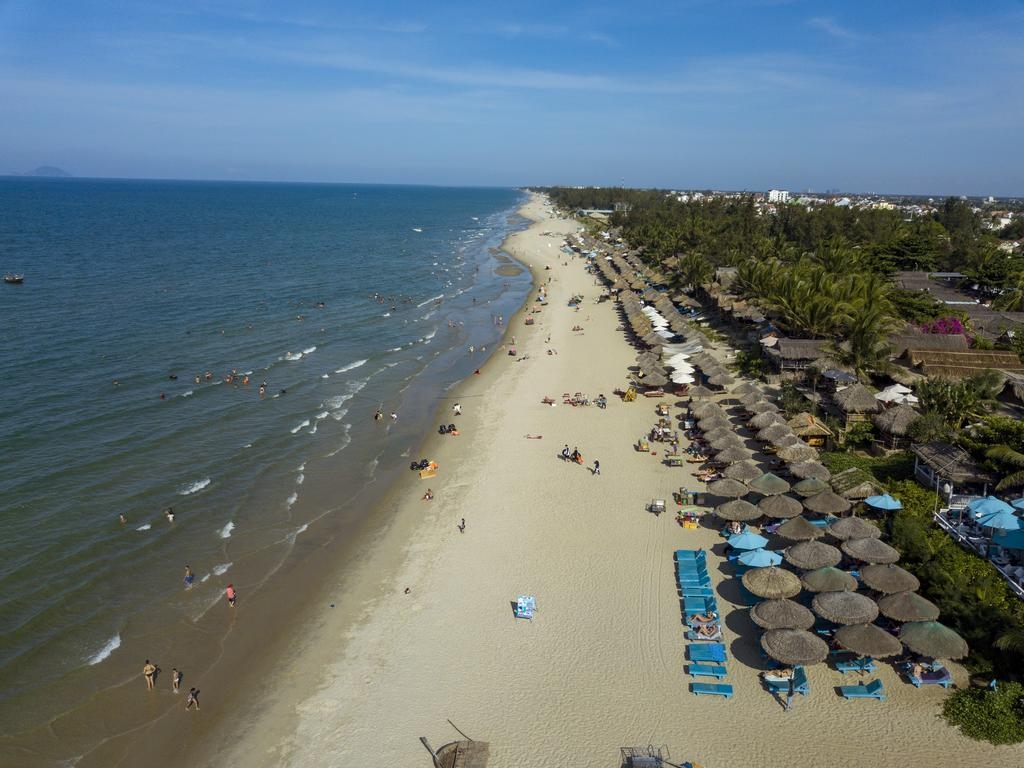 Photo: Booking
Once a hidden gem in the old town, the beach entered the international limelight when CNN listed it as one of the 100 best beaches on earth in 2011. The best time to visit is between May and September.
"There are tons of chairs and umbrellas laid out across the beach and almost all of the restaurants will let you have chairs for the day for free," the US travel site said, referring to the pre-coronavirus pandemic times.
Once a hidden gem in the old town, the beach entered the international limelight when CNN listed it as one of the 100 best beaches on earth in 2011. Photo: Zing News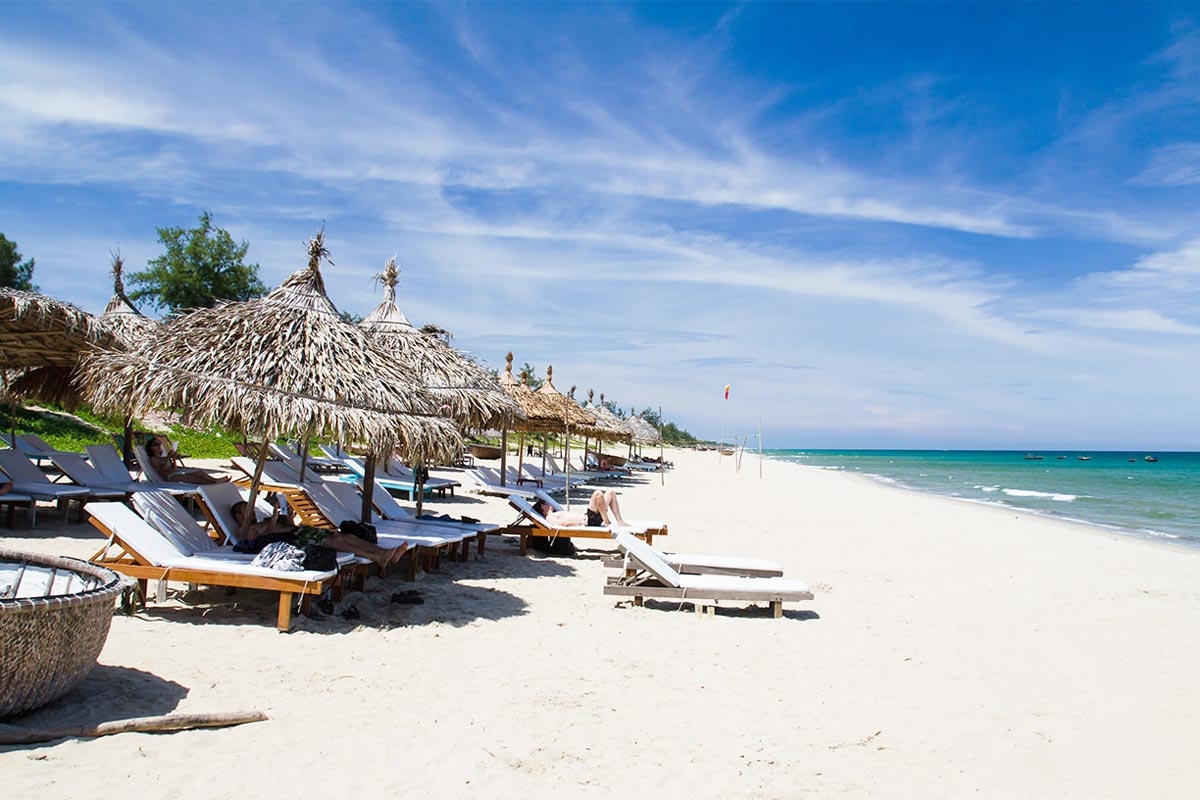 Photo: Asian Way Travel
Kim, a tourist, reviewed on TripAdvisor: "We return to this beach after one year, a lot of changes, more restaurants, bars and people. But because of Covid-19, a little bit quiet, not too much guest. You should try the Clam Congee. It was nice!"
Another tourist, Marie, said "It was our second time in Hoian but the first time at the beach here and we were impressed. The beach was very clean, long and large. I hope to be back when the virus will be out."
Tourist Reedklein visited the beach last February and said on TripAdvisor: "My Vietnamese girlfriend and I had an apartment one block from the beach in Da Nang. With that said, we found ourselves often motor scooting (25 minutes) South to An Bang Beach outside of Hoian. We prefer to stay on the North end of the beach, less people. Food is available perhaps not as much as locations further South on the beach (where we also would camp out, Soul Beach, The Deckhouse, The Dolphin)."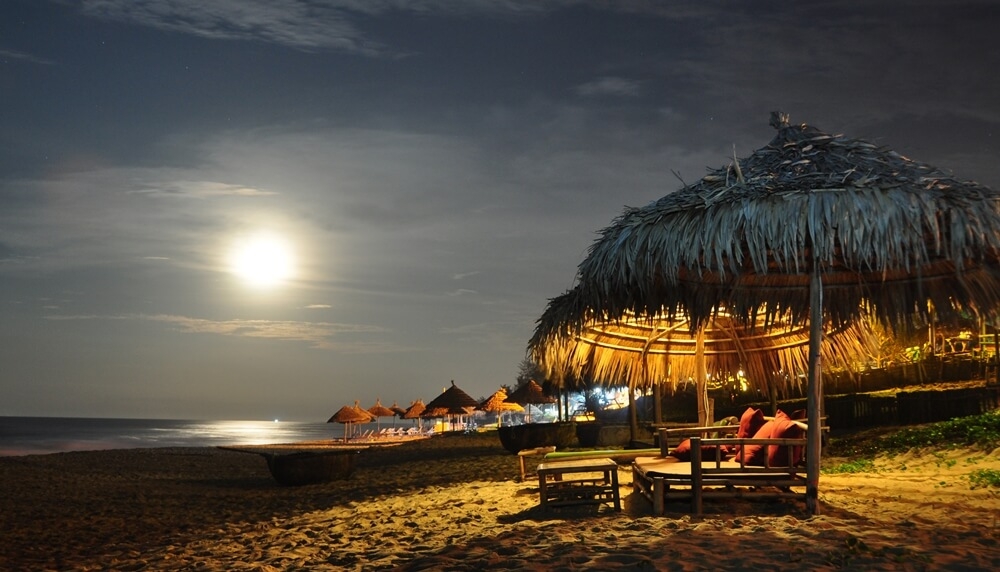 Enjoying yummy dishes while admiring the mesmerizing sunset on the sea will be a lifetime experience when traveling to An Bang, Hoi An. Photo: Hello Vietnam Travel
"Water is clean and there are water activities if you so desire. You can see Da Nang city skyline to the North and if you look closely you can see the "Lady Buddha" in the bay of Da Nang," he said.
The 10-kilometer-long My Khe beach running from the base of Son Tra Peninsula to Marble Mountains was catapulted to global fame.
Considered Vietnam's most picturesque beach, My Khe Beach was named by American troops who visited during the Vietnam War.
My Khe Beach is famous for its blue sky, smooth white sand. Photo: My Khe Beach
With a coastline of 35km long from Hai Van Pass to Non Nuoc, Da Nang is one of the most beautiful coastal cities in Vietnam. Closed to the city center (5km), the most popular beach My Khe is the common name of the coastline lasted 10km from the base of the Son Tra Peninsula to the Marble Mountains (Ngu Hanh Son). It's just 5km to get here from Da Nang city center and 25km from Hoi An.
My Khe Beach is famous for its blue sky, smooth white sand, gentle slope, clear & warm water year-round, and beautiful areas surrounded by coconut trees. Everything around the beach is peaceful, natural, relaxing, that's why Forbes Magazine selected My Khe beach as "one of the most attractive beaches on the planet" title. This recognition was given after an endless effort of the government and the Da Nang Lifesaving Association in keeping the beach clean, safe for visitors, free admission for tourists, great accommodations.
An overview of My Khe Beach. Photo: Authentik Travel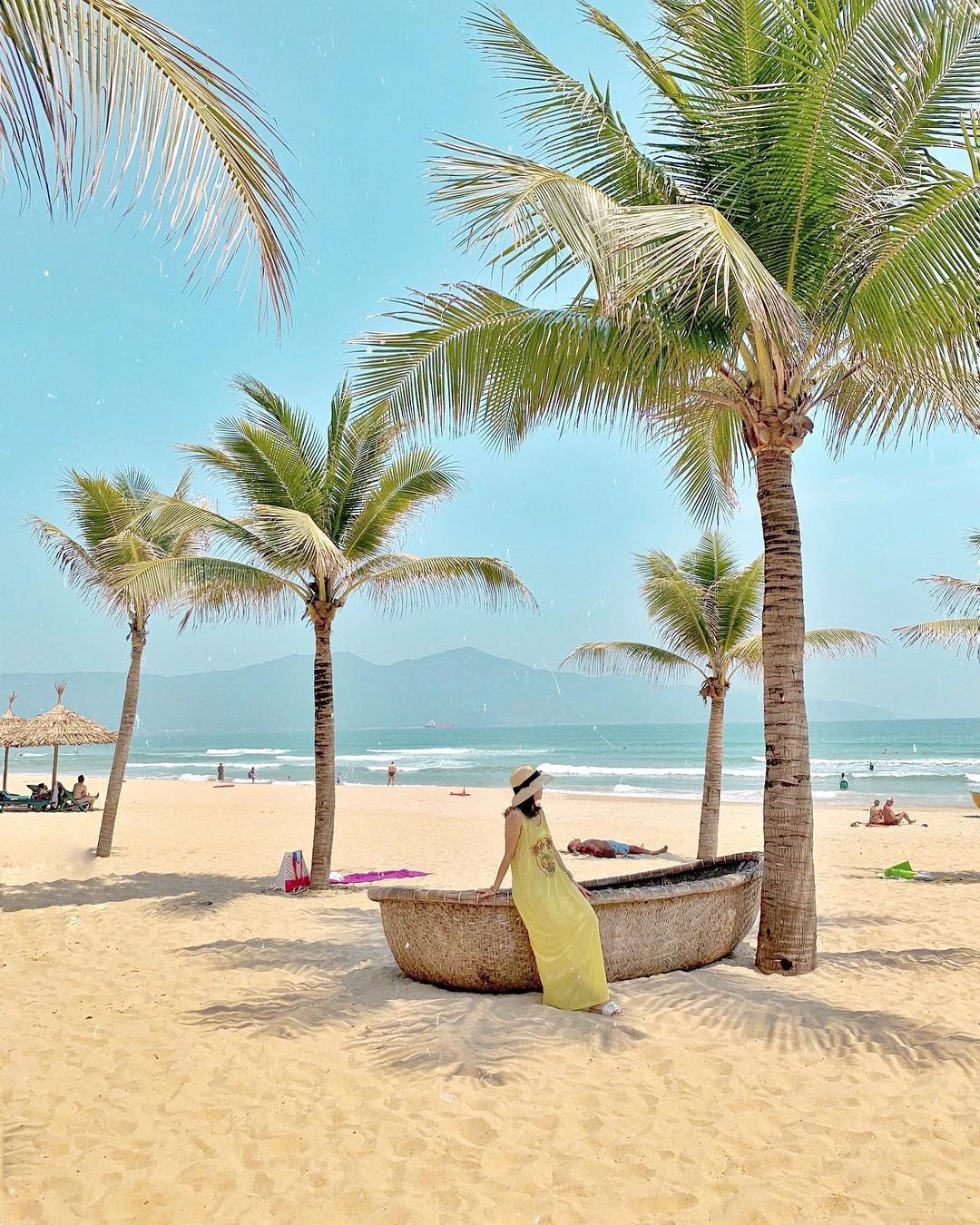 A lot of corners for tourists to take photos with the beach behind. Photo: Zing News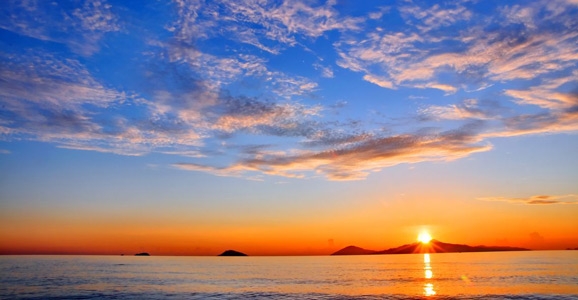 Sunset on My Khe Beach. Photo: My Khe Beach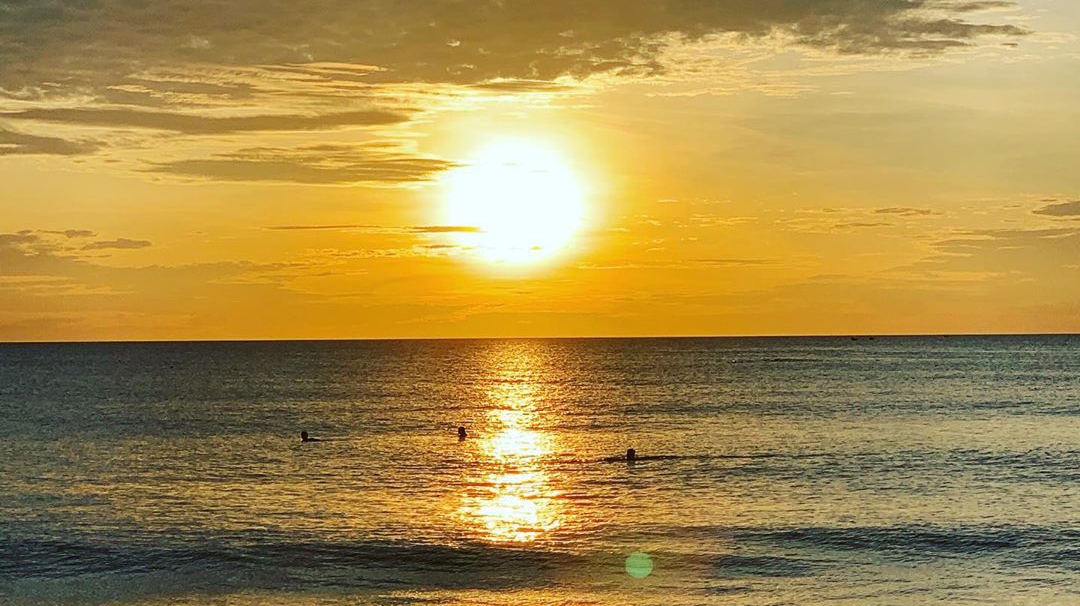 Photo: LodyHelp
My Khe beach was commended as one of 10 most popular beaches in Asia by The Sunday Herald Sun of Australia.
A visitor named David commented on TripAdvisor: "The most beautiful beach I've seen in Vietnam. The beach is very clean and water is very clear. A lot of hotels and seafood restaurants around."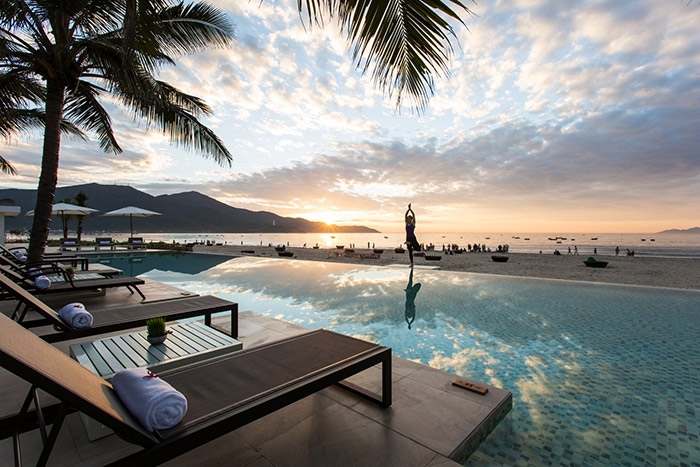 Fusion Maia Da Nang Resort on My Khe Beach. Photo: Authentik Travel
Top 10 Beaches in Asia voted by TripAdvisor's Travelers in 2021
1. Agonda beach, India
2. Cavelossim Beach, India
3. Ngapali Beach, Myanmar
4. Kelingking Beach, Bali
5. Radhanagar Beach, Havelock Island, Andaman and Nicobar Islands
6. Yonaha Maehama Beach, Japan
7. Cox's Bazar Beach, Bangladesh
8. Bentota Beach, Sri Lanka
9. Khlong Muang Beach, Thailand
10. Coconut Beach, Thailand
Most attractive egg stone beaches in Vietnam

Possessing magnificent scenes with hundreds of multi-shaped and multi-colored stones, the following egg stone beaches capture the hearts of any visitors stepping on them for ...