Apartment building in Hanoi locked down after Covid-19 case detected
An apartment building in Hanoi has been placed under lockdown after an 11-year-old boy tested positive for the coronavirus SARS-CoV-2.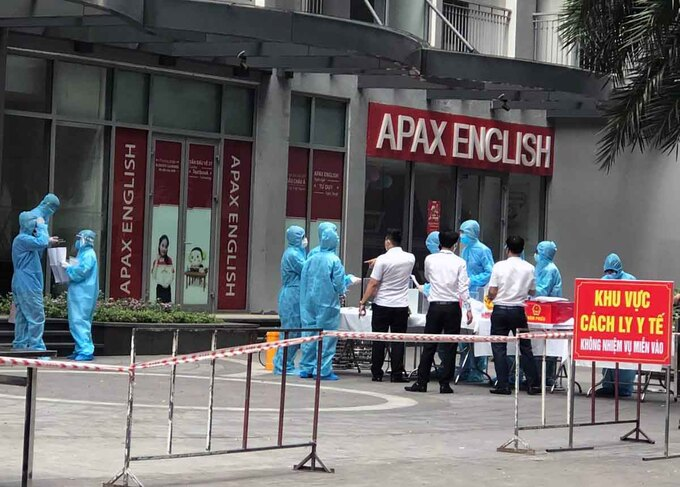 Park 11 building in Times City has been sealed off due to Covid-19. Photo: VnExpress
Residents at the Park 11 building of the Times City complex in Hoang Mai district are not allowed to go out as from 1:30 on May 23.
The patient lives on the 15th floor, Park 11 building. On May 22, he found tested positive for SARS-CoV-2 after going through service Covid-19 testing at Vinmec Hospital. His sample was then sent to Hanoi Center for Disease Control (CDC) to further testing.
The local health sector and police have rushed to contact tracing, take samples and isolate F1, F2 cases.
Earlier, the People's Committee of Mai Dong Ward also decided to lock down the Park 9 building of the complex after detecting a suspected case of Covid-19.
A three-year-old Indian boy, residing on the 33rd floor of the building, tested positive for the virus on Saturday morning, Tran Van Vinh, a senior local official, told reporters.
The Hanoi Center for Disease Control confirmed the infection after testing the boy's sample sent in from the Vinmec Hospital, where he had been examined.
"We have isolated the building to track all close contacts of the patient," Vinh said.
"All residents on the 33rd floor of the building will be sampled for testing."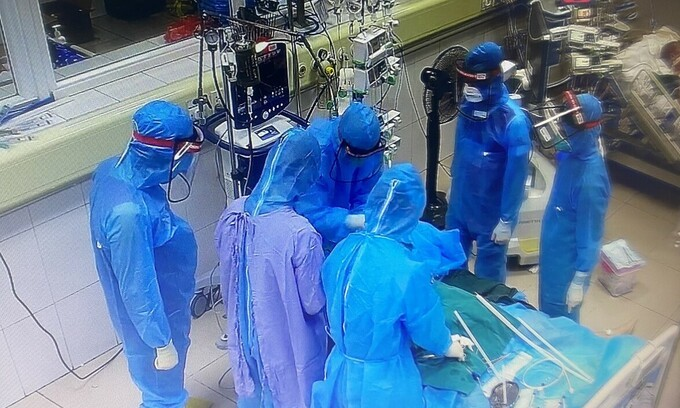 Doctors treat a Covid-19 patient at the National Hospital for Tropical Diseases in Hanoi, May 18, 2021. Photo: VnExpress
Local authorities have directed health and police forces to urgently trace and identify the boy's contacts for quarantine and testing.
The Indian boy entered Vietnam on April 24 and stayed at a centralized quarantine facility until May 15, when he was taken to the apartment building, Nhan Dan (People) newspaper reported.
Since then, the boy had not left the apartment complex until his infection was recorded on Saturday.
The Park 9 Building has 34 floors and three basements, providing 512 apartments.
On May 4, a 37-year-old Indian engineer who lives in the Park 10 Building of this urban area tested positive for COVID-19 at the same hospital.
As of the morning of May 23, Hanoi has reported 102 community transmissions. As many as 46 areas in the city have been placed under lockdown.
The number of domestically-transmitted Covid-19 cases in Vietnam has risen to 3,790 cases, with 56 patients confirmed in the past 12 hours to 6 a.m. on May 24, according to the Ministry of Health.
Of the new cases, 33 were recorded in Bac Giang province, eight in Hanoi, seven in Bac Ninh, five in Lang Son, two in Dien Bien and one in Hai Duong.
Meanwhile, Yen Bai, Quang Ngai, Dong Nai, Nghe An, Quang Ninh, and Quang Nam provinces went through 14 straight days without any new infections.
The country has recorded 1,485 imported cases so far.
As many as 2,220 domestic cases have been logged since the nation was hit by the fourth Covid-19 wave on April 27.
According to a report from the ministry's Medical Examination Administration, the country has seen 2,721 recoveries and 42 deaths related to the disease.
Among active patients undergoing treatment, 56 tested negative to coronavirus SARS-CoV-2 once, 31 twice, and 31 three times.
A total of 173,440 people who came in close contact with Covid-19 patients or arrived from pandemic-hit areas are being quarantined nationwide, including 4,356 in hospitals, 36,126 in other quarantine sites, and 132,958 at their places of residence.
Since the pandemic has become more complicated, people are advised to strictly follow the Ministry of Health's 5K message: khau trang (facemask), khu khuan (disinfection), khoang cach (distance), khong tu tap (no gathering), and khai bao y te (health declaration).