Canadian FM congratulates Vietnam on successful COVID-19 containment
Canadian Foreign Minister Francois-Philippe Champagne congratulated Vietnam on successful containment of COVID-19 outbreaks, during his phone conversation with Deputy Prime Minister, Foreign Minister Pham Bình Minh on May 14.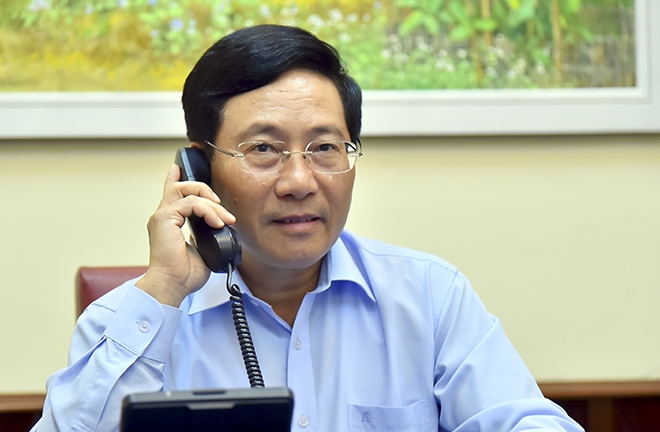 Deputy Prime Minister and Foreign Minister Pham Binh Minh holds phone talks with Canadian Foreign Minister Francois-Philippe Champagne on May 14, 2020. Photo: VGP
Champagne expressed thanks to Vietnam for having assisted his country in repatriating Canadian citizens from China in January this year.
Canada expected to continue information sharing with Vietnam to push back the COVID-19 pandemic through bilateral and multilateral cooperation mechanisms, Champagne said.
Deputy PM, FM Minh spoke highly of Canada's response to the pandemic and thanked the Canadian Government for having coordinated and assisted the Vietnamese Government in organizing two flights to bring home more than 550 Vietnamese citizens from Canada.
Vietnam is pursuing dual goal of curbing the COVID-19 outbreaks and restarting the economy, said Minh, adding that the Southeast Asian country stands ready to work with countries, including Canada to reboot global trade and supply chain.
The pair highly valued the fine developments of the bilateral ties across fields, especially since the nations established the comprehensive partnership in 2017 and began implementation of the Comprehensive and Progressive Agreement for Trans-Pacific Partnership (CPTPP).
Both sides also agreed to step up exchanges of delegations at all levels, maintain the existing cooperative mechanisms between the two foreign ministries and coordinate closely at regional and international forums as Vietnam is the current ASEAN Chair and non-permanent member of the United Nations Security Council.
has successfully kept its tally of COVID-19 cases to just 288 whilst reporting no deaths.
Vietnam has successfully kept its tally of COVID-19 cases to just 288 whilst reporting no deaths.
No expense has been spared in an effort to save the life of the 43-year-old man, identified only as "Patient 91", an individual who first contracted the virus at a bar in the southern business hub of Ho Chi Minh City in mid-March.
As of the morning of May 14, 260 people out of a total of 288 COVID-19 cases have gone on to make a full recovery from the virus nationwide, equivalent to 90%, with no deaths caused as a result of the virus.