Coast Guard Ramps up Communications Work to Combat IUU Fishing
Vietnam's localities fights IUU fishing with strong determination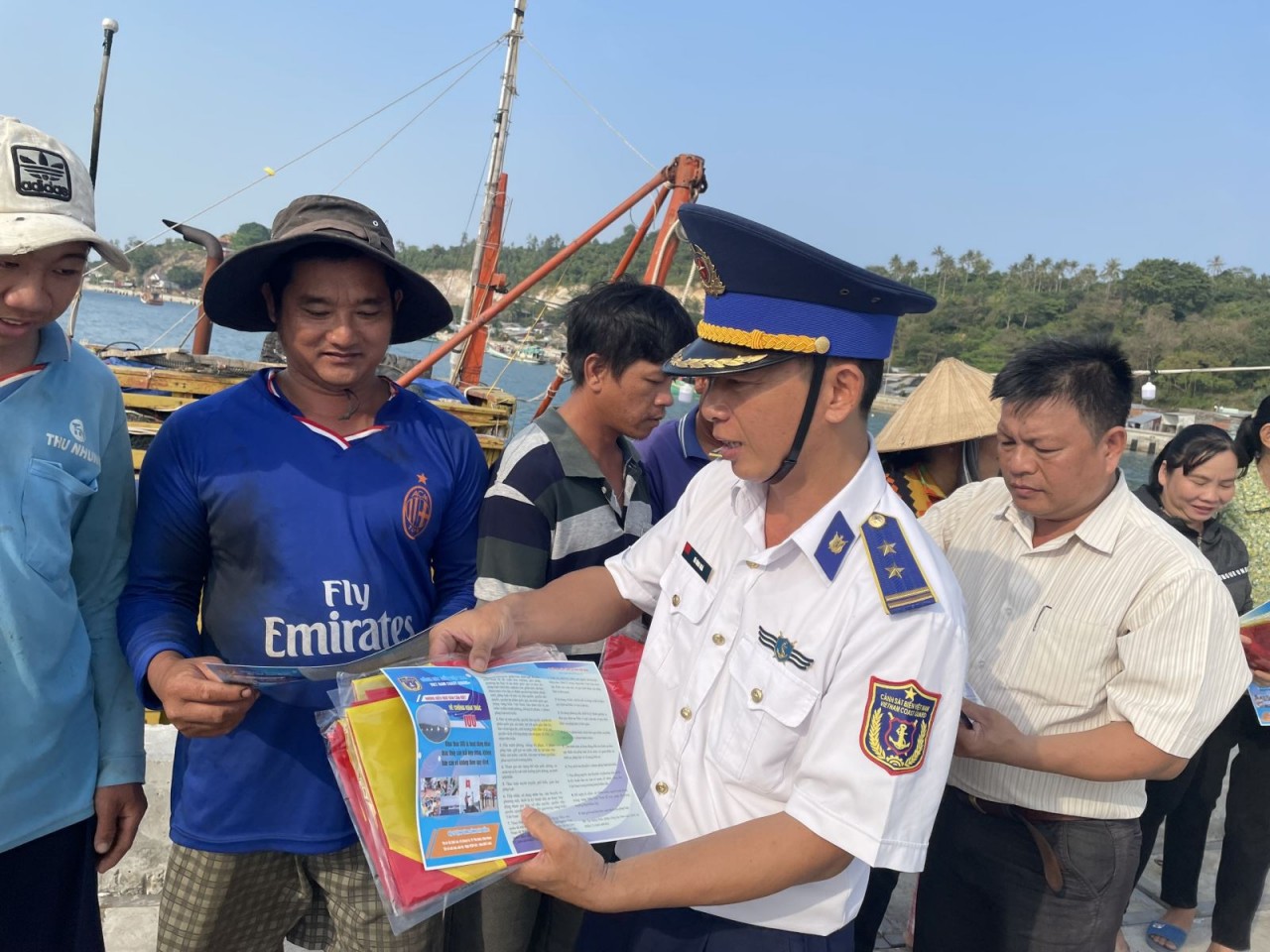 Officers of Coast Guard Region 4 distributes leaflets directly to fishermen at the fishing port. Photo: VNA
Phu Quoc island city, along with other coastal localities in the southern province of Kien Giang, has been concertedly rolling out solutions and exerting great efforts to fight illegal, unreported and unregulated (IUU) fishing, VNA reported.
Vice Chairman of the municipal People's Committee Doan Van Tien said between now and May, Phu Quoc will continue the communications work to raise public awareness, especially among the boat owners, captains and fishermen, of the Fisheries Law 2017 and relevant issues.
The city is resolved to complete the registration and licensing of fishing vessels with a length from 6m to below 12m within the first quarter of this year, establish inspection teams, and deregister 1,146 fishing boats that are no longer operational.
It will coordinate with competent forces and agencies to enhance the inspections, supervisions and handling of wrongdoings by vessels at fishing grounds, Tien said, noting that all of the boat owners and captains should be committed to not violating foreign waters and fishing regulations.
On October 23, 2017, the European Commission (EC) issued a "yellow card" warning to Vietnam, after the country failed to demonstrate sufficient progress in the fight against IUU fishing.
The commission is scheduled to conduct an inspection over IUU fishing in Vietnam in June 2023.
Notably, since the beginning of this year, groups of the city's steering committee on IUU fishing combat and its assistance forces have been set up via Zalo communication app, enabling them to stay updated and exchange information.
Inspections have been tightened over the installation and operation of the vessel monitoring system (VMS) on fishing vessels measuring from 15m in length. At the same time, all of the seafood handled at local seaports has been undergone product traceability.
Tien said such efforts have led to the absence of cases of illegal fishing in foreign waters by fishing boats registered in the city so far this year.
The central province of Quang Ngai is striving to fight IUU fishing in a bid to have the EC's "yellow card" warning against Vietnam's seafood exports lifted.
During the 180-day peak fishing period, the Quang Ngai border guard set up a taskforce to directly supervise the process of controlling, registering, and verifying people and fishing vessels entering and leaving 10 border checkpoints. Border guard posts have strengthened patrols at sea, to prevent and combat IUU fishing.
Quang Ngai province has more than 3,200 fishing vessels with a length of 15 meters or more. It has completed updating data on all fishing vessels into the national fisheries database. More than 77% of vessels have received fishing licenses, and over 98% have installed cruise equipment.
Quang Ngai considers the fight against IUU fishing as a key task for the entire political system, from the provincial to the grassroots level. It is determined to join efforts to end fishing violations and ensure compliance with international regulations.
Meanwhile, the southern province of Ba Ria-Vung Tau will set up three inter-sectoral checkpoints at sea to supervise the operation of fishing vessels in an effort to fight IUU fishing.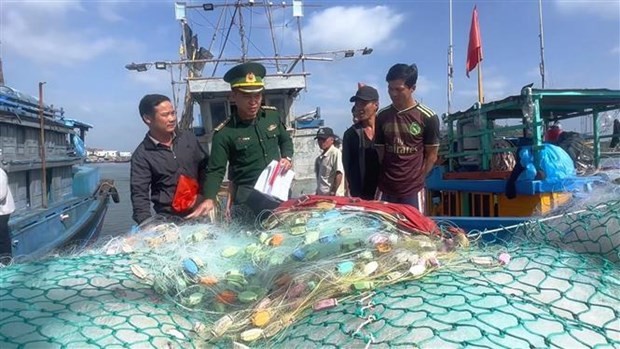 Illustrative image: VNA
Under a decision recently issued by the provincial People's Committee, the checkpoints, to be located at Sao Mai, Loc An and Binh Chau estuaries, will be allowed to stop all fishing boats traversing the estuaries for paper and equipment examinations.
The committee has also assigned the provincial Department of Agriculture and Rural Development to coordinate with competent forces to put forth specific plans on the operation of the checkpoints.
On March 6, it adopted another decision on the issuance of an action plan on the IUU combat, under which the Department of Agriculture and Rural Development was asked to coordinate with other departments and agencies to complete the review of all fishing boats by May 2023.
The registration of fishing boats, fishing licence granting and the installation of VMS should have been done by that time, according to the document.
The decision also requested the update of the national fisheries database, as well as inspections and supervisions over fishing boats at border stations and seaports, and those operating at sea.
The Department of Agriculture and Rural Development said up to 2,631 fishing boats with a length of over 15m, or 95% of the total number, have been equipped with the VMS.
The People's Committee of the central province of Quang Tri also has just issued an action plan to wipe out IUU fishing.
The province has implemented an information and communication campaign to ensure transparency in IUU fishing combat efforts. It has provided diverse forms of popularisation and training for fishermen and related organisations on anti-IUU regulations.
Thanks to its efforts, Quang Tri has seen no fishing boats and fishermen violating foreign waters.