Covid-19 in Vietnan: Creative way to relieve ear ache from extensive facemask wearing
Acknowledging such challenges that Vietnamese medics are facing, a volunteer "Knitting team" has been found manually crocheting "ear guards" or "fake ears" made by wool to present the frontline doctors and medical staff in Danang city.
"The COVID-19 situation is still quite complicated. With extensive facemask wear, most of the medical staff are suffering friction lesions, which can make wearing the face cloths more challenging, PLO reported.
Our team in Danang decide to crochet "ear guards" to donate the frontline units, clinics, and quarantined patients. We are calling for the attendance of other people nationwide to join in the volunteer work to meet the demands for quantities.
"The woolen items which are 15cm in length are made of local cotton or textile yarn," said Mrs. Phuong Tran, one of the volunteer. The project has drawn attention and received warm responses from people across the country.
Encouraging friends and relatives
As one of those members, Kieu Phuong (Lam Dong province) said that she and her friends did as many as 1,000 "ear guards" within 3 days sending to Da Nang.
"We hope that the doctors, soldiers, volunteers, and patients who are fighting against the Covid-19 pandemic would gain the strong will to overcome the difficulties as all Vietnamese people are devoting attention toward Da Nang and willing to support the city. And after all, we can defeat this disease a second time," Phuong expressed.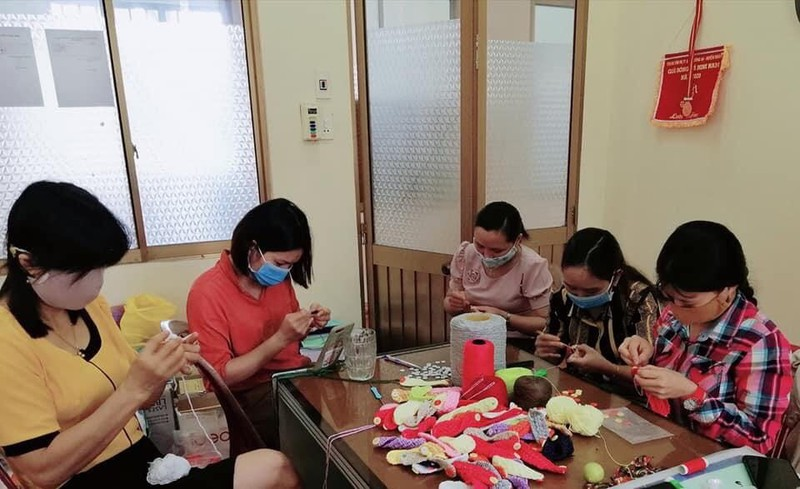 The "Knitting team".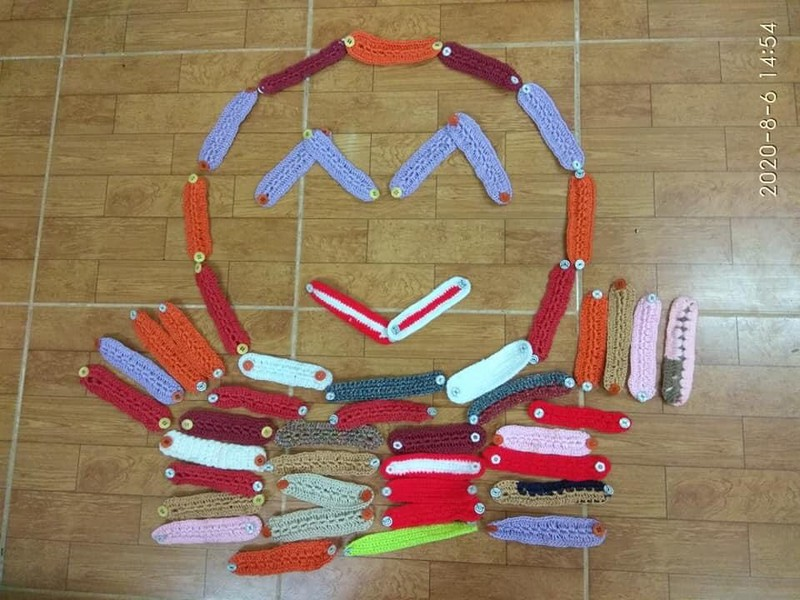 The "ear guards" made of wool. Photo: PLO
"I intended to send my products to Da Nang, but there was a positive case in my home country, Bac Giang, so I decided to address there. The team members also help me enthusiastically, they even buy me the buttons," Hien shared.
Despite the outbreak, we can still feel the warmth of humankind, sharing and supports. When the center of the pandemic is on need, the "Knitting team" would send out assistance immediately. Each member has one responsibility to contribute to a "winning Vietnam."
"Ear guards" made by wool, no more ear-ache
The team was established based on the passion for handmade knitting and crocheting. By the time of COVID-19, the members have turned their interest into valuable gifts, which are soft and comfortable, towards the community.
A child joined crocheting the "ear guards". Photo: PLO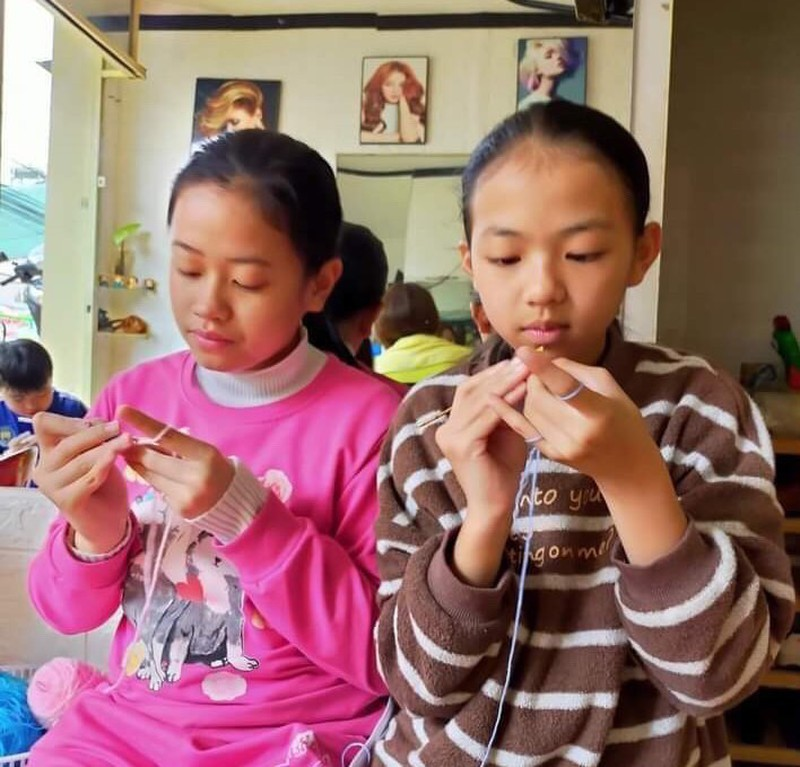 Little members. Photo: PLO
Mrs. Kieu Phuong said that wool "ear guards" would be softer than those made of fabric, then relieving ear ache more effectively.
By contrast, with a desire to produce high-quality tools for facial masks, Mrs. Hien Pham chose textile yarn for fashionable, smoother, and reusable purposes, which is also favor of Mrs. Phuong Vu. The function has no difference with those made of wool.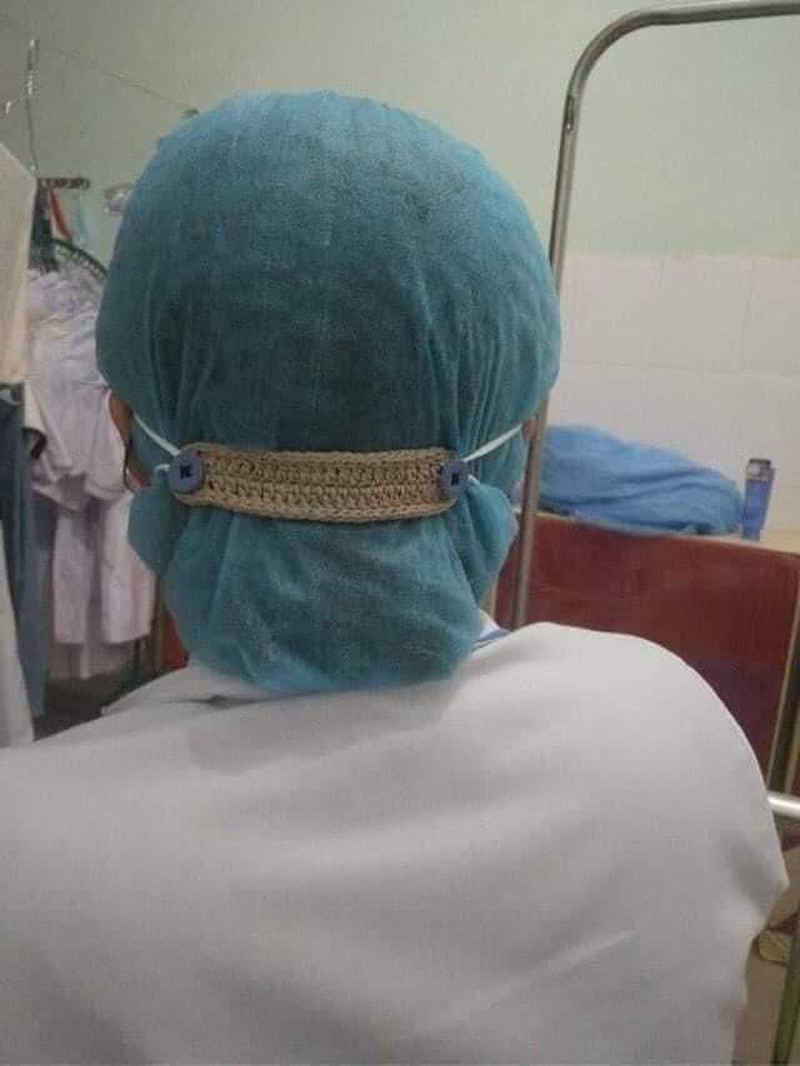 A medical staff using "ear guard." Photo: PLO
The "ear guards" are considered as a gift and a thank of Vietnamese citizens to doctors, nurses and other medical staff who are fighting against the COVID-19 for a "winning Vietnam."