Deputy Health Minister: 'Vietnam is controlling the pandemic well'
Vietnam has a good handle on the pandemic, with the sources of transmission identified, according to Deputy Health Minister Do Xuan Tuyen
Vietnam's Deputy Health Minister Do Xuan Tuyen has said that the country is handling the pandemic well. Tuyen made the statement at a meeting of the Government's Standing Committee on Covid-19 Prevention and Control on the afternoon of May 10.
"The new infections reported during the past few days are all F1 cases, which have been put under quarantine and had samples taken for Covid-19 testing, so, the risk of contagion in the community is low. Although localities have quickly contact traced F1 cases, their testing capacity is still limited, leading to the slow announcement of testing results," Tuyen said, explaining spike of Covid-19 cases in recent days.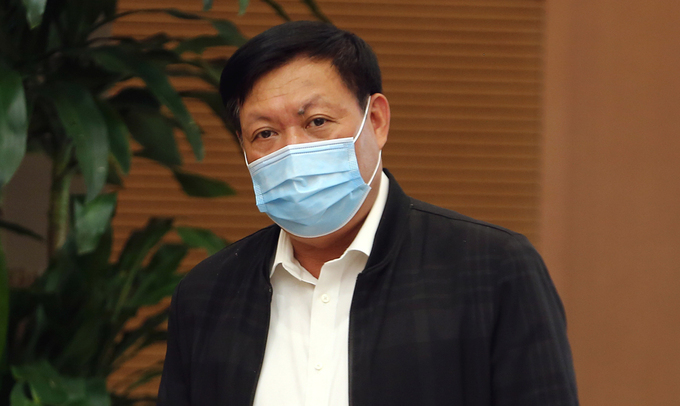 Deputy Health Minister Do Xuan Tuyen at the meeting. Photo: VGP
Affirming that the current outbreaks are basically under control, Tuyen called for the continuance of the anti-pandemic principles of "preventing, detecting, quarantining, zoning, controlling and treating." He added that it was needed to "rapidly detect and localize to restrict the spread of disease to the community."
The Health Ministry has required localities to enhance their testing capacity including contact tracing, sample taking, as well as ensuring equipment, biological products and human resources, and localizing to the narrowest possible scale to avoid affecting socio-economic development. "It's also essential to strengthen to screen in high-risk areas to soon discover F0," he said.
The deputy health minister cited experts saying that there were four sources of transmission. The first is from Da Nang City, which includes a case contracting the virus in a centralized quarantine facility and spreading to the community in Ha Nam, with cases contracting the virus in bar and beauty salon and spreading to the provinces. Localities have contact traced all F1 cases, so, "this source of infection has been basically controlled."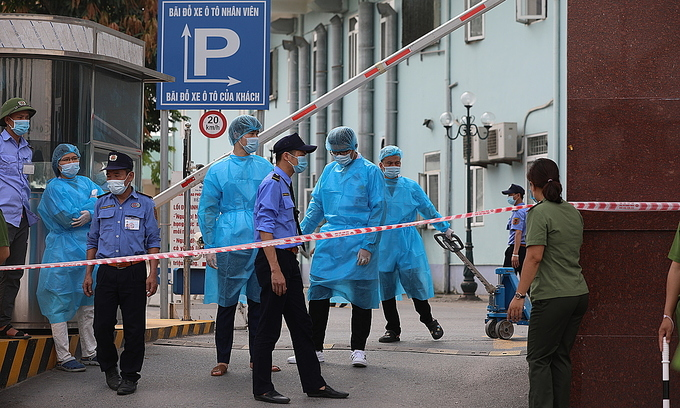 The K Hospital in Hanoi, now one a Covid-19 clusters, is put under lockdown on May 7, 2021. Photo by VnExpress/Ngoc Thanh
The second source is cross-infection from Indian and Chinese experts in a centralized quarantine facility in Yen Bai Province, which then spread the to Vinh Phuc and several other provinces. "Localities have also contact traced all F1 and F2 cases."
The third source stems from an illegal immigrant in Hai Duong Province and the fourth from the National Hospital for Tropical Diseases in Dong Anh District, Hanoi and K Hospital.
"This Covid-19 wave is due to negligence," Deputy Prime Minister Truong Hoa Binh said, requesting the ramping up of controls in border areas.
Prime Minister Pham Minh Chinh emphasized "if we are subjective and lose our guard, we will bear adverse consequences." He also requested tightening of activities of a group of five including the ministries of defense, foreign affairs, public security, health and transport.
Vietnam confirmed 28 new Covid-19 infections, all in locked down areas in the north, over the 12 hours to 6 a.m. on May 11, taking the national tally to 3,489, according to the Ministry of Health.
The new patients comprise one in Hanoi's Kim Chung facility of the National Hospital for Tropical Diseases, 13 in Bac Ninh, seven in Vinh Phuc, five in Bac Giang, one in Lang Son and one in Hai Duong.
So far, the country has counted 1,433 imported cases and 2,056 domestic infections – 486 of which have been found since the fourth coronavirus wave hit the country on April 27. A total of 211,016 samples have also been collected for Covid-19 testing since then, the ministry said.
As many as 67,877 people who have come into close contact with Covid-19 patients or entered Vietnam from pandemic-hit areas are presently under quarantine or self-quarantine nationwide.
The accumulative number of recovered cases remained at 2,618. Among active patients, 25 have tested negative for the coronavirus once, 17 twice and 25 three times.
The ministry further added that 25,057 people were vaccinated against the virus on May 10, raising the number of vaccine doses administered in Vietnam to 892,454. Most of the vaccinated are health and frontline workers.