Deputy PM: Avoid pandemic in Bac Giang, Bac Ninh speading to safe places
Deputy Prime Minister Vu Duc Dam requested absolutely preventing pandemic sources in social distancing, isolation, and blockade areas reaching surrounding safe places.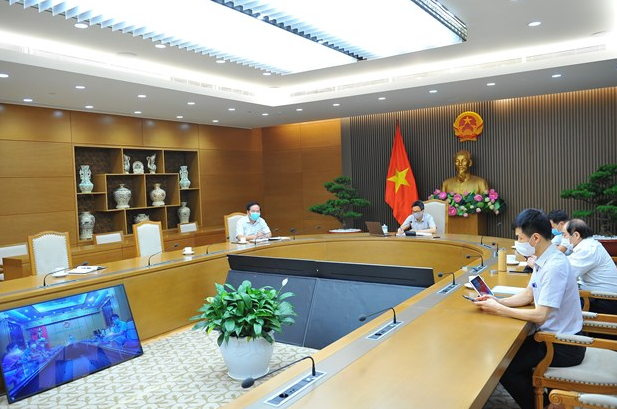 At the meeting. (Photo: VNA)
At an online meeting with leaders of Bac Ninh and Bac Giang provinces on local pandemic prevention and control on the afternoon of May 30, Deputy Prime Minister Vu Duc Dam said that because there were blockage areas in the localities, authorities must ensure the rest of the localities to be safe from the pandemic.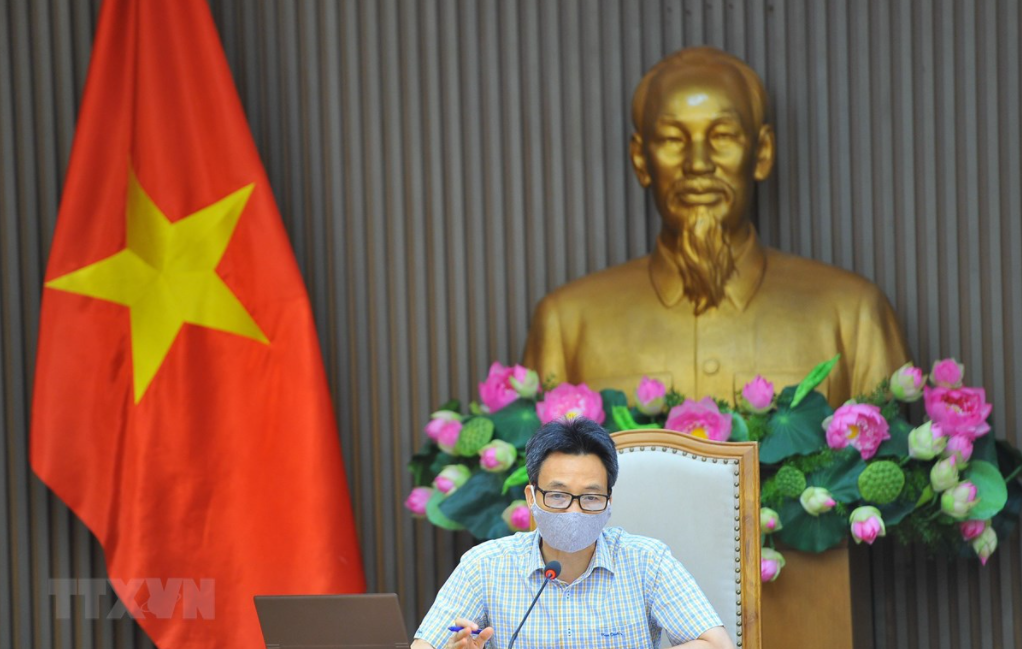 Deputy Prime Minister Vu Duc Dam. (Photo: VNA)
Actively screen workers before entering the factories
Chairman of Bac Ninh People's Committee Nguyen Thi Huong Giang said that the pandemic situation in industrial parks and industrial clusters was basically under control. The province has 1,120 enterprises located in 10 concentrated industrial parks and 26 industrial clusters with about 450,000 workers. Notably, since the pandemic broke out recently, more than 400 businesses had to suspend production, about 65,000 workers were forced to leave work.
To better prevent the pandemic, enterprises ask competent units to support in screening and testing workers before allowing them to get into factories. In addition, Bac Ninh continues to speed up monitoring those who have received the first vaccine injection. The province is testing and sampling randomly in the community.
The leader of the Bac Ninh Department of Health said that front-line forces were entering a more stressful period, both in fighting the pandemic and deploying a vaccination campaign for workers at the request of the Ministry of Health. Due to the hot weather, mass tracing and sampling become even more challenging for health workers. Therefore, the department proposes to schedule appropriate sampling time to ensure front-line forces' health and productivity.
Regarding pandemic prevention and control in Bac Giang, the province People's Committee leader said that complying with Deputy Prime Minister Vu Duc Dam's direction on testing and screening at "hot spots" such as bus stations and markets, Bac Giang had collected 45,500 samples. To date, 36,750 samples have negative results. The number of new cases per day in Bac Giang is still increasing, mainly in concentrated isolation areas.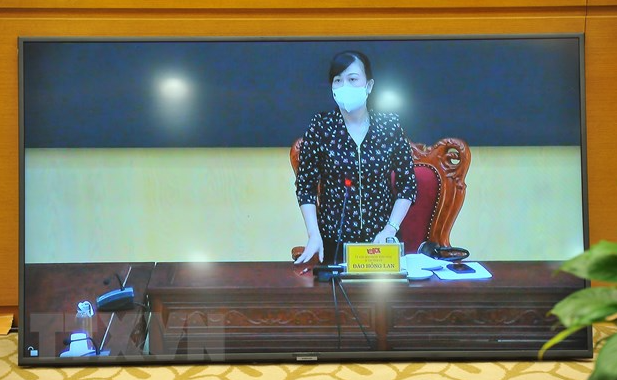 Secretary of the Bac Ninh Party Committee Dao Hong Lan. (Photo: VNA)
Prevent pandemic spreading to safe areas
At the meeting, Deputy Prime Minister Vu Duc Dam said that pandemic sources must not be allowed to get out of the blockade areas. Isolation, blockade, and social distancing areas must continue to reduce the density of workers residing in "hot spots". High caution should also be paid in the process to drive suspected people into concentrated isolation.
At the same time, Bac Giang and Bac Giang provinces are asked to continue to promote testing, screening, and large-scale screening in industrial zones.
Dam also said that local authorities should not only pay attention to pandemic prevention but also need to restore industrial zones' activities. "Businesses must ensure safety to resume operations. Those who cannot ensure safety will not be allowed to operate again," the deputy prime minister said.