Descendant of endangered Hoan Kiem turtle found in suburban Hanoi
Genetic test reveals the newly-discovered softshell turtle in suburban Hanoi belongs to the rare species in Hoan Kiem Lake that had gone distinct in Vietnam four years ago.
Rafetus swinhoei is a very rare species in the world (Photo: VTV)
The species Rafetus swinhoei, locally known as Hoan Kiem turtle, holds significant spiritual meaning to many Vietnamese people. The last species of its kind in Vietnam, however, had died in January 2016 after hundreds of years living in Hoan Kiem Lake – the iconic symbol of Hanoi. To date, there's only one Rafetus swinhoei individual in China.
The discovery of the two Rafetus swinhoei individuals in Dong Mo and Xuan Khanh lake is a flicker of hope in breeding the rare, on-the-brink-of-extinction species.
According to VTV, the newly discovered female softshell turtle in Dong Mo lake weighs 87 kg and measures almost 100 cm in length. DNA Test and analysis results conducted by the Vietnam Academy of Science and Technology and Vietnam National University Hanoi proves her DNA belongs to the species Rafetus swinhoei.
Scientists have embedded a tracking chip onto the rare female turtle before releasing it back to the habitat in Dong Mo Lake.
The Dong Mo Lake turtle was first discovered by Asian Turtle Program conservationists in 2007. In 2008 during the historic floods in Hanoi, it got out of the lake and was caught by local residents.
Thanks to authorities and conservationists, it was returned to the lake and is monitored to this day.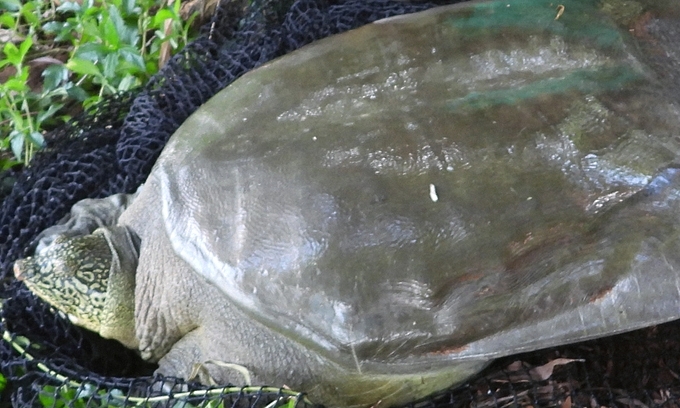 The rare Rafetus swinhoei, or Hoan Kiem (Sword Lake) turtle, spotted at Dong Mo Lake in Hanoi (Photo courtesy of the Asian Turtle Program)
The Asian Turtle Program of Indo-Myanmar Conservation said there are at least two turtles in Dong Mo Lake after a photo taken last Friday showed another soft-shell turtle estimated to weigh 130-150 kg in the same lake, VNE reported.
Scientists plan to take its sample for testing in 2021. If it proves to be a male, authorities will create a sandy area around the lake so that the pair can reproduce naturally.
Another turtle was found in Xuan Khanh Lake in Hanoi, and its samples too will be tested in 2021.
Conservation units have called for expanding the search for soft-shell turtles to other large lakes such as Suoi Hai, Dong Quan, and others.
A city conservation plan for the Hoan Kiem turtle in 2021-25 will identify a suitable environment for breeding the reptiles, and there will be programs for their conservation and reproduction.
Fisheries expert Bui Quang Te said it is necessary to expand the search area since he strongly believes there are more turtles living in Dong Mo.
Son Tay Town and Ba Vi District, where Dong Mo and Xuan Khanh lakes are situated, have promised to carry out propaganda and coordination activities to protect the turtles.
The Swinhoe's softshell turtle (Rafetus swinhoei), also called the Red River giant softshell turtle, Shanghai softshell turtle or Yangtze giant softshell turtle, was once known from the Red River in China and Vietnam and from China's lower Yangtze River floodplain, according to the Turtle Conservation Coalition that recently released a report on the world's 50 most threatened turtles. The loss of wetland habitats from river damming and infrastructure development, as well poaching for meat and eggs and capture for the pet trade, has reduced the species' population to just the four known specimens now.