Developing Community-based Tourism in Lang Teng
The H're in Lang Teng hamlet takes great pride in their cultural values. Their traditional brocade weaving is recognized as a national intangible cultural heritage. Locals have now become familiar with community-based tourism using age-old customs.
Pham Thi Y Hoa, 24, spoke of the changes occurring at hamlet Lang Teng, close to the Lieng river and National Road 24 connecting Quang Ngai province to the central highlands. Y Hoa said girls from Lang Teng were known for their beauty and talent. Well-versed in brocade embroidery, they are also now adept at community-based tourism.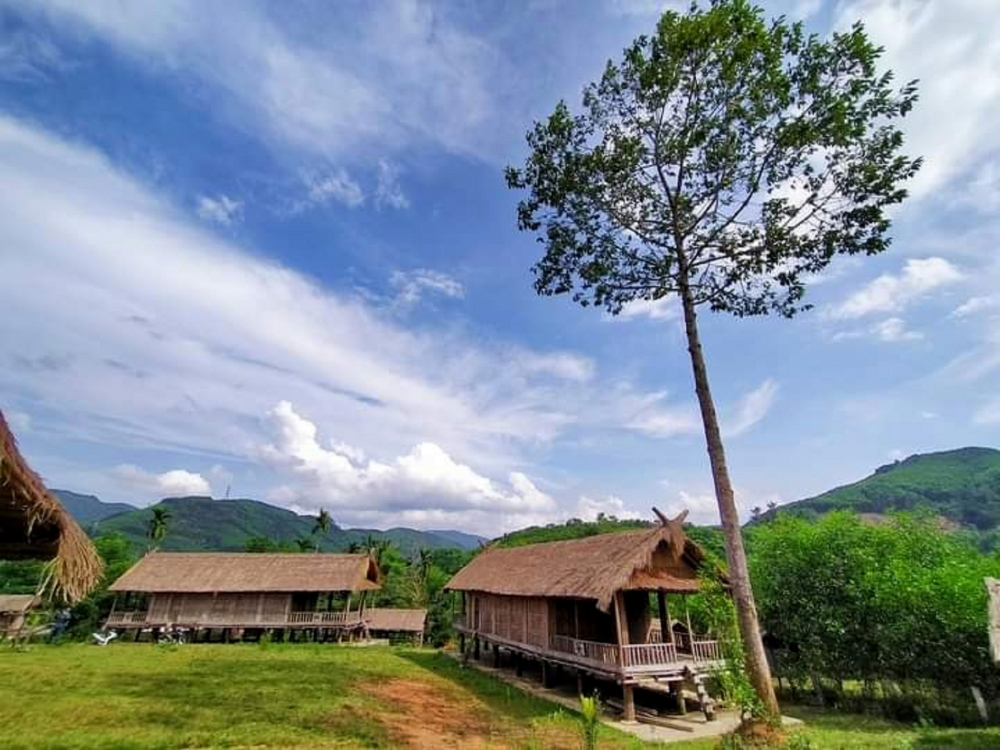 Lang Teng hamlet today. Photo: Vietnam Times
Lang Teng is the only hamlet of the H're ethnic minority group in Quang Ngai province that knows how to weave traditional H're brocade, supplying clothes for most of the ethnic minorities in the area. The culture of the village is forged on the sophistication and creativity passed down from generation to generation among the H're.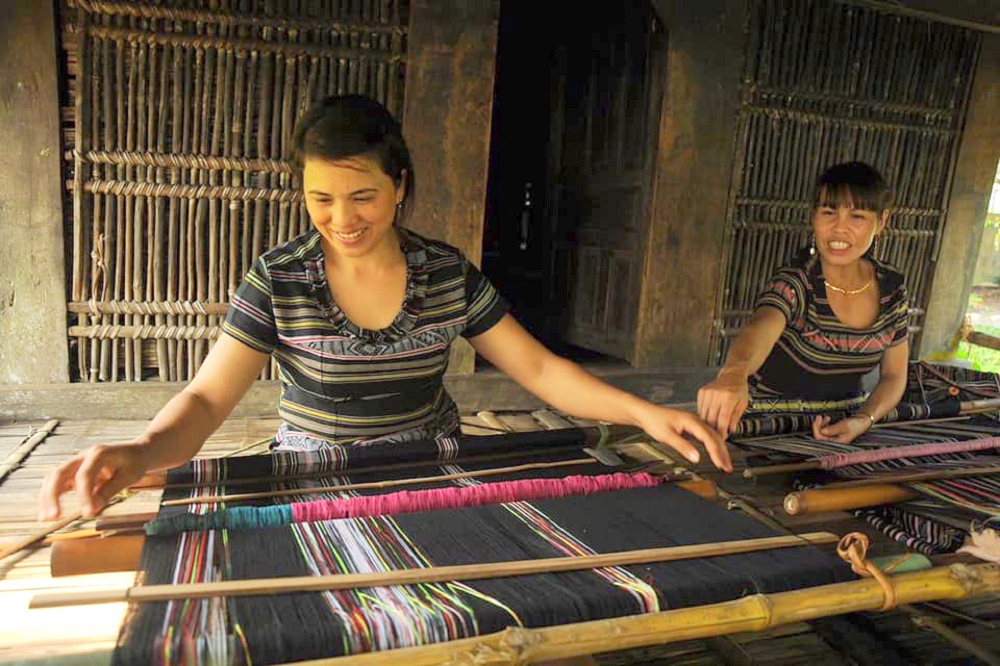 Lang Teng's brocade weaving is recognized as a national intangible cultural heritage. Photo: Vietnam Times
Y Hoa said making traditional clothes was the only traditional practice of the H're kept intact. It is the last linkage connecting the past with the present.
About two years ago, locals in Lang Teng started enaginging in community-based tourism. Since the project "Preserve and promote the cultural values of Teng village" was implemented, people in the hamlet have worked on designing a community-based tourism model based on the hamlet's cultural roots.
The project was officially carried out on an area of 1.48 hectares in Ba Thanh commune of Ba To rural district in Quang Ngai when traditional brocade weaving of the H're in the Teng village was recognized as a national intangible cultural heritage.
The project's total funding is valued at over VND 10.5 billion, drawing from the National Targeted Programs for New Rural Development and Sustainable Poverty Reduction Support Program and Quang Ngai's matching fund.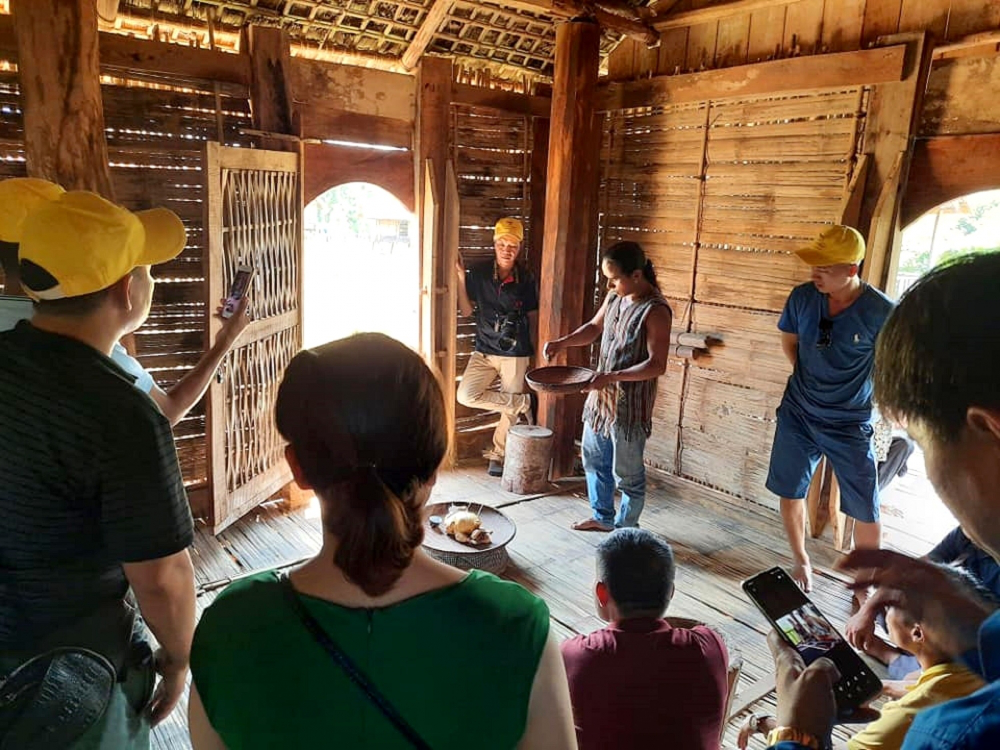 People in Lang Teng do community-based tourism while preserving their cultural values. Photo: Vietnam Times
When the site began to take shape, the project's management board had to consult the elders in Lang Teng to move animal stables and rice huts to a more appropriate location.
Teng village elder Pham Van Neo played a major role in making the Lang Teng cultural preservation and promotion site complete while still reflective of H're culture. Neo said the rice hut needed to be moved away from the housing area to avoid fire hazards. He also requested that the architecture of the traditional houses and the items inside be built and arranged according to old H're traditions.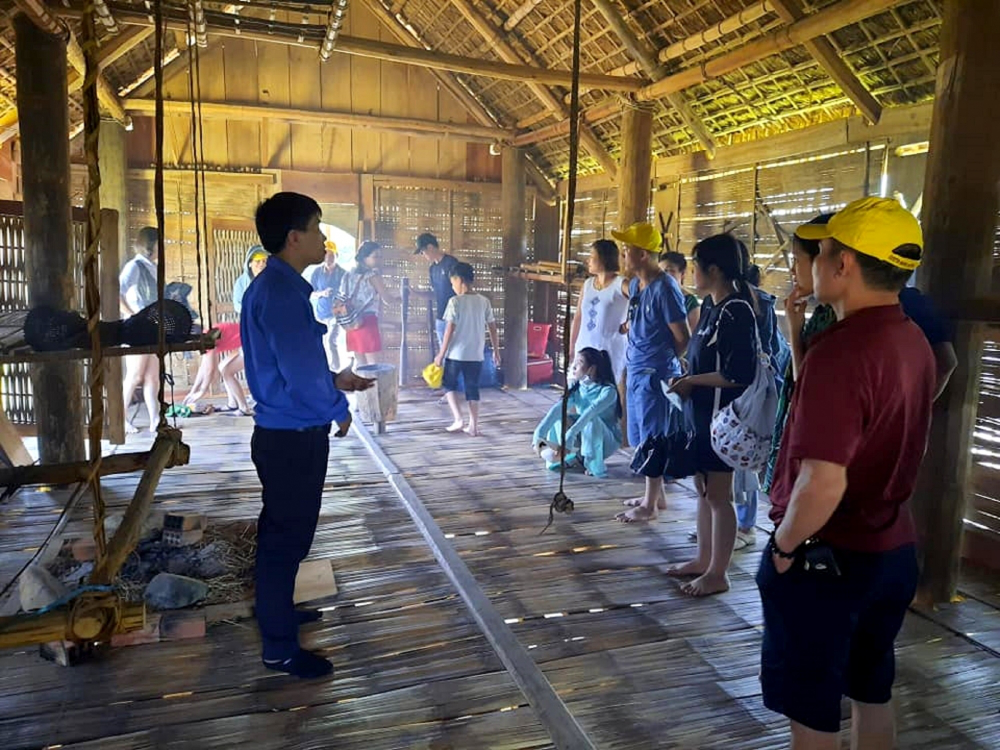 Community-based tourism activities are regularly held in Lang Teng. Photo: Vietnam Times
Life has changed in the Lang Teng hamlet. Traditional houses on stilts are gradually being replaced by modern brick houses. Many girls in the hamlet have pursued higher education and came back to work at the locality, contributing to preserving the H're traditional culture.
Coming to visit Ba To district's landscapes and historical sites such as the Ba To Revolution Historical Relic, where the first armed insurrection under the leadership of the Communist Party before August 1945 broke out, visitors from Quang Ngai and other provinces are amazed by the traditional dances performed by young women.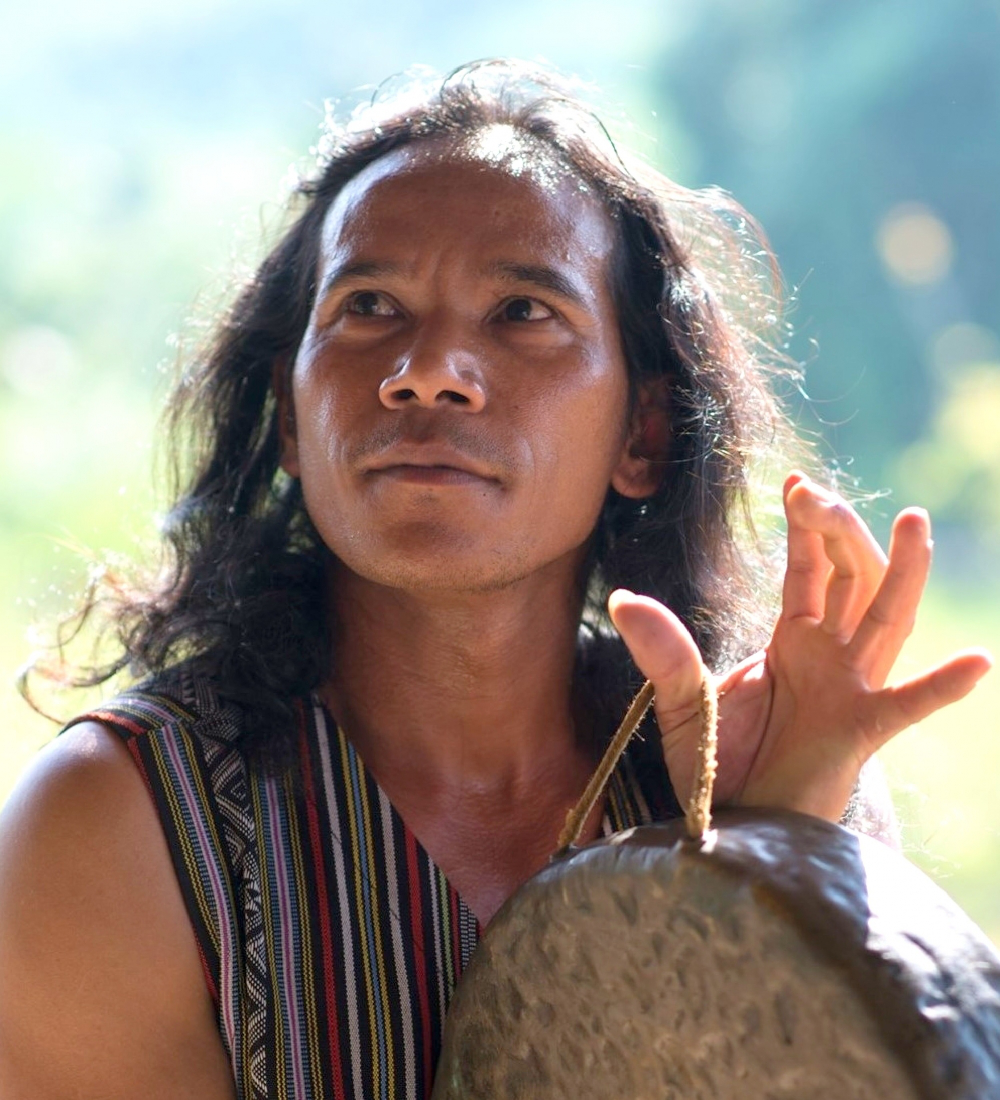 Head of the youth tourism group in Lang Teng. Photo: Vietnam Times
Lang Teng hamlet is now a tourism spot. Traditional pieces of brocade made in the village cost VND 800,000 per piece. When turned into a complete outfit, they may cost VND 950,000. In Teng, tourists not only traditional clothes but also items reflecting cultural life such as crossbows, gongs, bamboo back baskets or ornaments like bronze necklaces.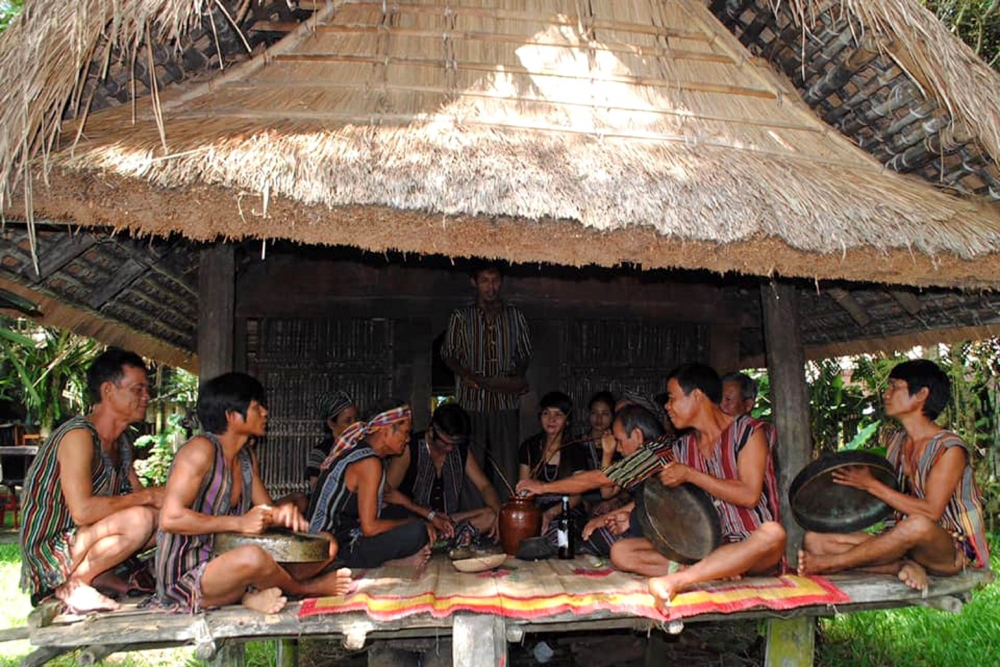 Community activities in Lang Teng aim to preserve tangible and intangible heritage. Photo: Vietnam Times
Within the hamlet's cultural preservation and promotion site located on an area of almost 1.5 hectares, tourists can visit three H're traditional houses built on stilts, where locals illustrate traditional brocade weaving techniques and hold cultural events.
At the site, young people from the Teng village also realize their community-based tourism model, titled "Youth tourism," by incorporating many programs designed to promote H're culture to tourists.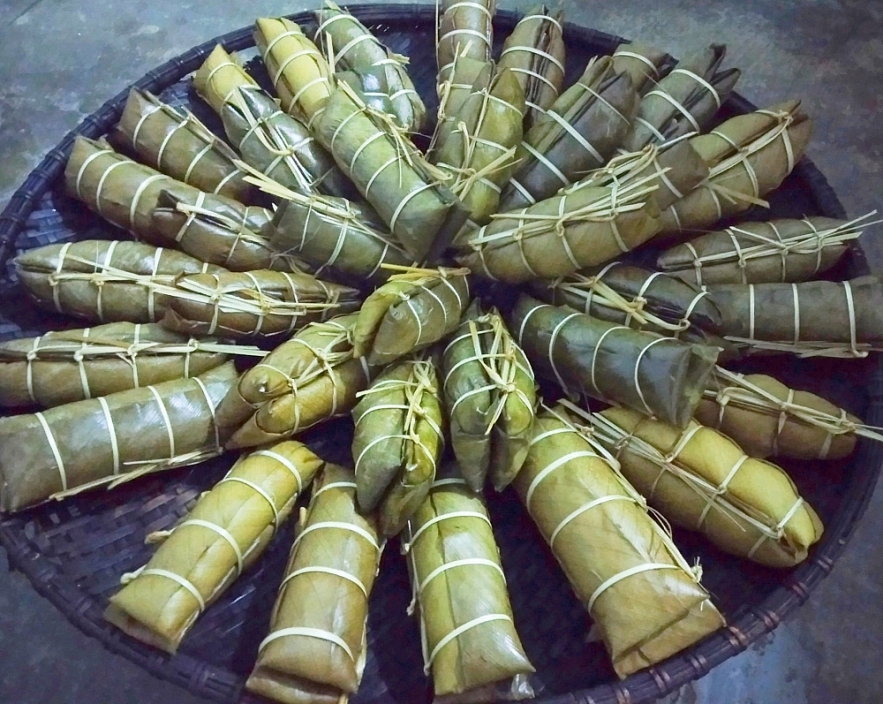 Traditional food in Lang Teng. Photo: Vietnam Times
Today, locals in Lang Teng have gradually restored many traditional customs such as playing gongs, making H're traditional dishes and wine and weavin,g to preserve the hamlet's tangible and intangible cultural values.
The thriving community-based tourism and rural tourism products following the "One commune, one product" standards that highlight quality, professionalism and added values draw attention from young locals. They are a tool to improve the living incomes for people in Lang Teng hamlet and preserve the traditional cultural values of the H're in Quang Ngai.