Domestic arrivals to Vietnam's destinations increases sharply
The number of tourists visiting Ha Long Bay, Da Lat, Quy Nhon, Vung Tau, Phu Quoc…has risen during the past week after Vietnam launched a series of stimulus travel package to boost domestic tourism after Covid-19 is relaxed. 
Last weekend, there were about 6,000 arrivals travel to Co To island and 9,000 tourists visited Quang Ninh provincial museum on May 31. In May, the number of travelers to Quang Ninh reached over 346.000, of the amount, roughly 11,000 people visiting Ha Long Bay and 10,000 presented in the complex of Yen Tu monuments and landscape.
According to Quang Ninh Department of Tourism, only on May 31, the total number of tourists visiting tourist attractions in the province is approximately 68,000 which reaches the highest level in May 2020. This is an encouraging signal showing that the local tourism starts to recover.
Pham Ha, CEO of Luxury Travel – a yacht exploitation business said that travelers preferred the journeys to Cat Ba island at the weekend especially overnight stay tours and they are fully booked until August. He also added the company has begun to reoperate Emperor Cruises with potential booking signal. The majority of tourists in May coming from the North, and there have been people from Ho Chi Minh City in June.
Mr. Le Chieu Nguyen, Deputy Director of Phong Nha – Ke Bang Tourism Center in Quang Binh province told that in two days 30-31/5, a range of travelers reached over 3,000, up 4,6% against last week's.
Mr. Nguyen Van Phuc, Deputy Director of Thua Thien Hue provincial department of Tourism reported that in the last three days at the weekend, the number of visitors in the province picked to 6,000, up 1,000 people in comparison with previous week.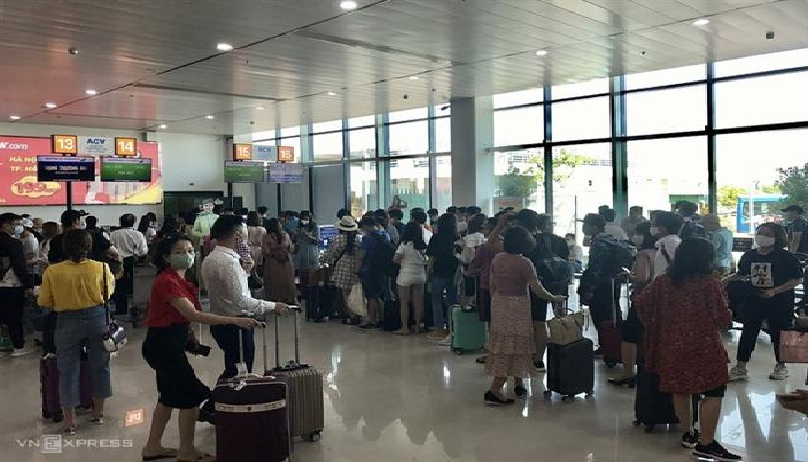 Queuing people for flight procedure in the afternoon on May 30 (Photo: Pham Huyen)
In Quy Nhon, Binh Dinh, the representative of the FLC corporation said that since the social distancing order was at ease, the number of tourists staying in resort complexes at weekends was about 1,000 people every day and even 1,300 in the peak point. During weekdays, there were even hundreds of people every day.
According to Viettravel's representative, currently, lots of customers have signed up to buy package tours to Sa Pa, Quy Nhon, Phu Quoc, the central (departing from Ho Chi Minh) and tours to Da Nang, Quang Ninh, Hai Phong, Sa Pa (departing from Hanoi).
"Every day, over 1,000 customers buy the tour. In peak day, it can reach to 2,000 people. Only in Ho Chi Minh market, every day there are 100 customers purchasing tour". Free and easy journeys to Vung Tau and Da Lat are also the best choices of visitors, he added
In Ho Chi Minh City, there are 6,000 tourists coming to Dam Sen last week in which only on May 31, there are nearly 3,000 people that increase by almost 30% compared to last Sunday. From July 1 to 15, this water park will apply free entrance tickets or a 50% discount on package tickets for people with birthdays in July and accompanying one person.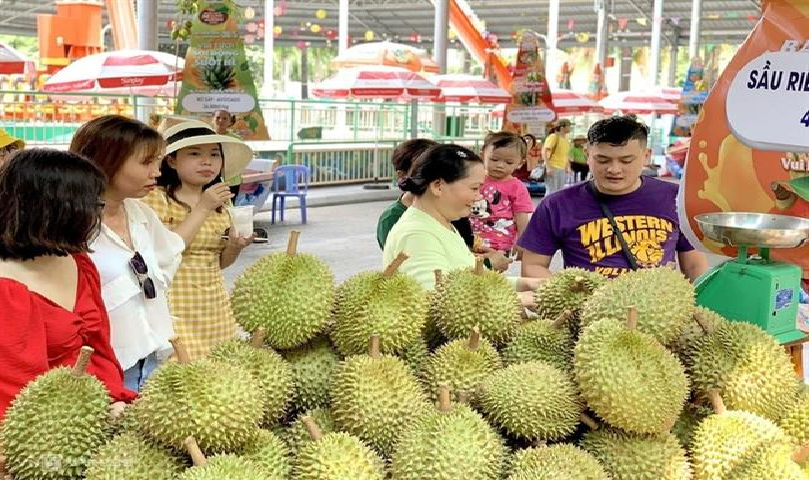 This year, because of the pandemic, Suoi Tien tourist area only organizes floating fruit market instead of festival like every year. However, it still attracts a lot of people (Photo: Ngoc Anh)
Meanwhile, the number of people going to Suoi Tien tourist area in two days at the weekend is about 3,000. It is estimated that only on May 31, 2,200, people come here which is a twofold rise compared to last Sunday. "We also open the floating fruit market (lasts until June 28). This is one of the reasons attracting more tourists", said the representative of Suoi Tien.
To meet the travel demand of citizens and tourists, numerous air carriers have reoperated full domestic flights. The national flag carrier Vietnam Airline has resumed full domestic operations with the number of domestic passenger flights on May 29 up 36 percent year on year to over 300. Since the social distancing order was eased on April 23, Vietnam Airlines has transported more than 500,000 domestic passengers. In mid-May, Vietnam Airlines launched five new domestic routes to popular tourism destinations nationwide to meet the increasing travel demand of passengers. It plans to open six more domestic routes in June towards completing its air route network across the country.

While, from June 1, Bamboo Airways will increase flight frequency mainly on the Hanoi – Ho Chi Minh route and other cities to 80 flights per day and from June 15 to 120 flights. The airline plans also to increase flights to Vinh and Quy Nhon in anticipation of the peak summer season.