Exciting Opportunities to Boost Exports to Israel
The signing of Vietnam - Israel Free Trade Agreement will open up many opportunities for Vietnamese businesses, and also new challenges when approaching this market.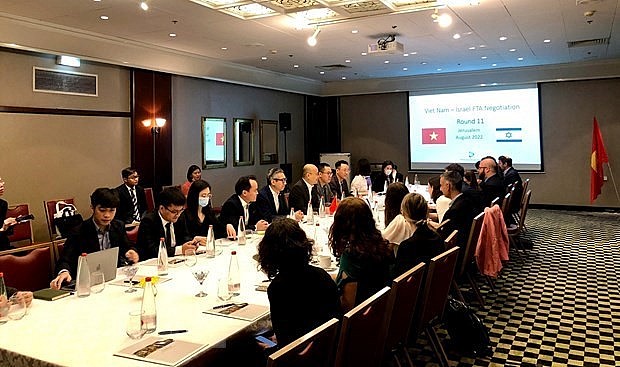 The 11th round of negotiations of the Free Trade Agreement between Vietnam and Israel on August 5. (Photo: VNA)
Economic and trade cooperation between Vietnam and Israel has developed well over the years. The Vietnam - Israel Free Trade Agreement between the two countries will open up many opportunities for Vietnamese businesses to access this market.
Negotiations on a bilateral free trade agreement between Vietnam and Israel are entering the final stage. The most recent round of negotiations took place in Hanoi in early January 2023.
The two sides are completing preparations to soon conclude the negotiations and sign the agreement in the near future. That contributes to opening the market, reducing taxes, and creating conditions for Vietnamese goods to access and penetrate strongly into the Israeli market.
This is also an opportunity for businesses to diversify export markets, expand new markets (niche markets, and distant markets, besides traditional markets).
Talking about the challenges in accessing the Israeli market, Le Thai Hoa, a Vietnamese trade counselor in Israel, said that this market has a number of characteristics that businesses need to focus on to enhance the export value of goods in the country.
Firstly, as the country has religious and ethnic characteristics, Jewish businesses often require exporters to have Kosher certification, while Arab businesses may require Halal certification, for certain categories of goods, mainly for foodstuffs, and consumer goods.
These are two types of certification related to religion and usually depend on the specific requirements of the importer.
In general, Israeli businesses adapt quickly to market fluctuations, do business methodically and seriously. They transact quickly, look for partners and customers through different channels. They want to meet directly with partners and customers, come to see the goods at the factory, buy from the manufacturer and do not want to go through middlemen. Israeli importers have diverse needs and stable purchasing power, high solvency, and willingness to deposit or pay in advance.
Second, although the market size is modest, Israel's import demand is quite large, reflected in the sharp increase in import value every year.
The business practices and habits of Israeli enterprises are to purchase finished, processed, high-value-added goods, with complete packaging, especially for food and consumer goods (seafood, cashew nut, coffee, pepper, beverage, confectionery, cinnamon, textiles, shoes), including electronics and household goods.
Processing pangasius for export. (Photo: Vu Sinh/VNA)
Finished goods will be put into distribution channels or supermarket chains. These are favorable factors for Vietnamese manufacturing and exporting enterprises to export high-value-added goods to the Israeli market.
Third, for quality standards, Israel requires imported goods to strictly comply with local standards. Besides, Israel also applies the standards of the European Union (EU), and the US, and implements strict inspection and control.
Fourth, the Vietnam Trade Office in Israel has regularly provided information on market developments, changes in trade policies, and new import regulations.
They provide publications to guide businesses and orient export, and trade opportunities. They also post a list of Israeli business companies wishing to find suppliers and partners in Vietnam.
Fifth, Vietnamese manufacturing and exporting enterprises must focus on processed products with high-added value and competitive prices. They need to respond quickly to their Israeli buyers, complying with the new Israeli import regulations and standards.
Besides, Vietnamese businesses need to exploit the Israeli market; conduct surveys, and market research, attend fairs, exhibitions, and trade promotion events in Israel, and directly meet with partners to boost exports to this market.
Le Thai Hoa said that when necessary, domestic businesses can directly contact the Vietnam Trade Office and the Embassy in Israel for timely support and advice.
They will be provided with useful information when transacting and doing business with partners in the Israeli market.
Focus
Brazil is Vietnam's largest trading partner in Latin America and in the top three of Vietnam's largest markets in the Americas.
June 07, 2023 | 14:29
Economy
The deputy chief minister praised the literary contributions of Dai and stressed the importance of promoting literature and education in the state. He also highlighted the achievements of individuals from various sectors, including sports, education, and business, who brought laurels to the state.
June 07, 2023 | 07:00