Vietnam, Israel to Sign Labor Cooperation Agreement
The labor cooperation agreement between Vietnam and Israel will be an important basis to help promote labor cooperation between the two sides, opening up job opportunities for Vietnamese workers who wish to work in Israel in the near future.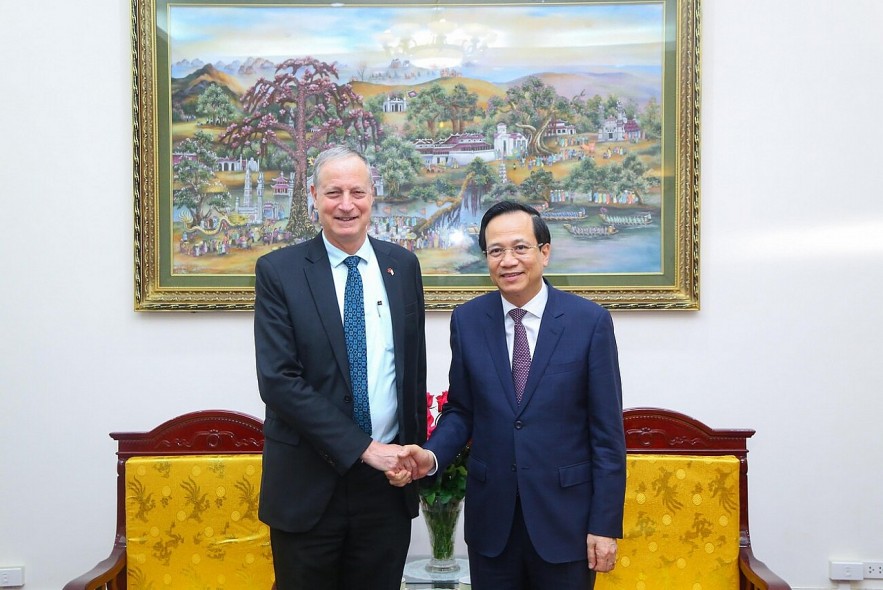 Minister Dao Ngoc Dung receives Israeli Ambassador to Vietnam (Photo: Molisa.gov.vn)
Minister of Labor, Invalids and Social Affairs Dao Ngoc Dung on March 23 in Hanoi had a working session with Yaron Mayer, Israeli Ambassador to Vietnam to discuss the labor cooperation agreement between Vietnam and Israel in the coming time.
At the meeting, Minister Dao Ngoc Dung appreciated the labor cooperation between Vietnam and Israel over the past time.
Since 2009, a number of enterprises sending laborers to work abroad have signed contracts to send workers to work on agricultural farms in Israel according to labor regulations. They brought about 1,400 people to Israel.
Employees are allowed to work in Israel for a maximum period of 5 years, with an income of about US$1,000/month with stable working and living conditions. However, since 2011, Israel has only accepted workers from countries that have signed a Labor Cooperation Agreement with Israel through the International Organization for Migration (not in line with Vietnamese law). Therefore, the sending of laborers to work in Israel was interrupted.
However, Israel still accepts students who are studying in their final year at Vietnamese universities of agriculture and forestry to Israel to practice and work. Every year, about 650 Vietnamese students do internships in agriculture in Israel. Under this form, interns go to Israel to practice for a period of 10 months (without extension), with a salary of over US$1,000/month.
Israel only accepts workers from countries that have signed a Labor Cooperation Agreement.
Minister Dao Ngoc Dung said that, in accordance with Israel's requirements and creating favorable conditions for Vietnamese workers wishing to work in Israel, in August 2021, the Ministry of Labor, Invalids and Social Affairs established a team to negotiate a labor cooperation agreement between Vietnam and Israel. From 2021 to now, the two sides have carried out 5 negotiation sessions for the agreement.
The two sides basically agreed on the content of the agreement. However, there are still some details that are not yet agreed upon due to differences in the laws of the two countries, related to the rights and obligations of workers and businesses.
Minister Dao Ngoc Dung wished that, as Israeli Ambassador to Vietnam, Yaron Mayer would be a bridge to help contact Israeli authorities, mention about additional and adjusted comments that Vietnam had made in 2022. This is for concluding negotiations and signing the agreement as soon as possible.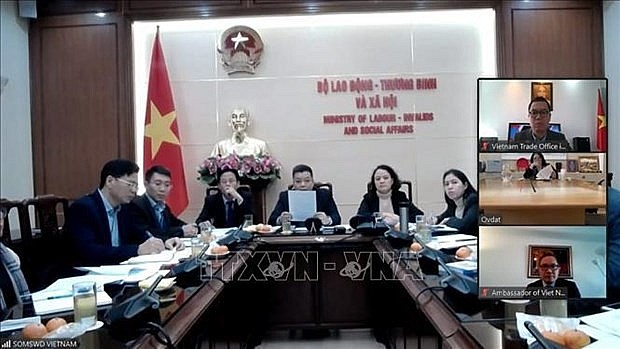 Vietnam and Israel kicked off negotiations on a labor cooperation agreement on January 21. (Photo: VNA)
The minister also said that according to the plan of foreign activities in 2023, the Vietnamese senior leader will have a business trip to the Middle East and West Asian countries, including Israel. The Minister expressed his hope that the above agreement will be concluded and signed by the two sides with the witness of the two countries' senior leaders during this working trip.
Ambassador Yaron Mayer shared his views on speeding up the negotiations, toward the signing of the agreement between the two sides on labor this year. He said that Israel appreciated the qualities, spirit, curiosity about techniques, and advanced technology of Vietnamese workers.
Israeli businesses and farm owners wish to cooperate and work with Vietnamese workers. Israel's agricultural experience is a product that always has a strong flavor and high quality.
Regarding the reception of interns to study and work in Israel, the Ambassador said that Israel is creating the best conditions for this program to continue. The Israeli Embassy is welcoming a delegation from Israel's Center for Agricultural Training to visit and work in Vietnam. The delegation is currently contacting and working with Vietnamese universities that send students to Israel to discuss the direction for the upcoming program.