Expat Spotlight: Irene Ohler - Empowering Women Leadership through Storytelling
Since 2012, Austrian leadership coach Irene Ohler, founder of Lightpath Leadership, has lit the spark of self-confidence and a "can-do" attitude for thousands of female leaders across the country, using the power of storytelling.
Over the past ten years, Austrian leadership coach Irene Ohler has been collecting remarkable stories about Vietnamese women, highlighting their strength, intelligent, and grace. Through her friendships with hard-working Vietnamese, she feels inspired by their optimistic mindset.
"The main reason for staying in Vietnam is because there is still something for us to contribute [to Vietnam]. I was inspired by the "everything-is-possible" mindset of Vietnamese people around me so although it was difficult to start my own business, I was determined to push through the challenges."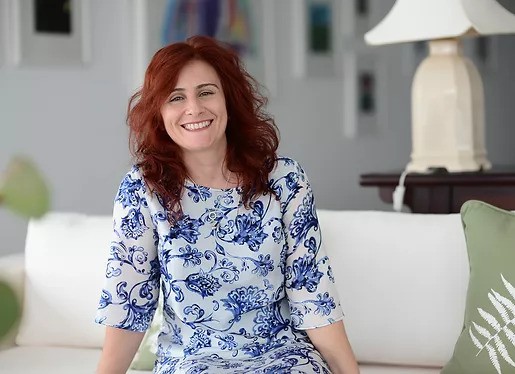 Photo courtesy of Irene Ohler
Irene and her husband, a former New Zealand Ambassador, first came to Vietnam for diplomatic reasons in 2012.
However, once the term was completed, Irene's family decided to say a temporary goodbye to the capital city to start a new life chapter in HCMC. Still, in Hanoi, every street, cafe, and lake has a special memory for the Austrian expat.
She recalls standing by the West Lake, last November, talking to participants of her women leadership program.
As she spoke, she spotted her very first home in Vietnam, across the lake. The sight brought back many beautiful memories.
The sentimental moment makes her realize that, although unplanned, she has formed a special relationship with the S-shaped Land, mostly attached to her career in coaching and leadership development.
"I came to Vietnam with my Ambassador husband, our newborn baby and my career in leadership development. It took me 10 years to get to hosting something that has never been done before, which is my women leadership program."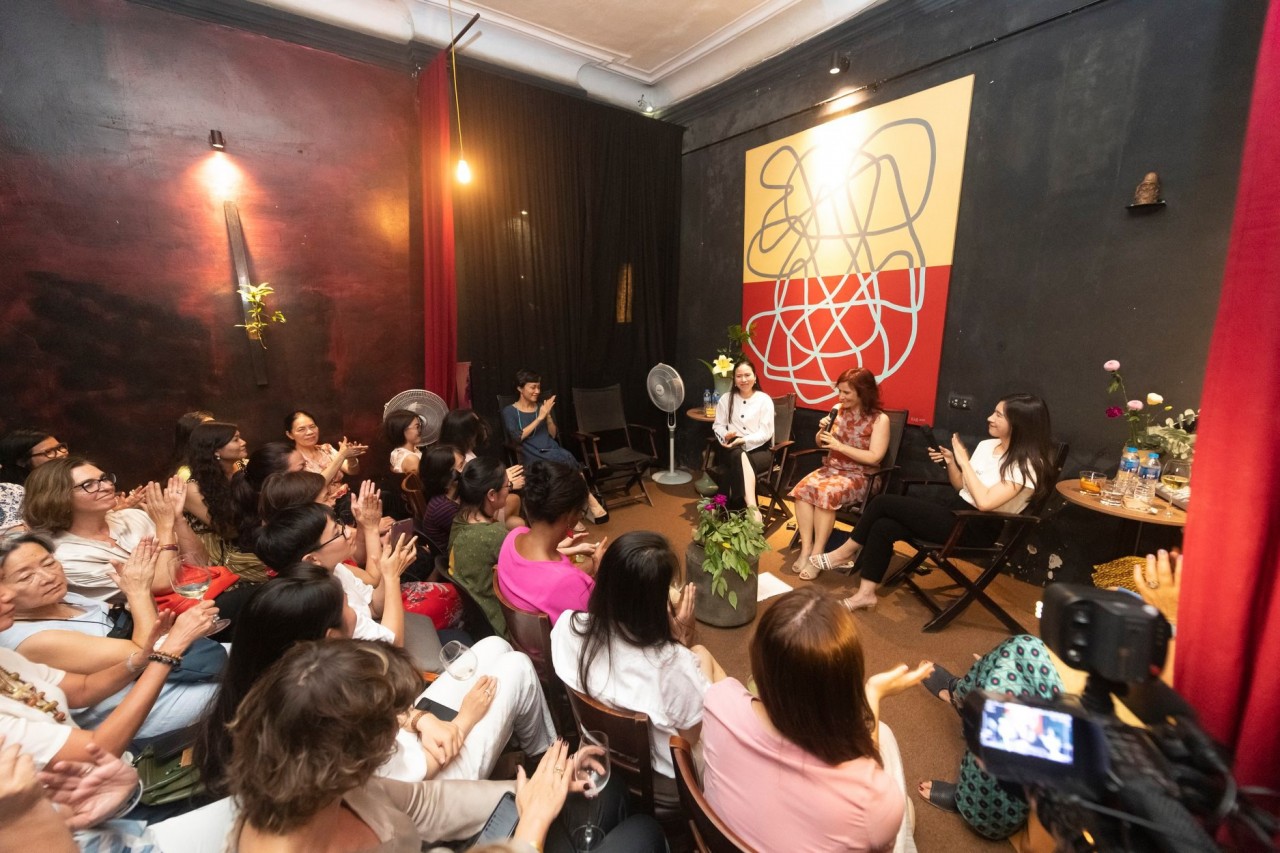 Photo courtesy of Irene Ohler
As someone who strongly believed in the power of storytelling, Irene decided to collect stories from remarkable women of Vietnam she met along her travels.
"I was fascinated with the interesting women living in Vietnam. They are Vietnamese treasures. So I started collecting their stories because I believe they need to be shared with the world," said Irene.
When first arrived in Vietnam, she was aware that people's awareness of gender-based bias or workplace issues are not common. In her own field of leadership development, gender equality used to be not considered an important discussion as it was such a male-dominated industry. There was a lack of attention for issues the women in the workplace encounter, especially for leaders.
In 2016, she released her book "Ba Trieu's 21st Century Daughters," showcasing the talents and triumphs of modern Vietnamese women, hence the book title. Irene felt she hit a milestone in the journey of empowering women through storytelling when launching on Vietnamese Women's Day on the Ba Trieu Street of Hanoi. By collaborating with Vietnamese writer Do Thuy Duong, Irene gets an intimiate look into Vietnamese feminism.
The main goal of publishing a bilingual book is to reach two types of audiences. For Vietnamese readers, they can find the book to be a mirror that shows the modern society where women in leadership positions rise and thrive. With the foreign readers, those who are not familiar with Vietnam they can learn about stories of remarkable Viet women and what they achieved in many areas.
"My main goal [for the book] is to inspire and I still can confidently say that the inspiration hasn't stopped. I had women walking up to me say they loved the book and even gave them to female employees in their company to read it so they can be inspired,"
The book's publication was once an idea, which the Austrian coach shared in her very first Woman Storytelling's Salon. Irene's vision for the salon is a place where people can have meaningful encounters, something that was missing from a typical networking event.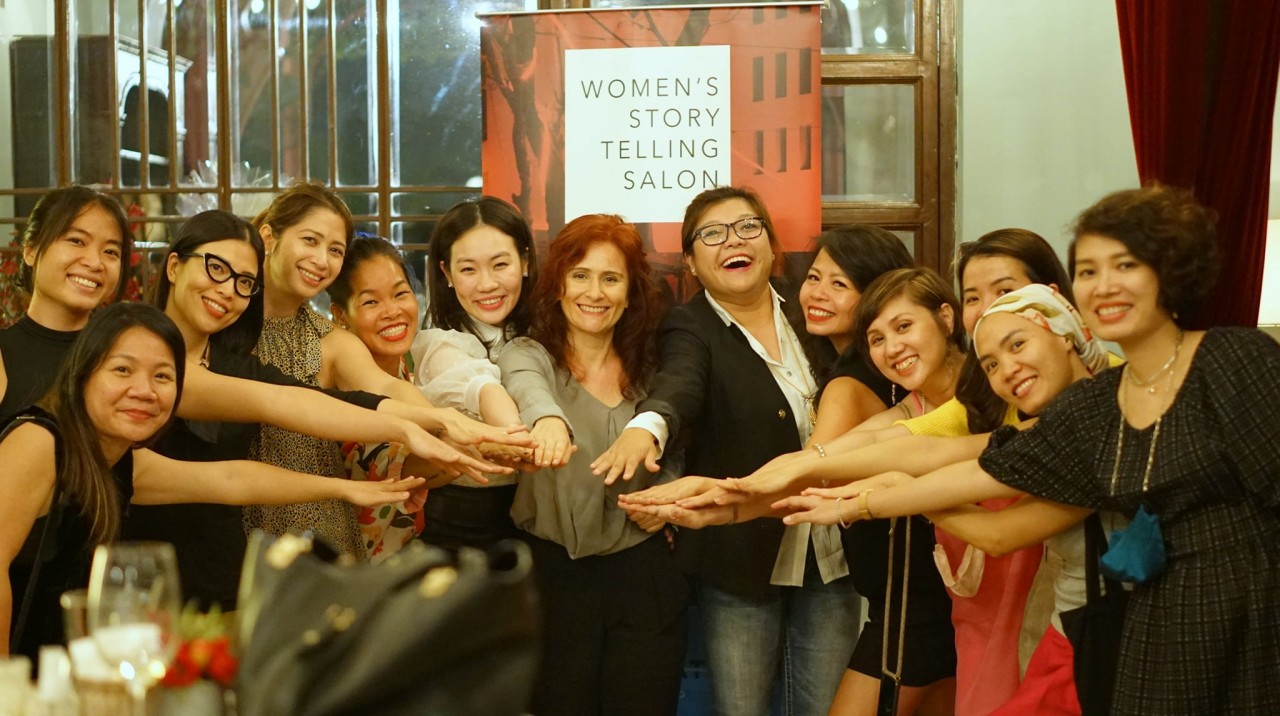 Women's Storytelling Salon workshops, a live platform where storytellers can share their experience in leadership positions with others. (Photo courtesy of Irene Ohler)
"The one thing I try to highlight in all my events is that there is no straight line to success! We all experience challenges, tragedies, setbacks in our lives, the big difference is how people deal with these situations and how they come back from it," exclaimed Irene.
Since the first one in November 2014, there have been almost 30 Salons. The latest Salon is the 28th one in February 2023 with a total of 45 women," said the curator proudly about her growing and diverse Salon Community.
To date, there have been 28 public Women's Storytelling Salons with a total of more than 1,000 women attending. The storytellers of the 28th salon were two young business owners, said Irene, discussing establishing and running a women-led enterprise. They not only find inspiration among their peers but also form a circle of trust and support, which promotes authenticity and positivity.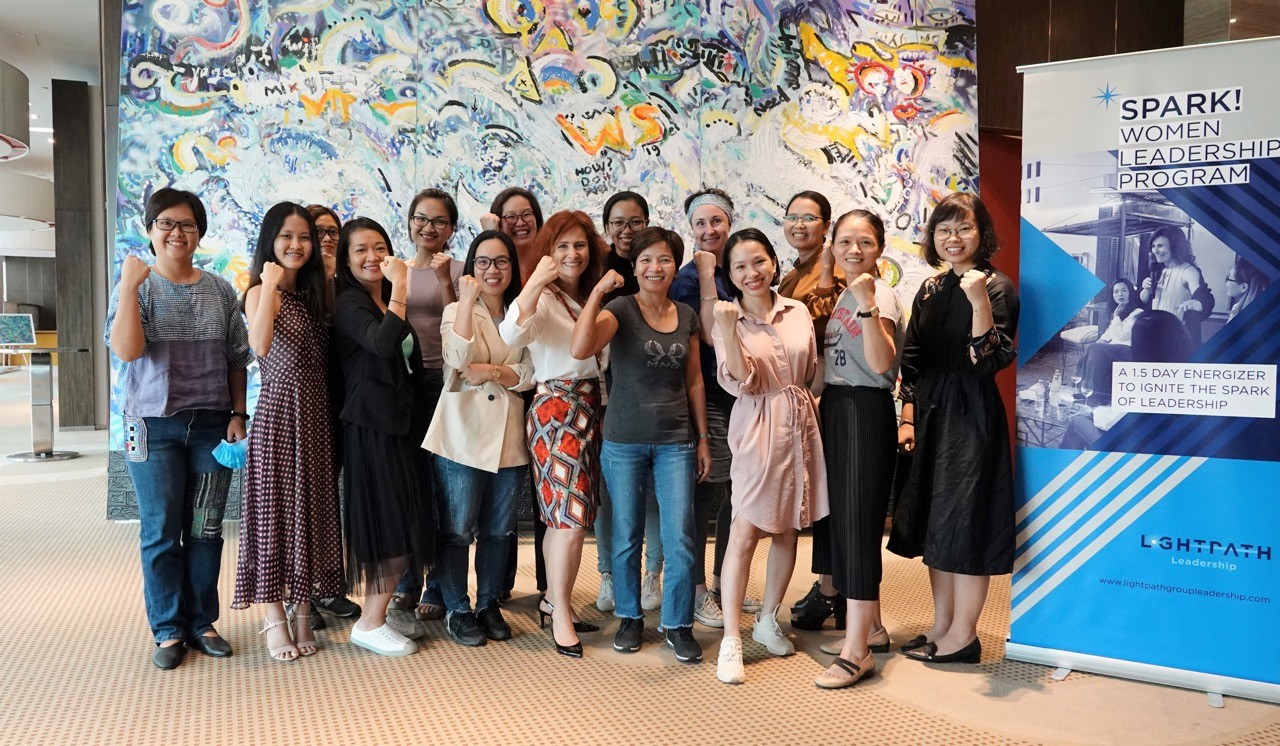 Photo courtesy of Irene Ohler
The Austrian coach is determined to light the path for supporting professional women toward success with exciting platforms. In 2019, came Lightpath Leadership, her very own consulting business, where she curates many platforms and programs where women can talk, discuss, and receive consultation for problems with life, business and career.
Irene said her mission is simple and consistent: "To inspire" and "delight in creating success for others that I can celebrate." With that, she continues bringing together a group of such inspiring women from provinces across the country.
(Photo: KOTO Foundation and Social Enterprise)
HER TURN Leadership Program & Community for Women in Hospitality and Tourism in Vietnam (or HER TURN), Lightpath Leadership's recent program in collaboration with KOTO Foundation and Social Enterprise, provides workshops for participants to connect their values and leadership purpose. Now in its first year, HER TURN is a 3-year initiative led by KOTO and partly funded by the Australian Government.
As the coach of Her Turn, Irene shares the vision with KOTO founder Jimmy Pham to provide the foundation for women in the hospitality industry, such as skills and leadership development training, that would get them their dream leading positions.
In the course of the program, she also highlights the power of storytelling and encourages professional women to share stories from their past and share their career goals for their future. Regardless of profession or background, Irene believes that as long as women have the ambition for leadership, they have no reason to hesitate.
"Don't wait for anyone to give you a title. Take leadership, and lead in any place!"
As a monthly series for the Vietnam Times, the Expat Spotlight aims to highlight interesting members of Vietnam's diverse expat community. Be it through travel, charity, business, or diplomatic works, these expats have a deep love for Vietnam and wish to see it progress. Stay tuned to learn about the other expats and their various projects. If you would like to nominate someone for a future feature, please message the Vietnam Times via Facebook.