Fatherland Front Must Protect Party's Ideological Foundation: Party Leader
The Vietnam Fatherland Front (VFF) must form the core of protecting the Party's ideological foundation along with foiling any subversive plots, including 'peaceful evolution' schemes initiated by hostile forces.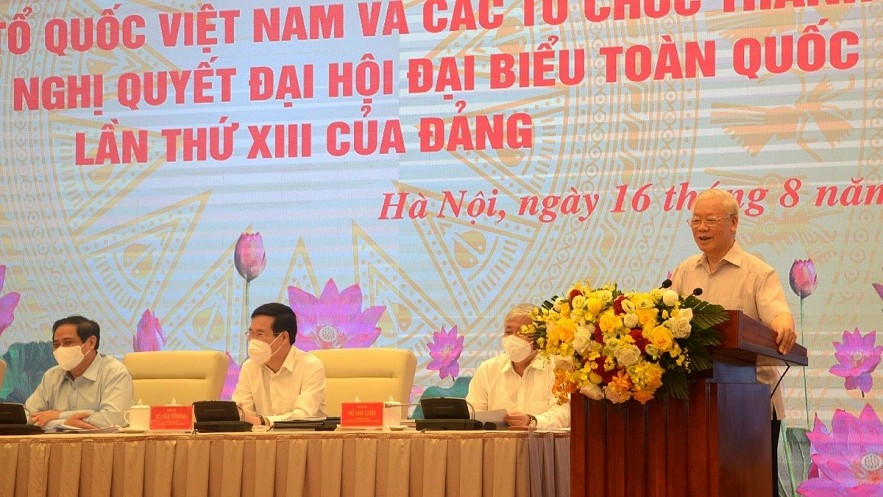 Party General Secretary Nguyen Phu Trong speaks at the conference.
Party General Secretary Nguyen Phu Trong put great emphasis on the VFF's future performance during an online conference held on August 16 in Hanoi as part of the launch of the VFF's action plan aimed at realising the 13th National Party Congress's resolution.
The central task of the VFF will be to continue building and solidifying the great national unity bloc, whilst simultaneously promoting the creative spirit of all classes of people for the cause of national construction and defence, said General Secretary Trong.
According to the Party leader, the VFF and its member organisations must better implement their tasks of promoting information, education, and mobilisation of people to help them fully understand and competently implement the Party's guidelines and the State's law. At the same time, he said they must remain resolute in combating false or reactionary views, and dealing with any political opportunism that may occur.
He stressed that the VFF should therefore intensify its communication campaigns to make citizens aware of subversive plots carried out by hostile forces that aim to distort historical truths, as well as to divide and undermine the great national unity bloc through questioning the Party's lines and policies, and the State's law concerning ethnicity and religion.
He encouraged the VFF to fully utilise the strength of all classes of people in order to successfully implement the country's socio-economic development goals moving forward.
Discussing the negative impact caused by the ongoing COVID-19 pandemic, General Secretary Trong called on the VFF and its member organisations to work alongside the Party, Government, army, and people to prevent and repel the pandemic, protect people's health, and improve their quality of life.
On the occasion, the Party leader requested that the VFF better perform its role of oversight and counter-argument in order to create a strong consensus and social stability, while also encouraging people to comprehensively and effectively participate in the fight against corruption and waste.
He also requested that the VFF and its member agencies renew their modes of organisations and activities to meet the country's requirements moving forward.
The conference was attended by State President Nguyen Xuan Phuc, Prime Minister Pham Minh Chinh, National Assembly Chairman Vuong Dinh Hue, and numerous VFF leaders and officials. It was connected to 63 cities and provinces nationwide, with the participation of approximately 2,000 delegates.
VOV