First Da Nang Asian Film Festival Kicked Off
With nearly 89 screenings at Le Do Cinema, CGV Vincom Da Nang, Galaxy Cinema Da Nang, and outdoor cinemas, combined with small meetings with the film crew and the cast at each screening, tickets are completely FREE.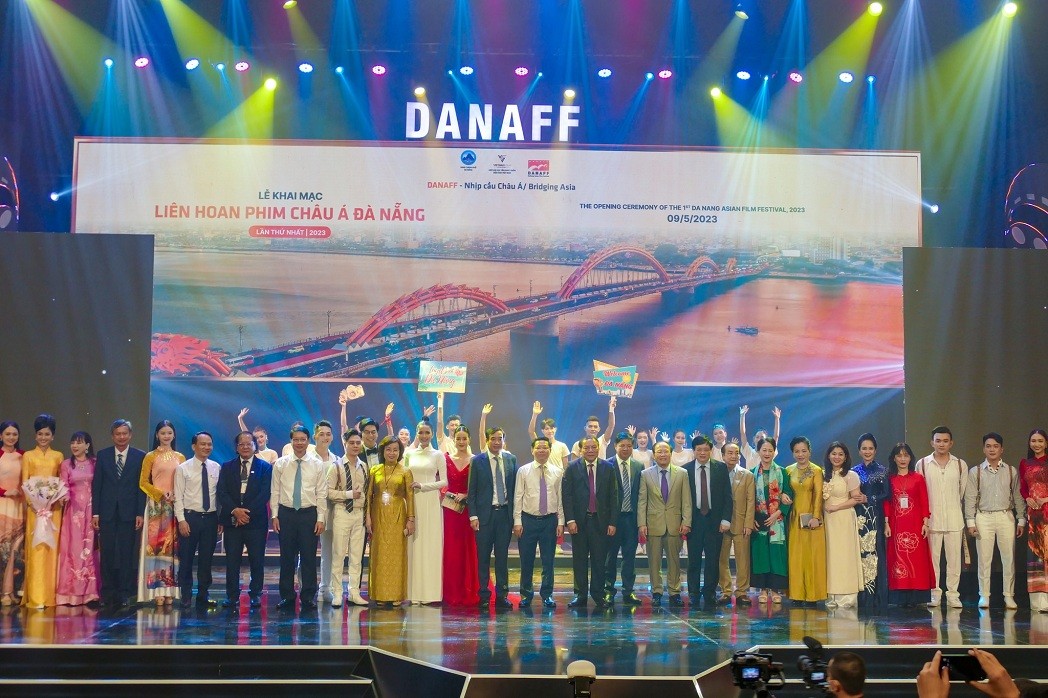 The opening ceremony of the Asian Film Festival Da Nang was held successfully and well at Trung Vuong Theater, with the theme "Bringing Da Nang to Asia & bringing Asia to Da Nang". Photo courtesy of the festival
The first Da Nang Asian Film Festival (DANAFF I) was officially kicked off in the beach central city of Da Nang on May 9, VNA reported.
It is jointly held by the Vietnam Association for the Promotion and Development of Cinema, authorities of Da Nang, and the Network for the Promotion of Asia Pacific Cinema (NETPAC).
DANAFF aims to select and honor excellent Vietnamese and Asia-Pacific cinematographic works, popularise them to the public, and encourage the growth of emerging talents in the region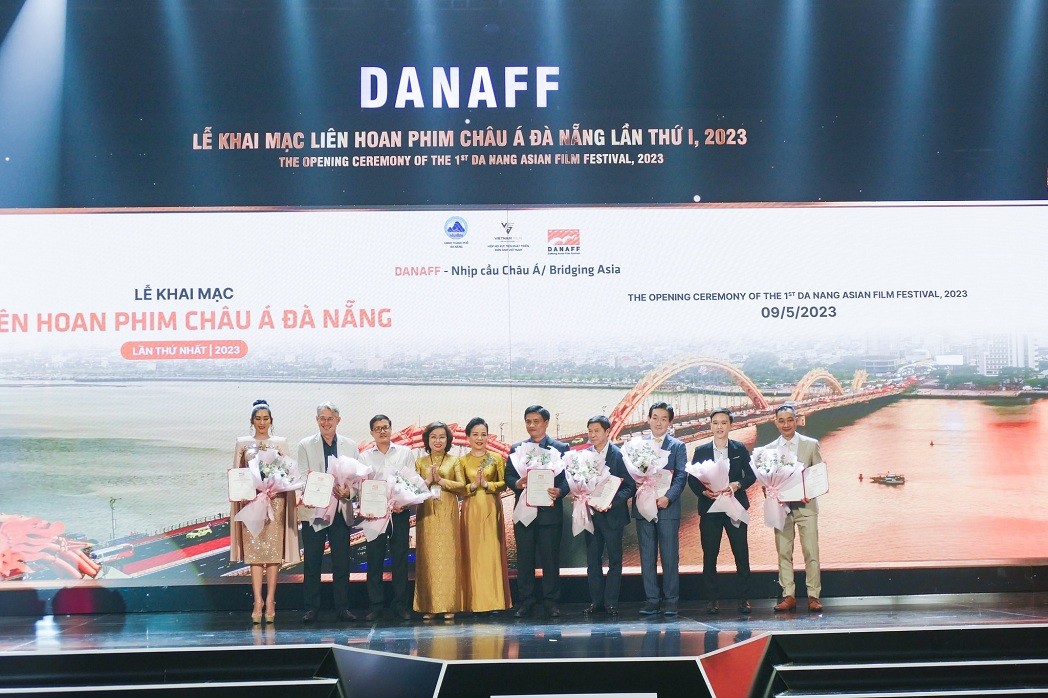 The event was focused on introducing the culture, hospitality spirit of Da Nang people as well as the characteristics of Asian cinema; uphold the spirit of "Vietnam integration" and advertise the dynamic image of Vietnam, promote the information rhythm through the connecting bridge that is Da Nang, through the lens of cinema to introduce the development of Vietnam to the world. many destinations for international friends to know.
Speaking at the opening ceremony, Ngo Phuong Lan, Director of the Vietnam Cinema Department under the Ministry of Culture, Sports and Tourism, said that themed "DANAFF - Bridging Asia", the festival will select and honour outstanding products imbued with humanistic values, new discoveries and unique artistic expression; encourage new Vietnamese and Asian talents in the field; and bring new, high-value cinematographic works of Asian and Vietnamese cinemas and selected films of the world to the audience.
It features free-of-charge screening of 89 films, a three-evening outdoor film screening, and a series of workshops on the development and cooperation of the cinema industry, and tours for foreign participants to sightseeing spots in the locality.
Besides, there will be 12 to 14 films which will compete in the Asian film category, with grand prizes on offer for the best movie, the best director, the best actor, the best actress, and the best screenwriter.
Ticket providing available from 10 am to 8 pm daily, until tickets run out at Le Do Cinema - 46 Tran Phu Street, Hai Chau District, Da Nang (Providing tickets of Le Do Cinema and CGV Vincom Da Nang) and Galaxy Cinema Da Nang - third floor Coop Mart, 478 Dien Bien Phu, Thanh Khe, Da Nang (Providing tickets of Galaxy Cinema).
The festival runs until May 13. Awards will also be presented during the closing ceremony.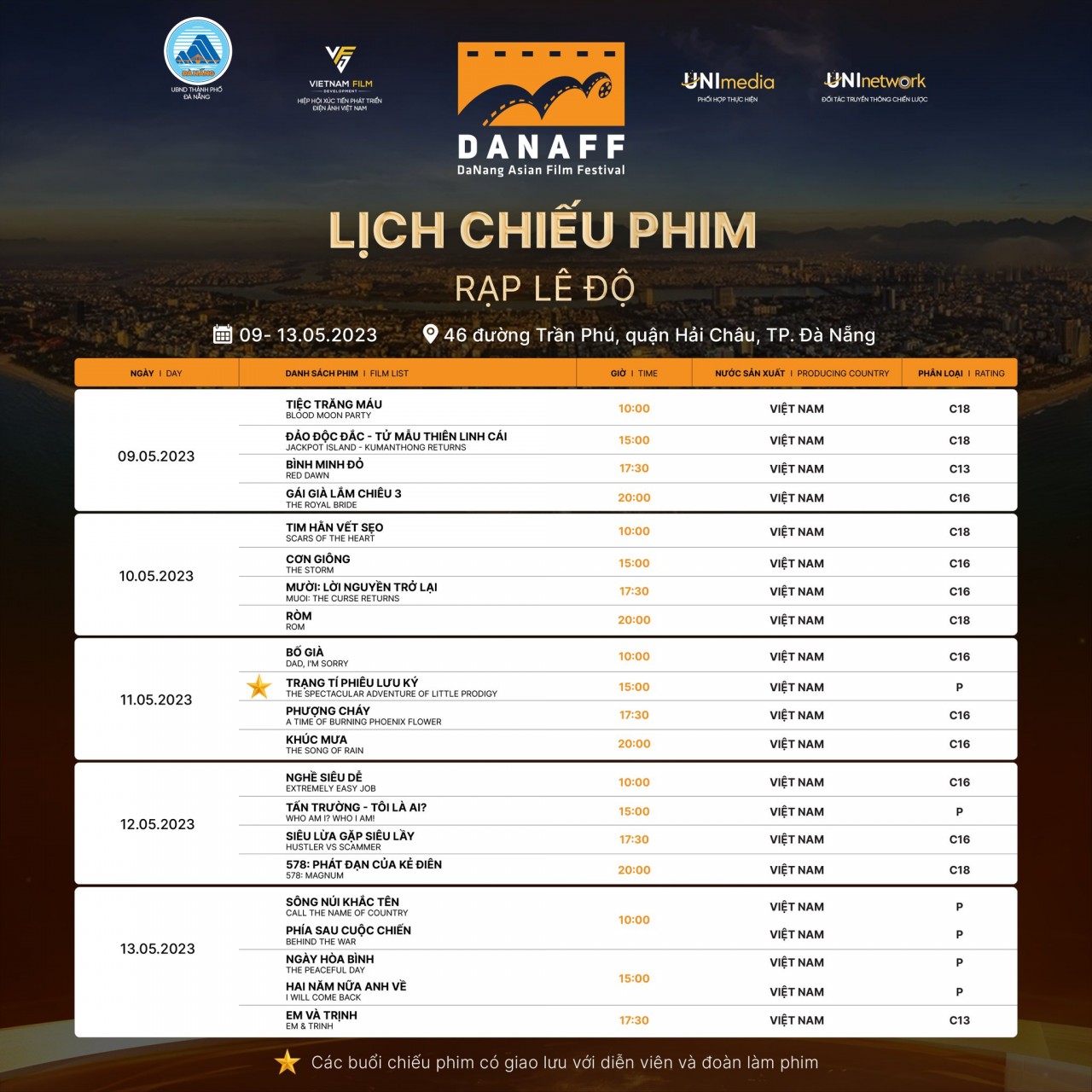 Within the program framework of the 1st Da Nang Asian Film Festival, 2023, the audience will be able to participate in the non-competition film screening program. Photo courtesy of the festival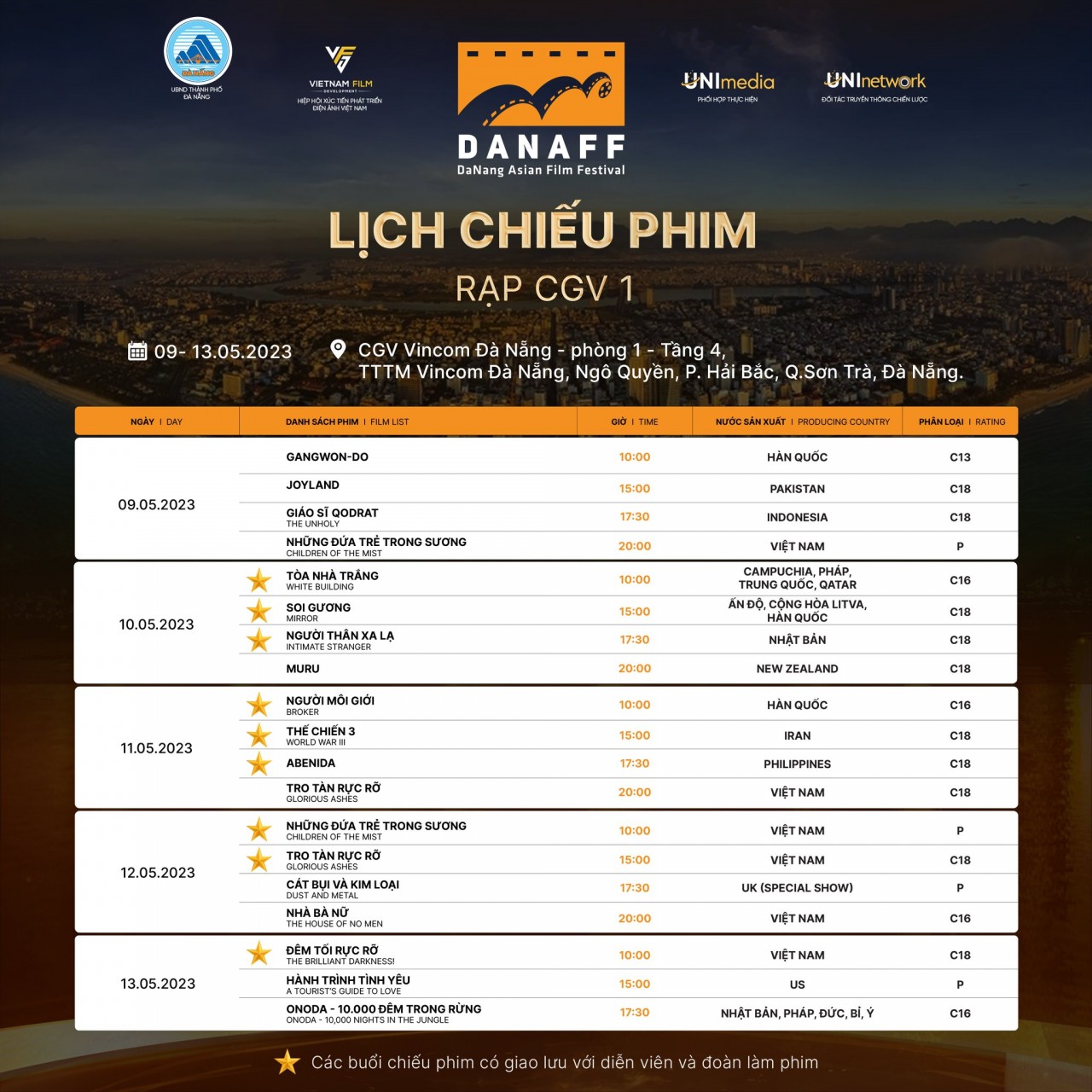 The "Vietnamese Cinema Today" screening program will be Vietnamese films produced in 3 years (2020, 2021, 2022), licensed for screening, selected by the Selection Committee. Photo courtesy of the festival
The "Focus on Japanese Cinema" screening program is a selection of excellent Japanese films of feature length. Photo courtesy of the festival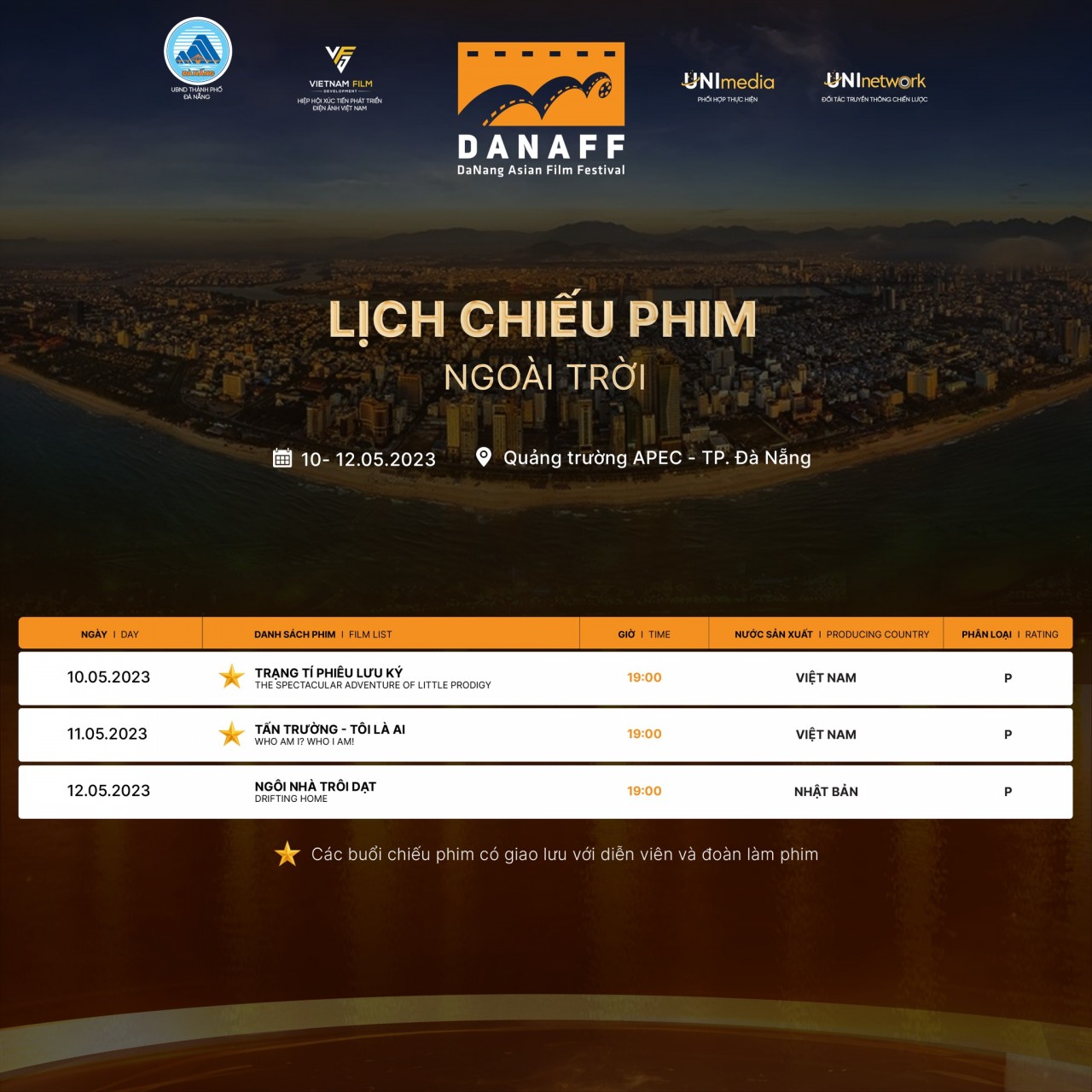 Outdoor film screening for 3 nights at the expanded APEC Statue Garden Park (freely open). Photo courtesy of the festival