Five unique treehouses for you to visit this summer
One of the most awesome ideas for spending your summer vacation is a funky and gorgeous treehouse, which will make your trip more exciting and adventurous.
Whether you're looking to stay in a sleek treehouse with modern amenities or a rustic treehouse for an off-the grid experience, these beautiful properties are sure to inspire Vietnamese travelers wanting to appreciate more simple experiences, such as spending time outdoors on vacation, when the time is right to travel again. The five treehouses below are recommended by Booking.com.
Pu Luong Treehouse
The beauty of Puluong Tree House is its "out of the beaten path" location, deep into the hills and rice paddies. Most exploration will require walking along narrow paths and hike up some steep hills. In return, the peace and beauty that one may enjoy in the pristine Nature is uncommon, if not unique.
Enjoy the lush greenery and watch the sunrise right from the glass windows of your room. Those who seek an authentic exposure to natural design will love the rustic wood pieces and brocade décor. The excellent location offers a wide range of outdoor activities such as hiking, cycling and especially jogging.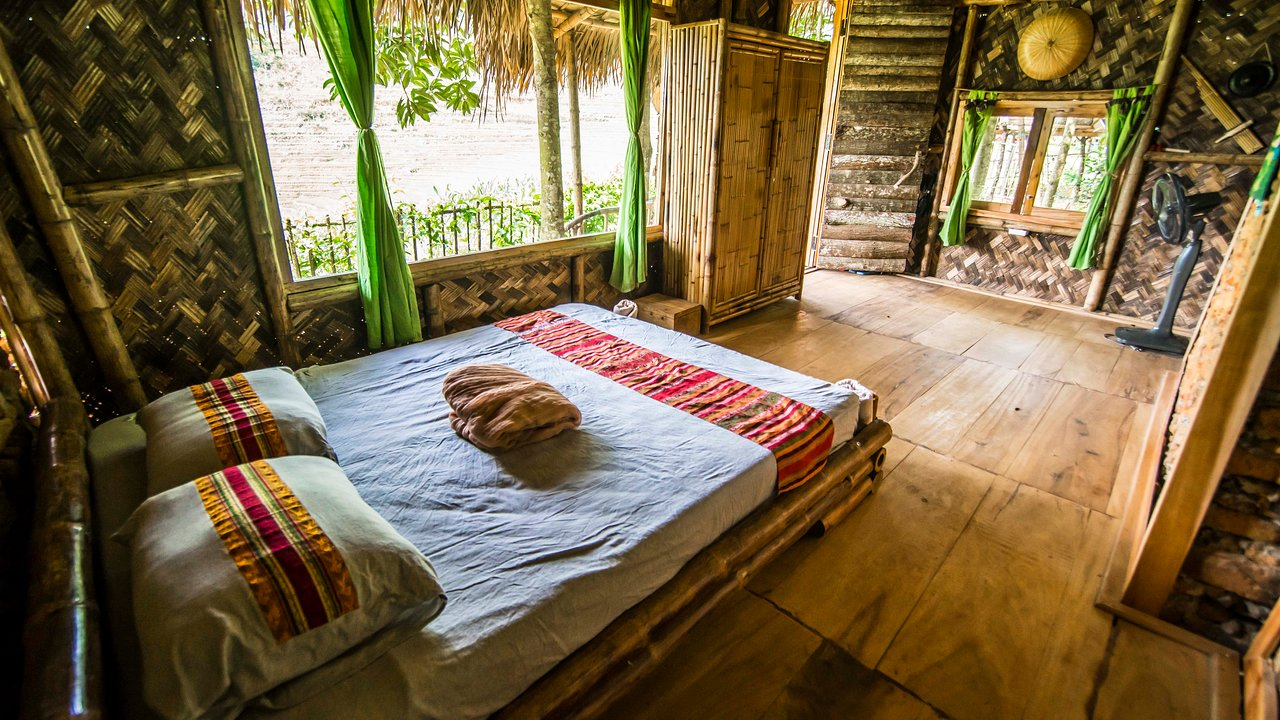 Photo: TripAdvisor
The Pu Luong Treehouse's namesake and vision that inspired the lodge, these structures are thoroughly modern in their design but constructed using traditional materials and methods by well-known local carpenters. This mix of old and new is exemplified by their thatched roofs, big piece glass slide windows to keep the interior feeling bright and airy, and unique geometric design. Approximately 2.5 meters off the ground, each private treehouse comfortably sleeps two on luxury western-style mattresses covered in soft custom bedding. They are the best to enjoy the sights of the rice paddies below. Guests staying in the treehouses have their own bathrooms and private entrances. Guests which are almost as charmingly quirky as their temporary home in the trees.
The four treehouses are named after 4 people who have been walking throughout this wonderful journey creating this beautiful project. Each has its own name and personality. The colour schemes, the fabrics, the objects reflect different views, feelings, and inspirations. Many items came from the surrounding countryside and have lovingly been given a new life as a lamp, vase, a table, or a seat.
Trang An Lamia Bungalow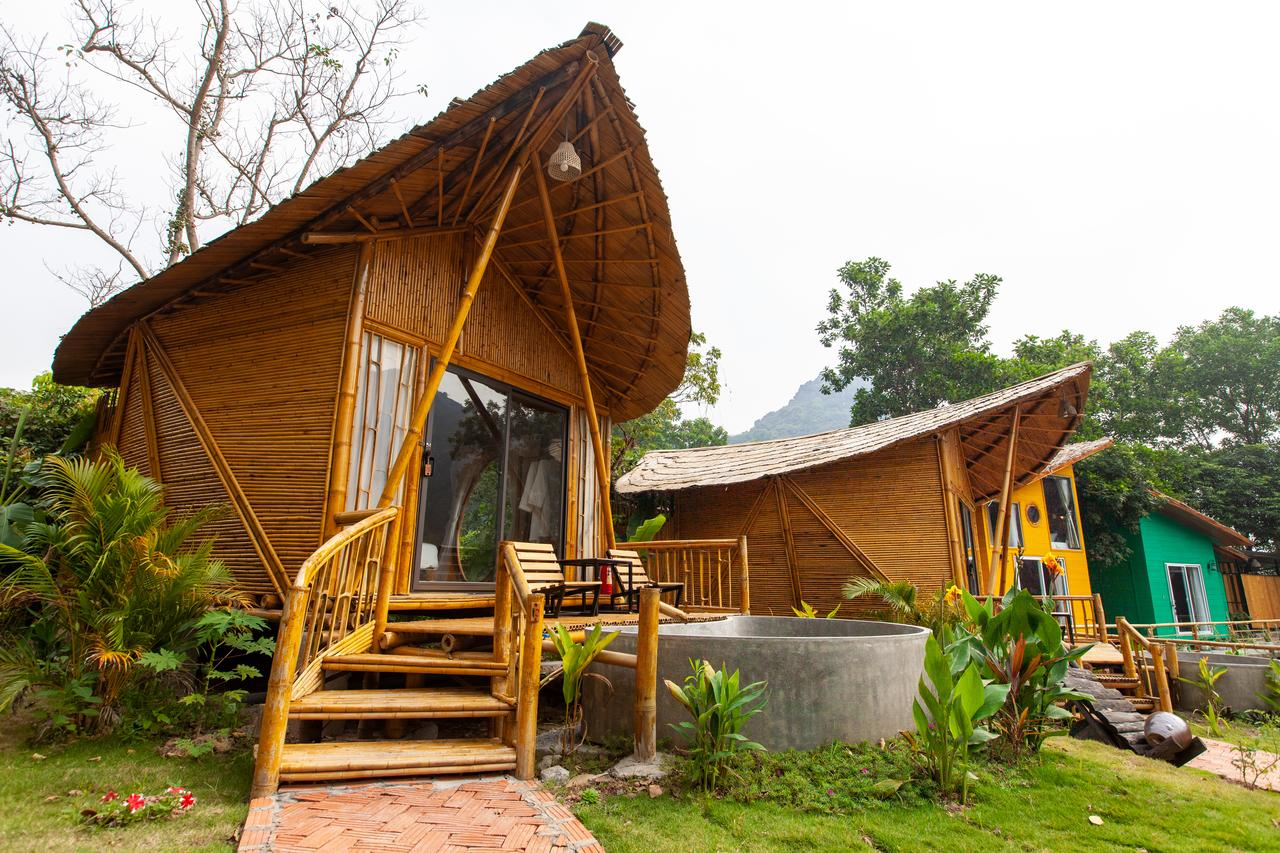 Photo: Booking.com
Nestled amidst beautiful mountains, just two kilometers from Hoa Lu Imperial Citadel and Trang An Eco Tourism Complex, Trang An Lamia Bungalow offers a spectacular view of Ninh Binh province. Offering rooms like Bamboo Tree House, Wooden House and Triangle House for friends and family, the quaint design and rustic amenities will ensure an authentic experience to the ancient capital.
The resort also offers eco-friendly products such as refillable glass bottles, bamboo toothbrush and locally grown goods, which are perfect for tourists who seek to reduce plastic waste and recycle more while travelling.
Hana Land Elephant Mountain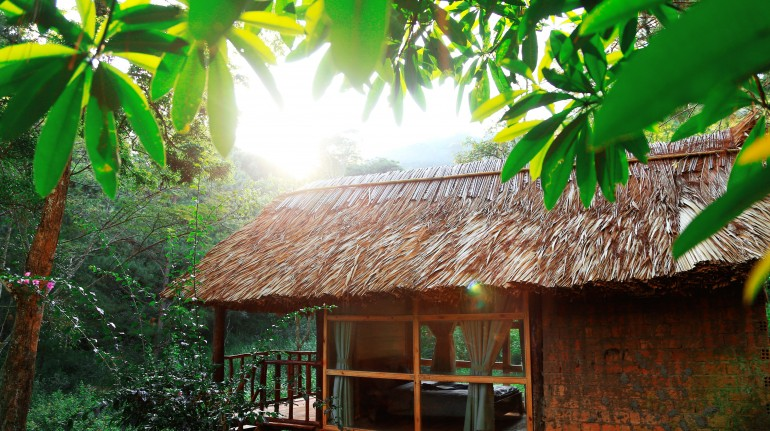 Photo: Ecobnb
Nestled under the rare hundreds-year-old primitive forest canopy in Da Lat, with brooks, pine trees, rich vegetation of primeval forests gives visitors a sense of peace and bliss.
Located at an altitude of 1756 m above sea level, with 10 unique chalets designed according to the indigenous K'Ho culture, with the first and highest treehouse in Da Lat (15m high) and a traditional longhouse of Ede people. Nestled under the rare hundreds-year-old primitive forest canopy in Da Lat, with brooks, pine trees, rich vegetation of primeval forests gives visitors a sense of peace and bliss.
With an area of over 5 hectares, it is an eco-agricultural model to bring guests experience from the garden to the dining table. There is a space for drinking tea, BBQ and you can enjoy strolling under the pine trees. Camping, trekking into the complex of red pine trees, experience the culture of gongs, meditation or yoga, enjoy a herbal foot bath or relax in the mountains and hills, in the cool water from the streams. Promising guests an unforgettable vacation, living in Dalat as it was a hundred years ago.
Phu Quoc Sen Lodge Bungalow
Located in Phu Quoc, Phu Quoc Sen Lodge Bungalow Village is 2.1 mi from Sung Hung Pagoda. Guests at the property can enjoy pool views in the rooms and access to an outdoor pool. The property is 13 mi from Vinpearl Land Phu Quoc and an 11-minute walk from Coi Nguon Museum. At the guest house, each room comes with a desk. Featuring a private bathroom with a shower and free toiletries, some rooms at Phu Quoc Sen Lodge Bungalow Village also offer a garden view. All rooms will provide guests with a fridge. Su Muon Pagoda is 1.8 mi from the accommodations, while Phu Quoc Pearl Farm is 2 mi away. Phu Quoc International Airport is 4.3 mi from the property, and the property offers free airport pickup service.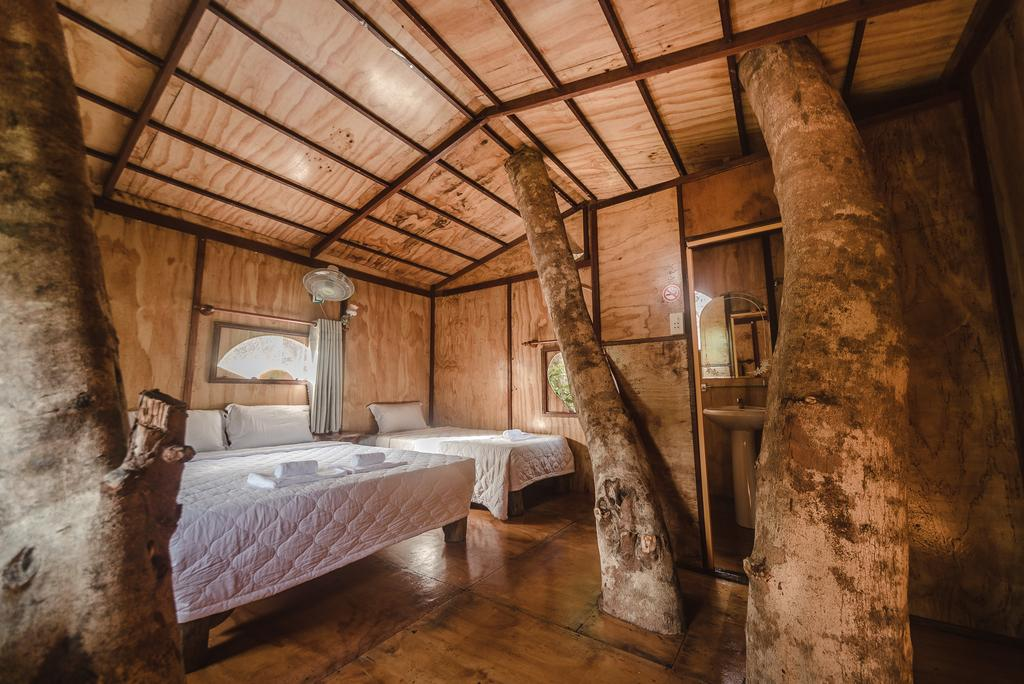 Photo: Dulich24h
The bungalow village is run by a family of farmers offering a unique experience to immerse travelers in local life. After a fun day by the beach which is just a few minutes away, enjoy a nice BBQ by the pool or enjoy the splendid garden view.
Crazy House (Hang Nga Guesthouse)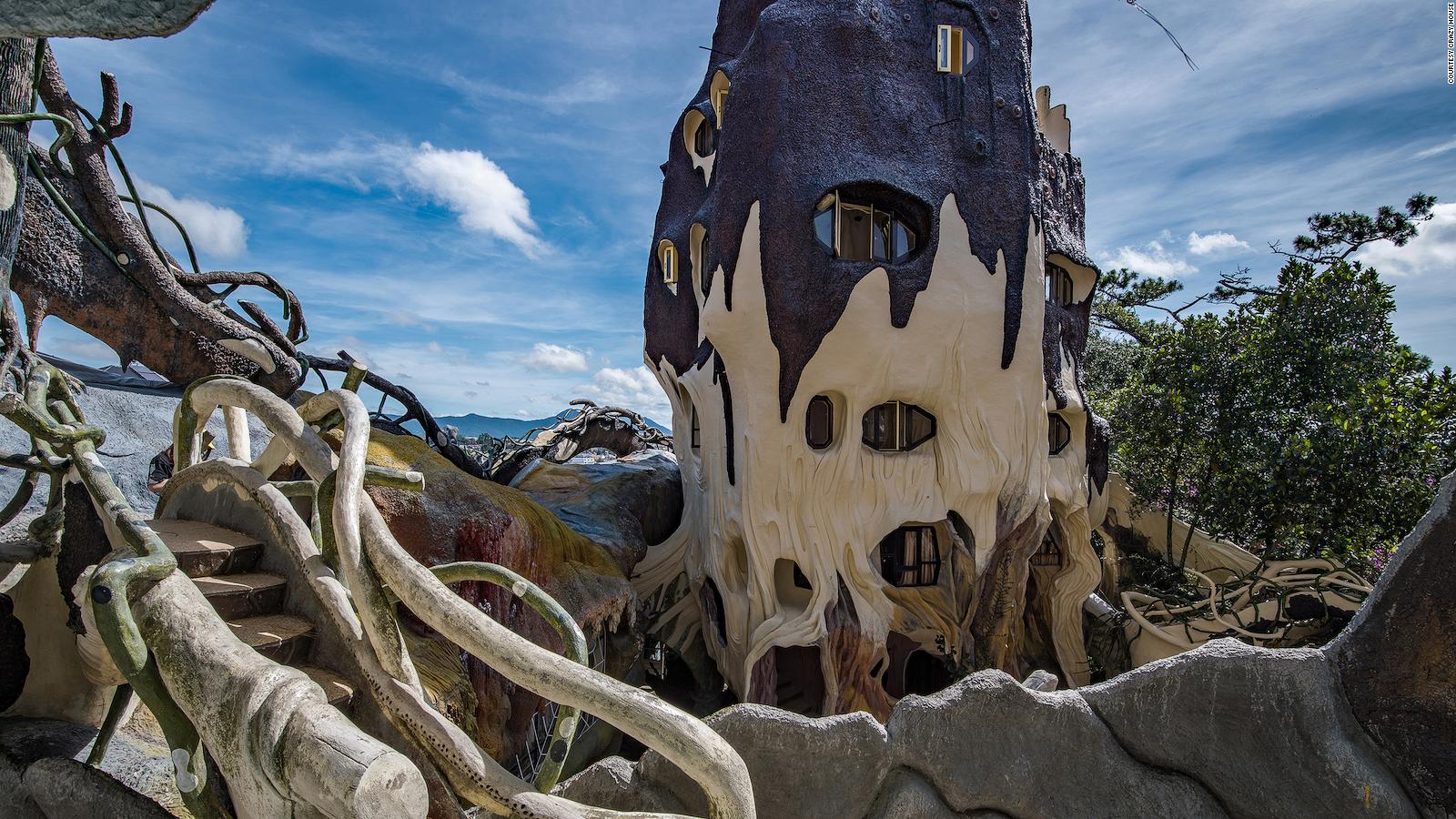 Photo: CNN
Inside the Crazy House, visitors can follow guides up ladders, into nooks and crannies, and through tunnels. The house is actually more like a gallery than a hotel, with giant animals on display like a spider and a giraffe that doubles as a mini tea house. The Gaudi-esque treehouse also contains a number of themed rooms, a monkey cage, outdoor balconies, and a sculpture garden for guests to enjoy. According to a number of travel sites, the architect herself is also often available on the scene to chat with about her wacky aesthetic.
Each room is uniquely designed and named after an animal to fit the "back to nature" theme. No matter the age, spending the night among the treetops is sure to rekindle fond childhood memories, ignite the imagination, and help people to get closer to the mother nature.
The antique beatuty of Hue Citadel

Constructions of the last reigns are often the most intact ruins of all emperors, and Hue Citadel is not exceptional. The citadel bears both the ...