Foreign tourist donates Vietnam's 'Rice ATM' to support those affected by COVID-19
On April 15, a Russian tourist used his savings to buy 300 kilograms of rice, then transported this quantity to a 'Rice ATM' machine in Phan Thiet city to support those who are affected by the COVID-19 pandemic.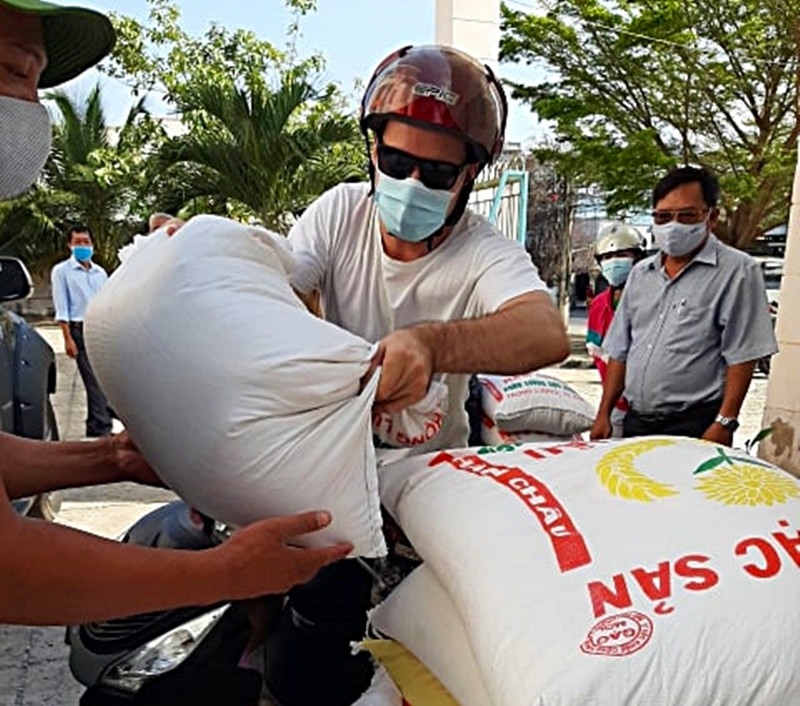 Dmitry Eroshenko transports rice to the charity site in Mui Ne ward, Phan Thiet city. Photo: PLO
As Thanh Nien newspaper reported, he is Dmitry Eroshenko (Russian nationality), residing in Phan Thiet city, Binh Thuan province.
Dmitry Eroshenko said, as catching sight of local residents receiving rice from 'Rice ATM', he decided to used his family's savings to donate this program.
Specially, he donated 300kg of rice to a 'Rice ATM' machine in Mui Ne ward, Phan Thiet city.
Dmitry Eroshenko added that he would mobilize his friends to support the locals in the fight against the COVID-19.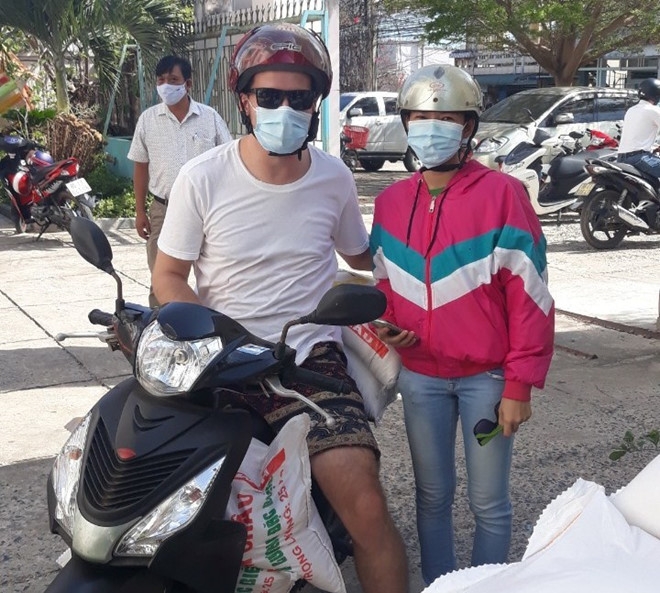 Photo: Vu Lam/Thanh Nien newspaper
Mr. Nguyen Van Vu – Chairman of Mui Ne ward People's Committee said:
"We treasure the kindness of the sponsors, including foreigners, who have joined hands to help underpriviledged people overcome the Covid-19 pandemic."
Vu said, the local has received 8 tons of rice donation, among which, 3 tons have been distributed to the poor.
He received a letter of appreciation from the local government. Photo: Vu Lam/Thanh Nien newspaper
Read more: International media lauds Vietnam's 'Rice ATM'
Read more: More free 'rice ATMs' set up in Hue, Da Nang
'Rice ATM' feeds Vietnam's poor during COVID-19
Since the COVID-19 pandemic began putting thousands out of work, Hoang Tuan Anh, a Vietnamese entrepreneur came up with an idea of a self-catering rice machine.
Realizing that gathering large groups of people to do charity work might do more harm than good, he invented a 24/7 automatic dispending machine providing free rice for people out of work an ongoing nationwide lockdown to curb the spread of the novel coronavirus.
Following its first launch in Ho Chi Minh city, 'Rice ATMs' have been set up in many localities across the country.
This meaningful initiative has received coverage in international media.