Gender Equality Experts Recommend Covid Assistance for Vulnerable Groups
Relief packages from the government for those affected by Covid-19 should consider gender issues in order to offer more effective assistance to different gender groups in the society, according to members of an online workshop concerning gender equality.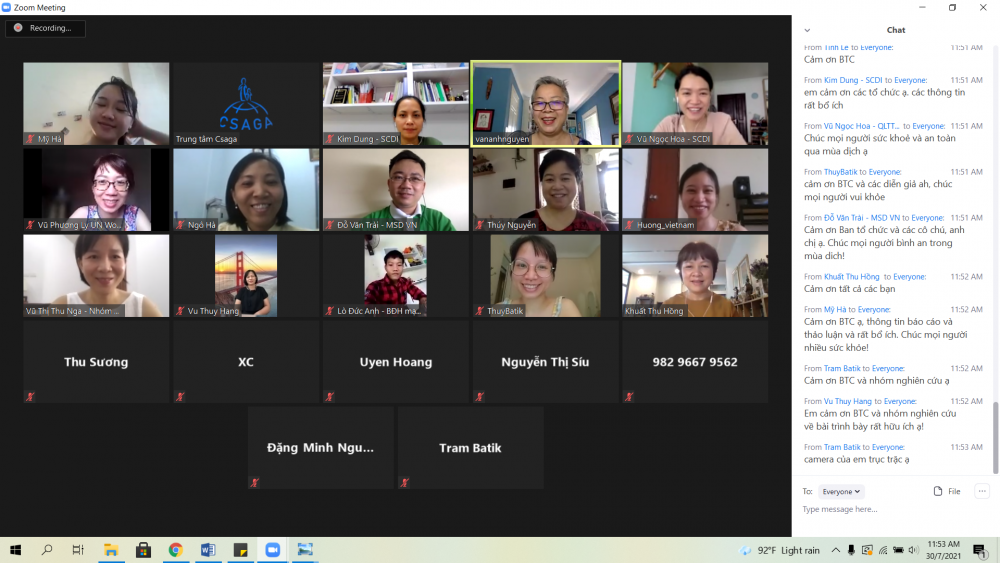 Participants at the workshop. Photo CSAGA
Participants at the workshop, mostly gender equality experts, recommended solutions to ensure the government assists certain vunerable groups while combatting the Covid-19 pandemic.
The workshop was jointly held by Center for Studies and Applied Sciences in Gender-Family-Women and Adolescents (CSAGA), Oxfam Vietnam and the Network for the Prevention of and Response to Gender Violence (GBVNet).
Oxfam Vietnam and CSAGA have recently conducted an assessment study on the Government's Covid relief packages from the perspective of gender and rights of vulnerable groups.
The study has reviewed assistance policies offered by the Vietnamese government until May 2021 and interviewed policy makers and vulnerable groups to identity advantages and shortcomings of those policies, especially impacts on people in disadvantaged groups during the pandemic including women and children.
According to the study, the policies have been issued in a timely manner and covered various groups including those who received little assistance earlier.
The policies include supporting people and businesses who have difficulty maintaining basic income, ensuring the provision of essential services during the pandemic, offering remote medical examination and treatment, supporting HIV/AIDS patients and students in disadvantaged areas.
However, the study pointed out that the government's relief packages should consider gender issues.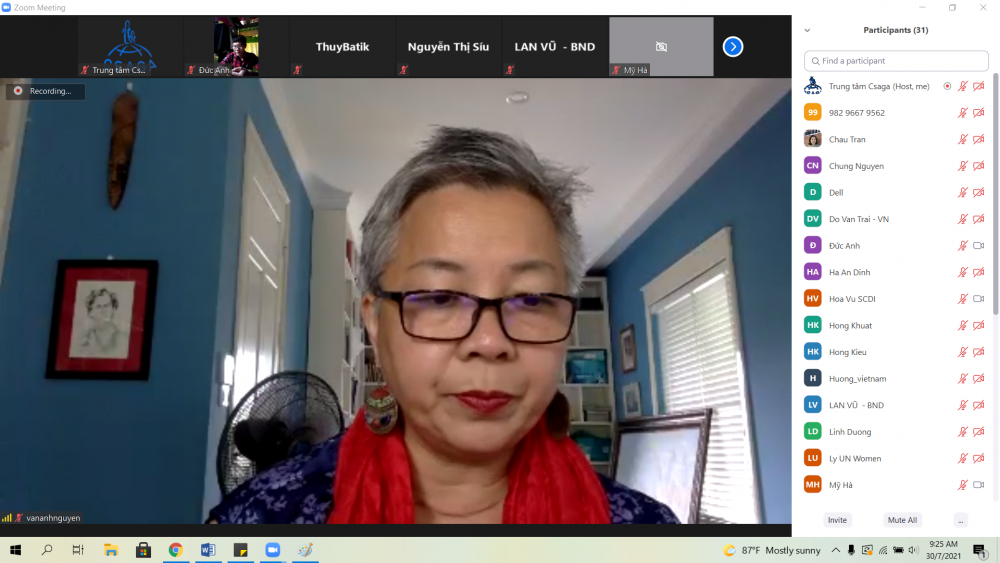 Nguyen Van Anh, CSAGA director, a gender quality expert, shares her perspectives on the issue. Photo CSAGA
Nguyen Van Anh, CSAGA director, said "The health of women and children has been adversely affected because many essential services in healthcare have been closed and resources have been inverted to focus on Covid healthcare services."
According to UNICEF, 73% of women in Vietnam spent 3 hours or more a day on household chores. Economic stresses along with travel restrictions and social distancing measures have led to a significant increase in gender-based violence, she said.
Van Anh cited that about 99% of couples have family conflicts during the pandemic, with a higher proportion of men igniting it. The unemployment rate among women has increased.
The conditions of different children groups have prevented children from vulnerable groups from having equal educational opportunities during the pandemic, increasing financial burden on disadvantaged families, she said.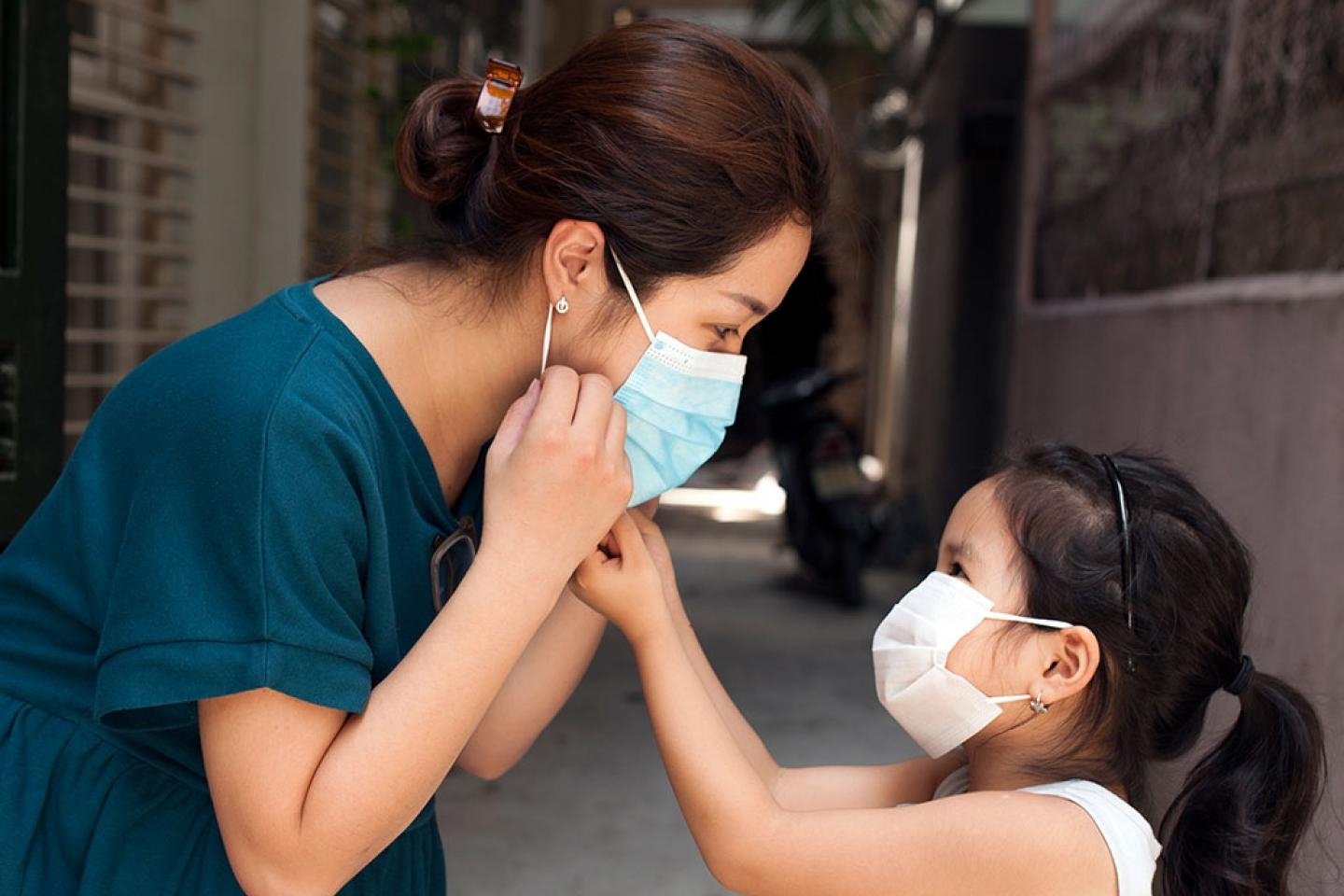 Woman and children are the most vulnerble to Covid-19. Photo UNICEF
Migrant workers in the informal sector face the most difficulties in accessing to Government support packages. The Covid-19 pandemic also has negative impacts on other vulnerable groups such as LGBTI+ groups, sex workers, and single mothers, she said.
"Many mothers who lost jobs, have no income and are raising babies have to depend on family and acquaintances to ensure basic household expenses such as rental house, food and water bills," Van Anh told the workshop.
Gender experts have put forward 13 recommendations divided into two groups to ensure rights of vulnerable groups during the pandemic.
Recommendations were made in consultation with policy makers, vulnerable groups, NGOs and community organizations.
The first group of recommendations is the immediate actions/solutions to close gender gaps and barriers for vulnerable groups. The second group includes systemic and long-term solutions to increase the effectiveness of the response to the COVID-19 pandemic and similar emergencies in the future.
Pham Quang Tu, Oxfam Vietnam deputy director said "Representatives of women and vulnerable groups need to be involved in policy enforcement so that all people affected by Covid-19 or other possible future medical emergencies can have equal access to the Government's assistance policies."