Hanoi halts all religious activities starting Saturday
The latest move was made amid an increase in new cases with unknown infection sources in Hanoi and new clusters related to a religious mission in HCMC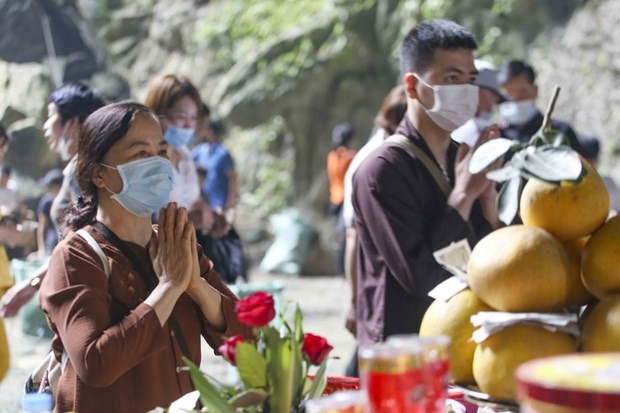 (Photo: Vietnam Plus)
The capital is set to halt all religious gatherings until further notice. Le Hong Son, standing vice-chairman of municipal People's Committee on May 28 signed a document on the suspension of activities at all religious sites and institutions across the capital starting midnight May 29.
Son called for all organizations, dignitaries, monks, followers of all religions in Hanoi to strictly comply with anti-pandemic measures, and raise their awareness and responsibility. He asked city-dwellers to immediately report any suspected patients to local authorities for prompt localization and quarantine. Sincere medical declaration would also help quickly stamp out the fourth wave, Son added.
The municipal committee also encouraged online or broadcast religious activities and rituals to avoid gatherings. Monks and church-goers are advised against inviting foreigners to join religious practices, especially those having been to pandemic-hit areas. Domestic sites should also avoid sending monks and followers abroad for religious purposes during this time.
The heads or representatives of religious sites or institutions will be held accountable if their organizations disregard Covid-19 prevention and control protocols, including the newly issued suspension.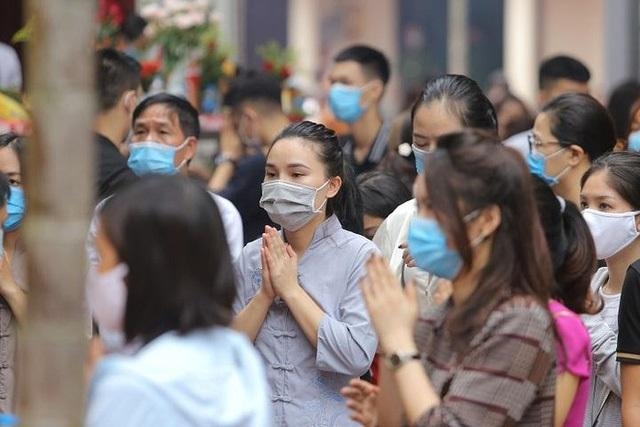 (Photo: VnMedia)
Since May 25, all food and beverage establishments, beauty parlors have been shut over coronavirus fears. Food and beverage outlets can only allow takeaways, and residents have been told to "absolutely stop" entertainment activities, physical exercises, and large gatherings in parks, gardens, and public locations.
The municipal Health Department has earlier warned that the city was facing a significant risk of the coronavirus spreading further as new clusters were emerging. Secretary of the Hanoi Party Committee Dinh Tien Dung, however, confirmed that the city has yet to consider social distancing.
As of Saturday morning, Hanoi reported 356 cases since the start of the fourth wave on April 27. The city is calling for financial support from businesses to purchase up to six million Covid-19 vaccine doses costing over VND 1 trillion (US$43.3 million) to inoculate its population for free. It would reportedly require 5-6 million doses to reach heard community.
Meanwhile, new clusters are emerging in Ho Chi Minh Cityin the last three days, with over 60 new patients confirmed.
Hoan My Hospital in HCMC's Phu Nhuan District was isolated on May 27, 2021 after a couple visiting it tested positive for the new coronavirus. (Photo: VNE)
On Thursday, over 403 individuals across 16 districts have been identified as having direct or indirect contact with new patients, all related to a religious mission. Its Department of Health on Friday stated that it would deploy rapid Covid-19 antigen tests at medical facilities across the city to regularly screen vulnerable population segments.
Local authorities on Thursday afternoon requested to temporarily shut down all catering and beauty services starting May 28.
To date, 3,595 infections and 12 deaths have been documented in Vietnam over one month into the new outbreak.